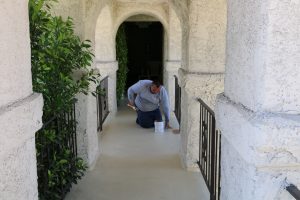 Patio waterproofing services in Los Angeles are crucial for any homeowner who wants to maintain their investment in their outside space. Benefits of patio waterproofing is, it protects the area from water damage and other weather-related difficulties and offers a longer-lasting and more attractive patio. It is essential because it prevents water from seeping into gaps and crevices and causing damage to the underlying structure. Water can seep into the foundation and undermine it, resulting in costly repairs or a total replacement. Additionally, the patio can become slick when wet, increasing the danger of slips and falls.
Your patio may become prone to water damage if it is not properly waterproofed, which may be costly. The most straightforward approach to prevent water damage to your patio is to take care of it before it's too late. This entails examining the surface regularly for deterioration or wear and tear indicators and making any required repairs or replacements. If you have a waterproof coating on your patio, inspect it often for indications of wear or damage and reapply it as needed. Patio waterproofing services in Los Angeles may improve the look and feel of your patio and provide protection. In addition, it can help enhance the patio's appearance and prevent fading caused by sun exposure. However, after the damage has been done, repairing it can be difficult and expensive. Investing in waterproofing your patio today can assist in guaranteeing that it lasts for years to come.
5 Warning Signs Your Patio Needs Waterproofing Are:
Cracked or Splitting Concrete:
Concrete cracking or splitting is a typical issue that can develop on any concrete surface. Concrete cracking or splitting indicates that the concrete is not effectively bonded or strengthened and may indicate structural difficulties. Cracks can be created by the natural settling of the concrete or by external influences such as harsh weather or temperature changes. Any cracking or splitting in concrete should be addressed as soon as possible since it can damage the structural integrity of the concrete and lead to more significant problems.
Visible cracks or splits in the surface of the concrete are the most prevalent symptoms of cracking or splitting. The extent of these cracks can range from microscopic hairline fractures to massive splits visible to the naked eye. They might be found in single or many lines over the surface. Other symptoms of cracking or splitting concrete include discolored or chipped regions and apparent cracks or splits. Therefore, it is critical to inspect the concrete regularly for cracking or splitting symptoms. A concrete patch or grouting substance may be used to fill up the fractures or splits in the cracked or split concrete. It is also critical to evaluate the surrounding regions to ensure the fractures or splits do not harm other building elements.
Discoloration
significant problem that needs to be handled. Walls, floors, ceilings, and any other surface in a home or building may get discolored. Therefore, it is critical to recognize the indicators of Discoloration so that you can diagnose and manage water damage as soon as possible.
Staining and streaking are the most frequent types of Discoloration. On the surface, these are often deeper colors like browns, oranges, and yellows. Water seeping through the cover generally causes this sort of Discoloration, which can lead to mold development and other problems. In addition, Discoloration may show as bright spots or patches, indicating a water leak. Condensation, induced by increased moisture in the air, is the most prevalent source of these luminous spots.
Other indicators of Discoloration include surface bubbling or blistering, as well as warping or peeling. Warping occurs when the surface material becomes distorted due to water infiltration, whereas peeling occurs when the paint or other surface covering begins to peel. Water seeping into the material generally causes this, leading to severe damage if handled later. When it comes to water damage, Discoloration is an essential symptom to watch for. It can suggest a more significant issue that needs to be addressed and can assist in preventing future injury. If you see any discoloration, contact a specialist to examine the problem and choose the best action.
Fungus or Mold:
Fungus and mold are indications of a patio that needs waterproofing. When water enters a patio and is not properly drained away, it can cause mold and fungus to grow. This growth can occur on the patio's surface and within the walls and other patio structures. If left unchecked, this development can cause substantial damage to the patio and possibly harmful health repercussions. The presence of mold and fungus suggests that the patio is not adequately sealed, enabling water to enter the structure. It can lead to the growth of mold, mildew, and other fungi, which can cause Discoloration, deterioration, and further damage to the patio. In addition, mold spores can be discharged into the air, creating respiratory problems and other health dangers for anyone who come into contact with them.
To prevent these issues, it is essential to properly waterproof the patio, ensuring that water does not enter and accumulate in the structure. In addition, it is essential to regularly inspect the patio for signs of water intrusion and damage, as this can help to detect and address any issues before they become significant problems.
Peeling Paint:
Peeling paint is a common problem in older homes and homes exposed to moisture. It indicates water damage, which can cause severe structural damage to your home if left untreated. Therefore, it is critical to investigate and repair the problem immediately. If the cause is water damage, the source of the water, such as a leaky roof or a broken pipe, may need to be repaired before repainting the affected area. If water damage is not the culprit, the paint may need to be removed and replaced. Either way, it's crucial to solve the issue to prevent more damage to your property.
Pooling Water:
Pooling water is when water pools in a specific place, most typically on a patio or balcony. It is most usually visible as puddles or standing water. Pooling water indicates that a patio needs waterproofing since it implies that the deck cannot drain the water sufficiently. Water will collect if the patio is not waterproof, causing long-term damage to the patio and surrounding structures.
Waterproofing a patio is the only method to prevent pooling water. It entails adding a waterproof coating to the surface of the deck. This coating will prevent water from leaking into the underlying components of the patio and will also produce a non-slip surface. Moreover, waterproofing can help prevent the deck from yellowing and fading, which can occur when exposed to the outdoors. If you see pooling water, you must waterproof your patio quickly to avoid more damage.
Conclusion
Patio waterproofing services in Los Angeles is an essential aspect of home maintenance that should be considered. When left ignored, a deck can get damaged due to water intrusion, resulting in costly repairs that might have been avoided. It is critical to handle the indicators of a leaking patio before it is too late. If a patio is not waterproofed, water can seep into the foundation, causing settling and weakening the overall structure of the deck. It can lead to cracks, warping, and other structural problems. Waterproofing a patio can also help it last longer. It is critical to handle the indicators of a leaking patio before it is too late. As a result, it is essential to examine your patio regularly and improve any water damage symptoms as soon as possible.
Capital Deck and Stair Waterproofing can assist you. The benefit of patio waterproofing with Capital Deck and Stair Waterproofing is it is a seasoned firm with decades of industry expertise. They specialize in helping homeowners make their patios and decks more water-resistant, and their team of skilled specialists can ensure that your patio or deck is properly waterproofed. They realize the value of having a waterproof patio or deck since it can assist in preventing future costly damage. Capital Deck and Stair Waterproofing provide a wide range of services, from coatings and sealants to complete waterproofing systems. Capital Deck and Stair Waterproofing take pleasure in providing excellent service and customer satisfaction. Their personnel is highly trained and informed, and dedicated to giving you the finest experience possible.