Deck Friendly Plants That Are Safe to Use on The Deck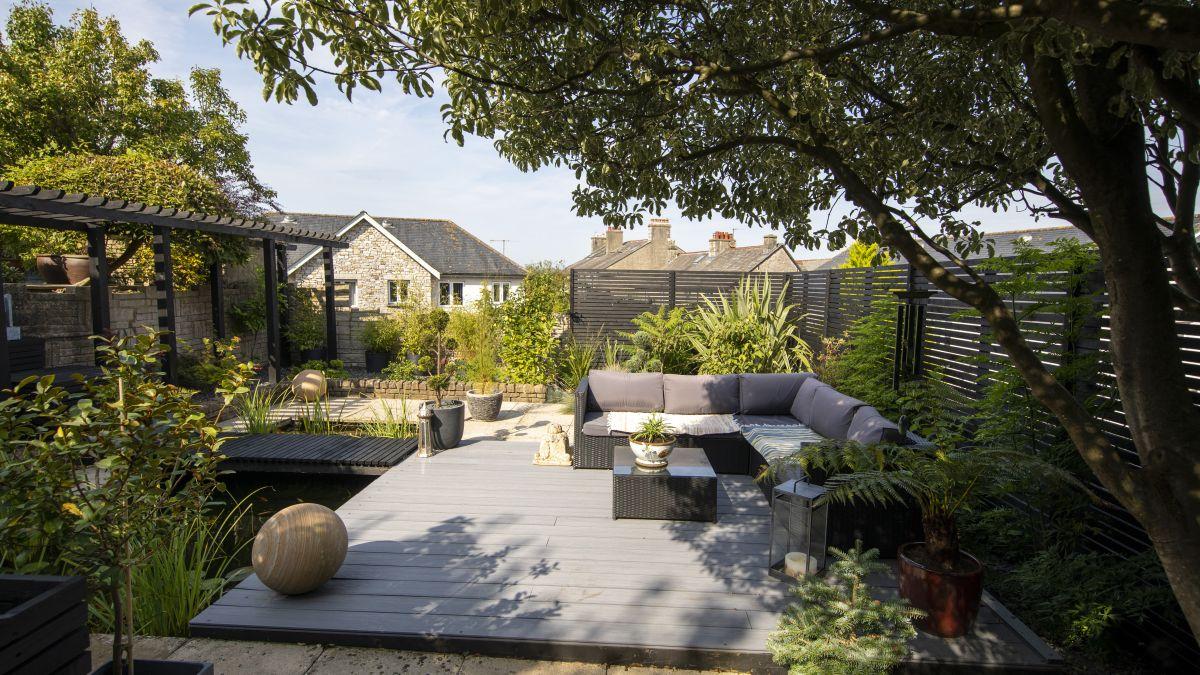 Adding plants to your spacious outdoor decks makes them cool and colorful and reflects your individual style and personality. Deck-friendly plants can upgrade the value and comfort of your home with minimal effort. You can make your deck a personalized cozy place or a vibrant oasis if you love colors.
Unfortunately, not all plants are deck friendly and can ruin your deck if routine inspections are not taken. One of the most popular ways to upgrade your deck space is by adding container gardens and planters. Let`s look at some creative ideas to add eye-pleasing deck plants to create a magical experience.
How to choose plants for your deck?
Picking plants for your deck upgrade involves considering a couple of important factors like how much sun and rain your deck or patio get?
Some plants thrive in the shade, some in the rain, while others are drought resistant. Picking out plants according to your climate zone and deck suitability can help make these issues simpler but not infallible.
Other questions involve knowing your personal taste and needs. For instance, do you hope to achieve privacy? Do you wish to grow your own food garden? Or Are you more of a flower person who would love to brighten their deck with gorgeous blooms?
Knowing your preferences and options will make choosing the plants for your deck easier and much more fun.
While you decorate your deck with mesmerizing plants, you also need to take certain measures to protect your deck, like:
Occasionally move and examine your planters
Planters are a great way to upgrade your deck and make it look fresh while having the option to move them around periodically. One major issue with the planters is the moisture buildup underneath. This built-up moisture can damage your deck with mildew, mold, and ring stains.
Moving your planters weekly can reduce the chances of water damage to your deck. Another solution to this can be using plant raisers or pot stands that allow the air to pass between the pots and the deck. It will save you much time and struggle to move your planters weekly and prevent moisture damage to your deck.
Prefer hanging planters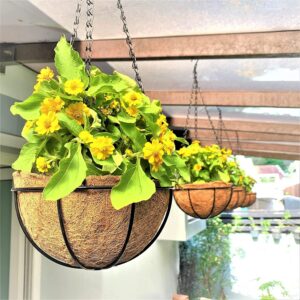 Choosing hanging planters will give you more space on the deck and add that aesthetic touch to your outer space. Additionally, hanging planters prevent water damage to your deck since they do not present the problems that planters present.
Hanging plants are also a great way to increase your privacy and make space more attractive and cozier at the same time. Overwatering your plants will make the excess water drip on the deck, which you should try to prevent. Know how much your hanging plants need water to avoid overwatering.
Deck sealing and staining
Before putting planters on your deck, it is advisable to seal or stain your deck to prevent any water damage. Sealing your deck goes a long way in terms of deck maintenance.
First, clean your deck thoroughly from the dirt and debris. Then stain or seal your deck with a waterproof coating on top. Aside from resistance to water damage, your deck will look new and fresh. Building a glass roof overhead can also be a good option if you wish to prevent water damage from rain.
Remove planters in the winter
In winters, the moisture in the air without the heat can worsen the deck space covered by planters leaving stains and water damage underneath. Also, keep your delicate plants indoors during the windy season. Preparing your deck for winters and summer can help you increase the life and durability of your deck.
Use colorful containers for gardening
Containers are a great way to design your deck due to their color range, sizes, and various designs. You can choose the size and colors that suit your space and color theme the most. Choosing basic colors or neutral colors that do not stand out the most are safe to go with.
Flowering plants like red verbena, yellow sunflowers, and orange marigolds are some of the most popular plants to enhance your space.
Most suitable plants for your deck décor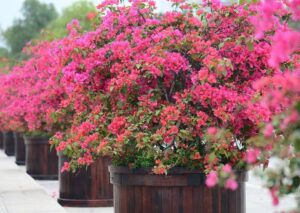 Here are some hardy plants to help you transform your patio or deck in all seasons:
Kumquat
Kumquat or citrus japonicas are perfect decks or patio plants because they thrive well in pots, need low maintenance, and require deep water only once a week.
They can also adapt well to hot and subtropical environments. Apart from fruits, the scent of flowers and leaves keeps the surroundings mesmerizing throughout the bloom.
Bougainvillea
Bougainvillea is a perfect plant for a dry, hot climate due to its hardiness and drought-tolerant capabilities. It requires little maintenance and looks lovely when in blossom. There are 300 varieties of these plants, some of which can easily be planted within pots and planters.
They can also be used as a shade over the balcony to maintain privacy. Remember not to overfeed or overwater this beauty, or it will get covered with spikes instead of flowers.
Ferns
Ferns would make the most beautiful and tranquil addition to your deck. They thrive in temperate, tropical, and subtropical climates. They might need some care initially, but once they grow, they are capable of taking care of themselves.
Succulents
You can find hundreds of varieties of succulents perfect for your climate. They are highly drought-tolerant and are very easy to grow and maintain.
Plants that need little water are perfect for decorating your deck or patio.
Money plant
These lush, heart-shaped leaves with light green hues will make your deck or patio look lovely. This is the most popular deck plant around the world with air purifying qualities. They thrive in humidity and shady areas and can be grown in hanging planters, making them perfect for decks.
Take away
Deck-friendly plants give your deck a more elegant and homier look. When planning to use plants on your deck, you must ensure that your deck is sealed or waterproofed. You can also use creative ways to use your planters and containers that do not degrade your deck. Contact us at Capital Deck & Stair waterproofing to seal and stain your deck for the upcoming season.