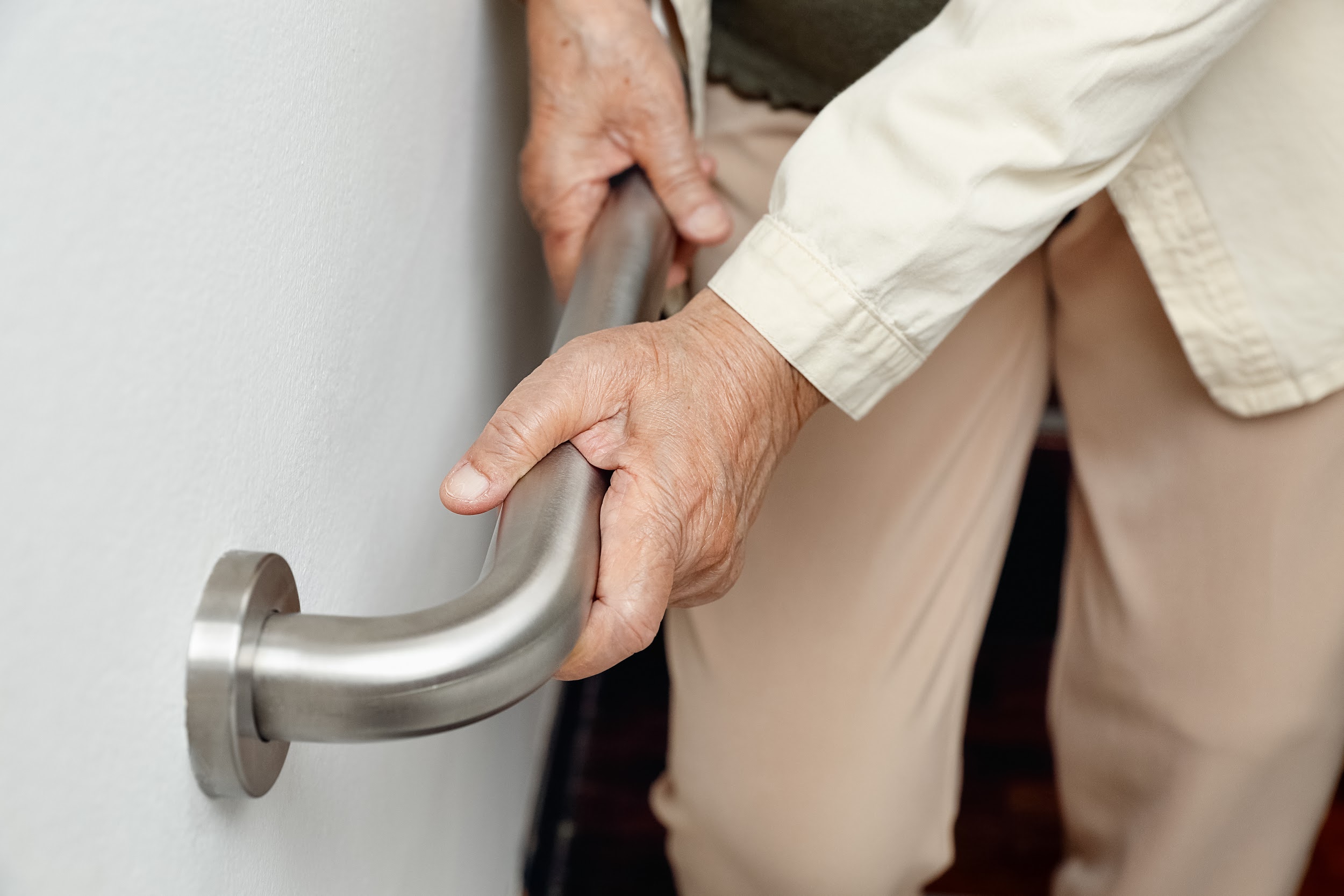 According to the U.S. Centers for Disease Control and Prevention (CDC), one in four adults over 65 fall every year, and three million older individuals are treated in emergency rooms for fall-related injuries.1 Those who fall are at risk of falling again. Yet you can prevent slip and falls at home. One way to do so is tread replacement, which we at Capital Deck & Stair can help with. Here are several other tips for improving senior safety.
Improve Lighting
The better lit your home, the less likely it is someone will fall over an object. Install brighter bulbs in stairways and narrow hallways. A nightlight in the bedroom or bathroom can be beneficial as well. Strong lighting increases the likelihood of a person seeing hazards and avoiding them, rather than dealing with the consequences of a fall. If a senior has fallen at home, assess whether you have adequate lighting installed.
Install Assistive Devices
Safety devices, such as grab bars near bathtubs and toilets and handrails in stairways improve home safety for seniors. There are many types of assistive devices on the market. These include raised toilet seats; some even have armrests for improved support. Plastic seats for showers and tubs allow individuals to clean themselves while sitting down. Other senior safety devices include hand-held shower nozzles to make showering simpler.
Remove Clutter
It can be hard for a senior to navigate around or see items such as newspapers, bags, electrical cords, pet bowls, boxes, and other items near paths of travel or stairways. Magazine racks and coffee tables in high-traffic areas can clutter up a space too. These fall hazards can be cleaned up. If there are loose throw rugs or carpeting, secure or remove them to improve safety for seniors at home.
Non-Slip Mats/Surfaces
Slip-resistant mats should be used on floors in bathrooms, kitchens, and other rooms, as well as on porches. Also consider a non-slip surface or material for showers. If you have bare-wood steps, non-slip treads can be installed to reduce the risk of slip and falls. While making surfaces less slippery helps, also encourage seniors to wear shoes at home, as socks can increase sliding, unless they have non-slip grips on the soles.
Fall Prevention Alarms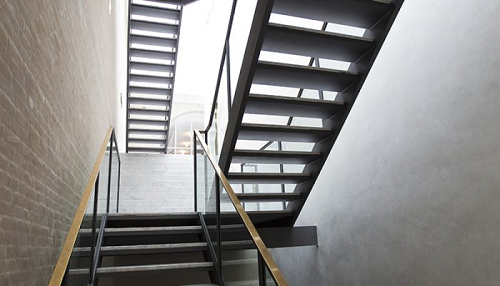 Various alarm systems are designed to prevent falls. They include bed and chair alarms, fall monitors, personal pagers, and others from a number of manufacturers. An alarm may be a worthwhile investment for someone who is at risk of falling.
Call Capital Deck & Stair
Proper care for your deck surfaces and stairs also helps improve safety. Our waterproofing and stair tread replacement services are a perfect example. Capital Deck & Stair helps improve pool decks, patios, balconies, and staircases to make them safe for everyone in your household. We hope our fall safety tips for seniors have provided useful insights. For help improving deck and stair safety for seniors at home or with any other related project, call 424-339-0953.
Source: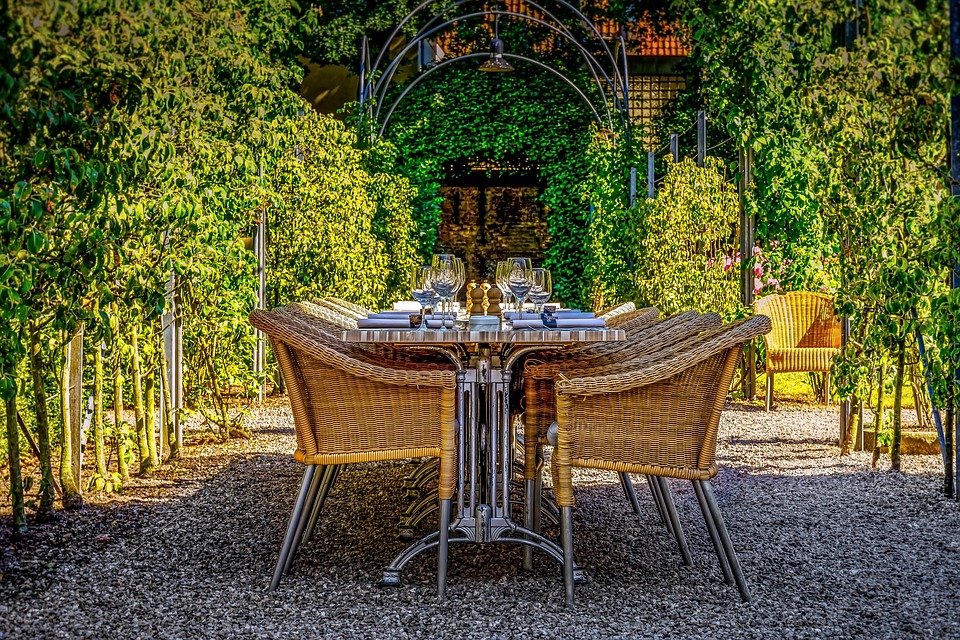 Enjoying Thanksgiving "al fresco" can lend a new and pleasant twist to the annual holiday, especially in areas used to mild autumn temperatures. Hosting Thanksgiving outdoors has also become a necessary safety measure in light of the COVID-19 pandemic, especially as public health officials have advised against hosting guests indoors.
Even if you live in a colder area, it's still possible to have an outdoor Thanksgiving dinner while keeping everyone—and the food—warm, comfortable, and happy. Check out this quick guide to learn more.
Prepare Your Outdoor Living Areas
Whether it's a deck, a patio, or a backyard, your outdoor space will be serving the purpose of both a living area and dining room. As a result, you'll want to prepare your outdoor space to ensure that everyone stays warm, entertained, and out of the way of food preparation.
Deck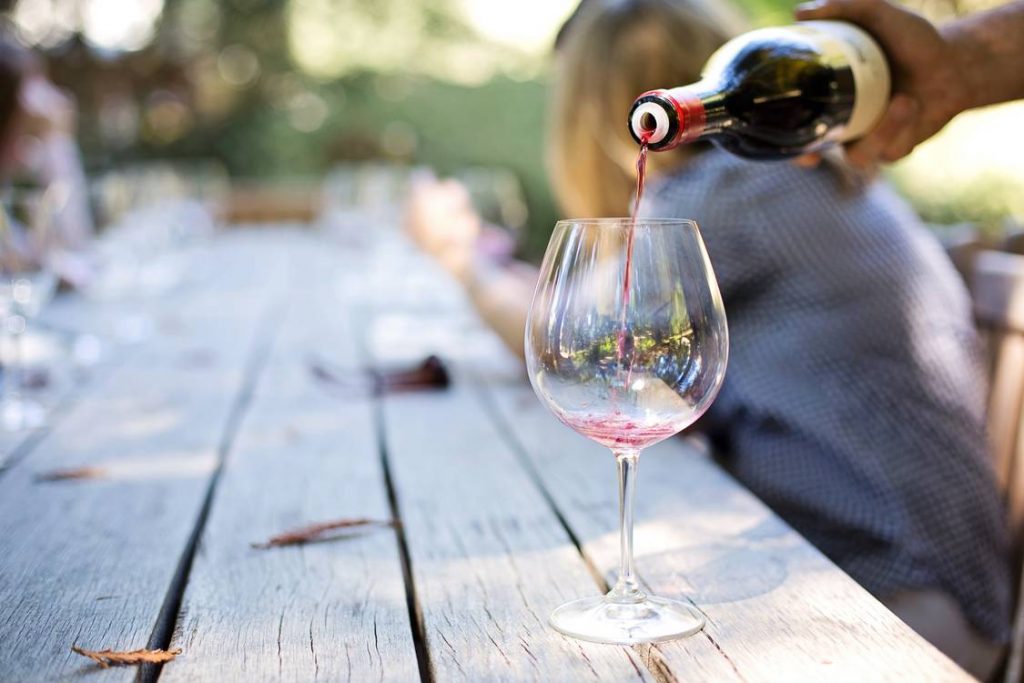 A deck is a perfect place to hold an outdoor gathering, especially if you already have an outdoor living and dining furniture. In any case, you'll want to keep your furniture organized and set the dining table before guests arrive. Make sure that everything on the table is weighted down—think napkin rings!—in case of wind.
The deck itself may also need some attention. Since your deck will likely receive a lot of traffic—and spills—during the big event, make sure to touch up any worn-out finish or waterproofing before having guests. Since refinishing often isn't practical during the winter months, you should consider a waterproof deck coating just before you host your outdoor Thanksgiving dinner.
Grass
If you live in a warmer region with green grass year-round, then you may want to designate certain guest/entertaining areas to protect your lawn from heavy foot traffic. This concern isn't as important in colder regions where grass has already gone dormant for the winter.
Those in warmer regions should also make sure that their grass is freshly mowed and/or raked before having guests. However, mowing should be done at least a day in advance to help prevent unnecessary grass stains or allergic reactions.
Firepit
There's a good chance that Thanksgiving Day will be a bit chillier than what's usually comfortable for outdoor entertaining, even if you live in a warmer region. As a result, you should heavily consider something to keep your guests warm—apart from the food and wine!—such as a firepit or some other heating element.
Thankfully, firepits and chimineas—standing fireplaces—are relatively inexpensive and low-maintenance. Plus, products like self-igniting firewood and built-in gas burners make it effortless to keep your guests warm and toasty—and, of course, they up the ambiance.
Have Proper Lighting
With the sun setting earlier in the day, there's a good chance that a portion of your Thanksgiving,  if not all of it, will have to be enjoyed while it's dusk or dark out. In addition to keeping your table well-lit with candles and/or lamps, be sure to provide ample lighting for the surrounding areas as well. Your guests might feel underwhelmed if the only Thanksgiving outdoor lights are on the dining table!
Outdoor Entertainment
One benefit of hosting outdoors is the greater possibilities of entertainment options, such as lawn games and other outdoor activities. If you have enough space, try laying out leisure games such as croquet or badminton, or even a simple game of lawn football. Of course, "traditional" indoor Thanksgiving activities are still possible!
Menu Considerations
While you can still prepare a classic Thanksgiving menu with turkey, stuffing, and so on, hosting an outdoor Thanksgiving dinner presents a few extra considerations.
Keeping the Food Warm
Unfortunately, your food will likely get colder much faster outdoors than it will indoors. As a result, you'll need to find ways to keep your food warm, both during serving and while it's on the plate.
To keep food warm while serving, consider warming devices such as steam trays with chafing dishes. These are not only inexpensive to purchase but can also be rented from most party supply stores.
To keep food warm on the plates, place stacks of dinner plates in a warm oven for a few minutes before serving. By keeping the plates warm, your guests' food will stay warmer longer while outdoors.
Outdoor Dishes
Extra tripping hazards and the increased travel time between your kitchen and the dining area will increase the risk of breaking dishes and glassware. If this risk is a concern for you, consider using durable outdoor serve-ware such as plastic plates, cups, and glasses. Many newer examples are designed to resemble the feel and weight of the ceramic, allowing you to maintain the "feel" of a formal dinner without sacrificing your fine china.
Final Preparations and Setup
With your outdoor area warm, well-lit, and properly decorated with outdoor Thanksgiving decorations, you're ready to receive your guests! Final preparations should include treating your surfaces and outdoor area for additional foot traffic and/or liquid spills, such as applying a waterproof coating to your deck or patio.
Thankfully, deck waterproofing is quick and easy with the right service. For more information on our waterproofing services, call our expert team at 424-339-0953.
Adding walking decks and balconies to your home can provide additional spaces for you to enjoy the outdoors. Walking decks are areas that you extend beyond the normal deck area. For instance, you could have a walking deck that wraps around the side of the home that connects to the front porch.
Balconies are great if you have a two-story home. Balconies do need to be supported correctly to ensure safety. You could place the supports directly into the ground. Alternatively, you could extend a balcony out over an existing structure. For example, you could build an upper story balcony on the roof of your patio enclosure.
While there are certainly plenty of different wooden walking deck and balcony design ideas, one of the latest trends in home improvement is using different materials like concrete, tiles, composite materials, and fiberglass. These materials can be much more durable and last longer than wood when properly maintained, waterproofed, and sealed.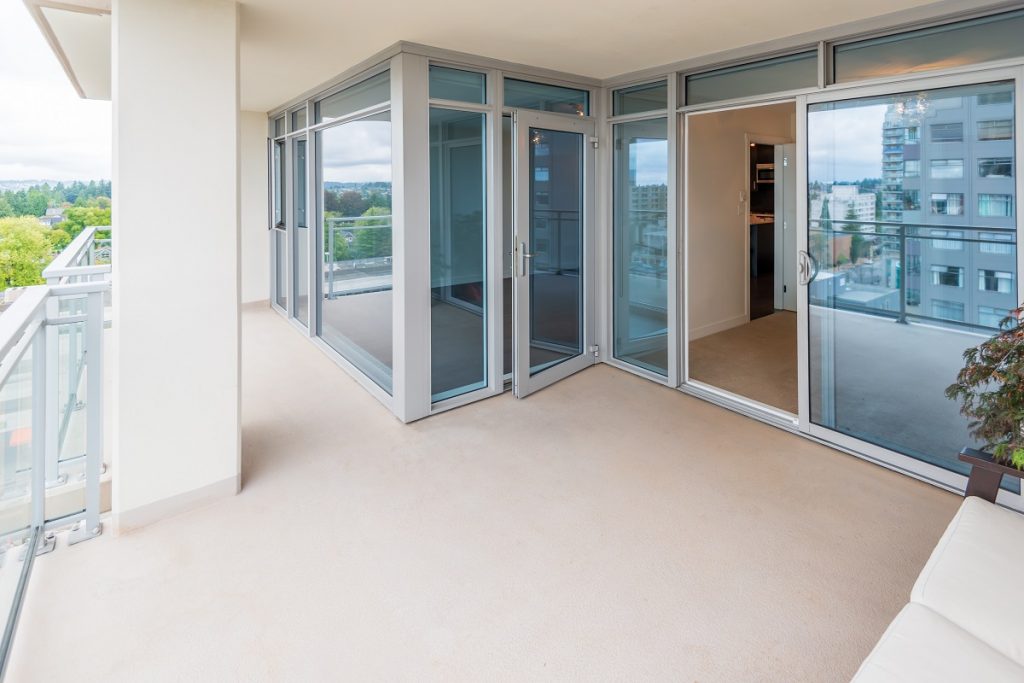 1. Colored Concrete
One of the reasons concrete is trendy right now is because there is a variety of colors you can choose from instead of gray. You can even customize designs to fit your needs like using black and white and having it "marbled" in to give the appearance of expensive Italian marble.
2. Checkerboard Tiles
One popular design to use with tiles is a checkerboard where you alternate one color with another. You want to choose colors that complement your home and also which are not the same color in different shades.
3. Tiled Images
You can take an image, like a butterfly, and have it transformed into a balcony design or walking deck design. You could have butterflies on individual tiles or create a larger-scale design by using different-colored tiles and placing those in the right locations. Then, fill in around the design in a different color tile so your image stands out.
4. Stamped/Pressed Concrete
Another option available with concrete is to stamp or press a design or image into the wet concrete before it sets and cures. A stamping plate will need to be made with the inverse (reverse) of the image or design. You could also go with the traditional handprints and footprints imprints.
5. Colored Fiberglass
Just like concrete, fiberglass comes in a wide array of colored options. Fiberglass can be placed over an existing concrete walking deck or balcony, too, if you want to give it an updated look and appearance when the existing one is looking dated or needs some minor repairs.
6. Composite Decking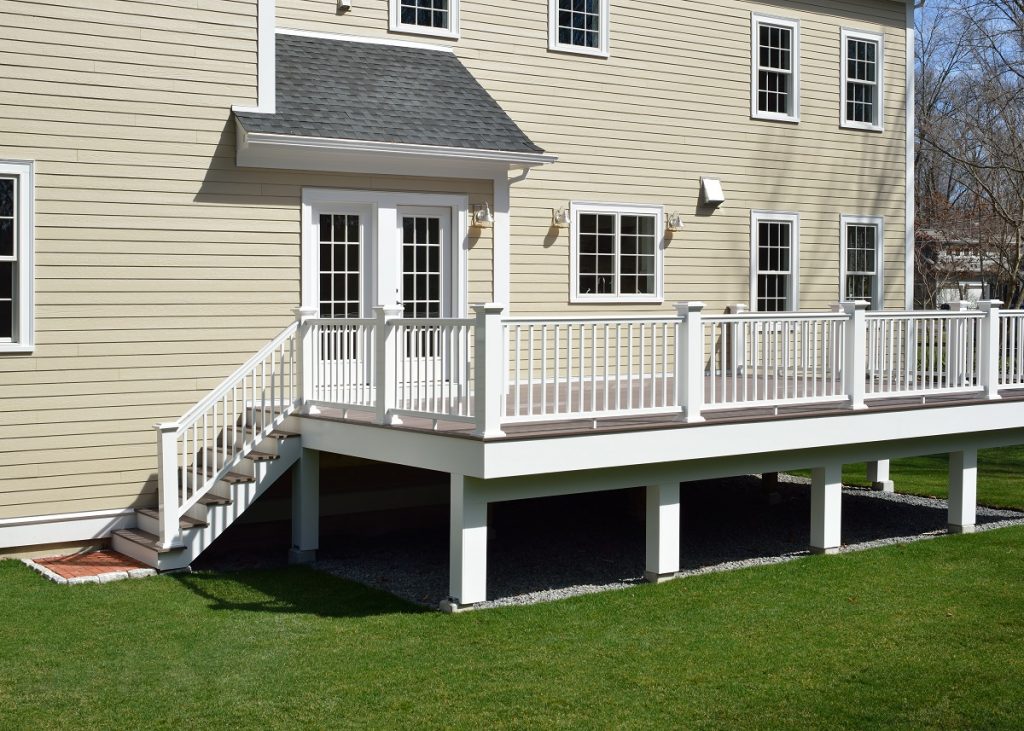 Composite decking is made from synthetic and plastic materials. It is very durable and comes in a wide variety of colors. You can place the tiles over existing concrete or tiles if you want a wood-like appearance. Some composite decking comes in small square tile-like pieces that you simply snap together and place directly onto the existing surface.
No matter what material you ultimately decide to use to build a new walking deck or balcony or to upgrade the appearance of an existing one, remember to have the material waterproofed afterward.
Sometimes there is an initial "curing" period before waterproofing can be done. By waterproofing walking decks and balconies, you will protect them from water damage and increase their durability and lifespan.
For further information about balcony and walking deck waterproofing and other services, please feel free to contact Capital Deck & Stair at (424) 339-0953 today!
Six Staircase Maintenance Tips for Home Owners
Stairs are a great alternative to elevators. They don't have any moving parts and don't require weekly maintenance. You also do not have to pay for the electricity to run them, and they're always working, day and night.
That being said, they most definitely need some periodic maintenance; otherwise, you'll have a big expense on your hands. Either you'll get sued by someone who fell down your staircase or you will end up in the hospital after falling down your own stairs.
Many people choose iron-based precast staircases for their durability and longevity; however, iron does corrode over time, especially in wet weather. Besides the obvious falling hazard, who wants an unsightly rusting staircase devaluing their property?
Tips on How to Protect Your Exterior Iron Stairs
At Capital Deck & Stair, we've applied our 30 years of experience in both waterproofing and installing iron-based precast staircases to give you our six best staircase maintenance tips.
Tip One – Be Proactive and Look for Early Signs of Step Damage
Keep a close eye on your stair treads for signs of damage. This could be a stair tread that feels loose under your feet or has cracks appearing on the surface. Repairs at this early stage are usually quick and inexpensive. This is the time to call in the experts so that minor problems don't become major problems.
Tip Two – Inspect Your Outdoor Iron Stair Railing for Signs of Rust or Paint Flaking
It doesn't take very long for rust to set in, so make sure the protective coating on your stair railing isn't started to crack or flake off. The intense heat in the summer causes expansion and contraction of the iron railing so paint and other protective coatings can start to crack and then flake off when people's hands are gripping the railing.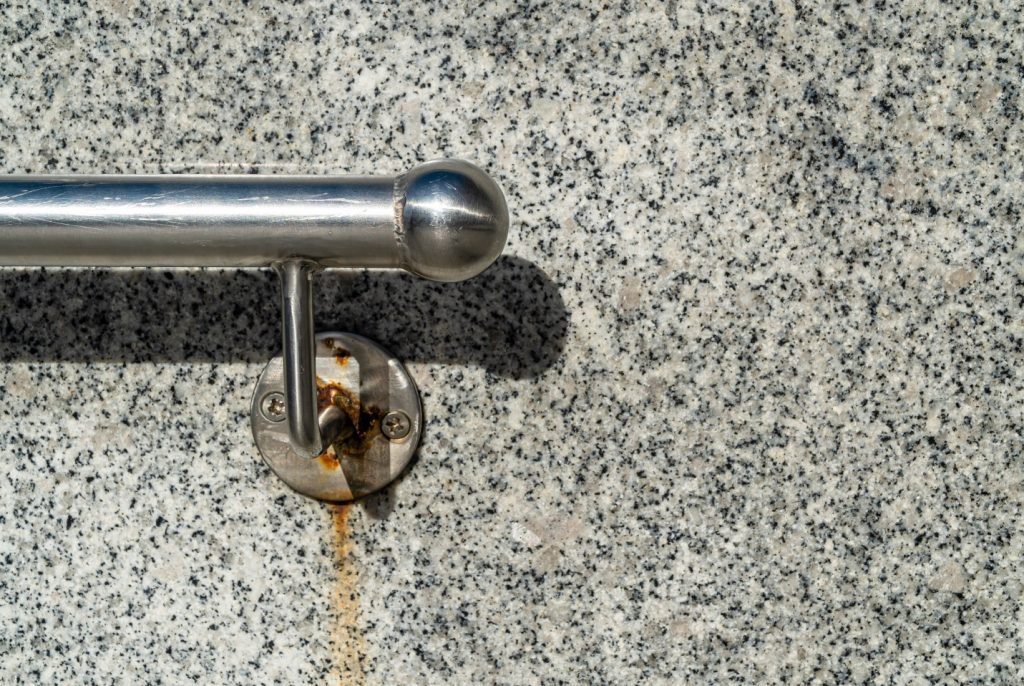 Tip Three – Check the Handrails to See That They Are Not Coming Loose from Their Mountings
Handrails can sometimes become loose from excessive use or poorly attached mountings. Make sure your railings are firmly attached to the wall or wherever they are mounted.
Tip Four – If You Have Metal Stairs, Inspect the Holes in the Treads
Some outdoor metal stairs have treads that are perforated to allow water to drain through.   These small holes are often the first places to show signs of rust. Look for holes that have begun to rust or holes where the protective coating is starting to flake off.
Tip Five – Go Beneath Your Stairs and Inspect Them from Below
It's not enough to just examine the stairs as you're walking up and down the staircase. You could have unseen damage right under your feet, beneath the staircase. If space permits, poke your head underneath the staircase to see if you notice any signs of damage or rust. Just be careful to watch your head.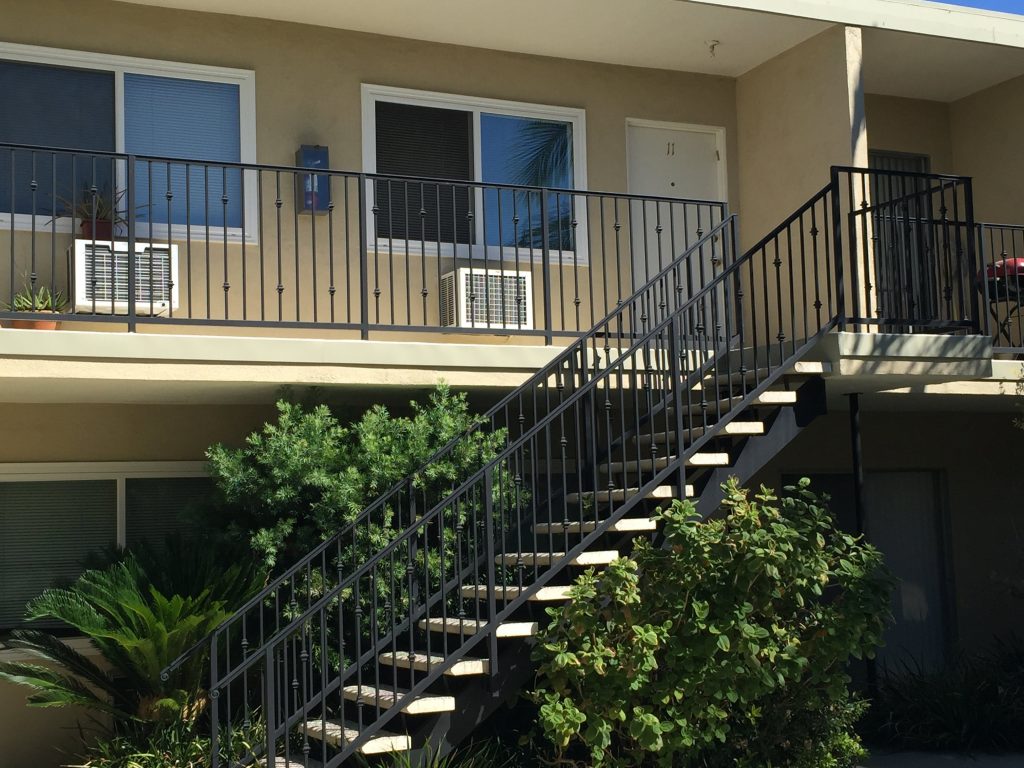 Tip Six – Consider Waterproofing Your Iron Staircase
Waterproofing exterior stairs will extend the life of your stairs and the iron railings and help prevent water damage. This is especially important if you have iron stairs outdoor that are exposed to the elements.
If you see any of these signs of damage, or just want an estimate on waterproofing or upgrading your staircase, give us a call at 424-339-0953. We service Los Angeles and Orange County.
Smart Solutions to Prevent Staircase Slip and Falls
Anyone who has ever lived or worked in a building without an elevator knows the pitfalls of a staircase. Besides providing extra and sometimes unwanted exercise, staircases can be a falling hazard.
Fortunately, for property owners who regularly maintain their stairs, little can be done if someone, through their own misstep, falls down the stairs. Climbing stairs, after all, does require some amount of care. If a handrail is provided and the stairs are well-maintained, the owner or manager shouldn't be held liable.
For the record, since we are waterproofing contractors and installers of fiberglass and iron staircases and not lawyers, we advise you to check with your insurance company, just in case.
It's Just Good Common Sense to Keep Your Staircase Well-Maintained
The exception to the above is if your stairs are not well-maintained or are slippery—that's where you can run into legal problems. Stairs, after all, require a stair safety protocol. If you let a known problem persist on your staircase without addressing it, you run the risk of being held liable for significant damages due to your neglect. This is a legal concept known as "premises liability."
Practice Stair Safety and Don't Let Your Staircase Become a Falling Hazard
Items left on stairs—like balls, children's toys, and food—are all easy to slip on. These stair hazards are a reality for anyone with a staircase, no matter how well it has been maintained. Ensuring your staircases are free of hazardous objects is something that anyone can do.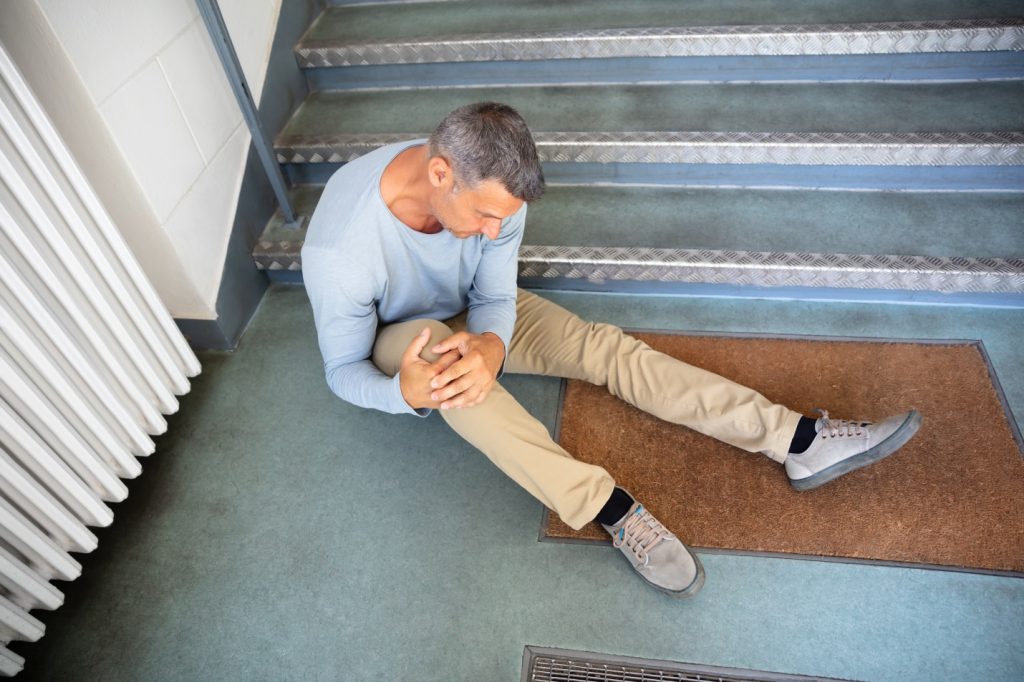 Other stair hazards, however, will require professional help. These include fixing broken or chipped stairs, loose stair treads, and stairs that are slippery.
Should I Replace or Repair a Damaged Fiberglass Staircase?
Whether you will need a brand-new staircase or just a repair will depend on several factors. You will definitely need to have each of your fiberglass steps inspected by an expert before an estimate can be given and the appropriate choices made. If you are upgrading your property, you might decide to update the look with a brand-new staircase, instead of repairing the old.
Maintain Your Stairs so You Don't Have to Replace Them
For more than 30 years, our experts at Capital Deck & Stair have been waterproofing staircases to help prevent them from becoming a slip and fall hazard. Our waterproofing specialists can advise you on whether your stairs need waterproofing, general maintenance, or replacement.
If You Are in Need of a New Staircase, Then You Have Several Options
Magnesite and fiberglass staircases provide exceptional performance and durability, as well as aesthetics. The advantage of these types of stairs is that they are impact-resistant and durable and strong, and they provide a clean and classic look.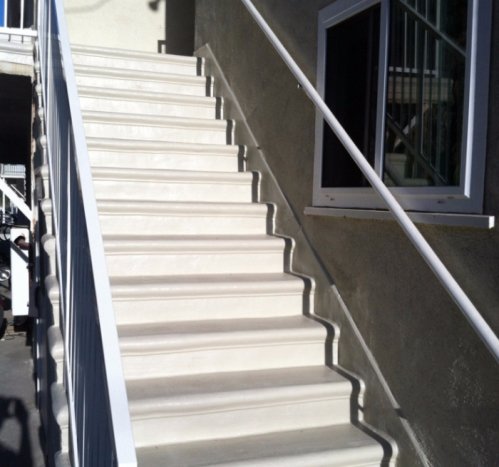 Precast and iron-based staircases are sturdy, durable, low-maintenance, long-lasting, and aesthetically pleasing. The stair treads are also easily replaceable if one of them gets damaged.
Taking the First Step to Fix Your Outdoor Stairs
If you are in need of a staircase repair or a brand new staircase, our experts will walk you through each step of the process to determine your staircase needs.
We can also send out one of our staircase specialists to evaluate your existing structure to determine whether it's suitable for a precast and iron staircase or a brand new set of fiberglass stairs.
If you're in Los Angeles or Orange County, give us a call at 424-339-0953 and we'll give you a free estimate.
Most people don't think twice before climbing up or down a set of stairs, but the truth is a lot of thought and careful consideration needs to go into how a set is designed in order to ensure they are safe. Stairs that are too steep or don't give you enough space to place your feet (a surface known as "tread") could potentially lead to slips or trips and falls, which often mean injury. The risk is even greater for outdoor stairs where water from rain could make stairs slippery and even more risky. On this blog, we'll go over what need to be taken into consideration in order for a set of stairs to be safe so you can make good decisions when remodeling or resurfacing your stairs .
Anatomy of a Set of Stairs
A simple set of stairs isn't too complicated. Think of stairs as the hypotenuse of a right triangle, with the horizontal length of the set of stairs being one side and how far up they climb being the other. Of course there are rounded or spiral stairs, but many of the principles are essentially the same.
Each step over the distance between the top and the bottom has two dimensions: rise (how far up each step climbs) and run (how far forward each step carries you). These measurements on each step are extremely important because going too large or too small on either one of them could lead to serious issues, both with construction and with injury risk.
If the rise between steps is too steep, climbing the stairs will not only be extra tiring, but the risk for serious injury also increases in the event of a trip and fall. Not to mention, those who already have trouble climbing an average set of stairs may not even be able to successfully get up a set of stairs with too steep of a rise. However, too small of a rise and you'll have to stretch the staircase out horizontally to have enough stairs to get to the correct height, which adds a ton to your construction costs and may not even be possible.
If the run between steps is too small, those climbing the stairs won't have enough space to get a proper foothold, and that means a significantly greater risk of tripping or slipping and falling, especially when going down that set of stairs (though up is also certainly dangerous). Too wide of a run presents a similar problem to having too low of a rise: your stairs will have to increase in number, which means the staircase will increase in horizontal length to the point where it's more expensive and may not even be possible to construct given your location.
Building a Safe Set of Stairs
So you need to build a set of stairs, and you want to make sure it's done properly. What should you do? The first step is to learn more about local building codes to learn what the minimums and maximums are for stair rise and run in order for your building to adhere to safety requirements. In California, the rise between stairs cannot be less than four inches and cannot be more than seven and a half inches. The run of each stair cannot be less than ten inches. As a result, California prefers that all staircases have an incline that measures between 30 and 37 degrees.
In addition, consistency between rises and is extremely important, as one step being significantly different from another is a huge trip-hazard for those going either up or down a set of stairs. California code says that the greatest rise cannot exceed the lowest rise and the largest run cannot exceed the shortest run by more than 3/8 of an inch.
The handrail that lines each set of stairs needs to be durable and capable of supporting a good amount of weight without buckling. The rail must be between 34 and 38 inches above the stair surface, measured from the furthest-forward point of each run, including any nosings. It's strongly advised each rail have a minimum of four to six inches
Finally, there's another parameter you need to consider, particularly on outdoor stairs: step surface. The surface of each step on a set of stairs should be constructed of a material that encourages grip, and when outdoors that means something that also needs to be durable and minimizes the impact that water can have on the surface. Many contractors will mix fine sand with the paint they coat the tops of these steps with and then use a durable sealant over this surface in order to prevent it from smoothing out or losing grip for as long as possible. Some people will even take things a step further and place a piece of high-visibility grip tape to make edges clearly visible.
Waterproofing a set of outdoor stairs also goes a long way to preserving them and preventing them from losing their structural integrity. Waterproofed stairs will last longer and be less prone to damage from the sun, rain, dew, and other elemental factors that are traditionally hard on anything left outside for long periods of time.
If you need your set of stairs waterproofed, call Capital Deck & Stair Waterproofing today at (310) 912-7737 to request a service estimate!
With the New Year rapidly approaching, you may be busy making your New Year resolutions and preparing to make transformations in your life. While your mind is on renewing old things and bringing them up to date, it's important not to forget your home, and especially your deck.
In sunny California, the warm weather will be here sooner than you think, and it'll be time for summer barbeques, splashing in the swimming pool, and spending long evenings on your deck. Why don't you get a head start and schedule waterproofing services with our Los Angeles deck waterproofing professionals?
Waterproofing can help you refresh the look of a tired and worn out deck. It can also help you preserve your deck for many more years of enjoyment. Our waterproofing solutions are low-maintenance, which means less work and more fun for you. In addition to improving the look and safety of your home, a fresh coat of customized waterproofing can dramatically increase the value of your home or rental property.
We offer warrantied waterproofing service for:
Your home's safety, beauty, and upkeep are important to us. We offer a variety of resurfacing and waterproofing surfaces to help you maintain many surfaces around your property. All our waterproofing projects use superior materials to ensure that your deck is not only waterproof, but fire retardant and flexible to preserve your deck.
We offer custom blended colors at no additional cost, so your new waterproofing coat will blend seamlessly with your existing home and yard décor. We also work around your schedule, and we offer weekend and after-hours services to meet your needs. With multiple crews in the Los Angeles and Orange County areas, we can offer quick, reliable service.
Get the advantage of more than 30 years of deck waterproofing experience for your home. Schedule a free estimate today , and one of our qualified waterproofing professionals will come to your home for an inspection.
Contact our team at Capital Deck & Stair Waterproofing by calling (310) 912-7737 .
Every part of your home should be a reflection of your personality and contribute to your vision of where you want to live, from the master bedroom and the living room to outside decks and patios. It is the outer portions of a home that are often overlooked, though, as people think a house is primarily what is on the inside. To truly create a home that fits exactly what you wanted, consider all the fine and forgotten details. In this blog entry, we discuss different types of outdoor stairs and how they can complement your deck .
Three outdoor stair designs that may interest you or complete your project perfectly are:
Spiral stairs: If you do not have much space in your backyard, utilizing a spiral staircase can minimize the footprint of the entire design, allowing you to save deck space for other projects. Even space is not a concern, spiral stairs should still be considered when you want to add elegance to an outdoor deck, or perhaps complement circular designs throughout your home.
Cascading stairs: When you have a large deck that you want to seamlessly blend into the surrounding yard, cascading stairs might be the way to go. Each step in a cascading staircase is generally quite shallow and broad, creating a look as if the deck is flowing, or cascading, down the ground. Cascading stairs are typically a finished wood, rather than metal or concrete, to further create the illusion that the naturally look of the yard is part of the deck.
Traditional designs: A second-story deck for lounging or barbequing can look like the inside of a home has been placed on the outside. To complement this modern look, consider using a traditional staircase design that mimics the stairs you have inside your home. When constructed and finished correctly, this can really bring the look of an entire home together like none other.
Do you have questions about outdoor stair designs, installation, maintenance, or finishing? Capital Deck & Stair Waterproofing is here to help! Our Los Angeles stair waterproofing specialists have been working in the industry for more than 30 years, helping people with countless, complex deck and stair jobs for their homes and businesses. Contact us online to learn more about our services or to get a quote for your project.