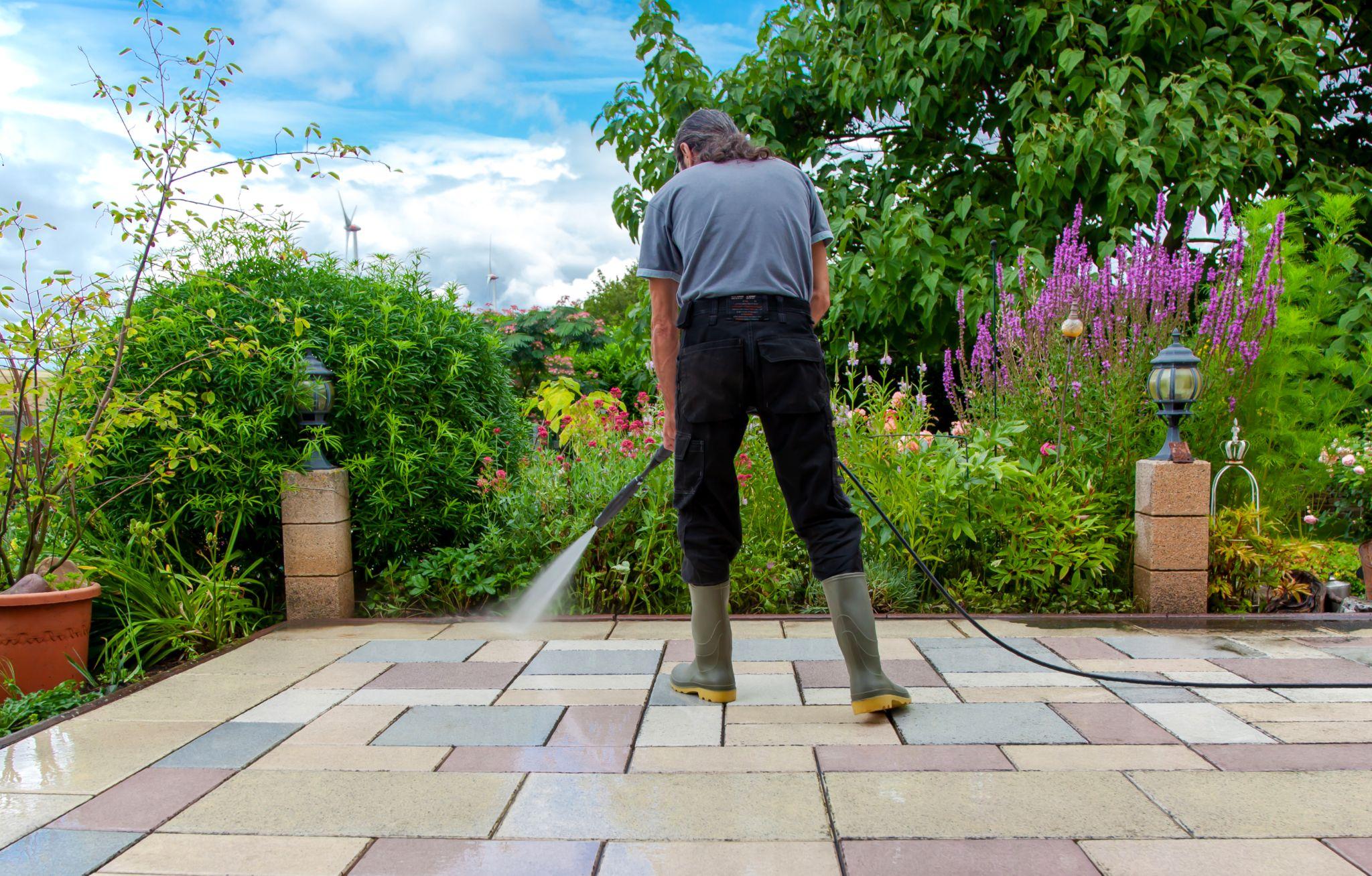 Nobody's deck is perfect—especially those that get a lot of regular use—but how do you know if the odd crack or chip is a sign of deeper damage? Here, we'll review some of the telltale signs of damage that require deck repair and what you can do to prolong the life of your outdoor surfaces.
There's a good chance that your deck gets a lot of wear and tear.
Between regular foot traffic, heavy furniture, and constant exposure to rain and weather, decks and outdoor surfaces take a bigger beating than many might realize. While light damage and worn areas aren't unusual (if anything, they're expected), some signs of damage call for immediate attention and deck repair.
Thankfully, most serious signs of deck damage are relatively easy to spot. Read on to learn what to look for and a few quick maintenance tips that can help you avoid expensive deck repair.
6 Key Signs of Deck Damage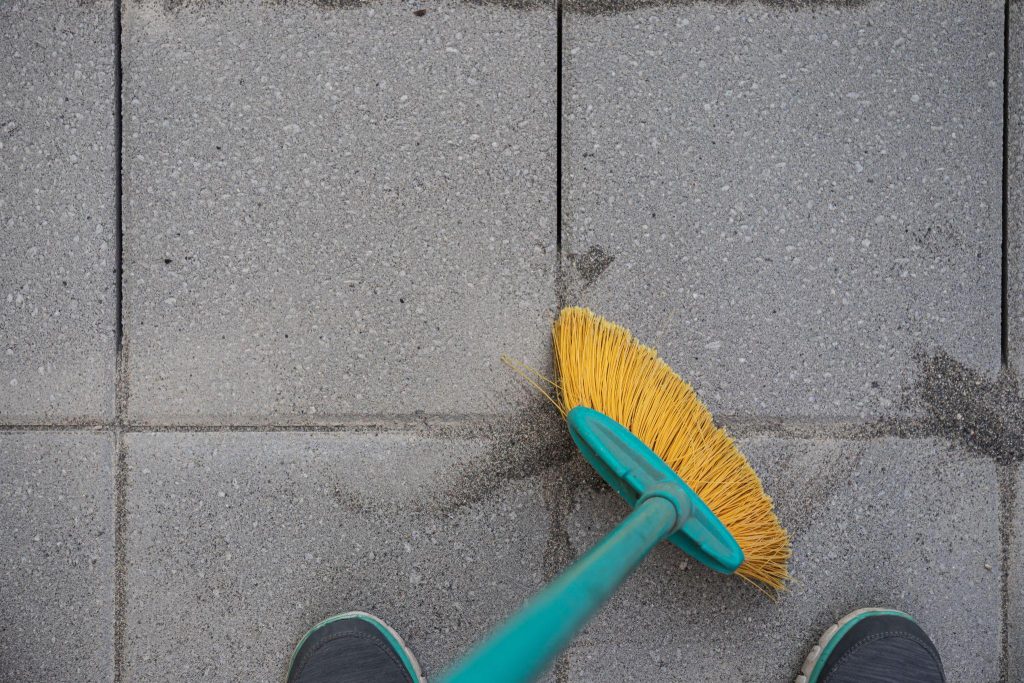 From cracks to curling and uneven surfaces, there's plenty of warning signs to look out for—and you may not have all of them. In any case, you may need deck repairs if you notice any one (or more) of the following signs.
1. Cracking and Crazing on Surfaces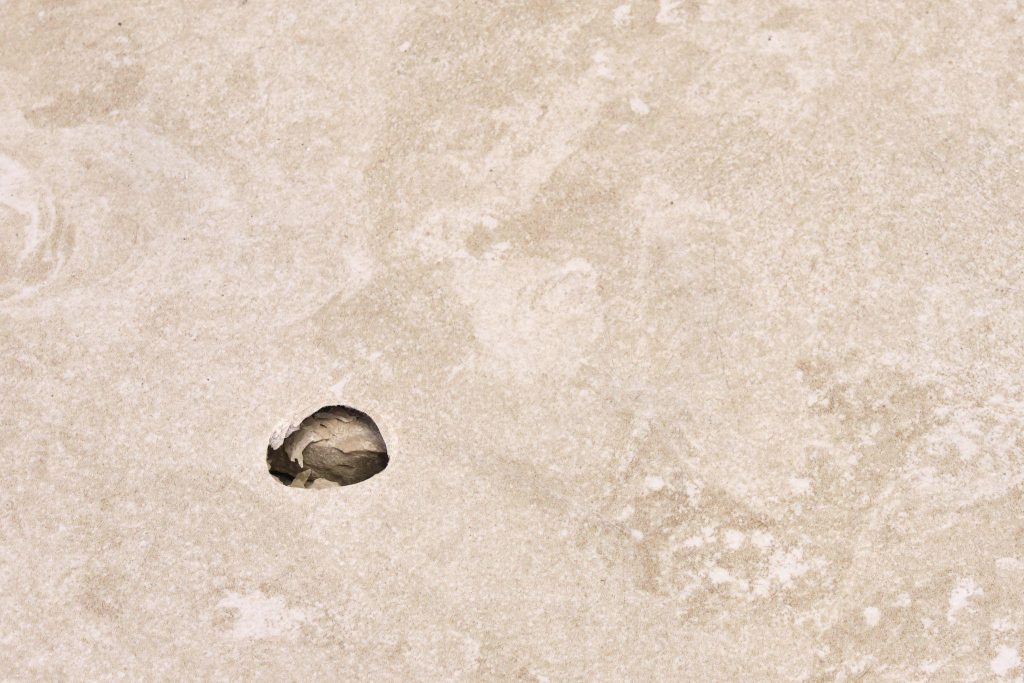 The first and most common sign of a damaged surface is cracking, especially on concrete and masonry surfaces.
Cracks form on surfaces for many reasons. While you can expect some small cracks over time, cracks on a new surface can indicate that materials like concrete dried too rapidly. Here, if water leaves unset concrete too fast, the remaining solids won't have time to fill in the empty space before they crack and leave little cracks and fissures as a result.
Of course, cracks are most common on older deck surfaces and are often the result of long-term wear and tear. Similarly, crazing (fine, surface-deep cracks) in your deck's coating is another sign of damage.
Cracks and crazing often call for immediate attention. While the odd crack or two is no big deal, too many can cause additional water infiltration and—you guessed it—even more damage.
2. Low Spots, Curling, and Uneven Surfaces
Uneven surfaces are another major sign that it's time for repairs. In the worst cases, it can also be a sign of improper installation of materials such as concrete and masonry.
Common examples include low spots or "dips" in the surface, as well as curling around the outer edges. In both new and old decks, these signs usually indicate an unstable foundation, material warping, and improper installation (such as rapid drying in the case of concrete).
As you may imagine, these signs can either show up immediately after installation or may develop over time. In the latter case, it's usually a sign of water infiltration, which can be avoided with a waterproof deck coating.
3. Blistering and Flaking
While less severe than cracks and uneven surfaces, blistering and flaking of surface coatings can be the precursors of more serious damage.
This type of damage is usually caused by regular wear and tear. However, it can sometimes be the result of improper application of paint and coatings, such as not applying the correct primer for a certain material.
In any case, it's important to address these issues before they give way to water infiltration and other types of damage. Thankfully, surface coatings are usually the least expensive deck treatments and can prolong surface life for many years. Even decks in good condition should consider surface treatments such as waterproof coatings.
4. Discoloration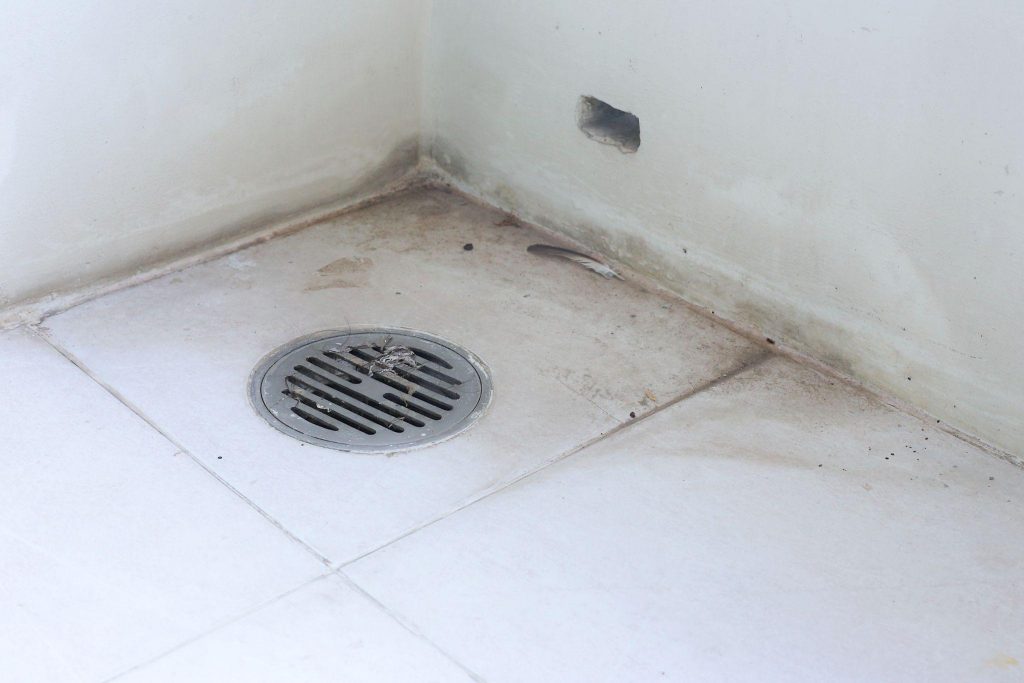 Discoloration isn't just ugly; it may also be the sign of some serious damage lurking underneath.
While discoloration can sometimes result from surface-level stains and spills, it can also result from deep-seated water damage. As a result, keep a close eye on discoloration—especially if it's in an unusual area and wasn't caused by a known spill.
As a general rule, most surface-level stains can usually be cleaned, whereas those caused by discoloration usually can't. This is another great reason why keeping your deck clean is such a crucial part of maintenance.
5. Loose Railings and Posts
As many railings and posts are supported by your deck's surface in some way, damage will usually cause them to come loose. Depending on the material, however, loose fittings may also result from poor installation or maintenance.
Though railings, posts, and other deck fittings are relatively less expensive to replace, any repair may be a wasted investment if any underlying causes or existing problems aren't addressed. As a result, give your deck a thorough inspection to determine whether loose fittings are the result of simple wear and tear or a bigger issue.
6. History of Poor Maintenance
If you know your deck hasn't been maintained very well, there's a good chance it needs repairs—especially if it's already showing the warning signs we've outlined so far.
While nobody wants to pay for expensive repairs, it's a great opportunity to save yourself time and money in the future. Between waterproof coatings and some easy maintenance tips, you can prolong the life of your current or existing deck.
3 Easy Maintenance Tips for Avoiding Deck Repair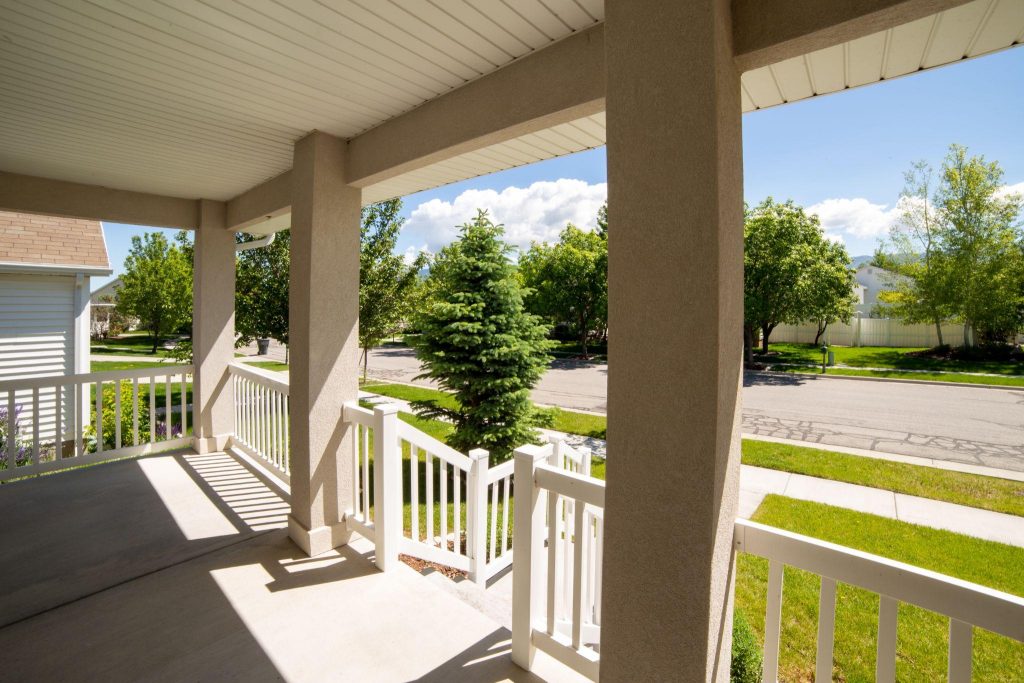 Since deck damage is often a very slow process, regular maintenance is often all it takes to prevent it entirely. Here are a few key tips to stay on top of it:
1. Keep the surface clean and dry.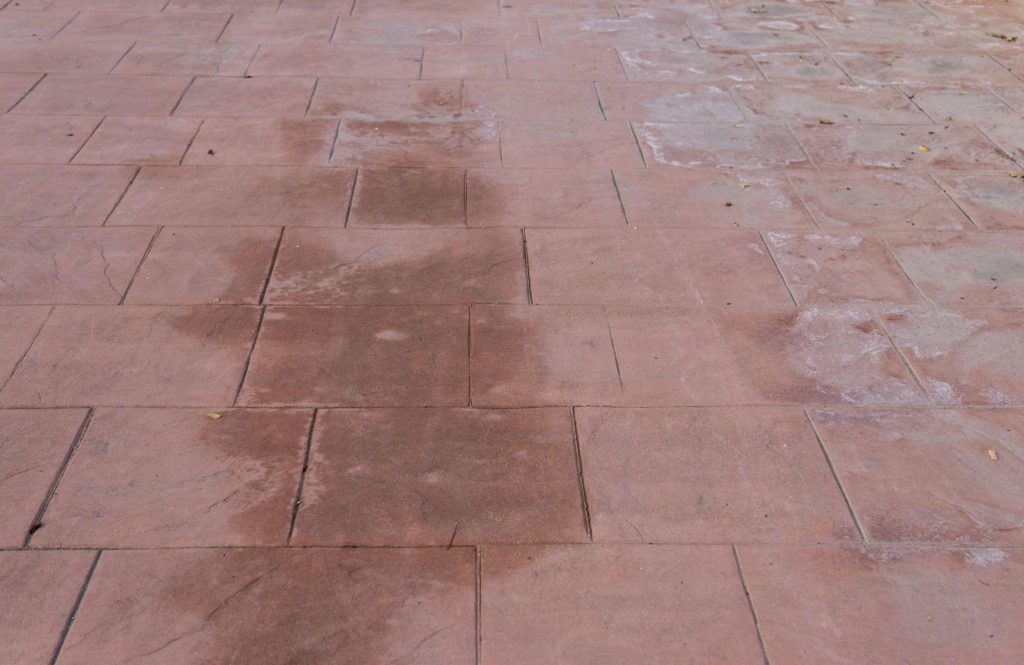 Wet and dirty surfaces can quickly lead to rot, resulting in mold, mildew, rot, and other hazardous effects of water damage.
By keeping your deck surface clean and dry, you'll reduce the risk of water infiltration while also keeping your outdoor spaces neat and tidy. Regular cleaning also gives you the opportunity to inspect your deck for cracks, discoloration, and other early warning signs of expensive damage.
2. Regularly move furniture and plants.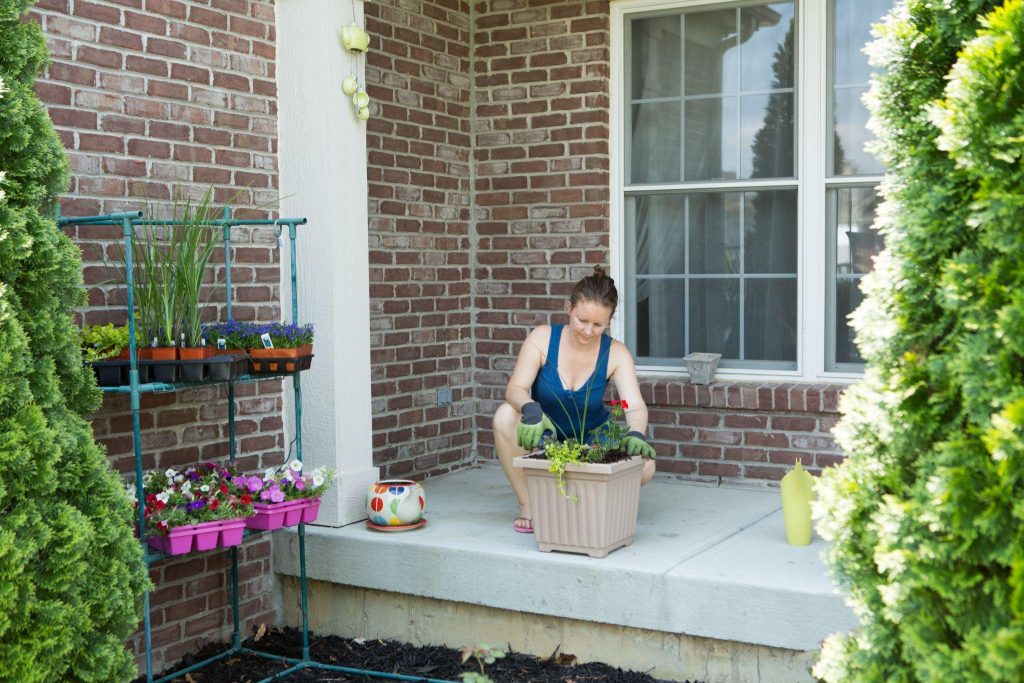 Regularly rearranging furniture, plants, and other outdoor fixtures helps "even out" the wear on your deck. In doing so, you'll prevent any one place from becoming damaged through too much exposure or foot traffic.
Also, like with cleaning your surface, regular rearrangements are a great way to spot damage that would've otherwise gone unnoticed.
3. Apply a waterproof coating.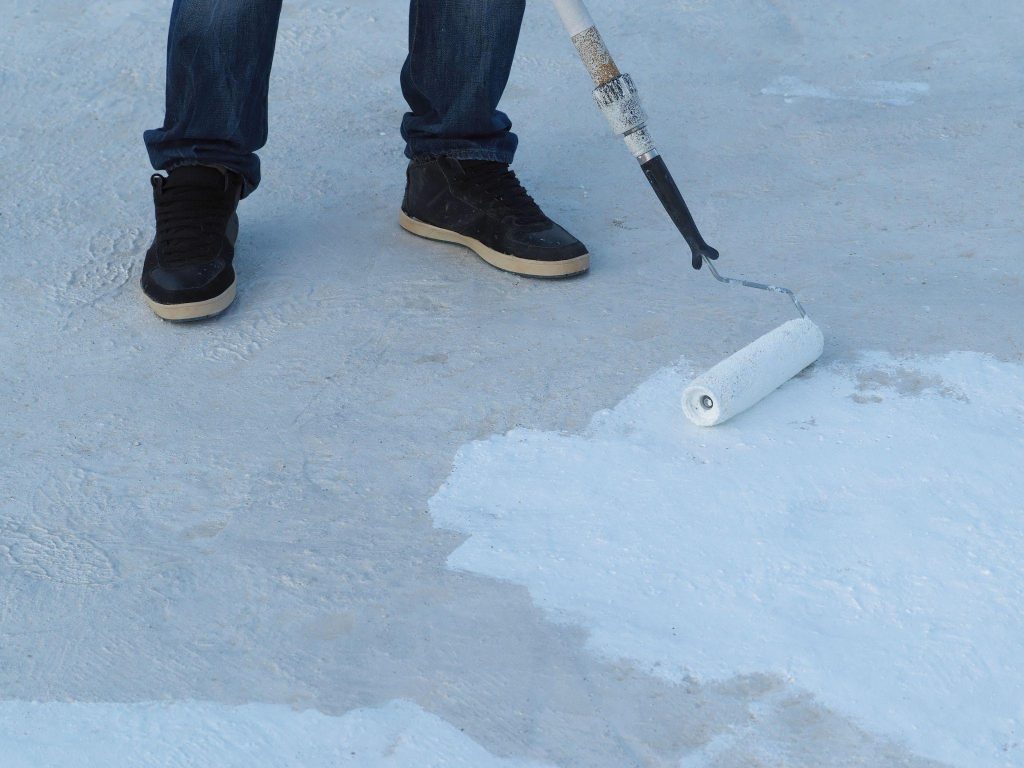 Waterproof coatings don't just protect your deck—they also make maintenance much easier.
Since a waterproof coating completely seals your deck's surface material from the elements, you won't have to worry about many of the signs of damage we've covered here. Instead, you'll just need to keep it clean and reapply the coating once every 5-10 years
While even waterproof decks are susceptible to damage, they're far more durable than decks using conventional coatings and sealants. While it's possible to DIY, the best results can only be guaranteed by an experienced professional.
Protect Your Deck with a Waterproof Coating from Capital Deck & Stair

A waterproof deck coating is the most effective way to avoid expensive deck repair and damage. With complete waterproofing services from Capital Deck & Stair, you can rest assured that your deck will be sealed from the elements for years to come.
For more information on and to schedule an appointment, explore our leisure deck services, or call us at (818) 697-6334.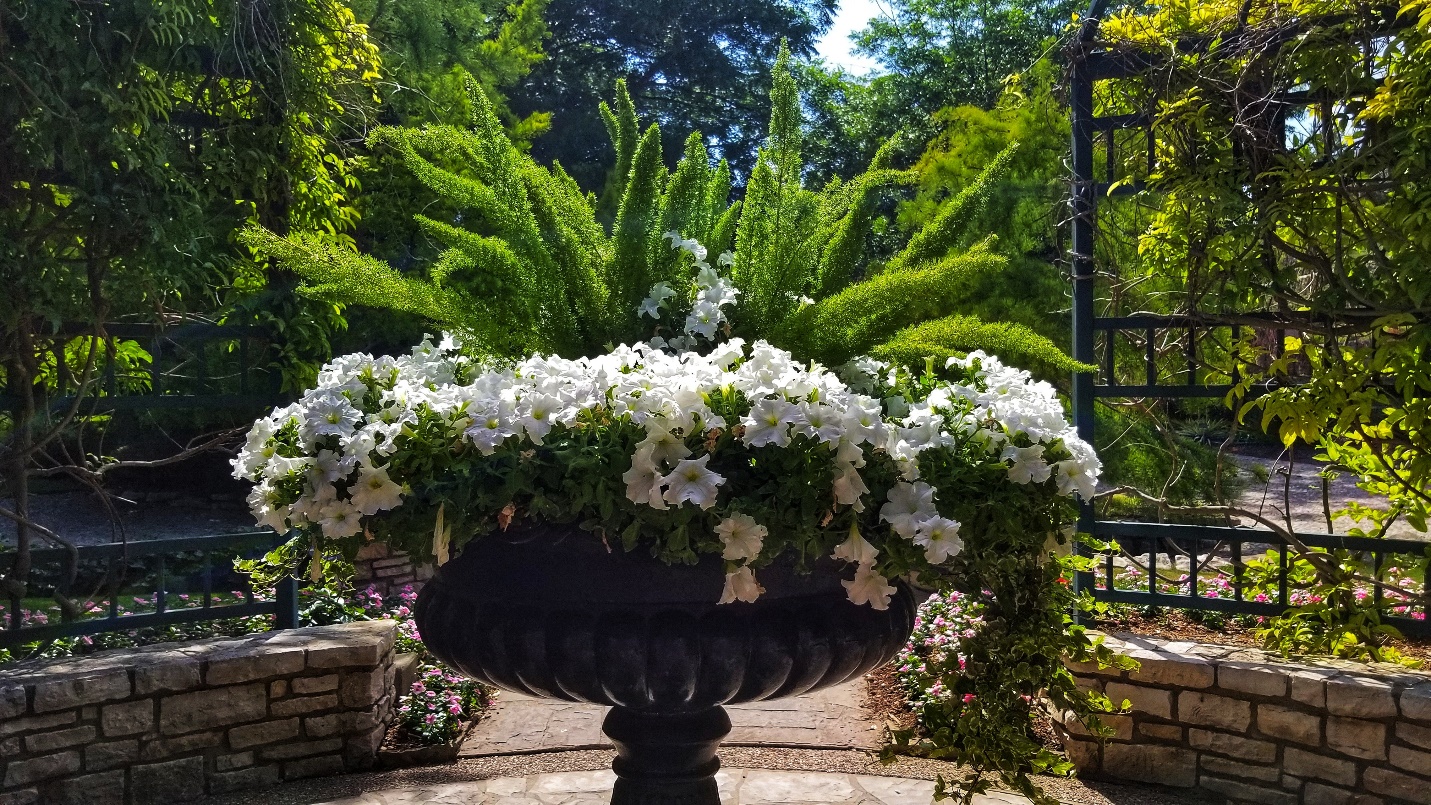 If you've been wanting to bring some greenery and flowers to your outdoor space, you'll be happy to know that it's easy to integrate planters into your home decor—and it's possible to do so without sacrificing space or straining your budget. Simply keep reading to learn about some inspiring planter box ideas, plus expert tips to keep your plants healthy and your boxes looking like new.
CREATING THE PERFECT PLANTER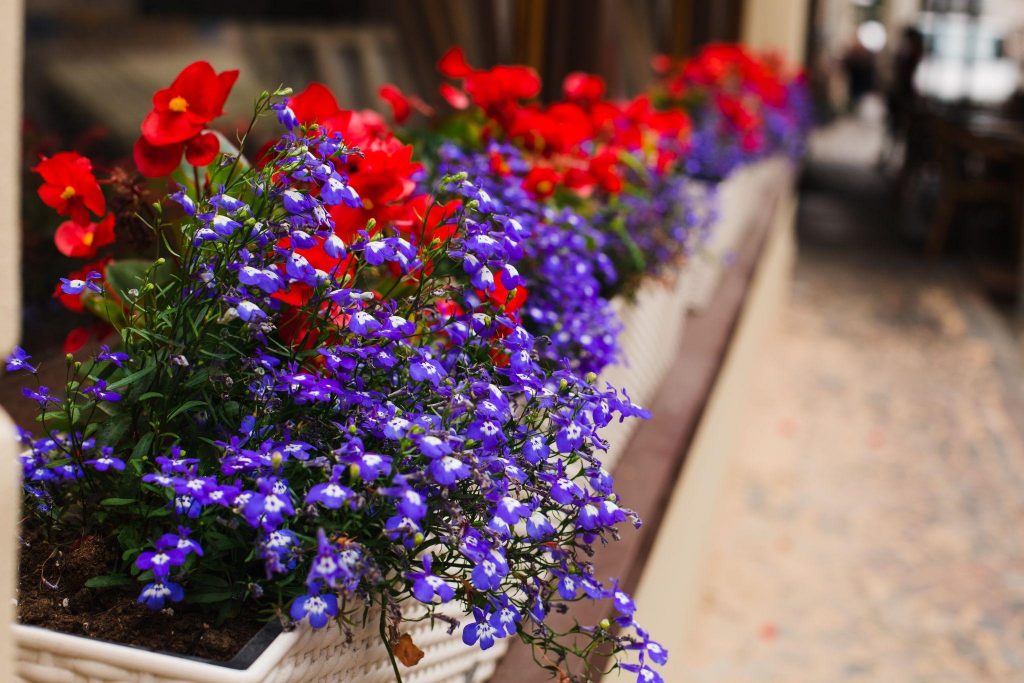 What can you put a plant into? The possibilities are practically infinite. Numerous household items will do, including plastic milk containers, aluminum cans, and plastic soda pop bottles.
Even bottled water containers can serve as planters, or you can use empty potting soil bags. You can also stack nursery pots to create a makeshift planter box—at least to get started.
Next, you will need to consider what you'll use for weight. Materials such as gravel, rocks, and broken bricks work well as rubble to weigh down a tall planter box. You can even use broken-up concrete or ceramic pots if you can get your hands on them.
A mixture of materials creates diversity and can provide just the weight you need. A lightweight filler can include foam blocks or even bags of foam peanuts.
OUTDOOR DECK PLANTER IDEAS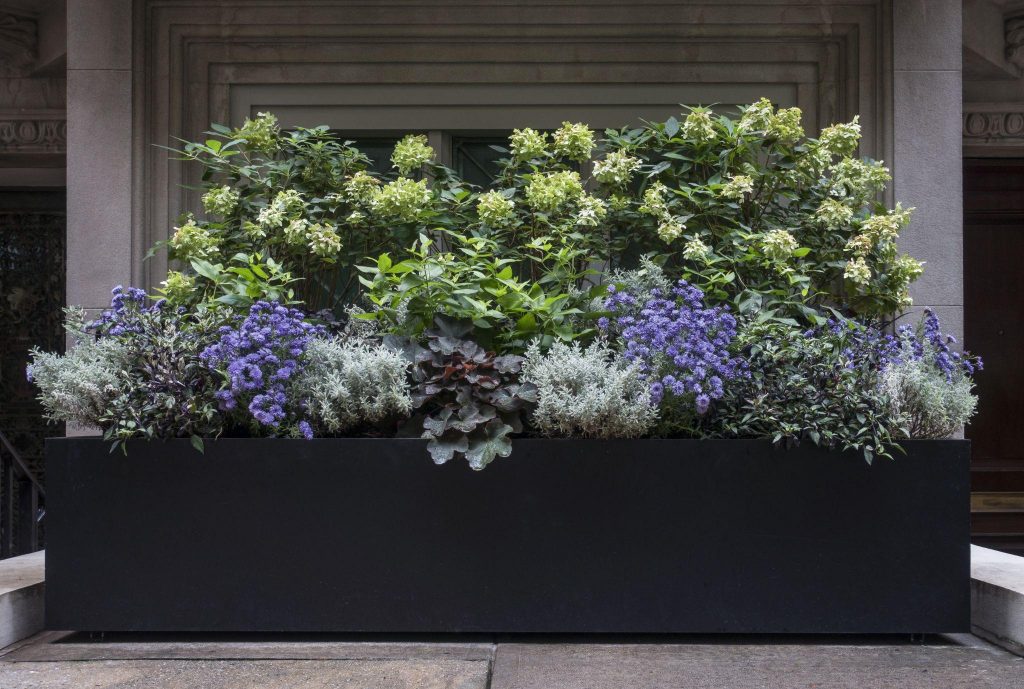 Like a  DIY garden planter, the design of your patio or deck planter should accommodate what you're planting. Upright, broad, and trailing plants have different requirements, which you will need to consider when choosing a single type or planting them in combinations.
You can select plants based on complementary colors or contrasting textures, but if you're still stumbling on specific planter ideas, you can consider adding the following to your outdoor decor:
● Flowerpots: An urn type container is great for trailing plants, while natural-looking garden pots are good for edible plants mixed with ornamentals. Flowerpots come in many different shapes, sizes, and colors. You can aim to match one with the color of a purple petunia or contrast a white hydrangea bush with a pale blue pot. Barrel planters are fine for leafy vegetables. Small planters can take the form of everything from wicker baskets to bowls, to fountain-like works of art.
● Built-In Planters: Planter box design ideas include a planter bench that incorporates the planter into the ends of a deck bench, a raised concrete platform, stacked stone structures, railings planters incorporated into deck railing, raised beds, and so much more. Tall, narrow wooden box planters can add privacy. If you're building a DIY wood bench, why not incorporate a planter? Other ideas include building planters out of recycled steel and plant beds out of stacked stone or incorporating long planters of different shapes and designs into an outdoor fence or wall.
● Planters for Small Spaces: Don't think you have room for a planter? Just look at your fence, entrance gate, or in corners, and you'll see plenty of vertical space for planting. If you'd rather not build on to an existing structure, you can still have planters; simply choose hanging baskets and place them on a notched piece of cedar with a sturdy hook at its top for instant beauty that can be relocated anywhere and at any time you wish.
● Planters with More than One Purpose: Even the smallest spaces can accommodate planters when they do double duty; a cleverly designed planter can display lush foliage as it hides unsightly areas like garbage can storage behind it. You can also grow food as you repel pests by planting certain herbs like lemongrass, basil, and rosemary.
● Sunken Planters: This is an ideal way to incorporate greenery into any deck design for a truly unique effect. Simply cut your decking and dig beneath to make room for sunken planters with succulents or other floor-level plants.
Planters can line the walking path of your deck. You can also try tiered wooden crates or stone elements (tiered planters come in many forms) or incorporate water features into a larger planter.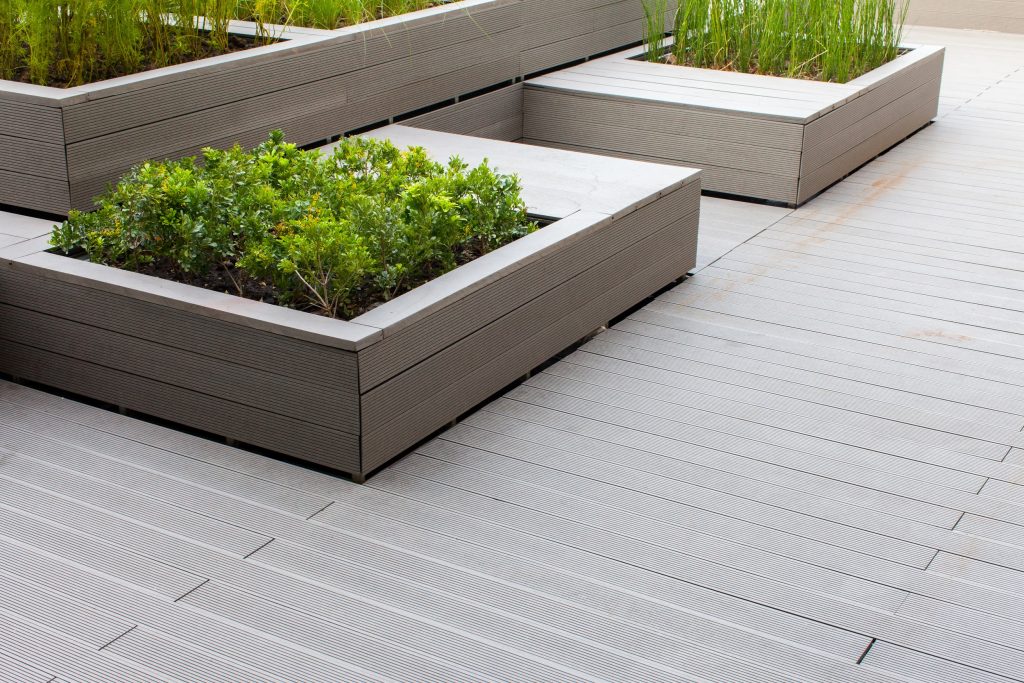 Your planter design can be the centerpiece of your outdoor space or be more subtle like a metal tub or modified flowerpot. However, before creating and installing one or more planters in your space, you'll want to keep the following pro tips in mind:
● Incorporate Planter Plans Before Building a Deck: You can save yourself a lot of time and effort by considering where concrete, metal, or wooden planters will fit into your deck before you build.
● Don't Overplant: You may want to jam in as many pretty plants as possible, but doing this will only cause crowding and stress that can kill plants fast. Consult the guide that comes with your plants to ensure you provide the sufficient spacing that will help plants to thrive.
● Protect Your Planters: Sunshine, rain, and fluctuating temperatures can all wreak havoc on planters of every kind. If you're building wood planters, ensure that all areas have been properly sealed to prevent the formation of mold. Metal planters can benefit from a coat of rust-proofing paint, and plastic containers can be painted to prevent fading.
● Don't Hesitate to Call a Professional: It's great to have a lot of planter and deck ideas but, if you're an amateur, your project can quickly become overwhelming. If things are getting out of hand, a professional can help you get things done in smaller and more manageable pieces, not to mention put their experience to work for you.
DISCOVER THE BENEFITS OF INCORPORATING WATERPROOF PLANTER BOXES INTO YOUR PLANTER DESIGN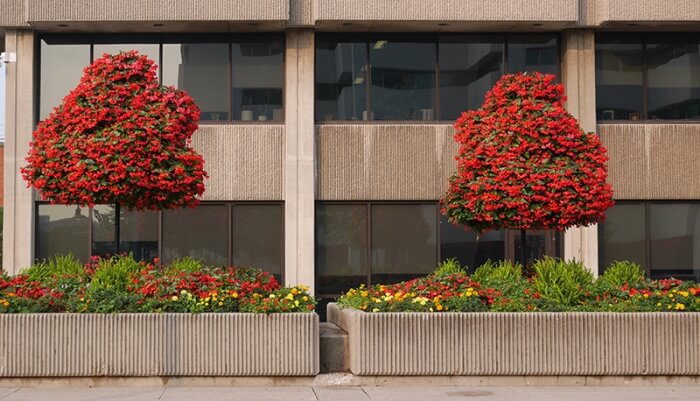 Planters can add lots of character and personality to any outdoor living space. Capital Deck & Stair is not only trusted for professional treatment of walking decks, pool decks, balconies, stairways, and garage floors in Los Angeles, but we also offer professional installation of waterproof planter boxes.
Our home waterproofing contractors work with you to design boxes that are completely customized for your space and which will withstand harsh outdoor elements. We treat each box so that all of the flowers, plants, and shrubberies on your property retain the aesthetic value you admire.
Discover why we are the choice for a growing number of residential and commercial planter installation and waterproofing clients in Los Angeles and Orange County. Give us a call today at 424-339-0953 or request a free quote online at our website.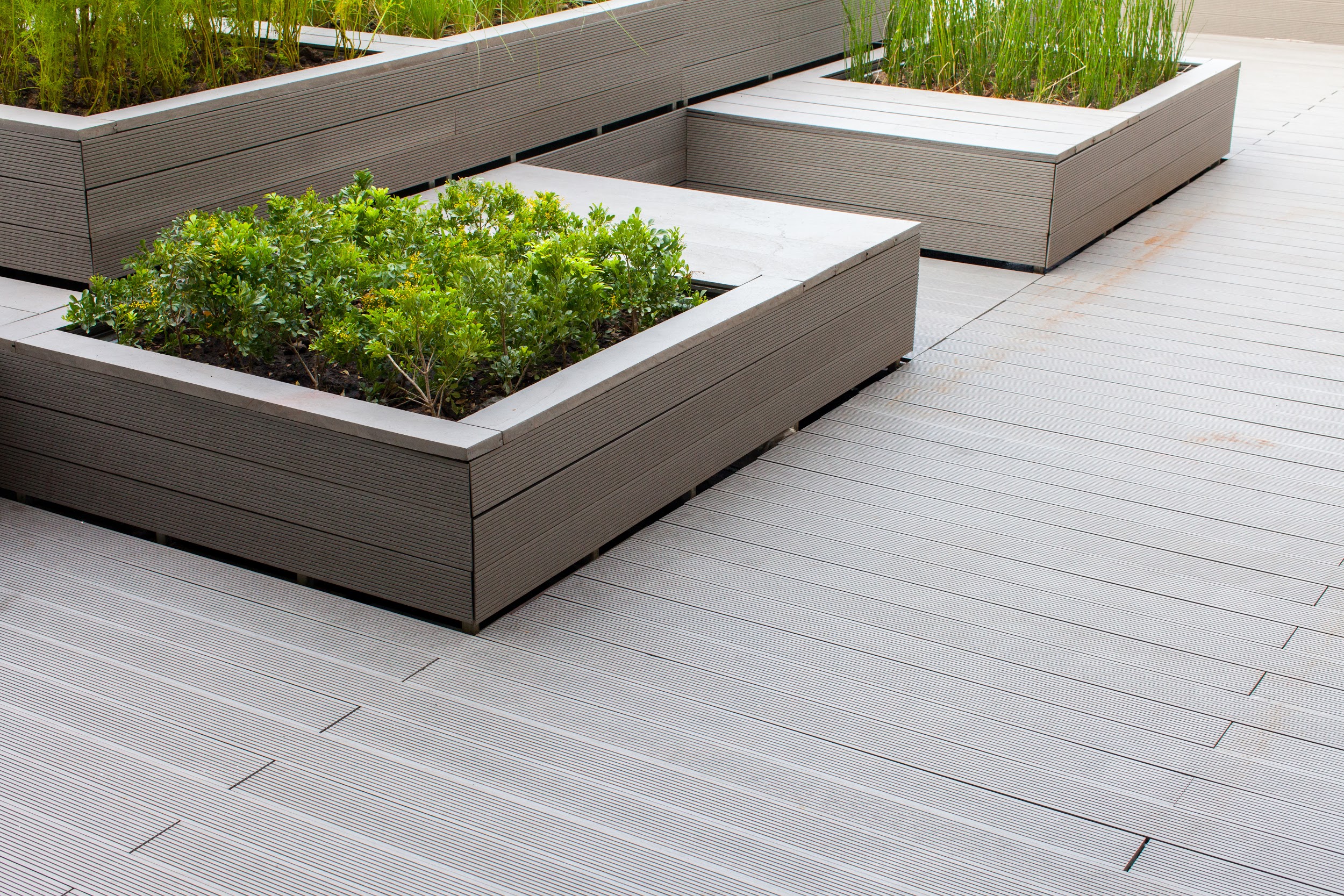 At Capital Deck & Stair, we're known for waterproofing and restoration services throughout Los Angeles. We also help install planters to enhance the outdoor environments of our customers' properties. Planting a garden involves several steps. Here is a closer look at the process.
Find the Perfect Plants
Picking a lot of colorful eye-catching plants at random isn't going to yield the healthiest garden. It's best to choose plants native to your region. Also, some plants thrive under partial or full sunlight or in the shade or with more or less water. If you're mixing different types in close proximity, choose plants requiring similar conditions.
Consider the visual appeal of your planter. If you want it to be bold, choose orange, yellow, or blue. For a more soothing vibe, mix reds and yellows or blues and pinks. You can be creative and sophisticated, too, with completely unrelated colors that complement your space.
Choose Great Soil
Garden plants thrive most in nutrient rich soil. Organic soil supports plant growth because it has abundant materials, such as grass clippings, leaves, and compost. Fungi and bacteria help maintain its quality too. For small containers, purchase a houseplant soil mixture, as ordinary garden soil is too dense, and pre-moisten it with water before filling the container.
Select the Right Garden Planter Box
The beauty and wellbeing of your plants rests on several factors here, including:
● Size: Consider the size of your plants and their roots. If the planter is too small, there may be less water, oxygen, and nutrients available. The planter should be up to 8 inches in diameter for plants up to 12 inches in height. Larger planters, of around 24 inches in diameter, should be used for taller plants of around 24 to 36 inches.
● Material: Brittle materials, such as clay or plastic, can easily break. Planter material can also influence how often you need to water plants. Wood is more protective against temperature swings and provides an attractive natural look.
● Drainage: Holes for drainage are critical, as waterlogged soil can kill plants. Some planter containers have holes. Others may require drilling. The holes need to be just large enough for excess water to drain.
Maintenance
Properly maintaining your garden planters helps keep your plants alive and healthy. These are some helpful maintenance tips:
● Prune Leaves: Remove overgrowth that can cause a tattered mess of leaves, stems, and dead flowers. Once your plants start filling in, pruning will help them thrive in their setting. If any become diseased, remove them immediately, as the problem can quickly spread.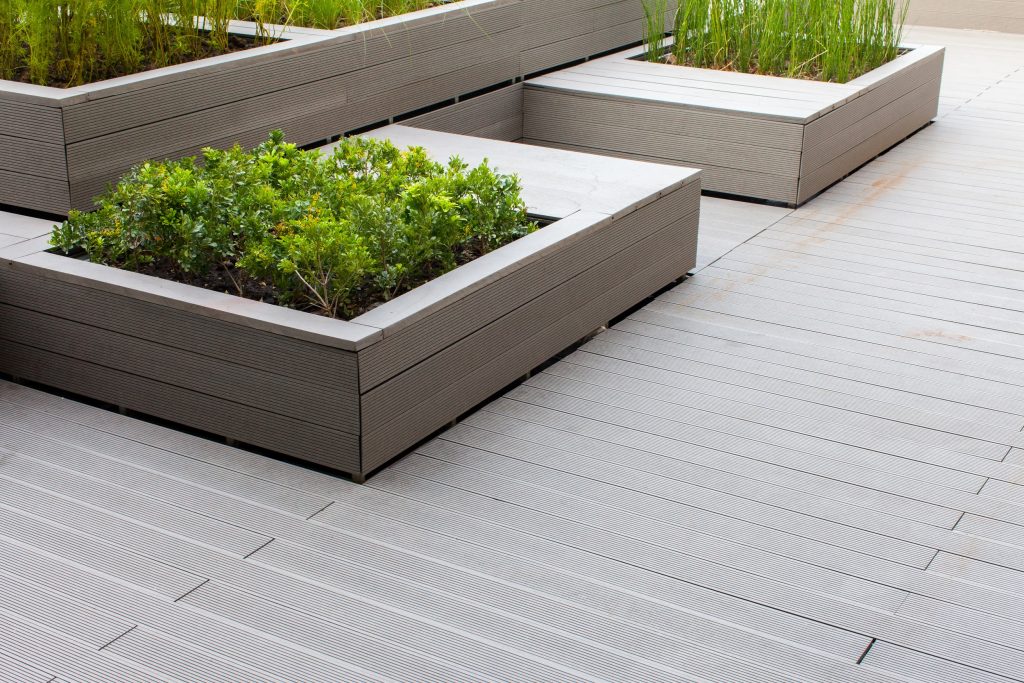 ● Remove Weeds: Mulches and coverings can suppress weed growth. When weeds start growing, the most effective solution is to pull them out. Weeds with deep roots may need to be dug out. Or, you can do weekly cutting to keep them in check.
● Waterproofing: Garden planters, especially those made of wood, can decay, crack, and fail without being waterproofed. A waterproof coating will make your planter more durable so you can keep your plants healthy.
Call for Planter Installation and Waterproofing
If you're starting a garden, Capital Deck & Stair can transform your outdoor space by installing raised or below-grade planters; waterproof planter foundations and other structures can be installed as well. We even waterproof our customers' planters to maintain their integrity. Call us at 424-339-0953 to learn more.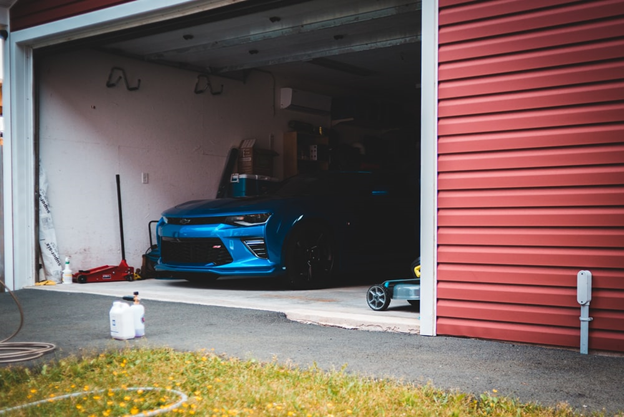 Your garage can be much more than just a place to park your car or store the odd box or two: With a few simple and inexpensive upgrades, you can transform your garage into a versatile storage space, improve your curb appeal, and even increase your home's value.
Read on to discover seven easy and inexpensive ways you can upgrade your garage and make greater use of this valuable space.
1. Garage Storage System
Though they may be built for storing cars, garages can be great places to store just about everything else—especially heavier items that would be difficult to carry between the basement or a storage unit. From crates to lawnmowers, your garage can probably store more than you think!
However, your square footage is still valuable. As a result, investing in a good garage storage system can help you make the most of your garage space while also organizing your belongings more efficiently. Common garage storage solutions include wall shelving, rolling storage carts, and even ceiling racks for storing items overhead—a vastly underutilized space.
2. Insulation
While insulating your garage might seem like overkill, it comes with more benefits than many people would realize: In addition to keeping your car and any stored belongings at a consistent temperature, garage insulation can also improve your home's energy efficiency and reduce drafts.
Garage insulation is especially important for those living in colder climates, where extreme cold can often cause damage to car fuel tanks and electrical systems—plus, nobody wants to get into an ice-cold car.
3. Electrical Outlets
Electrical outlets are a must if you want to transform your garage into a more versatile multipurpose space. Thankfully, it's a relatively inexpensive upgrade and a simple job for any certified electrician.
Adding a few electrical outlets around the garage allows you to use power tools, set up a workshop, or plug in a vacuum and other equipment for cleaning your car. A garage electrical outlet can also allow you to install extra appliances, such as an extra freezer or refrigerator.
4. Fixing the Concrete Floor
Concrete is bound to crack and crumble eventually—especially if a car drives over it every day! If your concrete floor has seen better days, then fixing cracks and pitted areas may be essential for protecting it from further damage.
Fixing minor concrete damage is often inexpensive and can be done without having to replace or re-pour the entire floor. After repairs, consider garage waterproofing to help further protect your investment.
5. Upgraded Garage Doors
Upgrading your garage doors is a quick and extremely effective way to improve your curb appeal—and it's often less expensive than many people assume. Even at times when upgrading your garage doors becomes costly, however, the resulting increase in home value is almost always higher than the initial investment.
6. DIY Parking Guide
Never quite sure how much room you have when pulling into your garage? Look no further than a parking guide—a simple DIY hack you can do in less than an hour using materials you probably already have.
While there are many ways to build a parking guide, the simplest involves hanging a tennis ball from a string attached to the ceiling of your garage. The tennis ball should drop down far enough so that it "taps" your car once it reaches the ideal distance from the wall.
7. Garage Waterproofing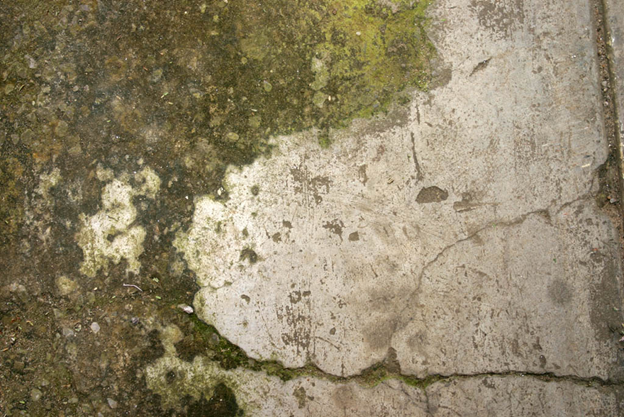 Garage waterproofing is the quickest and most effective way to protect both your garage floor and your home from water damage. A waterproof garage floor is especially necessary for areas that receive high amounts of annual rainfall, as water infiltration can cause severe damage to concrete floors over time.
For more information on our garage waterproofing services, call our team of waterproofing professionals at (424) 339-0953.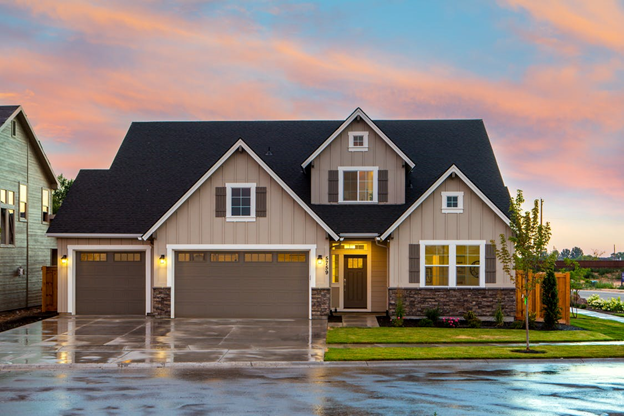 Whether you're updating your garage or building a new one altogether, there's a lot to consider: From size and materials to local weather and zoning requirements, designing a garage takes much more than simply deciding on the number of doors!
Considering the following points will not only help you design a better garage but will also help streamline the design and construction processes—and help avoid future setbacks and mistakes.
How Will You Be Using Your Garage?
How you plan to use your garage will likely be the biggest factor in your design. Common considerations include how many cars you have––or at least how many you'd like to keep in the garage––and other vehicles you plan to store, such as boats, off-road vehicles, and golf carts.
Of course, the garage isn't just for storing vehicles: Many people also choose to have workshops, garage storage, and even living and recreation areas inside their garage. These considerations will help you decide not only how many garage doors to include in your design but also how much extra space you'll need for extra equipment or living and work areas.
Zoning, Code, and HOA Restrictions
No matter how thoughtful or well-planned your design may be, it will ultimately be limited by your local zoning, code, or homeowner's association (HOA) restrictions. While often annoying, these restrictions are in place for a good reason—and the fines and headaches for violating them aren't worth your trouble.
As a result, be sure to verify your design with local zoning, code, HOA, or any other authority well before construction—or even before starting your design, for that matter. An architect or construction service can also help you ensure that your design falls within local guidelines.
Size
While the size of your garage is largely determined by how you plan to use it––number of cars, recreation space, etc.––you should also consider the size of your vehicles, how much extra space you need, and the size of the garage relative to your house and other structures. For example, if you live in a suburban area, there's no sense in building a garage large enough to fit an excavator!
If you plan to have extra living or work areas inside your garage, be sure to factor your space needs into the floor plan—especially if they'll be sharing the same floor as cars and other vehicles.
Location––Attached vs. Unattached
The location of your garage will also put some restrictions on your design; ultimately, your garage will either be attached or unattached. While an unattached garage provides the most freedom in design, it's also the most difficult to "blend" with the design of an existing house or other structures.
Whether attached or unattached, the location of your garage also depends on the orientation of your driveway. Make sure that your garage's location provides you with the most space for backing in or out.
Style and Materials
While the style and materials of your garage should usually match those of the house, this isn't always the case—and, in some cases, the intended use and location of your garage may dictate otherwise. In any case, make sure that the style and materials of your garage not only match the use but also the style of your home and, where necessary, HOA design restrictions.
Garage Waterproofing and Surface Preparation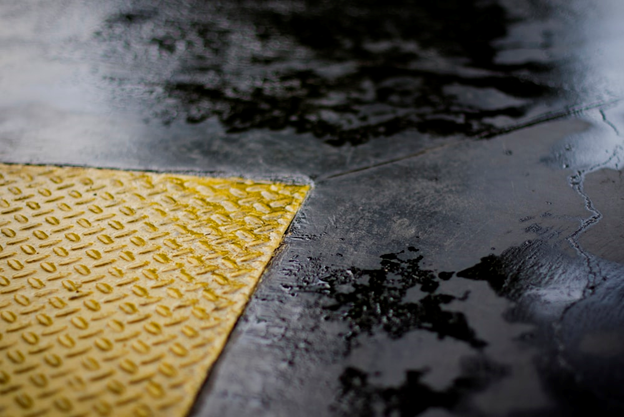 Though it may be an indoor space, your garage gets plenty of outdoor abuse: Whether it's dirt, mud, rain, or snow, it's crucial to protect your garage's surfaces with basic treatments such as a waterproof garage floor covering. Thankfully, garage waterproofing is affordable and easy with the right professionals.
For more information on our garage waterproofing services, call our Los Angeles team of waterproofing experts at (424) 339-0953.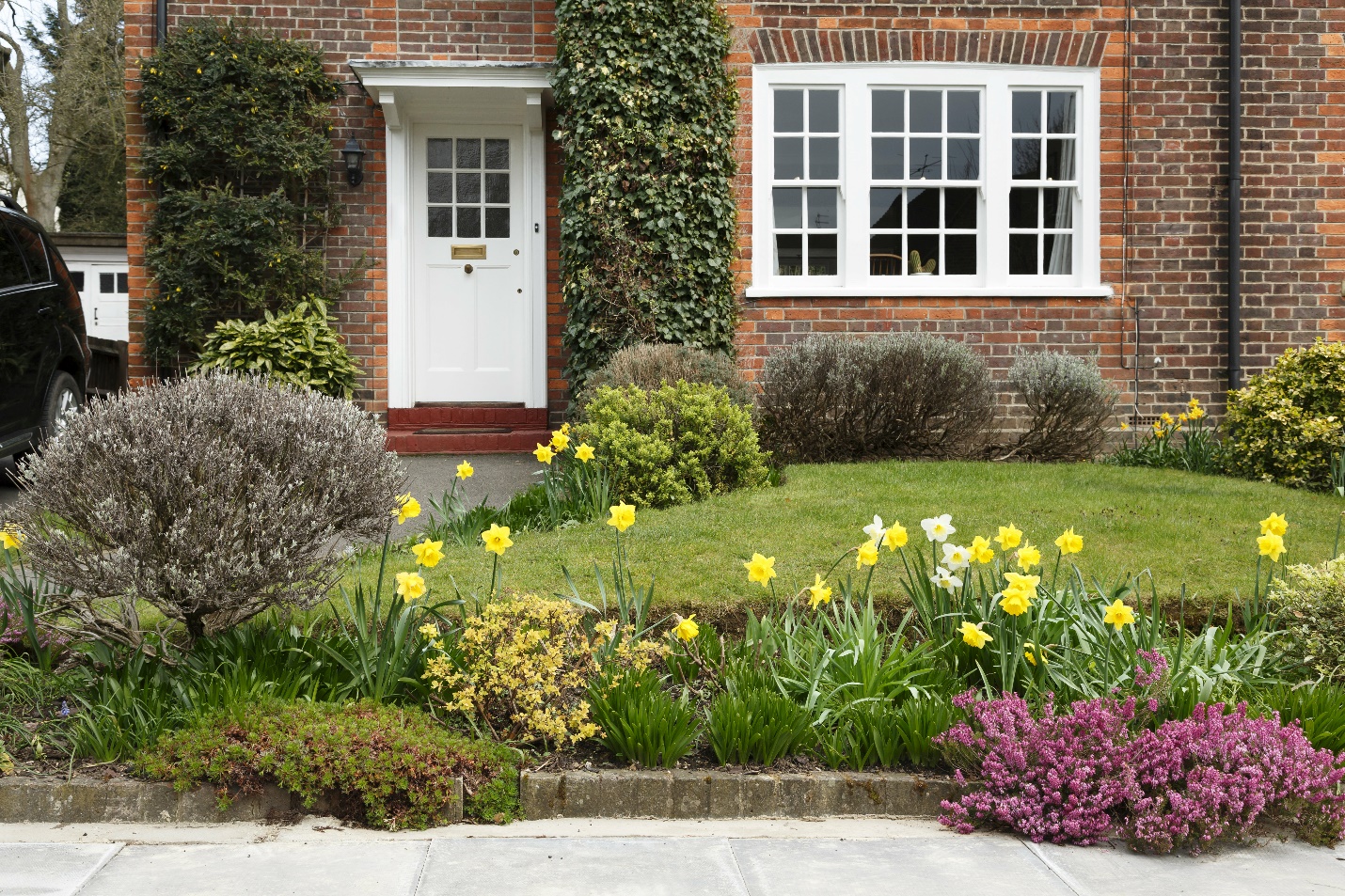 It's already time to start planning for 2021. With a new beginning, home improvement is on many homeowners' minds. Spending on big project remodels was up 4% in 2019, while small project spending rose 7%. Even higher growth is expected for 2020.1 From creating a garden to improving your garage flooring, here are some ideas if you're considering a home remodel this upcoming year.
1. Tend to the Greenery
Even if you don't have gardening experience, bringing nature to your home can be rewarding. You can beautify your space inside and out in simple ways. These are just some projects that can achieve such a goal:
Raised garden beds: A garden bed avoids the hassles of preparing ground soil; with an above-ground garden box, you can choose the dirt, fertilizer, and plants.
Flower boxes near windows: Perhaps you're updating windows or adding shutters; why not add flower boxes? It's great for add curb appeal and to show you appreciate nature.
Trim shrubbery: Pruning trees and shrubs gets rid of overgrown branches that can make quite a mess. It is also good for plant health, not to mention property value.
2. Remodel Your Entryway
Focusing on the front door can yield improvement without extensive home remodeling. After all, it's generally the first thing visitors see. Revamp the design with a new door or repaint your old one. Decorative trims, molding, new hardware, illumination, and even a new house number can make a big difference. If possible, refurbish the front porch, but, if space is tight, add a portico for attractive detail.
3. Update the Lighting
If your fixtures are old and outdated, install newer, more efficient ones. You can also illuminate the exterior to highlight your home's façade or boost security. It can be a DIY job if your wiring is up to date. But if not, hire an electrician to ensure your breakers, outlets, and wiring can handle the load and to avoid expensive hassles later.
4. Open Up the Space
If your home has a lot of non-load-bearing walls, switching to an open floor plan may be a great project. Always consult with a contractor first to avoid disasters such as cave-ins and collapses. When it's practical to remove walls, professional help improves safety, as drywall and other materials can be difficult and dangerous to get rid of.
5. Fix Up the Garage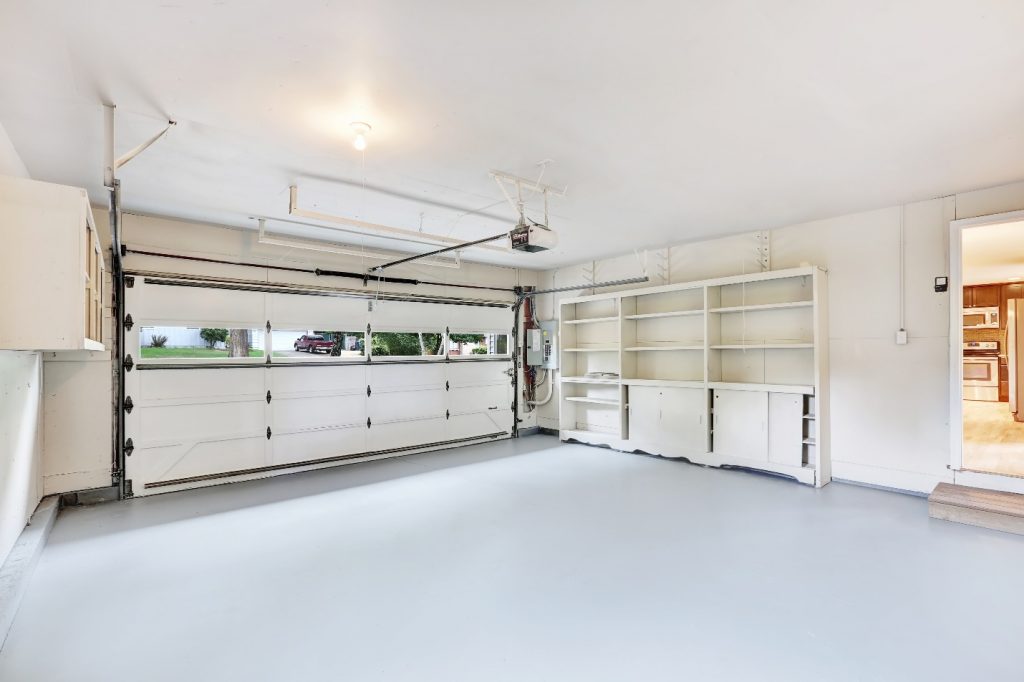 A garage remodel is one of the best home improvement projects. It provides the opportunity to refresh an underutilized space. If tools, equipment, and old belongings have piled up, have a garage sale or donate them. Removing the clutter makes room for an office, entertainment area, or playroom. The project also devotes time to maintenance, from lubricating garage door springs and rollers to restoring the floor.
Update Your Garage Flooring with Capital Deck & Stair
We provide garage floor installation and restoration services in Los Angeles and Orange County. Customers depend on our licensed, bonded, and insured experts to fix up aging garage floors and manage other complex home improvement projects. Call 424-339-0953 for a free estimate.
Source: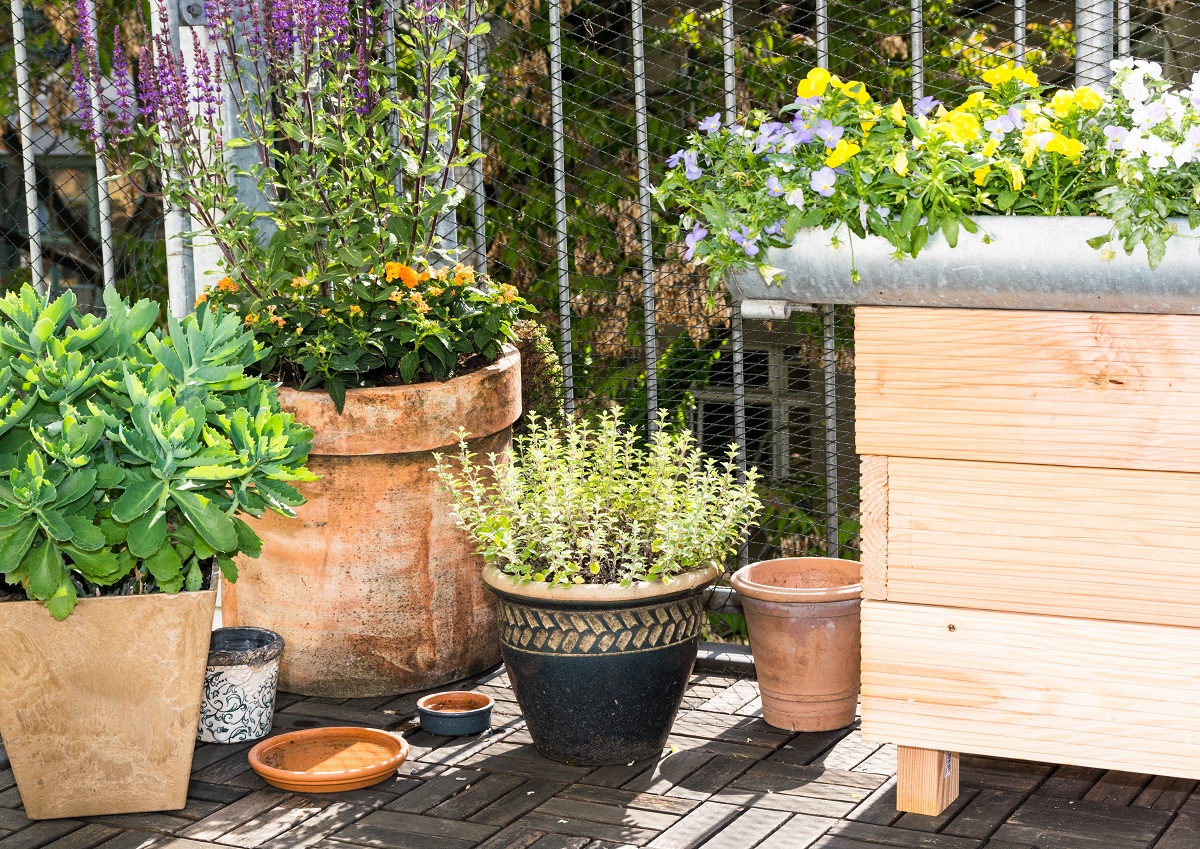 Many homeowners like to spruce up their outdoor patios, porches, and decks using outdoor planters. Planters can include a wide range of sizes and styles of containers that make it perfect for growing flowers, herbs, vegetables, shrubs, and other greenery. Some popular varieties include self-watering planters and wall planters.
Each year, it is essential to prepare your planters and ensure they are summer-ready. There are many tasks that are involved in making your planters look great. To help you get started, we are excited to share the following tips and ideas.
1. Waterproof Your Planters
Whether you have wood, concrete, or ceramic planters, it is essential to make sure they are properly sealed and waterproofed. Waterproofing helps protect the plants against the outdoor elements. Rain, wind, sprinklers, and plant watering can cause the interior of the planters to degrade. For example, not waterproofing wood planters can lead to wood rot.
2. Make Sure Your Planters Have Proper Drainage
Planters need to have drainage holes in them so that they do not hold excess water. Excess water can be an issue for the plants since their roots will be flooded. Additionally, too much water in the planter can damage the planter itself.
3. Customize Your Planters
You can paint or stain the exterior of your planters to personalize them to suit your tastes and outdoor décor. For concrete planters, there are different colors of epoxy coatings that are easy to apply and remain on them better than paint. Paint will absorb into the concrete, so the finished appearance may not match the color you desired.
4. Remove All Dirt and Dead Vegetation
If you are reusing your planters from last year, the first thing you need to do before waterproofing is to remove all dirt and dead plants. Once the planters are emptied, clean the inside to remove excess dirt before waterproofing.
5. Get Cracked Planters Repaired
Instead of having to replace a cracked planter, you might be able to have it repaired. There are different methods that could be used to restore the appearance of the planter. For example, concrete planters can have cracks, chips, and other damage repaired using the appropriate maintenance products.
6. Choose Your Plants
Once your planters are prepped and ready to go, the next thing you need to decide is what types of plants you want. You could choose from herbs, flowers, fruits, vegetables, and small shrubs. When selecting plants, try to choose ones that will thrive in your area. For instance, tomatoes are hardy in many climates.
You should also think about whether you want to add some color with flowering plants. Some flowering plants do well with herbs and vegetables, as do sunflowers. Plus, you get the added benefit of sunflower seeds you can dry and eat.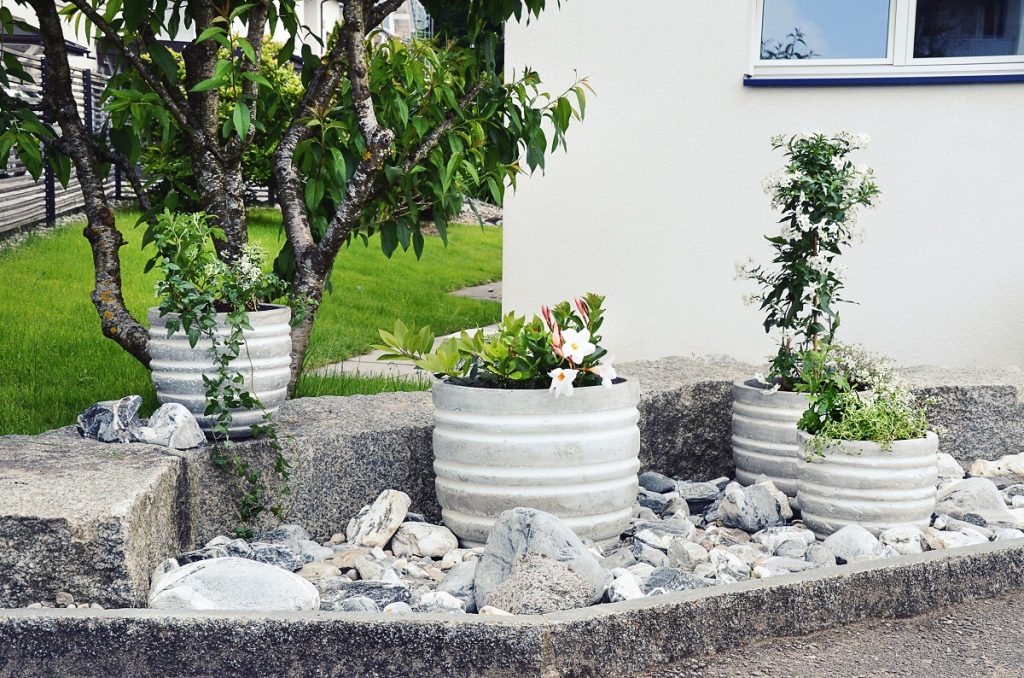 7. Get the Right Garden Accessories
Verify you have the right garden accessories for the plants you are growing. You often need different types of soil, fertilizers, and nutrients for different plants. You may also need to apply a layer of substrate (pebbles, sand, etc.) to the bottom of the planter to help with drainage.
8. Add Some Shade and Seating
Last, don't forget about seating to enjoy your outdoor garden space and a little bit of shade. You could even add a pergola over the area with a removable cover.
For professional residential and commercial planter waterproofing and repairs, please contact Capital Deck & Stair at (424) 339-0953 today!
For some people, cars are a bit of an obsession—and even that might be an understatement. If your life seems to revolve around machines on four wheels, having a garage worthy of displaying your favorite vehicles would be a thrill. Fortunately, designing your own garage showroom is easier than it might seem, and the four garage design ideas listed below are a great place to start.
Big Picture Décor Decisions
Before you lift a finger to get this project started, it's smart to think about what you are trying to accomplish from a big picture perspective. What kind of showroom would you like to create? Do you love the look of classic car showrooms, or would something more modern be a better match for your tastes? With the power of the internet at your disposal, look around at a variety of pictures for inspiration, and you should soon get a good idea of the type of design that you could love for years to come.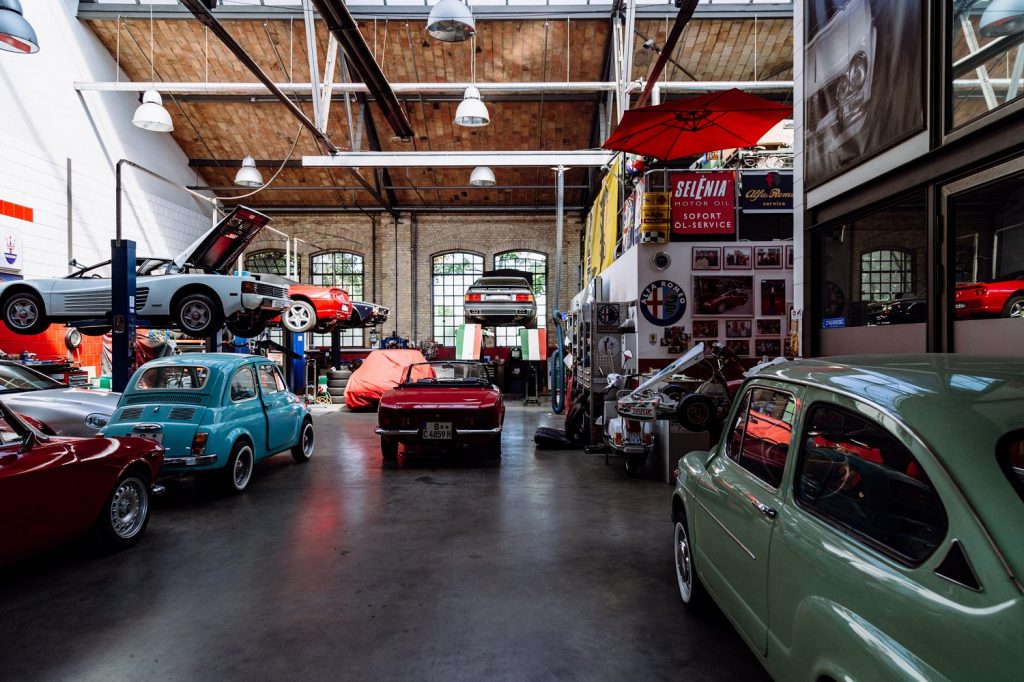 Prepare the Space
It's easy to get ahead of yourself and start picturing all of the car-related gear you are going to move into the garage. Before you can take that step, however, you need to first prepare the space from a practical standpoint. For one thing, make sure there are no structural issues that could lead to problems for your cars, such as leaks in the roof. Also, consider adding a waterproofing membrane to the floor to protect against water and oil. This will not only be a nice functional improvement for the space, but a nice floor can add to the overall visual appeal of the garage.
Storage Is Essential
No matter what look you try to achieve with your garage showroom, you are going to want to keep the space clean and organized. Of course, you'll also want to keep a variety of things in the garage, such as tools and supplies, so storage is a key addition. Include plenty of cabinets, drawers, and other types of storage in the design so the space isn't cluttered when you want to show it off.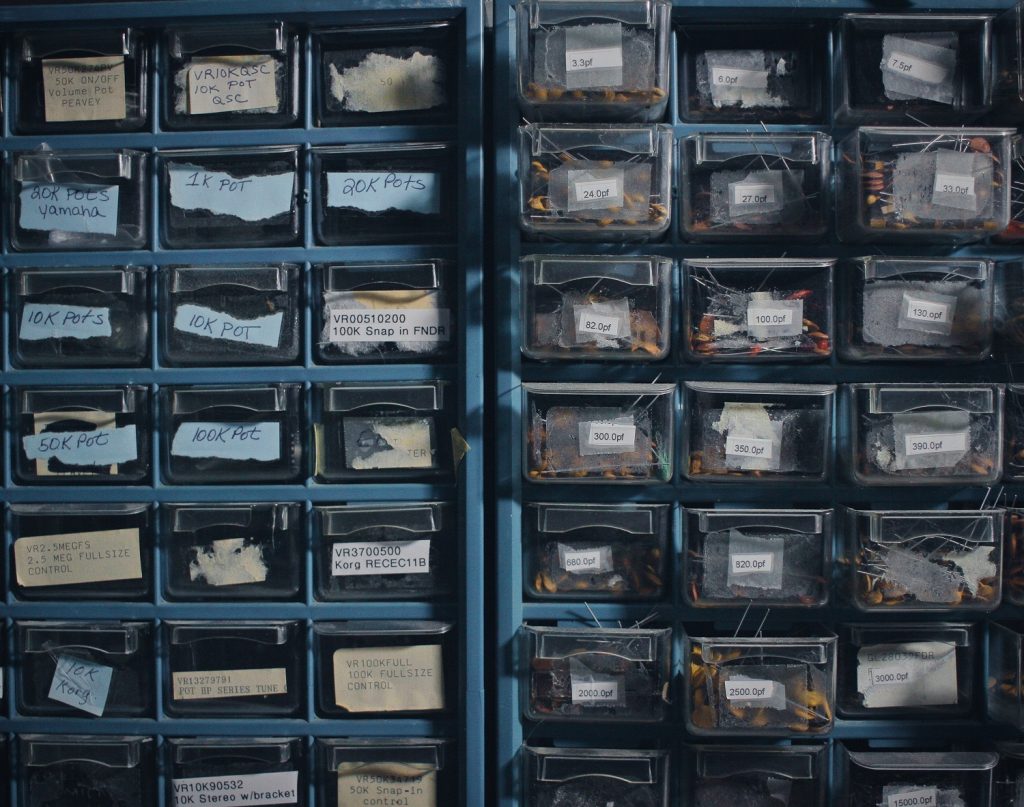 The Right Color
If you have one specific car in mind that you are going to be showing off in your new garage, keep that car's color in mind as you make design choices for the space. You probably don't want to match the paint and floor to the car itself, as that could be difficult and prevent the car from standing out, so go with a color scheme that will nicely complement the paint job on your prized vehicle.
Contact Capital Deck & Stair Today!
Adding a waterproof floor to your garage would be a great first step toward a dream showroom, and Capital Stair & Deck would be happy to handle this project for you. Contact us today to learn more. We are excited to serve you!
For many homeowners, the idea of turning an area of the home into a "man cave" is a dream that they carry with them from the first day they move in. Unfortunately, many never bring this idea to life, as they get too bogged down in the planning phase to put anything into action. In this post, we have outlined a number of man cave ideas to help you take the first step toward finally making it happen. Don't wait any longer!
A General Outline
The best way to get started with this kind of project is to think about the big picture. What do you want to do in your man cave? For some people, the ideal man cave is little more than a television, a comfy couch, and maybe a place to keep beverages cold. For others, an active environment is the goal, with amenities like a pool table, pinball machine, etc. Whatever your dream happens to be, outline it at this first stage before you get into the process of planning the smaller details.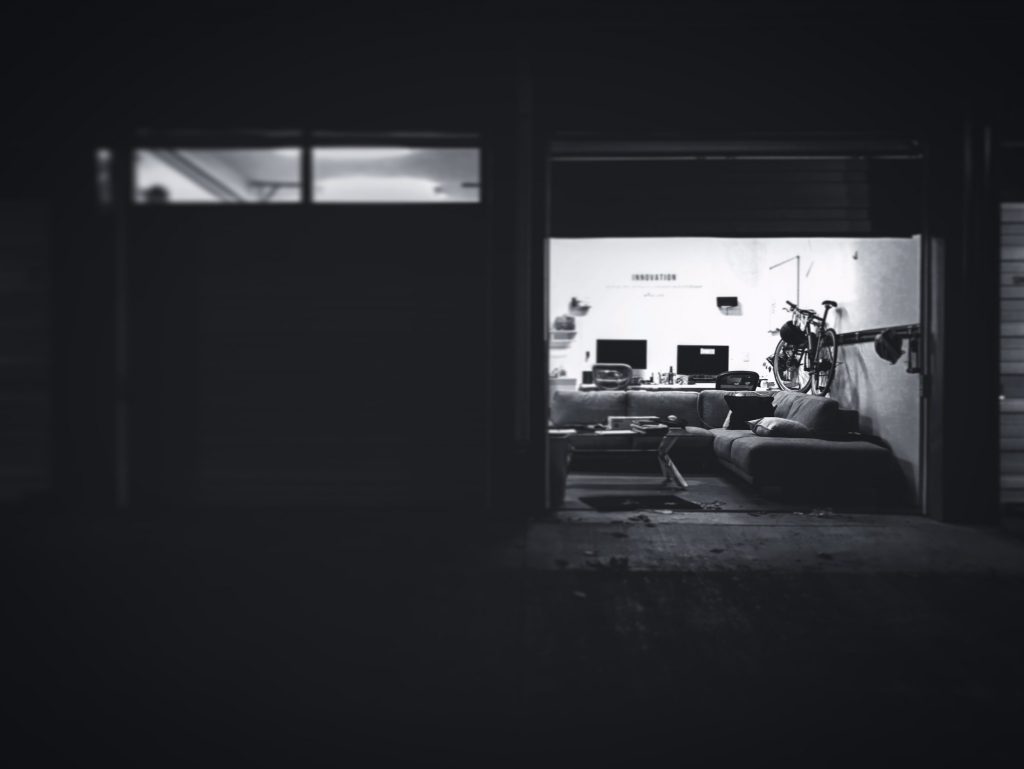 Prep the Garage
Most likely, your garage is going to need a little bit of prep work before you can start installing the various components of your man cave. For instance, a waterproof floor would be a great start, as it will be more comfortable than a standard garage floor and will be durable enough to stand up to almost any use. Specialty contractors like Capital Deck & Stair can make easy work of a garage floor waterproofing project.
Think About Lighting
One of the key components in a garage man cave project is the lighting that you will use to brighten up the space. Since most garages don't have a window, you can't rely on natural light to do the job in this room. Of course, if you are using your man cave mostly to watch sports and movies, dim lighting might be perfectly appropriate. On the other hand, a space where games will be played needs plenty of light, so base your lighting plan on the activities you have planned for the man cave.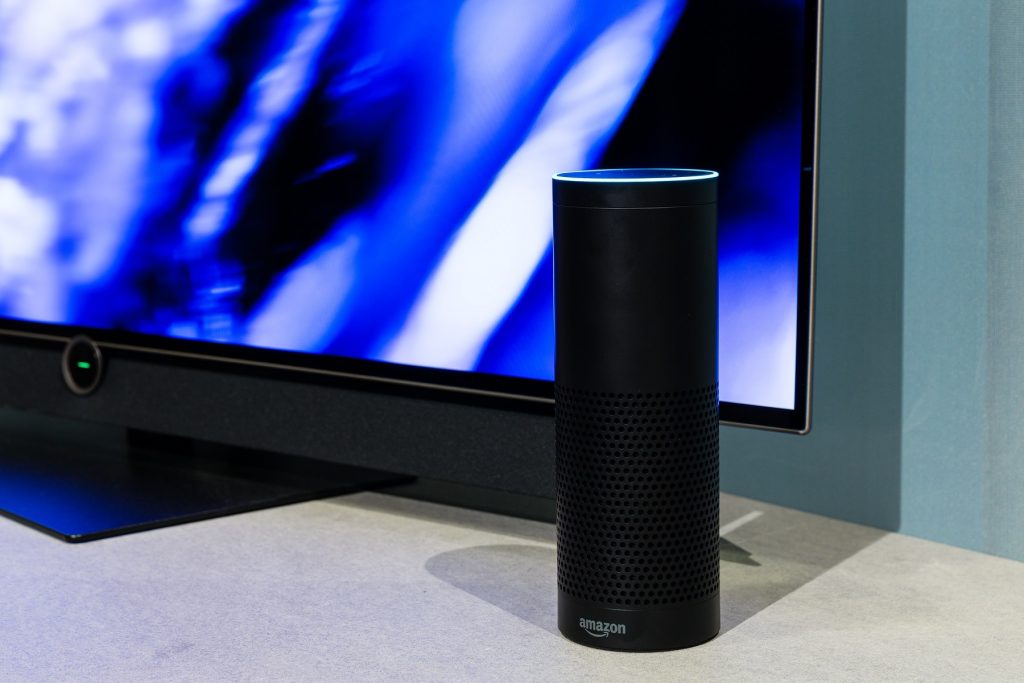 Make It Yours
A man cave with all of the latest and greatest toys and technology is still going to fall short of your dreams unless it is fitted with items that make it feel like home. Add as many personal touches as you can in the space, such as family pictures on the walls, old souvenirs, trophies, or anything else important to you.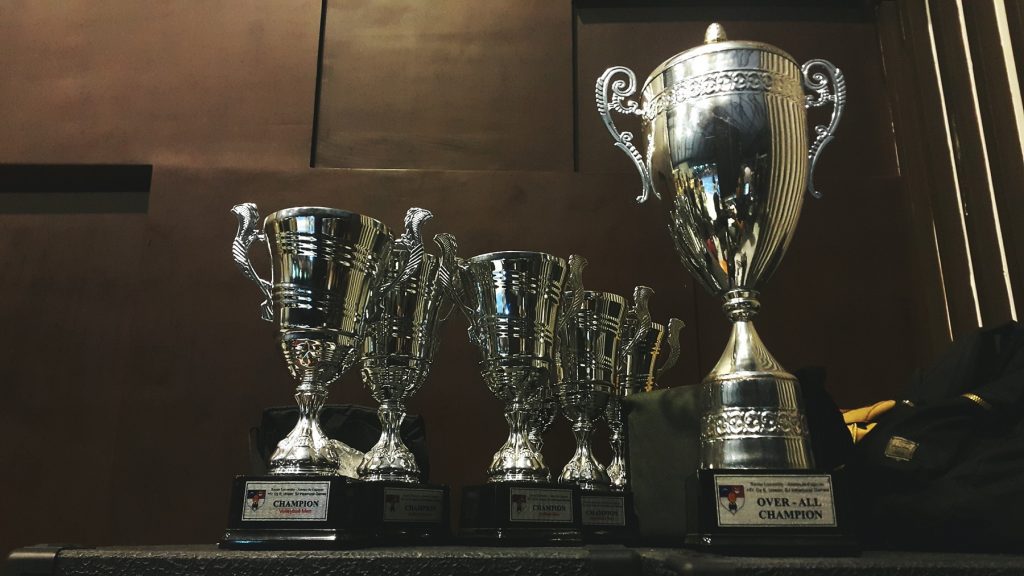 Get Started with a Great Floor!
At Capital Deck & Stair, we can help you take an important step toward bringing your man cave dreams to life. By adding a durable, waterproof floor to the garage, you'll have a perfect platform on which to build your man cave. To get started, or to learn more, please contact us today. Thank you for visiting!
Extensive home renovations often overlook one key area: the garage. This is a considerable shame since the garage is an area unlike any other that serves purposes unlike any other. You probably are in there every day if you park your car in it. You might have a workbench set up against a wall, or use it to store extra belongings. If you are improving your home, you should make sure that garage renovations are on the list. In particular, you should consider how you want to resurface your garage floor.
If your garage is where you tinker with tools and machinery, you should consider using a multi-coat resinous system that is comprised of epoxy, polyurethane, and similar poly-coatings. You will usually see this type of flooring in industrial warehouses, a mechanic's shop, and even in the back kitchen of restaurants. When done correctly, the coating can be tenfold times stronger than concrete. Keep in mind that refinishing this coating if it does crack or peel due to moisture, or perhaps even earthquake damage, it can be more difficult than other options.
Some people who want durability and ease of repair or replacement have begun using interlocking garage floor tiles. You can choose different designs and colors for interlocking tiles and installation may be completed in 24 hours or less in many cases. Once all the tiles are in place, they can be reinforced with a polyurethane coating; strengthening them in this way protects from stains and scuffs but does not stop them from being switched out easily. Interlocking tiles also have hollow undersides, allowing air to flow under them easily to dry out any moisture, which prevents mildew growth.
Does your garage serve not as a storage area for tools, boxes, and automobiles but more as a social hangout instead? You might want to think about porcelain tiles. Porcelain tiles can bring a unique, interesting look to your garage that you might not have thought possible. If you use a lightweight resin coat finish on them, they can still prove to be incredibly resilient to damage and weathering. Tiles do tend to be slippery than other garage flooring options, though, so clean up spills as soon as you see them.
If you are still not sure what garage floor type and surfacing is right for you, do not worry. Our Los Angeles garage floor installation experts at Capital Deck & Stair Waterproofing can give you a good idea during a free initial estimate of your project. You want your garage to look great and so do we, so let's work together! Contact us today .