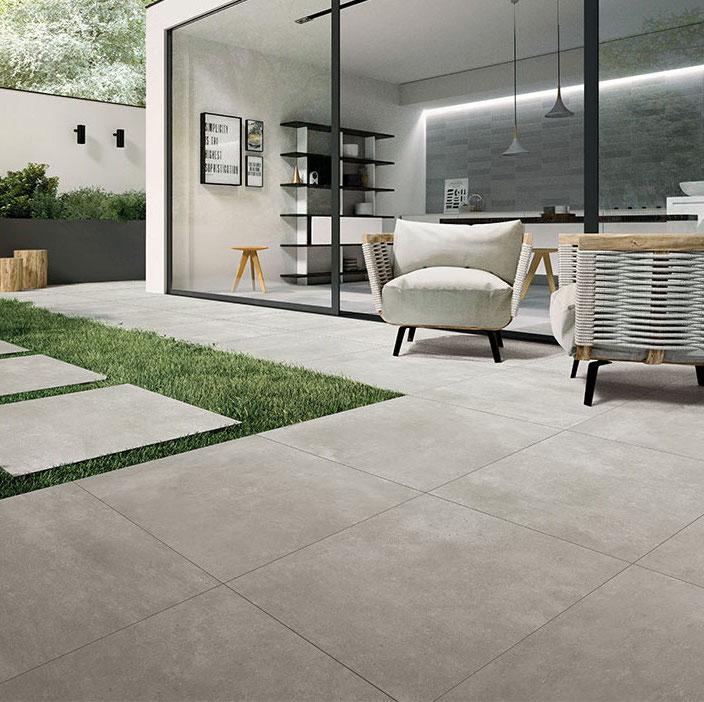 Balconies are a great way to enjoy the outdoors, but they can also be susceptible to water damage. If your balcony is leaking or showing signs of wear and tear, it's important to find a reliable balcony waterproofing and repair service. When choosing a service, there are a few factors to consider, such as the type of balcony, the climate, and the budget. In this blog post, we'll discuss how to find the best balcony waterproofing and repair services in your area.
What is Balcony Waterproofing?
Balcony waterproofing is the process of applying protective materials to outdoor surfaces, shielding them from moisture and water damage. This crucial construction practice ensures the longevity and structural integrity of balconies and outdoor living spaces. By preventing water infiltration, balcony waterproofing helps avoid issues like leaks and mold growth. It involves using materials such as liquid-applied membranes and coatings, following proper surface preparation and maintenance, and choosing products compatible with balcony finishes. Ultimately, balcony waterproofing safeguards buildings from costly water-related damage while enhancing their aesthetic and functional value.
Why Balcony Waterproofing is Essential
Ensuring the longevity and structural integrity of your balcony requires proper waterproofing, a vital step in preventing costly damage and potential safety hazards.
Balcony waterproofing is essential for several reasons.
First and foremost, it protects your balcony from water infiltration, which can lead to cracks, leaks, and deterioration of the underlying structure. By creating a waterproof barrier, you can prevent moisture from seeping into the balcony's concrete or other materials, thus avoiding potential mold growth and rot.
Additionally, waterproofing helps maintain your balcony's aesthetic appeal by preventing discoloration and efflorescence caused by water damage.
It also safeguards against potential accidents and injuries, as water infiltration can weaken the balcony's structure, leading to collapse or other safety risks.
In short, investing in balcony waterproofing is crucial for ensuring the long-term durability and safety of your outdoor space.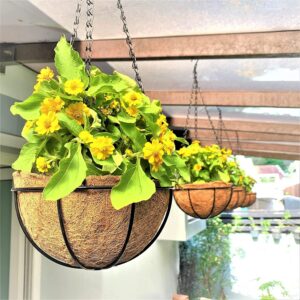 What are the common causes of balcony leaks?
To prevent balcony leaks, it is important to understand the common causes and take necessary precautions. Here are some of the most common causes of balcony leaks:
– Improper waterproofing during construction: If the waterproofing membrane is not applied correctly or is damaged, water can seep through and cause leaks.
– Structural damage: Cracks or gaps in the balcony floor or walls can allow water to penetrate and result in leaks.
– Poor drainage: If the balcony does not have proper slope or if the drains are clogged, water can accumulate and eventually leak into the underlying structure.
Addressing these common causes is crucial to maintaining a leak-free and durable balcony. Hiring professional balcony waterproofing and repair services can help ensure that these issues are properly addressed.
How to inspect your balcony for leaks
Take a few moments to inspect your balcony for any signs of leaks. This can help you identify potential problems and take necessary actions to prevent further damage.
Start by examining the floor for any standing water or dampness. These are clear indicators of a leak.
Look for cracks or gaps in the balcony walls. These can allow water to seep in.
Pay close attention to the corners and edges of the balcony. These are common areas for leaks to occur.
Check the balcony railing and ensure it is securely attached and not allowing water to enter.
Finally, inspect the ceiling underneath the balcony for any water stains or discoloration. This could be a sign of a hidden leak.
By regularly inspecting your balcony, you can catch leaks early and avoid costly repairs in the future.
Balcony Waterproofing: Extending Outdoor Excellence
Don't let a leaky balcony rain on your outdoor parade – explore the world of balcony waterproofing to extend your outdoor excellence!
When it comes to enjoying your balcony, water damage is the last thing you want to worry about. Balcony waterproofing is the solution that ensures your outdoor space remains protected and beautiful for years to come.
By applying a waterproof coating to your balcony surface, you create a barrier that prevents water from seeping through and causing damage. This not only keeps your balcony dry but also protects the underlying structure from potential leaks and deterioration.
With professional balcony waterproofing services, you can relax and enjoy your outdoor oasis without the stress of leaks and water damage.
So, don't wait any longer – take the necessary steps to extend your outdoor excellence today!
Choose the Right Balcony Waterproofing & Repair Solution for Your Needs
Balcony waterproofing and repair are essential tasks to maintain the structural integrity of your outdoor space and prevent water damage. Here are some factors which help you choose the right solution for your specific needs:
1. Identify the Problem:
Start by identifying the issues with your balcony. Is it leaking, showing signs of cracking, or has the waterproofing membrane deteriorated?
2. Surface Inspection:
Inspect the balcony surface thoroughly for cracks, gaps, or damaged areas. Take note of any areas where water is pooling.
3. Consider Your Budget:
Balcony waterproofing and repair costs can vary significantly. Determine your budget, but also consider the long-term benefits of investing in high-quality materials and workmanship.
4. DIY or Professional Help:
Decide whether you have the skills and experience to tackle the waterproofing and repair yourself or if you should hire a professional contractor.
5. Waterproofing Materials:
Explore different waterproofing materials such as liquid-applied membranes, sheet membranes, or waterproofing coatings. Each has its advantages and suitability for specific situations.
6. Repairing Existing Damage:
If your balcony has existing damage, such as cracks or deteriorated waterproofing, prioritize repairs before applying a new waterproofing system.
7. Compatibility with Tiles or Decking:
Ensure that the chosen waterproofing solution is compatible with your choice of balcony finish, whether it's tiles, decking, or other materials.
8. Climate Considerations:
Take into account your local climate and weather conditions. Some waterproofing materials may be better suited for areas with heavy rainfall or extreme temperature fluctuations.
9. Maintenance Requirements:
Consider the maintenance requirements of the chosen waterproofing solution. Some may require periodic inspections and reapplications.
10. Warranty and Guarantees:
Check if the manufacturer or contractor offers warranties or guarantees for the waterproofing work. This can provide peace of mind regarding the durability of the solution.
Choosing the right balcony waterproofing and repair solution is crucial to protect your investment and enjoy a leak-free outdoor space. Whether you decide to take on the project yourself or hire a professional, thorough research and consideration of your specific needs will lead to a successful outcome.
Elevate Balcony Longevity with Capital Deck's Premium Solutions
Extend the life of your balcony with Capital Deck's premium solutions, ensuring long-lasting protection and durability.
When it comes to balcony longevity, Capital Deck and Stair Waterproofing is the expert you can rely on. Our innovative waterproofing and repair services are designed to elevate your outdoor space and provide the highest level of excellence.
With our expertise and commitment to quality, we offer solutions that not only fix existing issues but also prevent future damage. Our team of professionals uses state-of-the-art techniques and materials to deliver exceptional results.
From waterproofing membranes to seamless coatings, we have the perfect solution for your balcony. Trust Capital Deck to enhance the lifespan of your balcony and enjoy years of outdoor excellence.
Conclusion
Finding the best balcony waterproofing and repair services is crucial for maintaining the longevity and condition of your outdoor space. By inspecting your balcony for leaks and investing in the right solutions, you can ensure its excellent condition. Don't hesitate to choose the services that suit your needs. Trust in Capital Deck's premium solutions to elevate the beauty and functionality of your balcony today.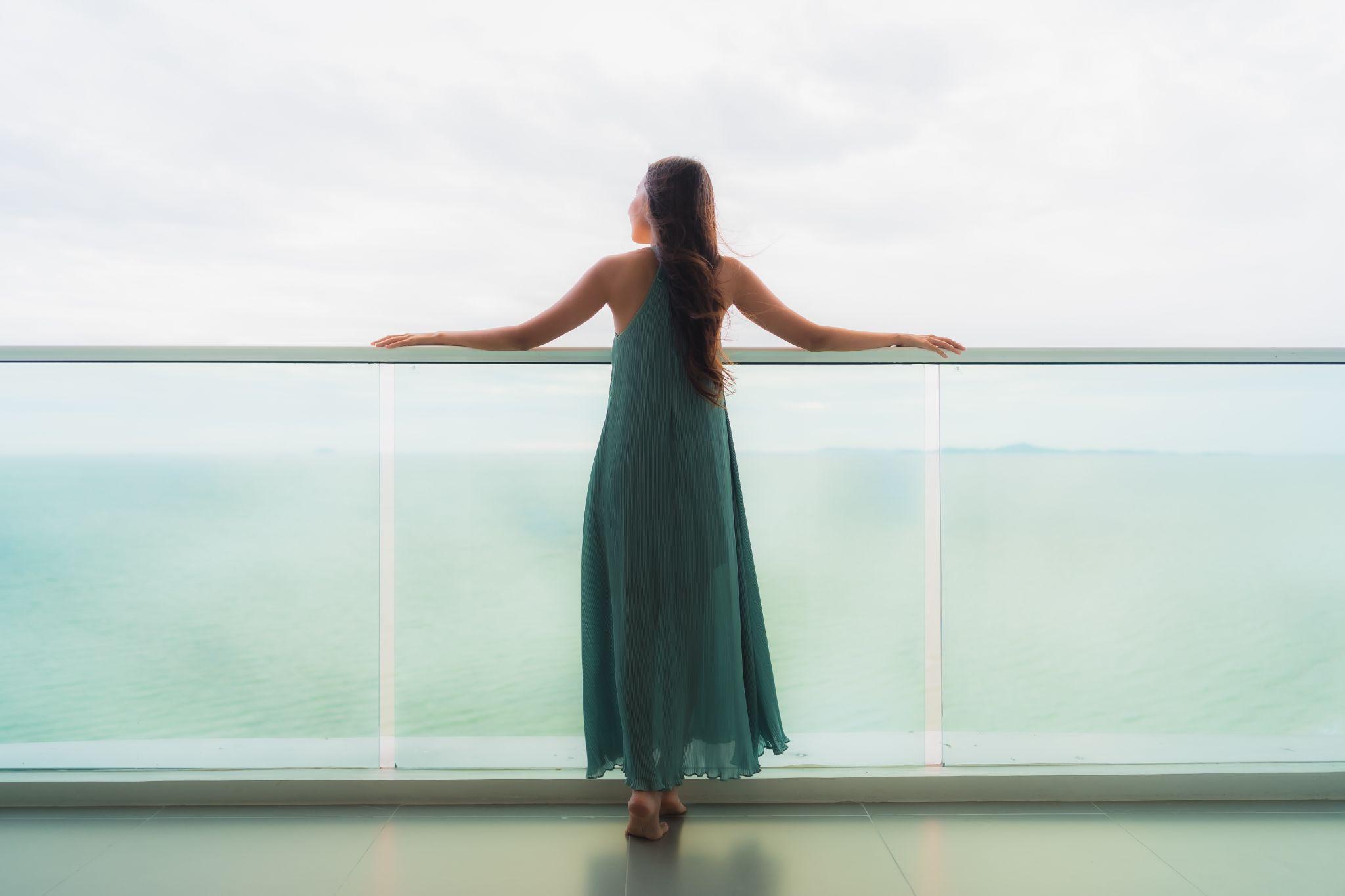 Many homes in Southern California have large outdoor patio and balcony spaces, but how many families spend time out there? The answer may be less than you think—and poor surfaces could be to blame.
Why Patios and Balconies Are Underused
Most people would probably admit that they only use their balconies once a month or for national holidays. That's even despite year-round sunny weather and many homes having balconies or patios attached to living rooms and master bedrooms—and sometimes even both.
So why aren't our outdoor spaces more popular? After all, shouldn't they be beautiful spots to retreat and unwind from the stress of the day?
The reality is much less beautiful, unfortunately. When people step out on their patios or balconies, many only see drab paint, poor atmosphere, and worn-out surfaces. As a result, many outdoor spaces go unused and quickly deteriorate from neglect.
Thankfully, there's an easy solution: resurfacing. If your patio or balcony needs a little TLC, read on to learn how patio resurfacing can help.
What Is Resurfacing?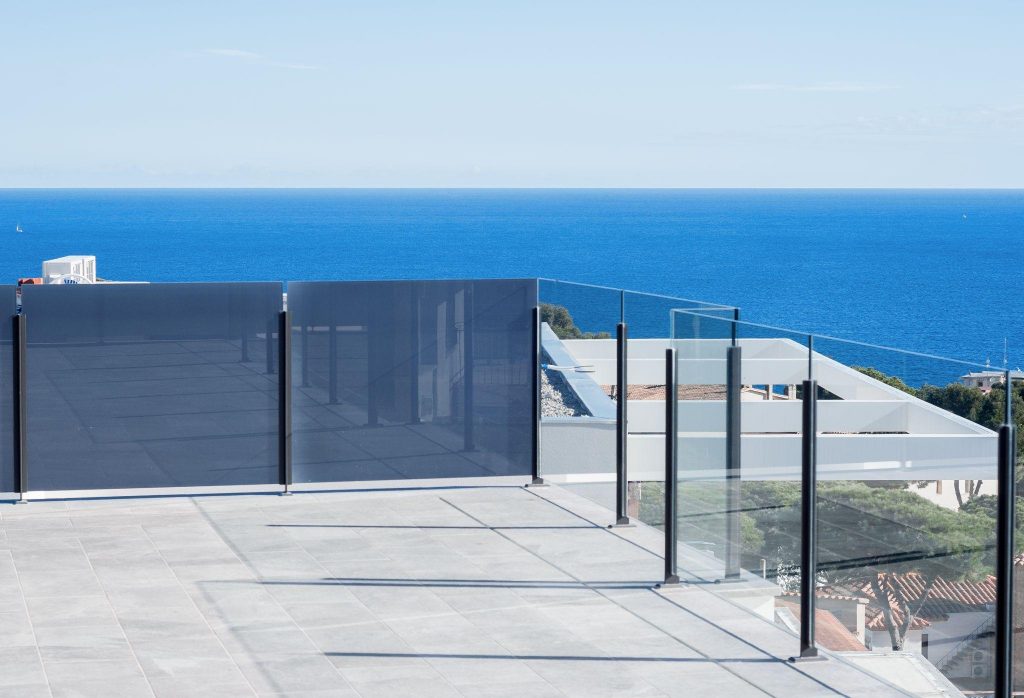 Resurfacing adds a spectacular fresh finish that can liven up any outdoor area. Improved appearance isn't the only purpose of patio resurfacing, however. In addition to providing your outdoor surfaces with a new finish, patio resurfacing also protects a wide range of surface materials with a durable waterproof coating. As a result, it's especially useful for spaces constantly exposed to the elements.
While Southern California might not get a ton of rain, stormy weather isn't the only source of water damage. Between spills and splashes from pools, garden hoses, and even the occasional spilled drink, water damage can come from more than just rainfall. Without a waterproof coating, water can seep in and give way to mold, mildew, and other hazards.
Most balcony waterproofing finishes are easily applied to any surface, allowing you to apply any new tiling, paint, or designs first. Once things are the way you want them, our resin or polyurethane finishes will seal and protect your surfaces from weather, cracks, the sun, and more.
Benefits of Resurfacing
Many of our customers are surprised at how quick, easy, and affordable patio resurfacing is, but those aren't the only benefits! It also:
Refreshes your outdoor spaces. Balconies and patios can take up tons of square footage, making them the immediate focal point for your outdoor spaces. That means the appearance of your surfaces can affect the appearance of your entire backyard or garden—for better or worse. With resurfacing, however, you can refresh and preserve the appearance of your balcony or patio, giving your entire outdoor space a facelift in the process.
Protects surfaces for years to come. Applying a durable, waterproof coating is an essential part of the resurfacing process. As a result, your outdoor surfaces won't just look great, but they'll also be sealed away from rain, sun, and regular wear and tear. With regular maintenance and care, these coatings can last for many years before needing to be replaced.
Makes cleaning and maintenance easier. Say goodbye to hard-to-reach nooks, crannies, and cracks! With a waterproof coating, spills, stains, and debris are easy to scrub and sweep away. Plus, with complete protection from water damage, you won't have to worry about mold, mildew, and rot.
Adds value to your property. A beautiful outdoor space can give your home or property value a big boost. With resurfacing and waterproofing, you'll preserve this value and make your property even more attractive to potential buyers.
With all of these benefits and improvements, you and your family will surely see your outdoor space in a new light. No longer will your patio or balcony be a lonely, empty place—with our resurfacing solutions, it'll be the focal point of any party or gathering!
Balcony and Patio Resurfacing from Capital Deck & Stair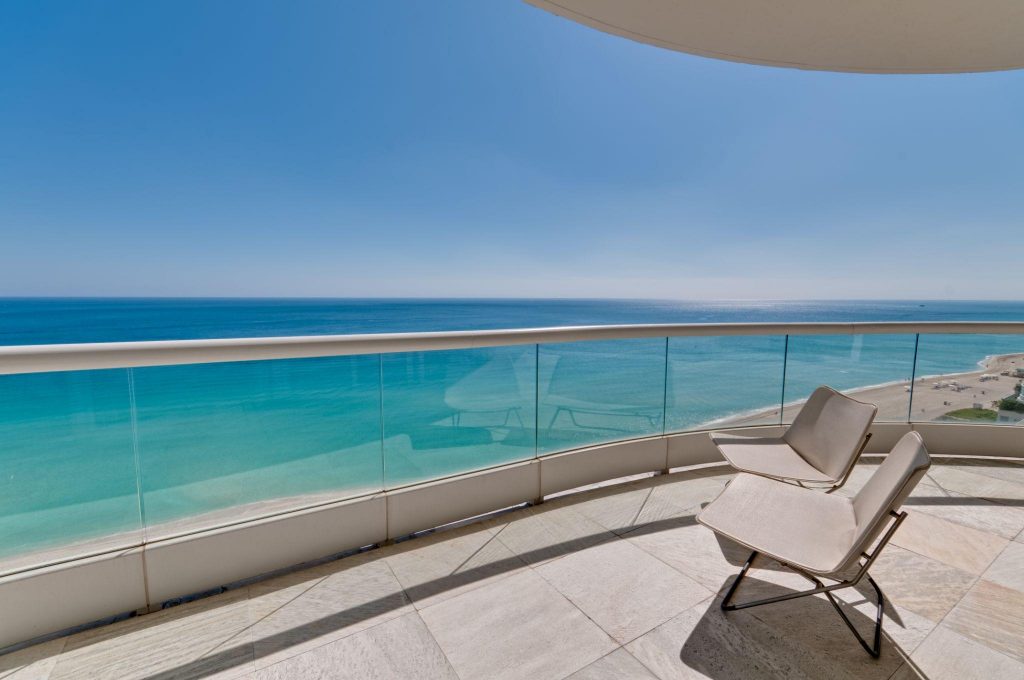 The resurfacing experts at Capital Deck & Stair are always excited to take on a new project, no matter how big or small. If you want to start entertaining guests in style or simply want a beautiful, private getaway spot in your home, contact us today and ask about our balcony resurfacing and concrete waterproofing services. Call us at (818) 697-6334 for more information and to schedule a free consultation!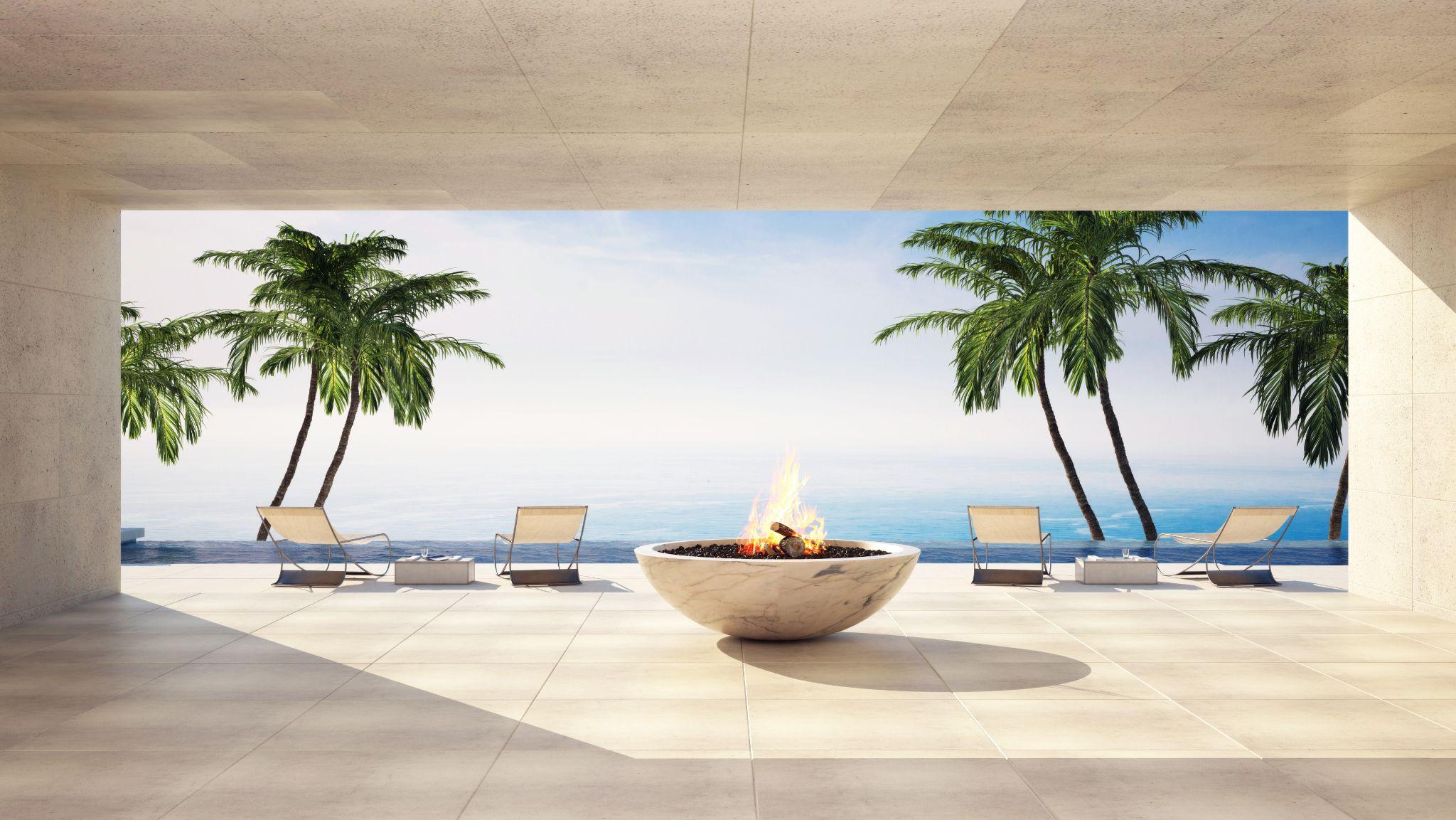 Deck waterproofing may seem like just an optional add-on, but it's more important than many might realize. While a deck or balcony can last several years without waterproofing, its lifespan and safety will become severely limited once wind, rain, and weather start taking their toll. As a result, deck waterproofing isn't just an add-on—it's an essential!
Thankfully, balcony deck waterproofing is not only quick and affordable but also comes with many benefits beyond just protecting your investment. Read on to learn more about the benefits of our deck waterproofing process.
What Is Balcony Deck Waterproofing?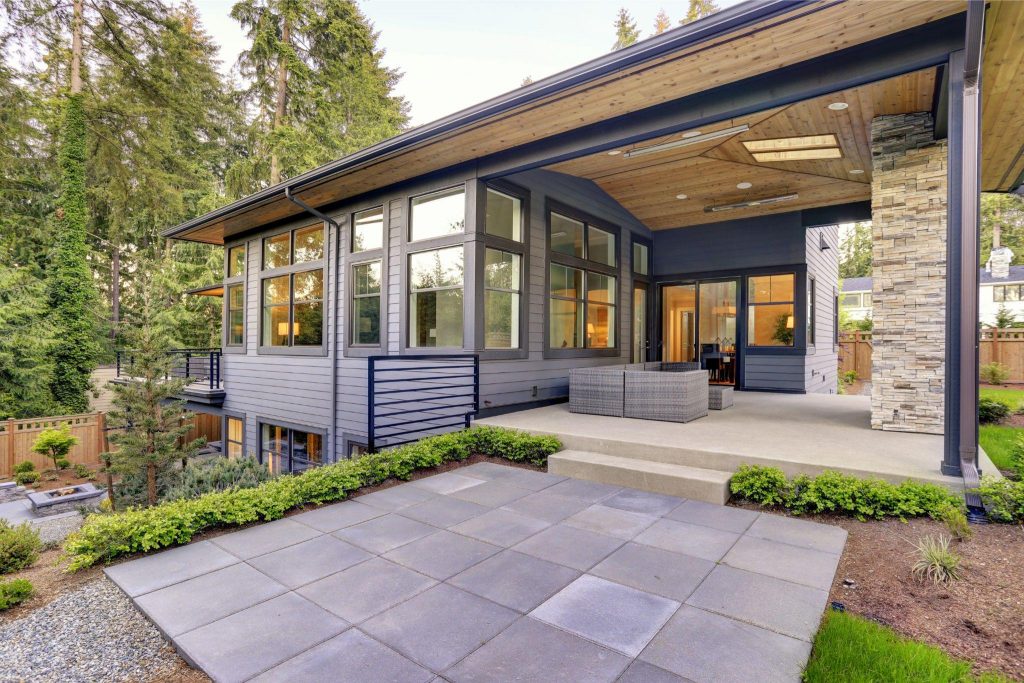 Balcony deck waterproofing is a durable surface treatment that seals your deck or balcony's surface from water and wear. Most deck waterproofing solutions are a multi-layer waterproofing system that takes care of your deck for up to 25-30 years when properly maintained.
During that time, your decking material will remain sealed and protected from harmful water damage and day-to-day wear and tear.
There's more to balcony deck waterproofing than just protecting your deck, however. Find out more in the next section as we explore some of the hidden benefits of protecting your deck or balcony!
5 Benefits of Balcony Deck Waterproofing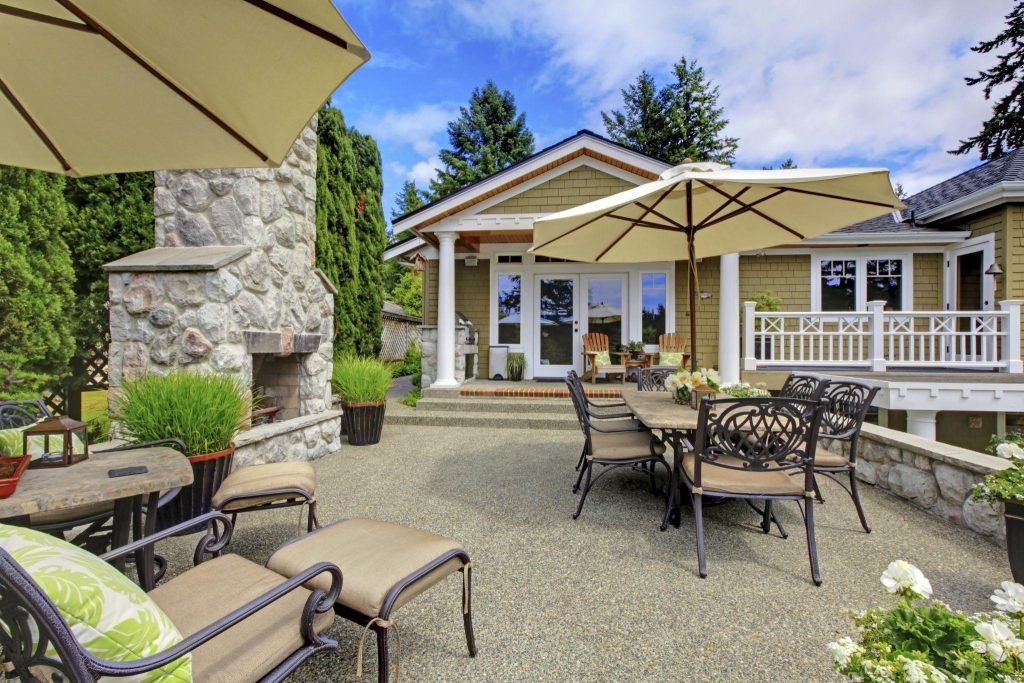 Keeping your deck dry does more than prevent water damage. From avoiding expensive repairs to keeping your favorite plants and flowers, deck waterproofing comes with many benefits.
1. Protects Against Water Damage
While it may seem a bit obvious, protecting against water damage is the biggest benefit of deck waterproofing. In fact, most other benefits of deck waterproofing stem from this benefit alone. Protecting your deck against water does more than just protect the deck itself; it can also prevent water damage from infiltrating your home and surrounding structures, increase safety for foot traffic, and even prevent costly (and dangerous) rot and mold.
Needless to say, avoiding water damage is very important and, in the case of waterproof coatings, a great investment, but the benefits aren't limited to keeping out water!
2. Prevents Wear and Tear
Foot traffic, furniture, and other heavy loads can cause wear and tear to your deck over time. A durable waterproof coating is one way to protect your deck against this kind of damage while also sealing your deck from moisture. Like with water damage, wear and tear can gradually degrade your deck over time. While perhaps not as extreme as rot or mold, worn surfaces have a poor appearance and, depending on the deck material, can even pose a safety hazard through splinters and cracks.
3. Improves Safety
Waterproofing improves safety in many ways. In addition to keeping your deck free of slippery surfaces caused by standing water, waterproof coatings also create a high-traction surface for regular foot traffic. Further, by preventing rot and decay caused by water damage, waterproofing also preserves the structural integrity—and, therefore, overall safety—of your deck or balcony.
4. Saves Money and Expensive Repairs
Despite a small upfront cost, waterproofing can save thousands of dollars in costly repairs and replacements over the years. By effectively sealing your deck from damage caused by water, wear, and other elements, waterproofing can increase the lifespan of your deck by many years. Untreated decks and balconies often require expensive and time-consuming repairs after only a few years of outside exposure.
As we've mentioned once already, waterproofing can also help prevent water infiltration and damage to surrounding homes and structures. This benefit only leads to further savings as your waterproof surface protects your entire property.
5. Better for Plants and Other Uses
Plants, fountains, and other water-based outdoor features aren't always practical for untreated surfaces. With a waterproof coating, however, you can keep all of your favorite plants, flowers, and deck decor without having to worry about damage caused by water runoff. Keeping plants can also double the protection by absorbing some of the water that would otherwise reach your deck's surface.
The Balcony Deck Waterproofing Process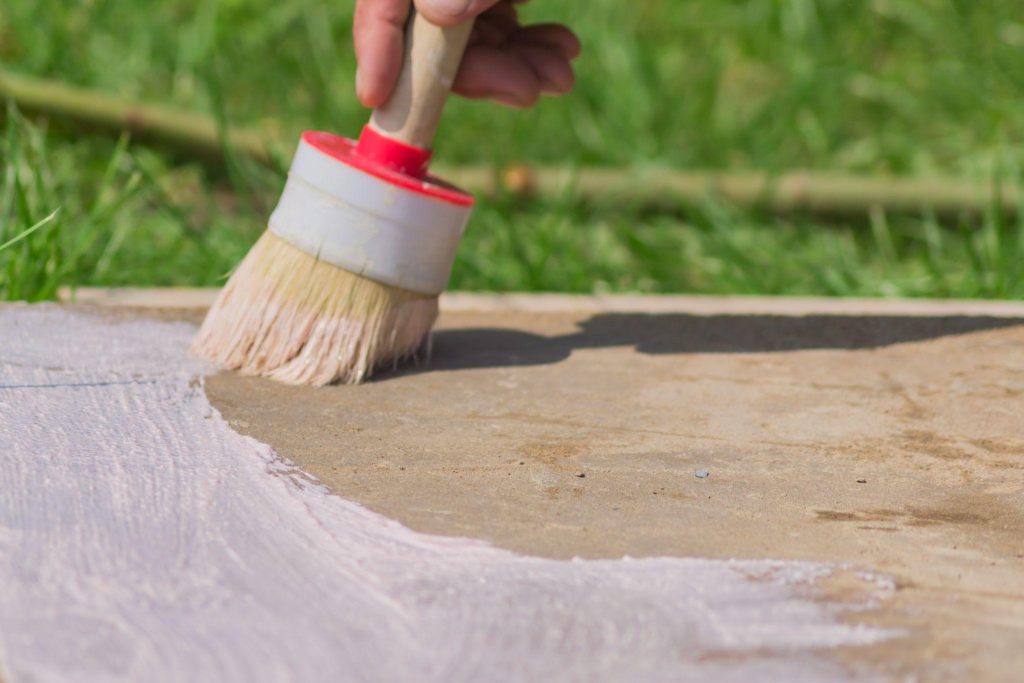 Though waterproofing is relatively straightforward, some of the prep work can be a bit complicated. Make sure you understand what goes into balcony deck waterproofing before you attempt to DIY!
1. Cleaning and Prep Work
Waterproof coatings require a clean, unfinished surface in order to adhere and coat properly. Before waterproofing, our professionals thoroughly clean and treat the existing surface. In some cases, existing or worn finishes also need to be stripped and removed before waterproofing can continue.
2. Corner and Edge Treatments
The prep work isn't done yet! After cleaning and stripping the surface, the corners of your deck and balcony will require a preliminary waterproofing. This step is important for multiple reasons:
● First, falling water tends to collect towards corners and edges, making these areas especially prone to water damage and infiltration.
● Second, corners and edges present many nooks and crannies for water to enter, making it crucial to give these areas extra attention.
While some waterproofing companies might perform this step by applying a first coat of waterproofing to these areas, our professionals use heavy-duty mesh strips to reinforce corners, edges, and drains.
3. Applying Waterproofing
Finally, it's time for waterproofing. With the surfaces cleaned, stripped, and reinforced, waterproofing is applied in one or two coats. As you might imagine, prep work takes up most of the waterproofing process. Once it's time to apply the coating, the process moves along very quickly; apart from setting time, most decks and balconies are usable within a day after waterproofing!
5 step system:
1. Plywood – make sure that the plywood is the proper thickness and quality and free from dry rot or damage
2. Metal Lathe – For rigidity
3. Waterproof silica cement – Fills the lathe and provides the first waterproof layer
4. Fiberglass and resin – Provides the second waterproof layer and prevents cracking
5. Waterproof silica cement – 2nd coat of cement for another waterproof layer
6. Texture and Sealer – Different finishing choices are available and finish with a colored deck sealer.
4. Long-Term Maintenance
Though waterproof coatings are relatively low-maintenance, they still wear down over time. As a result, you'll likely need to reseal the waterproofing every 5 years with cement deck sealer. With prep work done right the first time, however, reapplications are easy, quick, and inexpensive. In the meantime, you can extend the life of both your coating and outdoor surface by keeping it clean, shaded, and free of water whenever possible.
Why DIY? Call the Professionals at Capital Deck & Stair!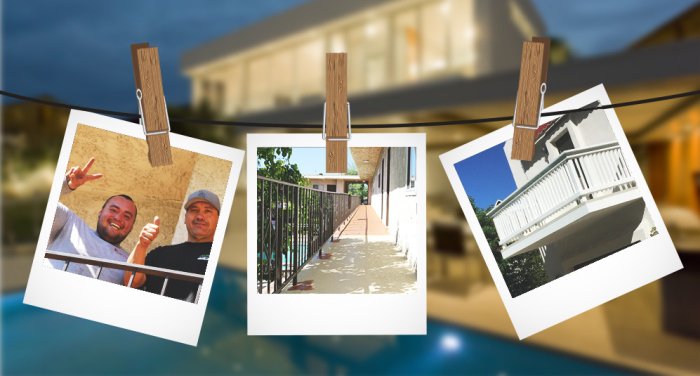 Though it's possible to apply a waterproof coating yourself, only a professional has the skills and experience to ensure that it's done right the first time. Backed by over 30 years of experience and our personal guarantee, the waterproofing experts at Capital Deck & Stair are ready to help protect your deck or balcony for years to come. For more information on our balcony deck waterproofing services, call us at (424) 339-0953 or request a free estimate!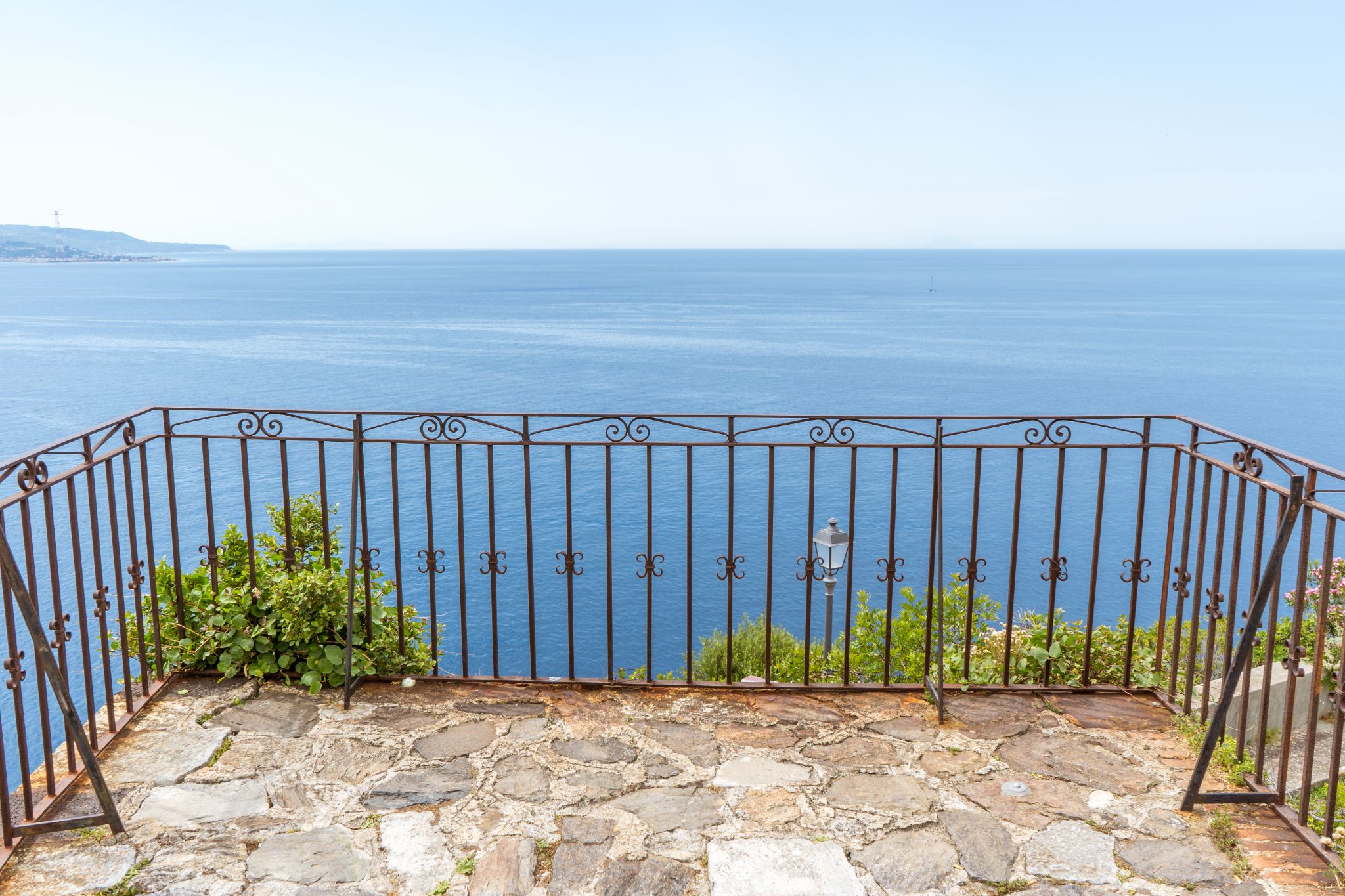 Waterproofing your balcony is one of the best ways to keep it strong and safe for years to come. Since balconies are constantly exposed to rain and harsh weather conditions, balconies without thorough waterproofing often begin to deteriorate within only a few years.
Thankfully, there are a few things you can do to waterproof and secure your balcony. While there are a few DIY options available, a professional can help in some unexpected ways—many of which are also unexpectedly affordable.
About Balcony Waterproofing
Deck waterproofing is the process of applying a waterproof coating or sealant to your deck's surface. While the exact coating used may vary depending on the surface material, the underlying principle is the same: creating a barrier between water and your deck.
Deck Dangers: The Importance of Waterproofing
Waterproofing is highly recommended for all outdoor surfaces, especially decks and balconies. Since these surfaces receive constant exposure to the elements, having a protective coating is crucial for protecting the structure against damage and deterioration.
Water and weather aren't the only deck dangers, however: Foot traffic, furniture, and other forms of wear and tear can also affect your deck or balcony's integrity. Thankfully, waterproof coatings also help guard against this extra wear and tear by enhancing the overall durability of your outdoor surfaces.
For many property owners, however, waterproofing seems more like an expensive "add on" than a valuable investment—until their balconies start falling apart, that is!
Do I Need Balcony Waterproofing?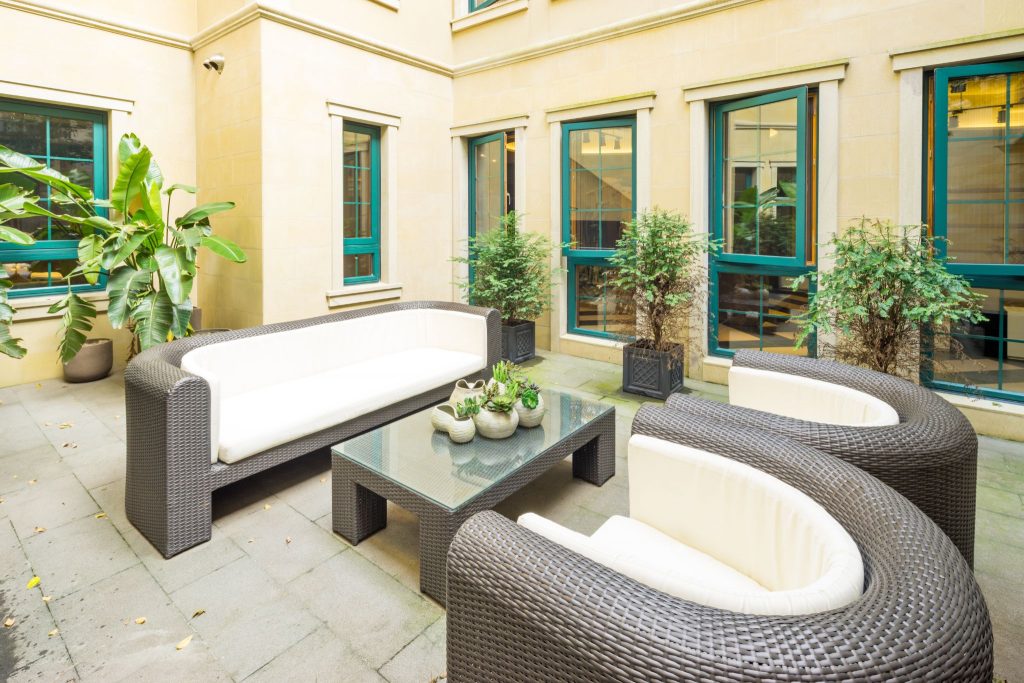 Every balcony in every climate can benefit from waterproofing in some way. The benefits are especially clear for balconies in wet and humid climates with high amounts of regular rainfall. Here, waterproofing not only protects surfaces during rainstorms but helps prevent rot and rust forming from ambient humidity and trapped water.
What about dry climates? Don't be fooled: Balconies and decks in dry climates are especially susceptible to water damage since long periods of dryness can make wood and other materials soak up moisture like a sponge. As a result, when rain or water finally does come, the resulting water damage can be especially bad.
In addition to protecting the balcony itself, waterproofing also helps protect the surrounding structure from residual water damage while also maintaining and preserving your balcony's original finish. With all these benefits, many property owners are quick to start waterproofing themselves.
The Balcony Waterproofing Process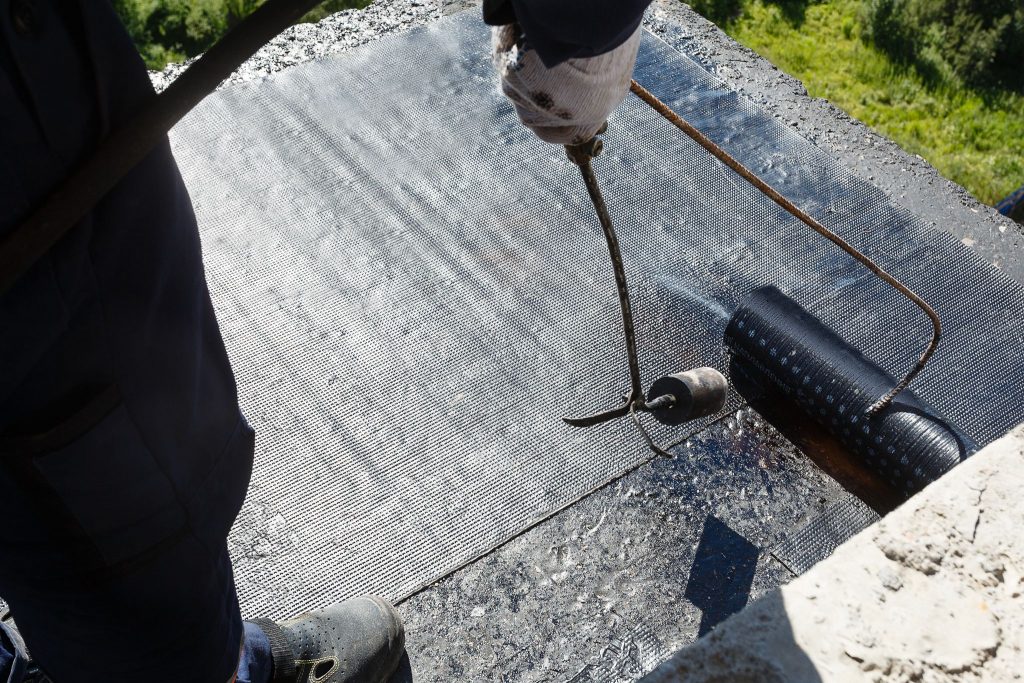 There's more to balcony waterproofing than just brushing on a finish coat! Like painting and other surface treatments, waterproofing requires a careful combination of surface preparation, application, and finishing to form a proper seal.
Surface Preparation
Most waterproof coatings require a clean and well-prepared surface to adhere properly. While preparation methods can vary, depending on the surface material, all surfaces should be thoroughly cleaned and free of dirt, debris, and dust before coating.
While concrete or masonry surfaces require little preparation beyond cleaning, wood and metal—two very common balcony materials—require extra preparation. Wood, for example, should be thoroughly finished and sanded before applying waterproofing. Metal surfaces should also be completely free of rust; otherwise, the rust will continue to develop regardless of the waterproof coating.
In addition to cleaning the surface, you may also need to fill in cracks with a polyurethane sealant or apply a primer. Whether you'll need to use a primer depends on your balcony's surface material and the type of waterproof coating you've chosen.
As you might be able to imagine, most of the work involved with waterproofing is in the preparation! Just like with painting and finishing, however, preparation will determine the quality and integrity of the waterproof coating.
Waterproofing Application
With the surface thoroughly prepared, the waterproofing can finally begin!
Depending on your balcony's shape and construction, waterproofing will require laying strips of PVC/mesh waterproofing membrane along all corners and joints. These strips are first secured using a liquid waterproof coating as an adhesive and laying them on while the coating is still wet. Once the strips are set, a second coat of waterproofing is applied over the strips to seal them completely.
It's also worth applying the same process to the edges and drains of your balcony where possible. Edges and drains receive the greatest amounts of water flow and should also be sealed with PVC/mesh strips before applying the final coat.
Finally, with mesh applied to corners and other hard-to-reach or "high flow" areas, a final coat of liquid waterproof coating is applied using a roller brush or spray applicator. Once the coat dries, the balcony will be completely waterproof—assuming preparation and application were done correctly, of course!
Long-Term Care
Though waterproof balconies are relatively low-maintenance, the coating can start to wear down after years of wear and tear. As a result, your balcony will likely require regular re-coatings over the course of its life. How often you'll need to re-coat your balcony will depend on your climate and your balcony's exposure to rain and regular use.
DIY or Professional?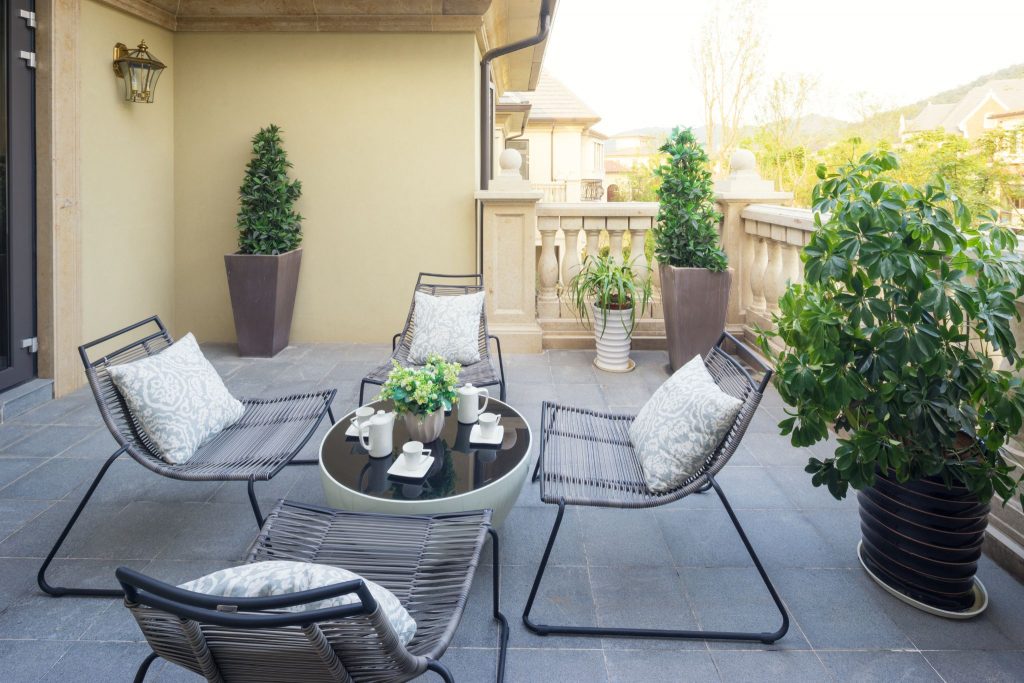 While it's definitely possible to waterproof your balcony by yourself, it's an incredibly laborious process that requires careful planning and preparation.
Since a waterproofing job can easily go awry without the right application, it's usually best to call a professional to ensure a thorough job and ultimately save time and money. Waterproofing professionals will also be able to identify key areas on your balcony that may need more waterproofing than others.
When in doubt, the Capital Deck & Stair team is here to help! For over 30 years, our family-owned-and-operated team has helped property owners throughout the Los Angeles area waterproof and protect their balconies, decks, and more. For more information and a free quote, call us at (424) 339-0953!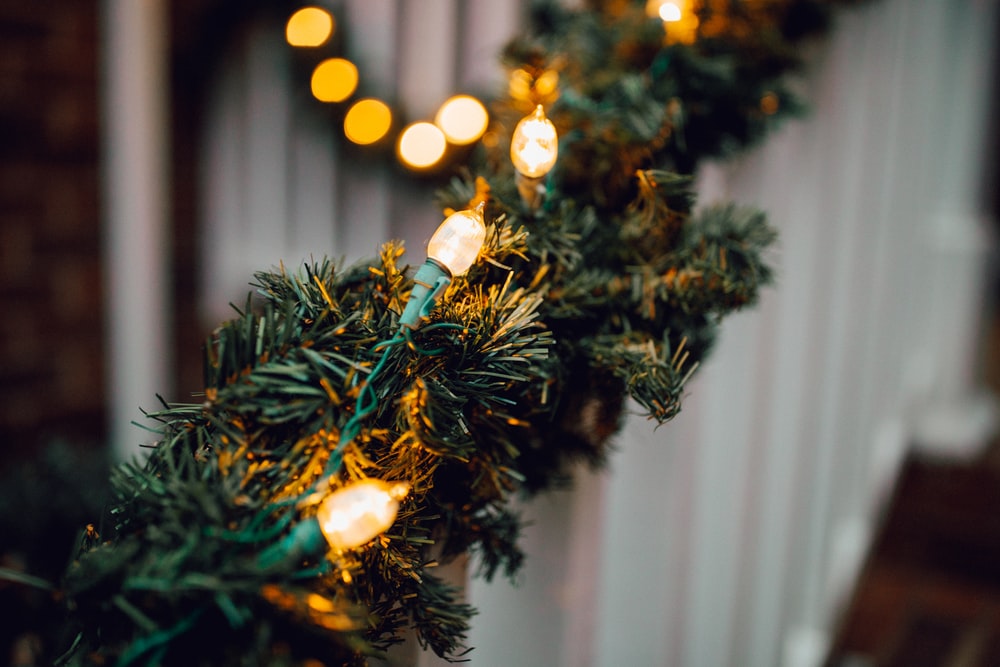 With the holidays fast approaching, you need all the space you can get—especially as many of this year's celebrations will move outside as a result of the COVID-19 pandemic. In any case, whether you're hosting a small number of family members or just want to make your balcony area a little more festive, these holiday decorating ideas can help.
Clean Off and Prepare Your Balcony Area
First things first: Start with a "clean slate" by cleaning off and preparing your balcony! Sweeping, mopping, and organizing are recommended at the start of every new season, especially if your balcony has been busy during the summer months.
You can also use this opportunity to store summer furniture and other seasonal items that might not be useful during the fall and winter months. The extra space will not only maximize the potential of your balcony but will also make it the perfect time to invest in waterproofing and other balcony treatments.
Know How Much Space You Have
With your balcony cleaned and organized, you'll have a better idea of how much space you have available. Balconies vary greatly in size, ranging anywhere from small platforms to patio-sized outdoor areas. As a result, how you'll be able to decorate—and use—your balcony space will largely depend on the size.
If you don't have a large balcony but still want to entertain, however, make use of railings and walls: Using running lights, garlands, and other decorations is a great way to decorate any size of holiday balcony!
Determine Your Holiday Style
Though the decorations at the store might all look the same, that doesn't mean yours have to look like everyone else's! Use your taste and that of your neighborhood as a guide toward developing your unique holiday style and decorations. There's no wrong answer, here; whether extremely subtle or extremely festive, following your instincts and tastes will always deliver a perfect result.
Lights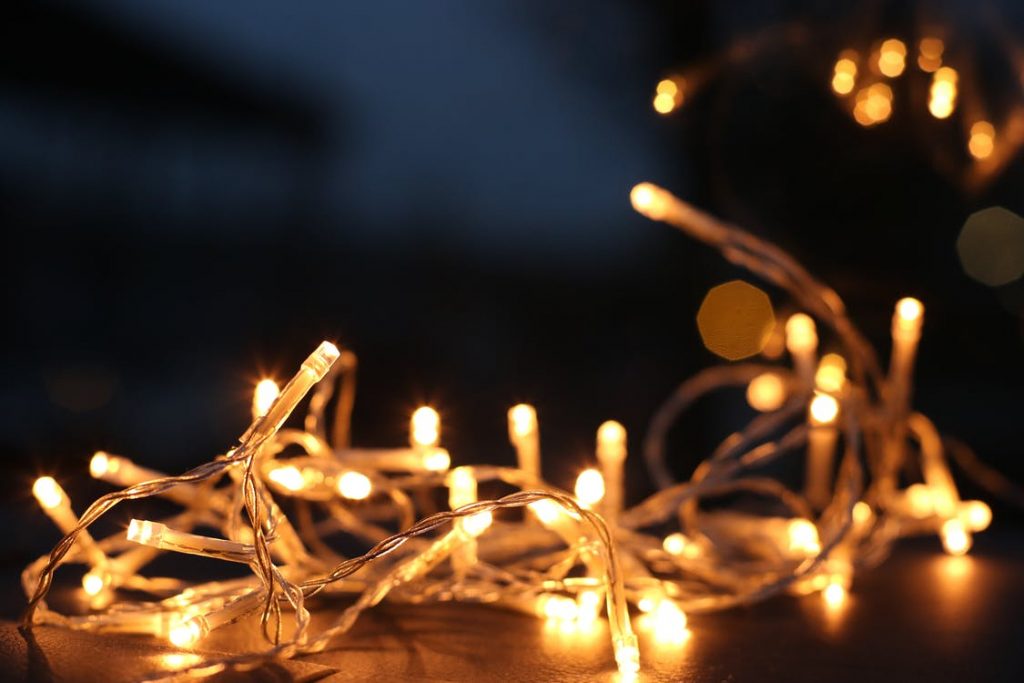 Lights are one of the most effective ways to create a holiday balcony, and there's plenty of options to choose from when it comes to holiday decorating—from Jack-o-Lanterns to long strings of Christmas lights and everything in between, every holiday usually has some sort of festive light fixture to choose from.
Balconies, in particular, benefit from string lights and lanterns, especially if it's possible to hang them overhead. If you're decorating for a winter holiday like Christmas, for example, try wrapping Christmas lights around your railings and posts!
Other Decorations
There's more to holiday decor than hanging lights! Try some of these options to make an unforgettable holiday balcony:
Wreaths
Wreaths are an extremely versatile decoration for almost any holiday. While most people associate wreaths with Christmas, that doesn't mean one has to be Christmas-related—a tasteful arrangement of pine boughs, pinecones, bows, and other winter-related trimmings can be satisfactory holiday decorations. You can also try an arrangement of fall leaves or twigs for an autumnal twist.
Whichever type of wreath you choose, try hanging it from your balcony railing or a balcony-facing door or window.
Trees
Trees are another great way to decorate your holiday balcony—holiday season or otherwise. While a Christmas tree is perhaps the most common holiday-related outdoor tree, other trees can be just as festive for the holidays. If you live in a colder climate, consider an artificial tree for even more options.
Ornaments
Ornaments are not only festive holiday decor options but can also help "break up" otherwise monotonous decorations. For example, while stringing your balcony railing with garlands and lights will certainly deliver beautiful results, imagine how much more beautiful it would be with ornaments regularly spaced along with them!
Garlands
A garland is an easy and effective way to add holiday flair to … well, just about anything: From balcony railings to door and window frames, wrapping your balcony trims with a garland makes for beautiful results. You can also easily apply holiday lights and ornaments to a garland for an even greater effect.
Beyond Decorating: Holiday Balcony Maintenance
While the holidays may be fun, they're also the busiest time in the year; between holiday parties, religious observations, and just the general "hubbub," you may not have as much time to take care of essential maintenance such as balcony waterproofing.
For more information on balcony waterproofing and treatment services, call our team of professionals at (424) 339-0953.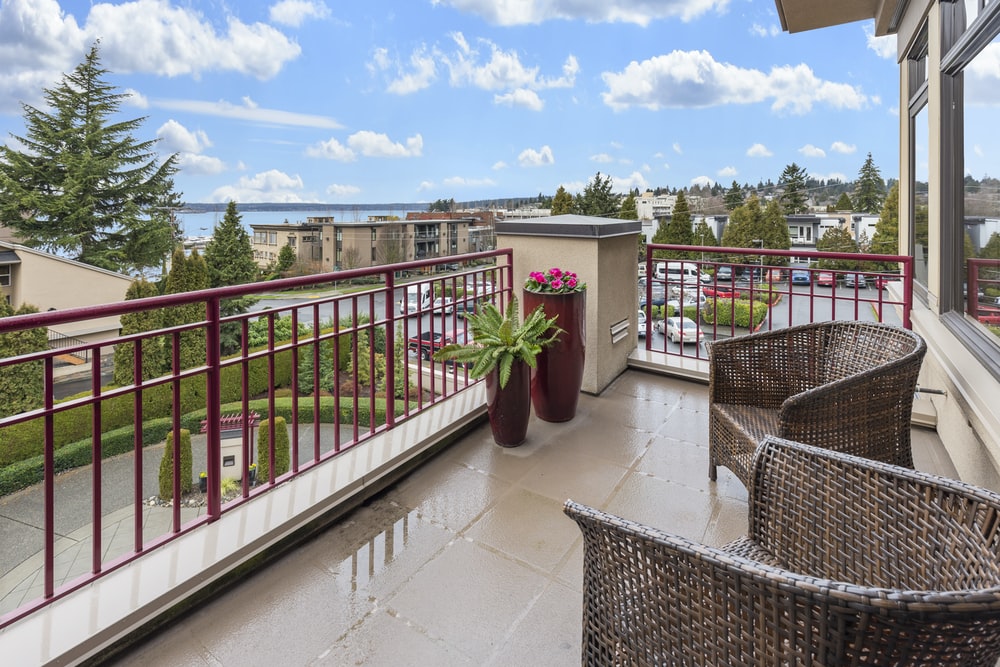 While having quick access to the outdoors is the primary benefit of a balcony, it's also the greatest drawback: Rain, snow, and other weather can cause water damage to your balcony's surfaces and structural components over time. Left unchecked, this damage can make your balcony unsafe to use—or, at the very least, unsightly to look at!
Thankfully, you can prevent water damage to your balcony with these simple tips.
Cover your balcony
Rain and weather will damage even the most well-built balconies. As a result, it's a good idea to cover your balcony whenever possible, especially during storms.
There are many ways you can cover your balcony, some of which can even improve the aesthetics of your home. A small balcony covering or roof, for example, can help keep your balcony permanently dry. Otherwise, use a tarp or canvas to cover your balcony during rain or snowstorms.
Unfortunately, even the most well-covered balconies will get wet from time to time. In these cases, modern materials and waterproofing are essential.
Use modern decking materials
Many new balconies and decks are built from modern materials capable of withstanding water and other types of damage. These ultra-durable materials are quickly replacing traditional balconies made form rot-prone wood or corrosive metals.
Even though modern decking can be more expensive than traditional materials, the long-term benefits (and savings) tend to outweigh the initial cost; instead of having to replace a wood deck every 20 years, for example, a deck made from modern materials can last a lifetime.
While many types of modern decking are somewhat waterproof, they're sometimes fastened using non-waterproof fittings. In any case, surface waterproofing is highly recommended for any decking material.
Invest in balcony waterproofing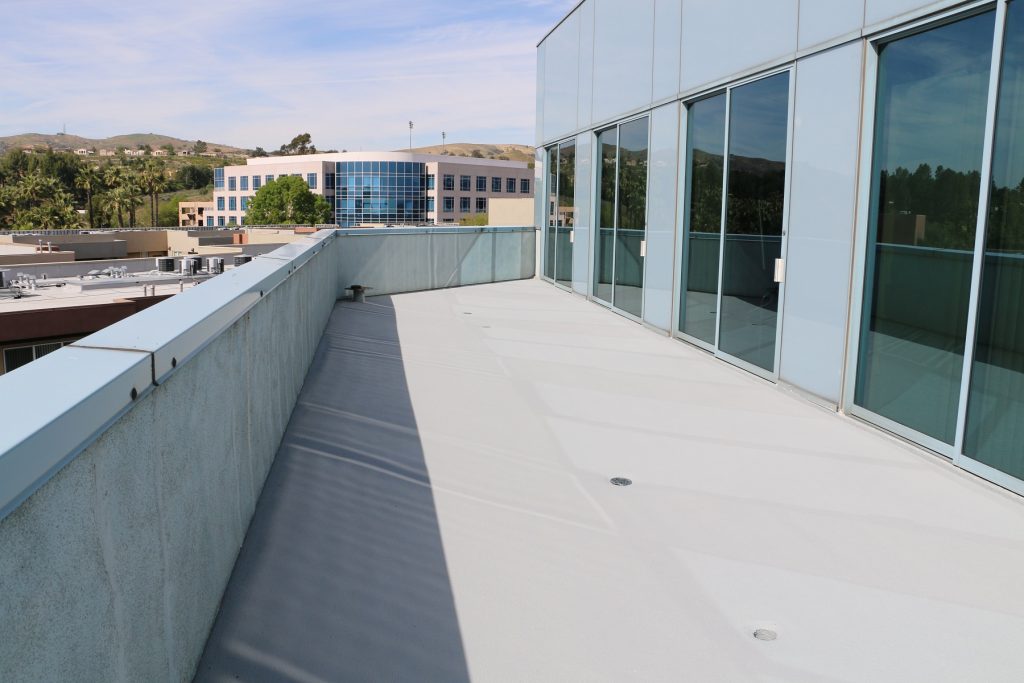 No matter how well you cover it, your balcony is bound to get wet at some point—and no material's completely impervious to water! As a result, balcony waterproofing is essential for any balcony, whether new, old, or covered.
Balcony waterproofing isn't just essential for long-term durability: It's also essential for safety. Wet balconies are often slippery, making them potentially dangerous for foot traffic. Waterproofing can also help prevent splinters, rot, rust, and corrosion caused by long-term water damage to wood or metal decks.
Another benefit of balcony waterproofing is its flexibility. With most waterproofing solutions working for almost any combination of materials and surfaces, waterproofing is one of the most effective ways of protecting and prolonging the life of your balcony.
Perform regular maintenance
Regular maintenance and cleaning can help prevent many effects of water damage before they can become major problems. In addition to regular cleaning, be sure to check for and repair any areas with rot, rust, or corrosion—especially during wetter months of the year.
You may also want to refinish or recoat your balcony regularly depending on the strength and durability of its materials. Wood balconies will typically need to be refinished at least every decade, while many synthetic materials may never need refinishing.
You may also want to waterproof your deck at regular intervals, especially if your waterproofing treatment has begun to wear down. Keeping your balcony floor waterproof can also make cleaning and other maintenance much easier by creating an easy-to-clean surface.
Find the right balcony waterproofing contractor
No matter what type of balcony you have, balcony deck waterproofing is the best way to protect your investment from water damage. For the best results, be sure to hire a trusted waterproofing professional.
For more information on our balcony and deck waterproofing services, call our team at (424) 339-0953.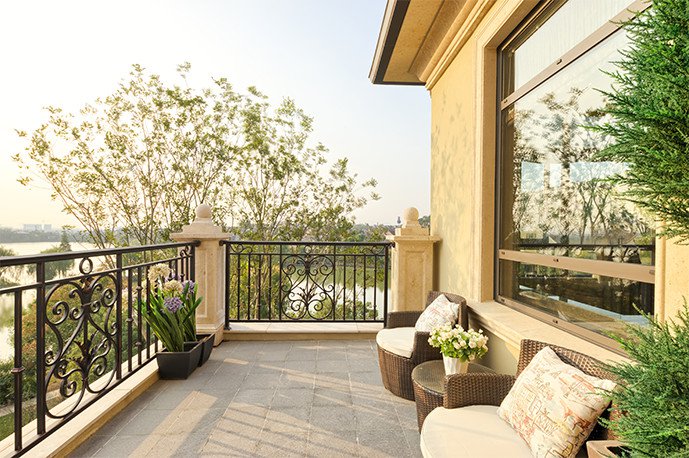 Balconies are exposed to the outdoors and, thus, are highly vulnerable to damage. A membrane protects underlying materials from water intrusion, whether it is exposed or covered with wood planking or concrete. Damage can still occur. Here are the leading causes plus reasons to have regular balcony maintenance.
1. Lack of Drainage
Without proper drainage, water can overflow and cause various problems. An edge-wrap drainage system must be kept clear of debris so there are no clogs and water can drain into the gutter.
If your balcony has a guard-wall, it likely has area floor drains and scuppers—drains that provide a path for water to flow from the surface through the wall and into the drainage system. If an overflow scupper is installed and water is draining from it, the primary scupper is probably clogged.
2. Cracks and Leaks
Cracks in the grout, concrete, or other surface materials invite water damage. Concrete spalling can indicate serious damage; the cracked or flaking concrete can create leaks. If the membrane is cracked and internal joints have separated, leaks can occur that reach the interior of the balcony structure. Water can ultimately reach the wall assembly and cause the balcony structure to rot. Even minor damage caused by heavy objects or holes caused by table/chair legs can lead to water entry.
3. Poor Construction Planning
To protect a balcony from damage, it must be properly constructed. The planning stage must factor in how each component will be installed and the type of membrane to be used. All work must comply with the most current building and manufacturing codes. An improperly built balcony may require expensive retrofits or altogether fail in a dangerous collapse. Taking shortcuts during construction, a lack of building skills, or poor coordination among contractors can put your balcony and family, friends, or neighbors at risk.
4. Lack of Maintenance
Water leaks and structural issues can occur with insufficient building maintenance. Spotting problems such as water stains on the balcony's underside, peeling paint, missing grout, or weak structural joints can allow a contractor to address them before failure. Proper maintenance can also avoid many issues from occurring in the first place. Maintaining a balcony membrane can prevent water leakage and further damage, as it is prone to separating from the wall or being displaced due to building frame shrinkage.
5. Ponding of Rainwater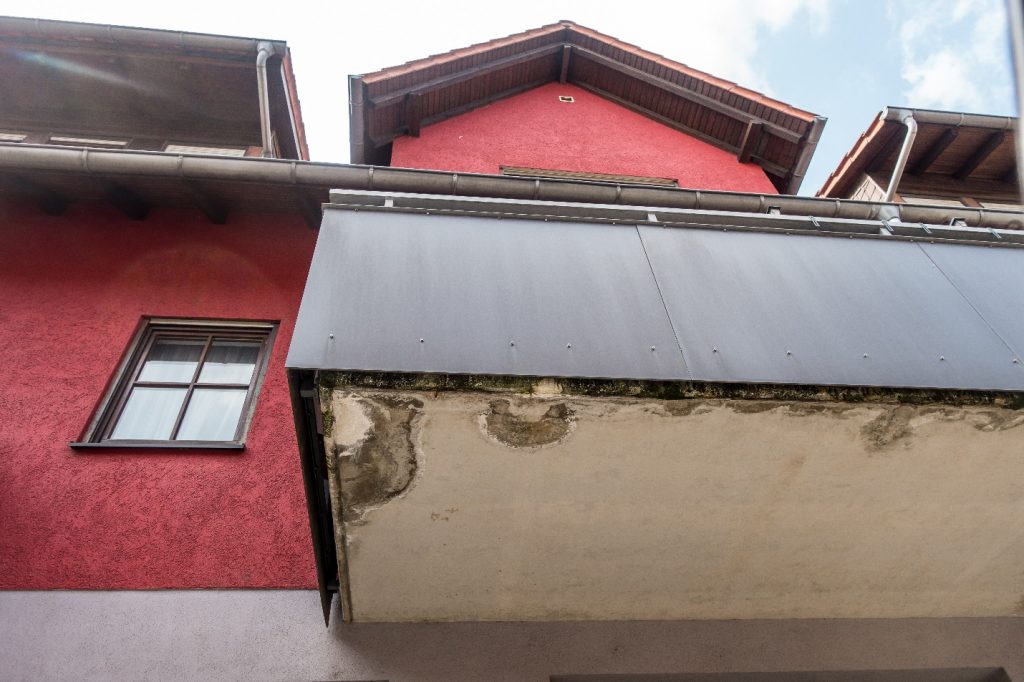 Ponding can be caused by blocked drainage, an improper balcony surface slope, or structural sagging or settlement. Leaves, twigs, and dirt that build up should be cleaned to allow water to drain. Regular cleaning of your balcony can prevent expensive and time-consuming repairs. If moisture pools between the membrane and tiles, the membrane can break down, leading to a lack of waterproofing to protect building materials.
Call for Balcony Waterproofing and Repair
Capital Deck & Stair provides high-quality solutions to protect balconies. Our professionals know how to repair a leaking balcony using the latest tools and techniques, or we can install a protective balcony cover to reduce contact with water. Call 424-339-0953 to ask any questions or schedule your free estimate.
Adding walking decks and balconies to your home can provide additional spaces for you to enjoy the outdoors. Walking decks are areas that you extend beyond the normal deck area. For instance, you could have a walking deck that wraps around the side of the home that connects to the front porch.
Balconies are great if you have a two-story home. Balconies do need to be supported correctly to ensure safety. You could place the supports directly into the ground. Alternatively, you could extend a balcony out over an existing structure. For example, you could build an upper story balcony on the roof of your patio enclosure.
While there are certainly plenty of different wooden walking deck and balcony design ideas, one of the latest trends in home improvement is using different materials like concrete, tiles, composite materials, and fiberglass. These materials can be much more durable and last longer than wood when properly maintained, waterproofed, and sealed.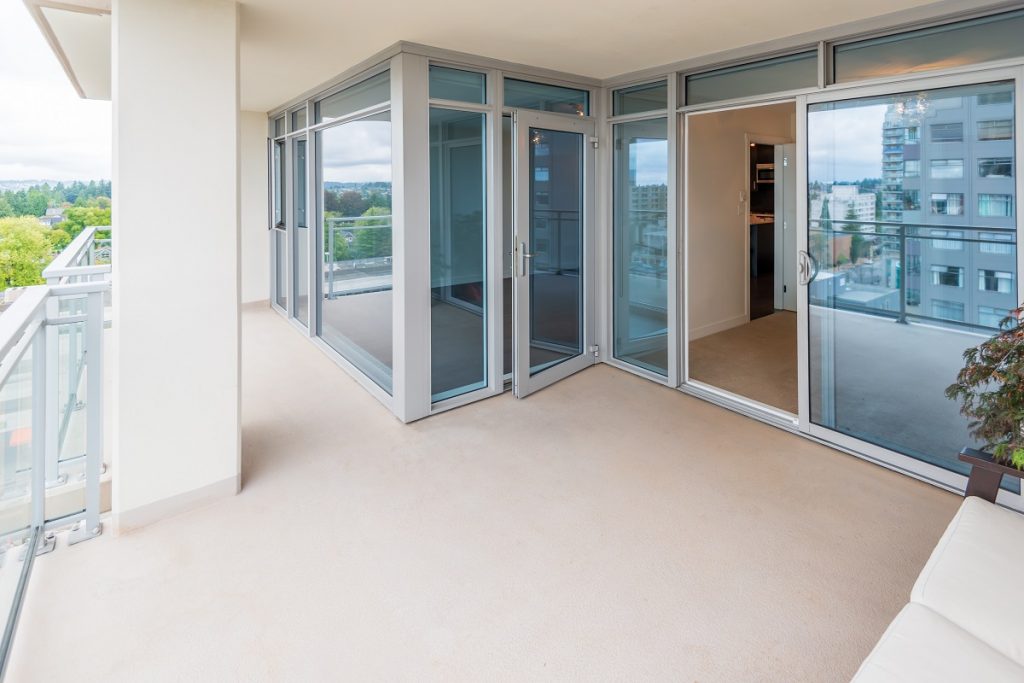 1. Colored Concrete
One of the reasons concrete is trendy right now is because there is a variety of colors you can choose from instead of gray. You can even customize designs to fit your needs like using black and white and having it "marbled" in to give the appearance of expensive Italian marble.
2. Checkerboard Tiles
One popular design to use with tiles is a checkerboard where you alternate one color with another. You want to choose colors that complement your home and also which are not the same color in different shades.
3. Tiled Images
You can take an image, like a butterfly, and have it transformed into a balcony design or walking deck design. You could have butterflies on individual tiles or create a larger-scale design by using different-colored tiles and placing those in the right locations. Then, fill in around the design in a different color tile so your image stands out.
4. Stamped/Pressed Concrete
Another option available with concrete is to stamp or press a design or image into the wet concrete before it sets and cures. A stamping plate will need to be made with the inverse (reverse) of the image or design. You could also go with the traditional handprints and footprints imprints.
5. Colored Fiberglass
Just like concrete, fiberglass comes in a wide array of colored options. Fiberglass can be placed over an existing concrete walking deck or balcony, too, if you want to give it an updated look and appearance when the existing one is looking dated or needs some minor repairs.
6. Composite Decking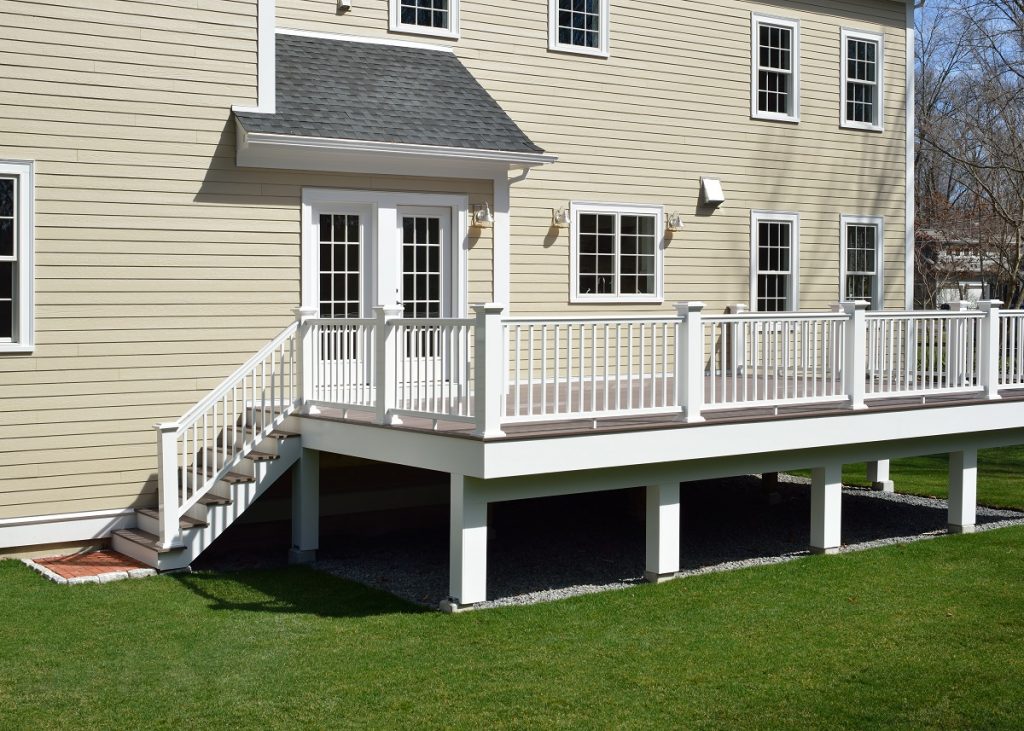 Composite decking is made from synthetic and plastic materials. It is very durable and comes in a wide variety of colors. You can place the tiles over existing concrete or tiles if you want a wood-like appearance. Some composite decking comes in small square tile-like pieces that you simply snap together and place directly onto the existing surface.
No matter what material you ultimately decide to use to build a new walking deck or balcony or to upgrade the appearance of an existing one, remember to have the material waterproofed afterward.
Sometimes there is an initial "curing" period before waterproofing can be done. By waterproofing walking decks and balconies, you will protect them from water damage and increase their durability and lifespan.
For further information about balcony and walking deck waterproofing and other services, please feel free to contact Capital Deck & Stair at (424) 339-0953 today!
A balcony is a great addition to homes and businesses alike; the wealth of space they provide allows everyone to take in the scenery as they enjoy some downtime. Yet a surface without waterproof balcony flooring, the wrong railings, and unrepaired structural elements can place guests in danger. Let's take a closer look at how to keep your balcony attractive and safe for everyone to use.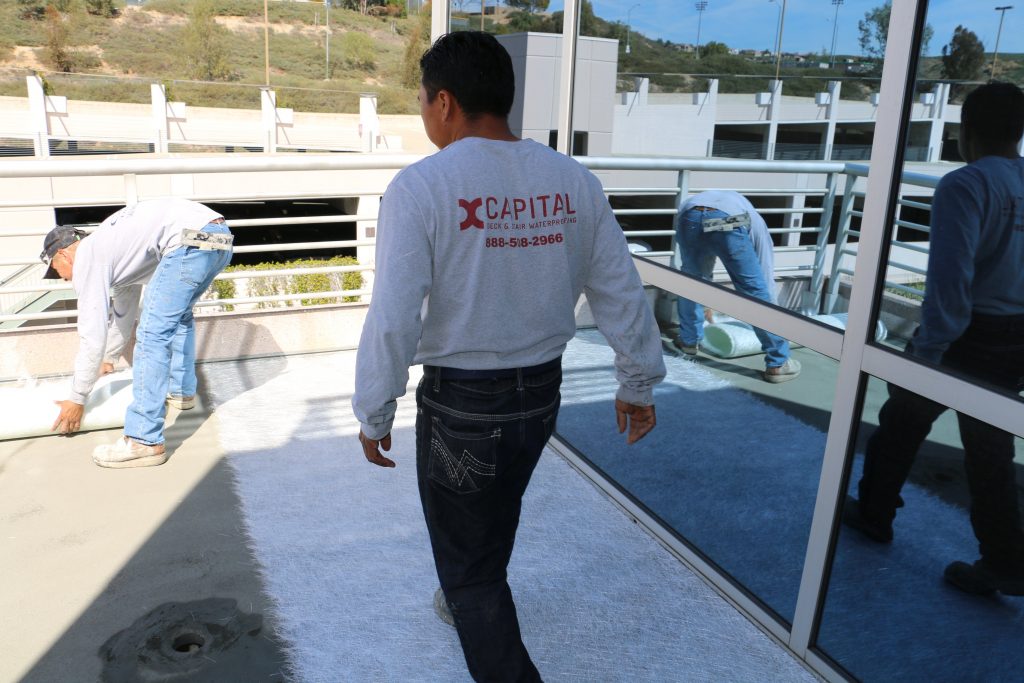 Ensure Railings Are the Right Height
How can you know that your balcony rail is the right height? The California Building Code. Home and business standards differ, but both require minimum railing heights and maximum spacing between posts and balusters, as well as between the balcony floor and bottom rail.
These heights and spacings are in place to prevent falling from the balcony, from going over the railing, or from crawling underneath.
Heed Occupancy Limits
The California Building Code also has requirements for weight, stating that a balcony must be able to withstand a specific amount of pressure at any given location to remain safe. The more people who are on a balcony together, the more weight and pressure that the balcony must withstand at one time.
While this may not be an issue for new and well-built balconies, one that has gone into disrepair poses a far greater risk of safety, which leads us to our next tip.
Monitor Your Balcony Frequently
By regularly monitoring your balcony, you can avoid safety issues. Make regular inspections of the balcony to look for the following signs that could become bigger problems:
Chipping
Cracking
Wearing
Splitting
Uneven surface
Leaks
There are also cosmetic signs of wear such as water stains, discoloration, and dirt that can make your balcony look older than it is. In terms of monitoring, you should also look at the debris that may be collecting on your balcony; not only does clutter look unattractive, but it can cause tripping and falling and also make your balcony more difficult to enjoy.
Make It Safer for All Weather
Weather can definitely affect your balcony's surface, making it slippery and harder to walk on. This can easily cause occupants to fall and become injured. A great way to prevent falls and slips is to coat your balcony with a non-slip surface. Guests and employees will feel much safer when they know they can walk on the surface confidently, and it will completely restore your balcony's look.
Waterproofing Systems That Work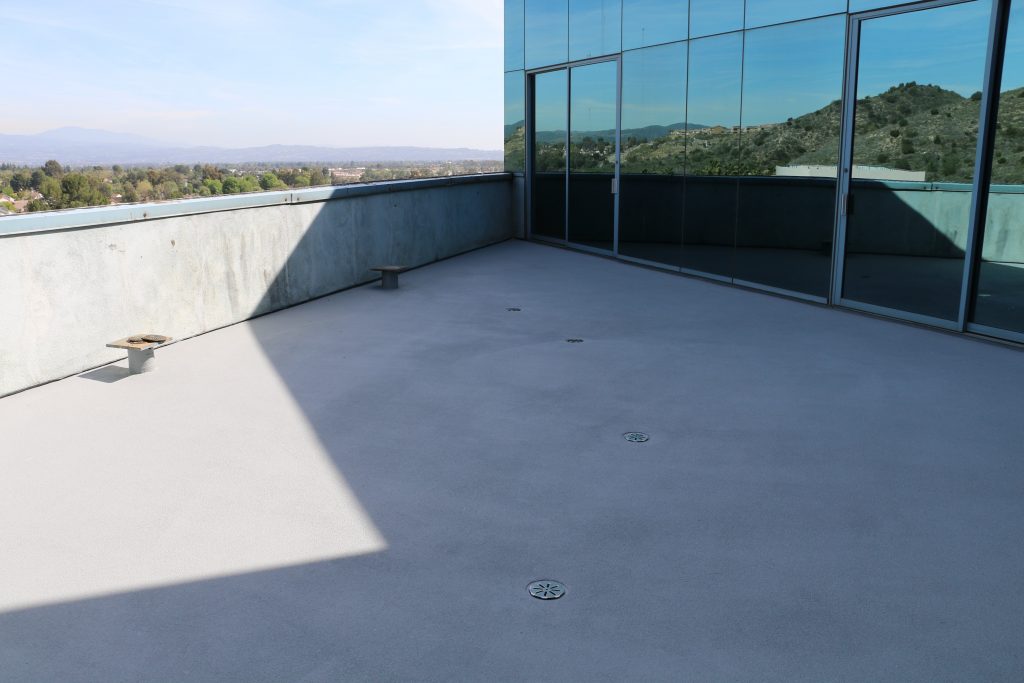 If your balcony needs attention due to cracks, erosion, water penetration, or age, there is a solution that will increase its durability, beauty, life, and value: waterproofing from Capital Deck & Stair, a balcony waterproofing contractor. With over 30 years of industry experience, our waterproofing systems are installed by trained experts.
We provide a warranty and an 8-year guarantee on every service we offer. Learn more about how easy it is to make your balcony safer and more beautiful with Capital Deck & Stair; get a free online estimate today.
If your balcony is your happy place, you want to spend as much quality time out there as possible, even when it's raining. Yet when the rain blows straight onto your balcony, everything gets soaked. Not only that, but rain can seep into your furniture and into the concrete, making repairs from a balcony waterproofing contractor necessary. This guide will reveal how to rainproof your balcony in a few simple ways.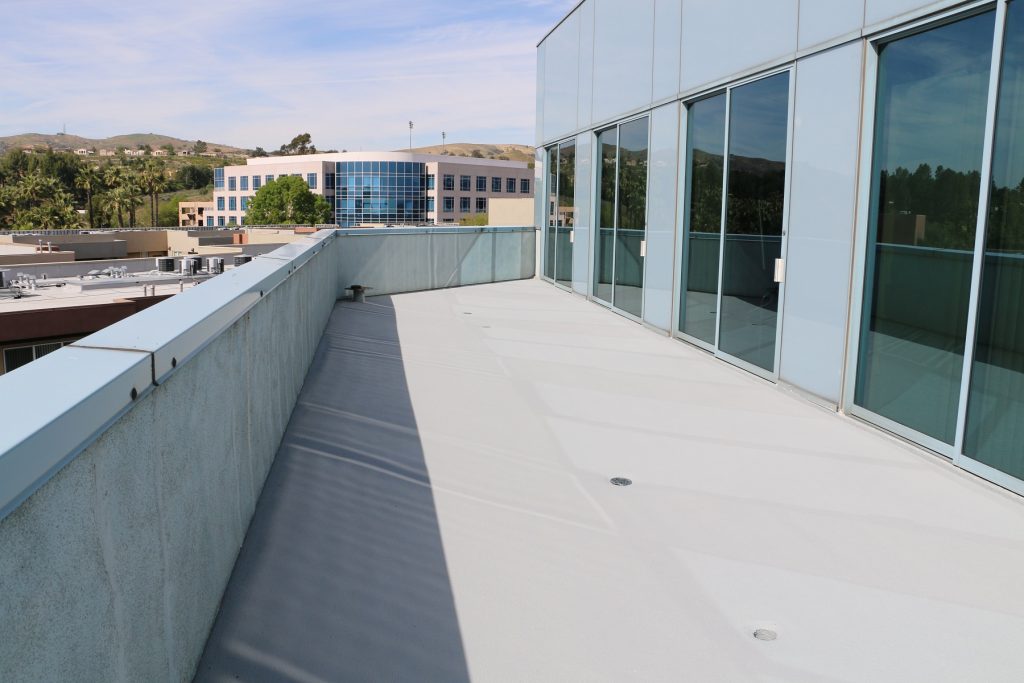 The Right Outdoor Furniture
The first thing to do is take a look at the furniture that's out on your balcony already. If it's rusty-looking, faded, or still soggy from the last rainstorm, it's time to replace it—but with what? Furniture that's made to stand up to all kinds of weather, and there's a lot of it out there. It all depends on your taste but, if you're going with wood or cushions, there are some cautions.
In order to last, wooden outdoor furniture needs to have been treated with waterproofing sealant. As far as cushions go, not all are created equally. If you don't want to have to bring your cushions in during a rainstorm or to cover your furniture, then simply ensure your cushions are made with quick-dry foam in addition to having a water-resistant cover.
Use Waterproof Decor
If you use your balcony as an outdoor living room, you likely love to decorate and light it up. Over time, your décor and lights will lose their luster to rust unless they're made for being outside. Of course, you should always choose balcony lights that are waterproof and made for outdoor use only. As for decorative items, resin, glass and stone are all ideal.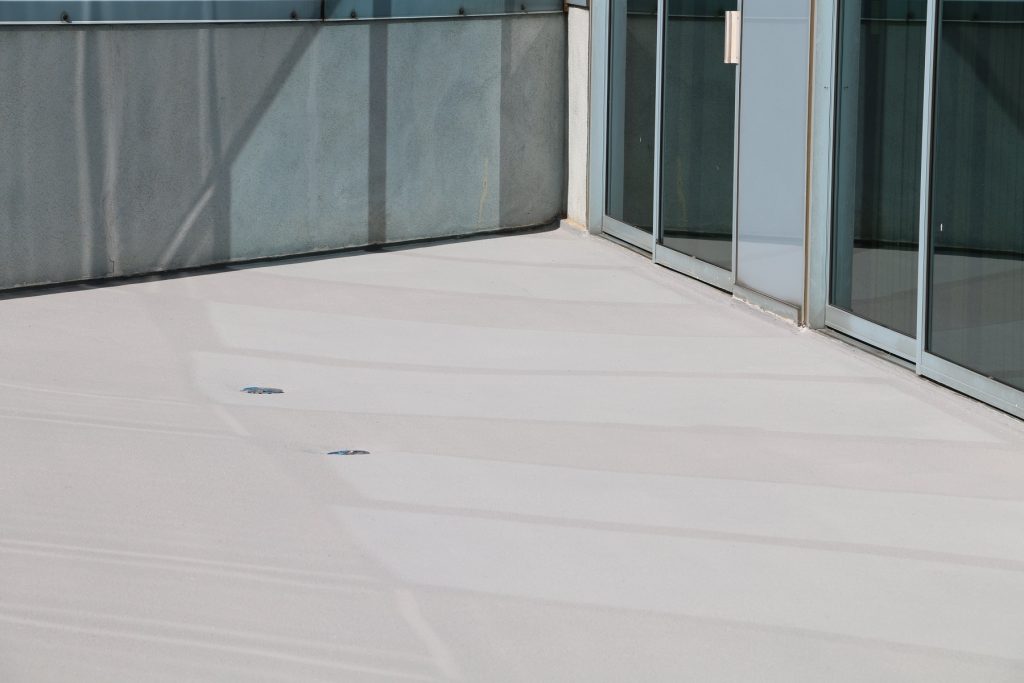 Proper Plant Drainage
The plants on your balcony will love the rain, but they can only consume so much before they become waterlogged. When this happens, your plants and your balcony can be at risk. Rain will drip through the bottom of plant pots straight onto—and into—the surface, requiring balcony deck repair.
The best thing to do is change your soil if it's made for gardens. Garden soil doesn't work well in plant pots because it's too dense and, as a result, is more likely to overflow. Denser soil will also make it more difficult for plants to root. Potting soil is looser, is easier for roots to move through, and will allow water to move more easily to the bottom.
You'll want to make sure there are enough holes in the bottom of pots as well, although this will still mean that water hits your balcony. However, when you choose to seal it, rainwater will bead up on your balcony instead of soaking into it.
Cost-Effective, Guaranteed Waterproofing
When you want to save your balcony or deck from the rain, quality matters. Capital Deck & Stair is a balcony waterproofing contractor offering durable, high-quality solutions that dramatically increase your home value without the high cost. Call today to get a free estimate: (424) 339-0953.