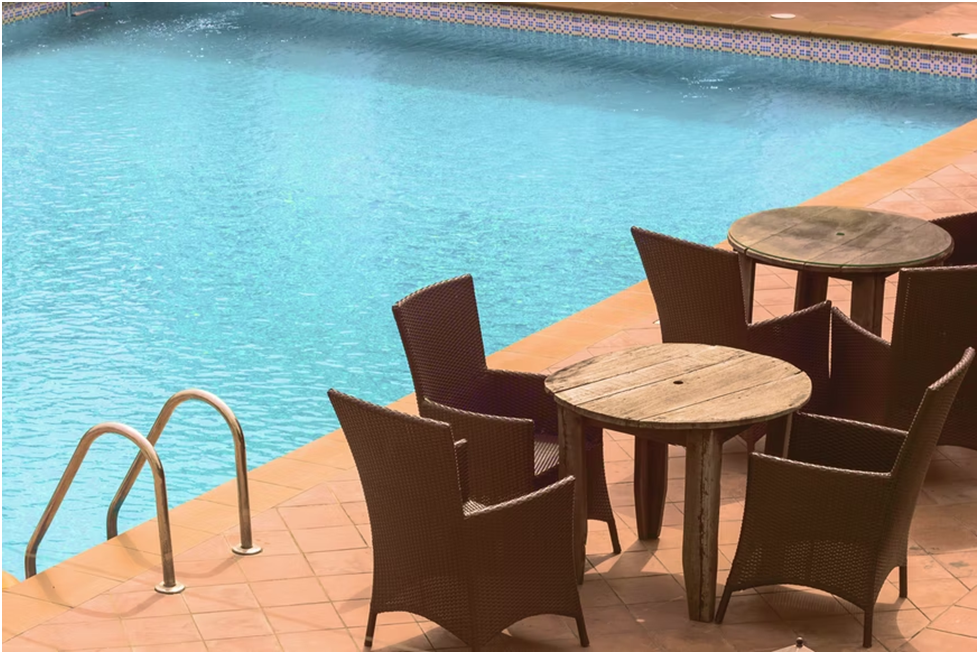 Are you planning on installing a pool deck? Finding the right contractor is crucial for ensuring a successful project. With so many options out there, it can be overwhelming to choose the best one. But don't worry, we're here to help! In this article, we will guide you through the process by providing you with 10 essential questions to ask your pool deck contractor. By asking these questions, you will be able to assess their expertise, experience, and reliability. Knowing what to ask will not only help you make an informed decision but also ensure that your pool deck is built to last. So, whether you are looking for a contractor to install a new deck or remodel an existing one, keep reading for invaluable insights that will empower you to make the right choice.
10 Key Questions to Ask a Pool Decking Contractor
When hiring a pool decking contractor, it is important to ask them key questions to ensure they are the right fit for your project. Start by asking how long they have been in the pool deck construction business, as experience is crucial in delivering quality results. Requesting references or previous projects can give you a sense of their workmanship and reliability. Inquire about the warranty or guarantee they offer, as well as their plans for water drainage and sealing. Lastly, don't forget to ask about the estimated timeline from start to finish so you can plan accordingly.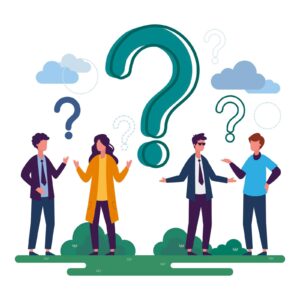 1. How long have you been in the pool deck construction business?
Choosing a pool deck contractor with vast experience ensures a job well done. Their seasoned expertise means they've tackled diverse challenges and can recommend optimal materials and techniques. A contractor's reputation, built over years, is also a testament to their reliability and skill. Always prioritize experience when selecting a contractor.
2. Can you provide references or show me previous projects?
When selecting a pool deck contractor, ask for references and past project examples. This not only displays their skill but also provides a glimpse into their design aesthetic and quality. A good contractor will readily share portfolios or projects, highlighting their proficiency. Client testimonials can further vouch for their professionalism and reliability. Thus, by reviewing past work and feedback, you can confidently choose the right contractor.
3. What kind of warranty or guarantee do you offer?
Before finalizing your pool deck contractor, dive deep into the specifics of warranty and guarantee. It's vital to protect your investment. Understand the maintenance clauses, conditions that could nullify the warranty, and repair options. Also, clarify any costs linked to these guarantees and if they're transferable with property sales. Such diligence ensures long-term peace of mind for your pool deck.
4. How will you manage water drainage and ensure proper sealing?
For a durable pool deck, understanding your contractor's approach to water drainage and sealing is paramount. It's essential to question their waterproofing measures and how they'll prevent potential water damage. Investigate their installation processes, emphasizing effective water management and the use of resilient sealants. A credible contractor will prioritize directing water away from the pool while ensuring optimal sealant performance. Addressing these vital aspects will safeguard your pool deck from future water-related challenges.
5. How long will the project take from start to finish?
Embarking on a pool deck project? It's essential to get an estimate of its duration. While the timeline can be influenced by the deck's size, design intricacy, and even weather, an experienced contractor should give you a ballpark figure. Ensure clarity on the construction process and potential setbacks to anticipate any changes. Maintaining open communication lines with your contractor can alleviate any unexpected hitches. Also, delve into their sealing methods to maximize your deck's durability and protect against potential water damage.
6. What permits are required, and will you handle them?
Embarking on a pool deck project? Permits can be a tricky terrain. Navigating through the legal maze of construction requirements is essential. Discuss with your contractor about who will shoulder the permit responsibilities. Opting for a contractor who manages the permit process not only eases your burden but also ensures adherence to all regulations. This ensures a hassle-free construction journey, granting you added peace of mind.
7. How do you handle unforeseen complications or costs?
Starting a pool deck project? Unforeseen hiccups might occur. A trustworthy contractor should proactively tackle such challenges, prioritizing open communication and effective problem-solving. Whether it's adjusting timelines, finding alternative materials, or modifying designs, they should handle unexpected expenses without compromising quality. Choosing a contractor with a transparent approach ensures your project remains on course, aligning with both your vision and budget.
8. Will you be using subcontractors?
Before sealing the deal with a pool deck contractor, inquire about the involvement of subcontractors. While subcontracting is prevalent in construction, it's vital to understand who's overseeing the entire project. Question the contractor about their management and quality control measures with subcontractors. It's equally important to confirm insurance coverage for both the contractor and subcontractors, safeguarding you from potential liabilities or damages. Being thorough in your queries ensures your pool deck's efficient execution and top-notch quality.
9. How do you ensure the safety of your workers and my property?
Ensuring the safety of our workers and your property is paramount during the construction process. Our team is well-equipped and trained in safety protocols, with strict adherence to using protective gear and identifying hazards. Through diligent risk management and regular inspections, we actively prevent accidents and address concerns swiftly. With safety as a cornerstone of our operations, we aim to provide a seamless construction experience without compromising well-being or property integrity.
10. How is the payment schedule structured?
Diving into the financial specifics is key after covering safety with your pool deck contractor. It's crucial to discern their payment structure. Do they ask for upfront charges or accept progressive payments? Being well-versed with the payment timeline aids in budget planning. Moreover, pinpoint when the concluding payment is expected and its prerequisites. Securing these financial particulars in written form establishes mutual clarity, setting the stage for a smooth transaction throughout the project's lifecycle.
The Importance Of Hiring The Right Pool Deck Contractor
Choosing the ideal pool deck contractor is more than just finding someone to do the job.
Vision Alignment: Ensure the contractor understands and resonates with your vision for the pool deck.
Conduct Research: Dedicate time for thorough research and seek recommendations from trusted sources.
Cost Comparisons: Obtain multiple quotes to ensure you're getting value for your money, balancing cost with quality.
Material Guidance: Discuss options like concrete, pavers, or natural stone. The contractor should recommend materials based on your needs and budget.
Maintenance Insights: After project completion, the contractor should provide tips on maintaining the pool deck to ensure longevity and aesthetics.
By conducting thorough research, choosing the right contractor based on their expertise and reputation, considering cost factors, selecting suitable materials, and learning maintenance tips from professionals; you'll be well-prepared to hire a pool deck contractor who can turn your vision into a reality.
Get durable pool decks with Capital Deck & Stair Waterproofing
Capital Deck and Stair Waterproofing stands as the key to preserving the beauty and functionality of your pool decks for the long haul. Their mastery in waterproofing offers impeccable solutions, ensuring that your pool deck endures the elements gracefully. From selecting the right materials to perfecting the waterproofing technique, they prioritize durability without compromising aesthetics.
Recognizing the significance of quality waterproofing, Capital Deck and Stair Waterproofing employs state-of-the-art methods to counteract water damage and combat moisture-induced wear and tear. Using premium sealants, they provide a robust shield against potential water infiltration. Beyond this, their extensive array of materials – from classic concrete to chic composite decking – ensures every client finds the ideal fit. Entrust your pool deck's longevity to Capital Deck and Stair Waterproofing; where durability meets cost-effective elegance.
Conclusion
For a pool deck that will stand the test of time and leave you worry-free, look no further than Capital Deck and Stair Waterproofing. When it comes to long-lasting pool decks, hiring the right pool deck contractor is of utmost importance. With Capital Deck's expertise in waterproofing, you can ensure that your pool deck will not only be visually appealing but also durable and resistant to water damage.
When hiring a pool deck contractor, it is crucial to ask the right questions to ensure they have the necessary experience and knowledge. Capital Deck understands this importance and is always ready to address any concerns or queries you may have. Their team is dedicated to providing exceptional customer service while delivering outstanding results you can Contact us at (866) 577-7014 to request a free estimate.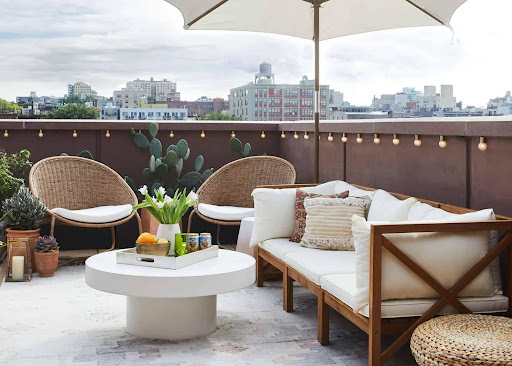 Even the highest-quality decks will eventually require some level of maintenance or repair. Knowing when to call the experts can save you time and money and ensure your safety.
It's essential to understand what signs indicate the need for professional deck repair so that you can address any issues before they become significant problems.
Introduction
A well-maintained deck not only enhances the beauty of your outdoor space but also ensures its safety and longevity.
If you're wondering whether or not it's time to call in a pro for your deck repair needs, there are some signs you need to pay attention to. While you may be tempted to tackle the repairs, sometimes it's best to leave it up to the professionals. After all, they have the experience and knowledge to get the job done right.
One of the first signs that it's time to hire a deck repair contractor is if your deck has become unstable or unsafe. It could mean that your joists rot, your posts are loose, or your railings need to be more secure. If any of these things happen with your deck, it's essential to address them immediately so that no one gets hurt.
Explore the signs that indicate the need for professional assistance and provide insights into deck repairs, fixing, replacement, refinishing, and sealing. Whether you're in Los Angeles or anywhere else, understanding these signs will help you make an informed decision and keep your deck in top shape.
The Importance of Hiring a Deck Repair Contractor
Don't risk your safety and waste time trying to fix your deck yourself – trust an expert who can ensure a sturdy, long-lasting repair. Hiring a professional deck repair contractor is crucial for several reasons. First, these contractors have the necessary skills and experience to detect even the smallest signs of damage that you might miss. They can assess the extent of the damage and determine the most appropriate course of action.
Moreover, deck repair contractors can access top-quality materials unavailable at local hardware stores. These materials are designed for outdoor use and are durable enough to withstand harsh weather conditions. With their expertise and high-quality materials, deck repair contractors can provide sturdy and long-lasting repairs that will save you money in the long run.
If you live in Los Angeles or its environs, hiring a professional deck repair contractor is even more critical because of its unique climate. A reliable pool deck repair Los Angeles contractor will know precisely how to handle issues such as warping, rotting, or cracking decks caused by constant exposure to sunlight and water. Moreover, suppose you need any refinishing services for your pool or patio decks in the Los Angeles area. In that case, hiring any reputable company dealing in Deck Repair Los Angeles with years of experience providing this service is essential.
Signs that Indicate the Need for Professional Deck Repair
Watch out for rotting wood, loose railings, and cracked boards – these are clear signs that your deck needs immediate attention. But those aren't the only indicators. Prolonged water damage can also weaken the structure of your deck, making it unsafe to use. If you notice any of these issues, it's time to call in a professional deck repair contractor.
Deck repair contractors have the knowledge and experience necessary to identify underlying issues that may take time to be evident. They can assess the damage and determine whether repairs or replacement is necessary. In addition to fixing existing problems, they can also offer advice on how to prevent future damage and prolong the life of your deck.
If you're in Los Angeles or surrounding areas, consider reaching out for help with pool deck repair in Los Angeles or even deck sealing in Los Angeles services. A professional contractor will ensure that your deck is safe and looks great. Pay attention to the signs – invest in a reliable contractor today to protect yourself and your loved ones from hazards associated with an unsafe deck.
Understanding Deck Repairs, Fixing, and Replacement
To truly understand the intricacies of deck repairs, fixing, and replacement, you must consider the various factors impacting your decision-making process. When it comes to deck repairs, some issues may be minor and easily fixed by the homeowner themselves. These might include loose boards or railings or small cracks in the wood. However, a professional deck repair contractor should always handle more extensive damage, such as rotting or significant structural issues.
In general, standard deck repair techniques include:
Replacing damaged boards or railings.
Reinforcing weak areas with additional support beams or posts.
Sanding and refinishing the surface to protect against future damage.
While these tasks may seem simple enough on their own, they often require specialized tools and knowledge that only a trained professional can provide. Hiring a deck repair contractor also ensures that any necessary permits are obtained and that all work is up to code.
When deciding whether to fix or replace your deck altogether, several factors must be considered. The age of your current deck is one key consideration; if it's over 20 years old and showing signs of wear and tear beyond simple repairs, then replacement may be necessary. Other factors include the size of your current space (is it too small for your needs?), overall aesthetic appeal (does it look outdated?), and budget constraints (can you afford a complete replacement?). By weighing these variables carefully alongside the advice of a trusted deck repair contractor – like those at Deck Repair Los Angeles -, homeowners can make informed decisions about how best to address their specific needs when repairing or replacing their decks.
Enhancing the Look of Your Deck: Refinishing and Sealing
If you want to give your deck a fresh new look while protecting it from the elements, you'll need to know how to refinish and seal it properly. Refinishing your deck involves:
Sanding off the old finish.
Cleaning the wood surface.
Applying a new stain or paint.
Sealing your deck is essential since it prevents water damage, sun exposure, and insect infestations. Choosing the right products can be overwhelming when refinishing and sealing your deck. Many types of stains and sealants are available on the market, each with its own benefits and drawbacks. Some popular options include oil-based paints, water-based stains, clear sealers, semi-transparent stains, solid-color stains, and polyurethane coatings. A professional deck repair contractor in Los Angeles can help you choose the right product for your specific needs based on weather conditions, foot traffic volume, wood type, and personal preferences.
Hiring a professional deck repair contractor in Los Angeles for your deck refinishing project has several advantages over doing it yourself:
Professionals can access specialized tools and equipment to make the job faster and more efficient.
They have years of experience working with different types of decks and finishes, so they know exactly what works best in each situation.
They can also provide valuable advice on maintaining your newly-refinished deck for years!
Hiring the Right Deck Repair Contractor in Los Angeles
Finding the right deck repair contractor in Los Angeles can be a daunting task, but with thorough research and evaluation of credentials and customer reviews, you can ensure that your project will be handled by experts who will deliver quality results. Choosing someone specializing in deck repair is essential when looking for deck repair contractors. Not all contractors have the same expertise when it comes to fixing decks, so make sure you hire someone with experience working on decks similar to yours.
If you have a pool deck that needs repairs, it's even more essential to find a specialized pool deck repair Los Angeles contractor. Pool decks require specific waterproofing and sealing techniques that not all general contractors may be familiar with. A professional pool deck repair contractor will know how to properly treat your deck to withstand exposure to water and chemicals.
It's also crucial to check customer reviews and testimonials for deck repair contractors. It will give you an idea of their work quality and professionalism from past clients' experiences. Feel free to ask for references or examples of previous projects they've worked on. By doing your due diligence, you'll increase your chances of hiring the right deck repair Los Angeles contractor who will provide excellent service and deliver high-quality results for your project.
Conclusion
Taking care of your deck is crucial for its longevity and safety. By understanding the signs that indicate the need for professional assistance and knowing when to hire a deck repair contractor, you can ensure your deck remains in top condition. Whether it's deck repairs, fixing, replacement, refinishing, or sealing, consulting with experts will help you maintain a beautiful and functional deck. If you're in Los Angeles, make sure to choose a reliable and experienced deck repair contractor to address your specific needs.
By recognizing these signs and calling in an experienced deck repair contractor in Los Angeles when needed, you can ensure that your outdoor space remains safe and enjoyable for years. Remember, a well-maintained deck enhances the value of your property and provides a welcoming outdoor space for you and your loved ones to enjoy. Don't ignore the signs – take action and hire a professional deck repair contractor today!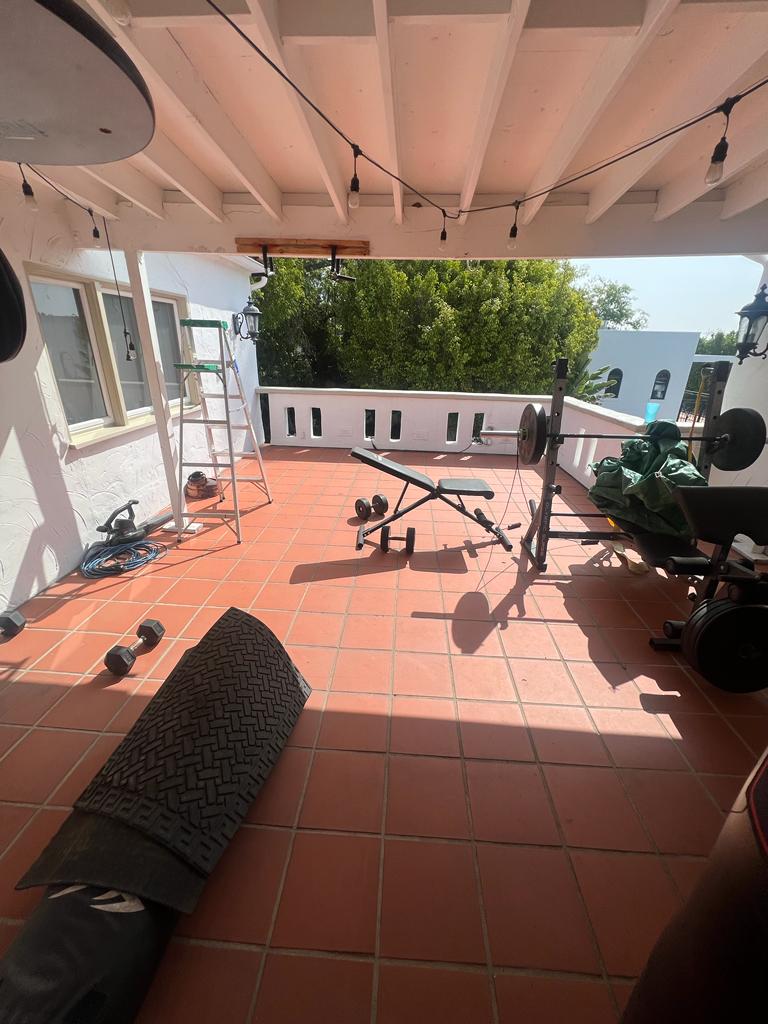 Decks are a terrific way to add value to your house and provide a year-round gathering place for friends and family. However, even the strongest and most well-built decks have upkeep requirements that can accumulate over time if regular maintenance is not performed. Deck repair is probable if your decking is a couple of years old. The most basic deck repairs may be done by yourself.
DIY Deck Repair is an excellent method to save money while giving your deck a facelift without hiring a professional. You can quickly repair and enhance your deck with the correct equipment and supplies. With the right information and tools, you can care for your deck and endure it for many years. Fixing a deck may save you time and money, especially if the area is small. Decking repair, whether aesthetic or structural, may be a do-it-yourself effort. It is also a faster and less expensive choice than phoning a professional.
Check More Blogs: The Importance of Regular Deck Maintenance: Tips for Keeping Your Deck Safe and Beautiful
How to fix
Identifying the Problem
After a hard day, a backyard deck is a terrific place to rest and decompress. You may be thinking of adding a deck to your landscaping to make it more appealing for dining outside or enjoying a drink with a friend, but you may be concerned about some of the deck problems. While you know, you want a suitable place; you surely don't want an outside area that will cause you headaches, inconveniences, and stress. You want to enjoy your patio since it is an investment.
The first step in resolving any patio issue is determining what maintenance and upkeep is necessary. Patios are often composed of concrete or stone, and they must be sealed regularly to keep the elements at bay. It is also critical to examine the patio regularly for symptoms of damage or degradation, such as cracked concrete or loose stones. The patio must be cleaned periodically to avoid dirt and debris buildup.
Apart from routine maintenance and care, being aware of any possible concerns is also critical. For example, if the patio is subjected to excessive sun or rain, it may discolor or sustain water damage. Therefore, it is essential to learn how to handle any patio-related difficulties. Typically, it is preferable to begin by identifying the problem and then taking the necessary actions to resolve it. This might include filling any cracks or adding a sealer to keep the patio from deteriorating further.
Gather the Necessary Supplies
The first step in DIY deck repair is to acquire the necessary supplies. Whether repairing a few damaged boards or making more significant repairs, having the correct supplies is critical. Understanding what you'll need before you begin can help you save time and money. Pressure-treated wood is frequently the best choice for deck materials. It's tough, long-lasting, and resistant to decay and insects. If you need to replace broken boards, ensure they are the same size and thickness as the originals. Deck screws, nails, and other hardware are also required.
Additional supplies, such as joist hangers, post anchors, and deck flashing, may be required for more significant restorations. You'll also need a drill, a saw, a screwdriver, a hammer, a level, and a measuring tape. If your deck is built of composite material, you may need to purchase a saw blade explicitly developed for cutting composite boards. You'll also need to ensure you have the necessary cleaning and staining products. A power washer, deck cleaner, sealer, and stain are among them. Use products that are made for the sort of wood your deck is built of.
You can ensure the success of your DIY deck repair job by gathering all of the required items before you begin. Conducting your homework and selecting suitable materials and equipment for the project is critical. You can repair your deck and make it seem new again with the correct supplies and some know-how.
Repairing Cracks and Splits
A cracked or split deck may be an eyesore and a safety threat. However, you can repair a cracked or split deck with simple DIY procedures.
To begin, clean the area surrounding the crack or split. Remove any dirt, debris, or mildew accumulated with a power washer and a scrub brush. Scrape away any loose or flaking paint or wood with a putty knife.
Once the area is clean and dry, use wood filler to fix the crack or split. Smooth the wood filler with a putty knife and allow it to dry thoroughly.
After that, smooth the area where the wood filler was applied using a sander. This will assist the filler in blending in with the surrounding wood, giving the restoration a more natural appearance.
Lastly, apply a coat of deck stain to the area with a paintbrush. This will assist in preserving the wood while also making the restoration appear more smooth.
Replacing Damaged Boards
If you have a DIY deck repair job that requires replacing broken boards, you must know how to do it correctly. Changing boards may be complex, and it's critical to do it right, so the deck remains structurally strong. To begin, analyze the damage to identify which boards must be replaced. Consider any bent boards, fractures, splinters, and any components that may have deteriorated over time.
After determining what you require, it's time to select the appropriate boards. Because pressure-treated wood is more durable, it's an excellent choice for the project. Be careful to measure the present boards and purchase replacements of the same size and type of wood. Before replacing the broken boards, clear the area and clean up any debris. Next, using a saw, cut the panels to the appropriate size and form. Finally, attach the new planks with a hammer and nails.
Check the boards for any evidence of more damage. If the panels are bent or fractured, you may need to sand them down or paint over them to finish the work. Replacing the broken boards in your DIY deck repair is a snap with a few easy steps. Then, you'll have a deck that appears like new and the pleasure of a job well done.
Finishing Touches
DIY deck repair is an excellent method to increase the value and pleasure of your house. The final phase in the process is the finishing touches that will make your deck seem brand new. These measures will guarantee that your deck is both valuable and attractive. The first step is to use a power washer or pressure washer to clean the deck. This will clear away any dirt and debris, allowing you to examine any required repairs. After cleaning the deck, look for loose boards, nails, screws, or other possible hazards. Before proceeding, make any needed repairs.
When the repairs are finished, it's time to put the finishing touches on. This involves sanding rough edges, using a wood filler to fix cracks or gaps, and staining or painting the whole deck. Use high-quality outdoor paint to protect the wood if you wish to paint. Next, add ornamental components like outdoor lights or furniture when the paint has dried. The final step is to apply a deck sealant. This will prevent the wood from fading and water damage. It also provides the deck with a glossy appearance and makes cleaning simpler. With a bit of work, you can have a fantastic DIY deck repair that looks brand new.
Conclusion
DIY deck repair is an excellent method to save money while extending your deck's life. With a few essential tools and a few hours of labor, you can drastically improve the appearance and feel of your outdoor area. Not only will you save money on installation, but you will also be able to tailor the project to your preferences. Replace damaged boards, patch gaps, paint, and seal, and add aesthetic details like railings and seats to your DIY deck repair. With a few pointers and some study, you can do deck repairs that will endure for years. And the money you save can be used to make further changes to your outside space or to start a new project. DIY deck repair is a cost-effective way to maintain and improve the appearance of your deck.
If you're looking for professional assistance with deck repairs, consider contacting Capital Deck & Stair Waterproofing. They are a reputable business specializing in deck and stair waterproofing services. While DIY repairs can be rewarding, sometimes it's beneficial to seek the expertise of professionals to ensure the longevity and durability of your deck. Capital Deck & Stair Waterproofing can provide you with the necessary expertise and guidance to tackle any deck repair project effectively. Their services can help you save time and ensure that your deck is well-maintained and protected against water damage.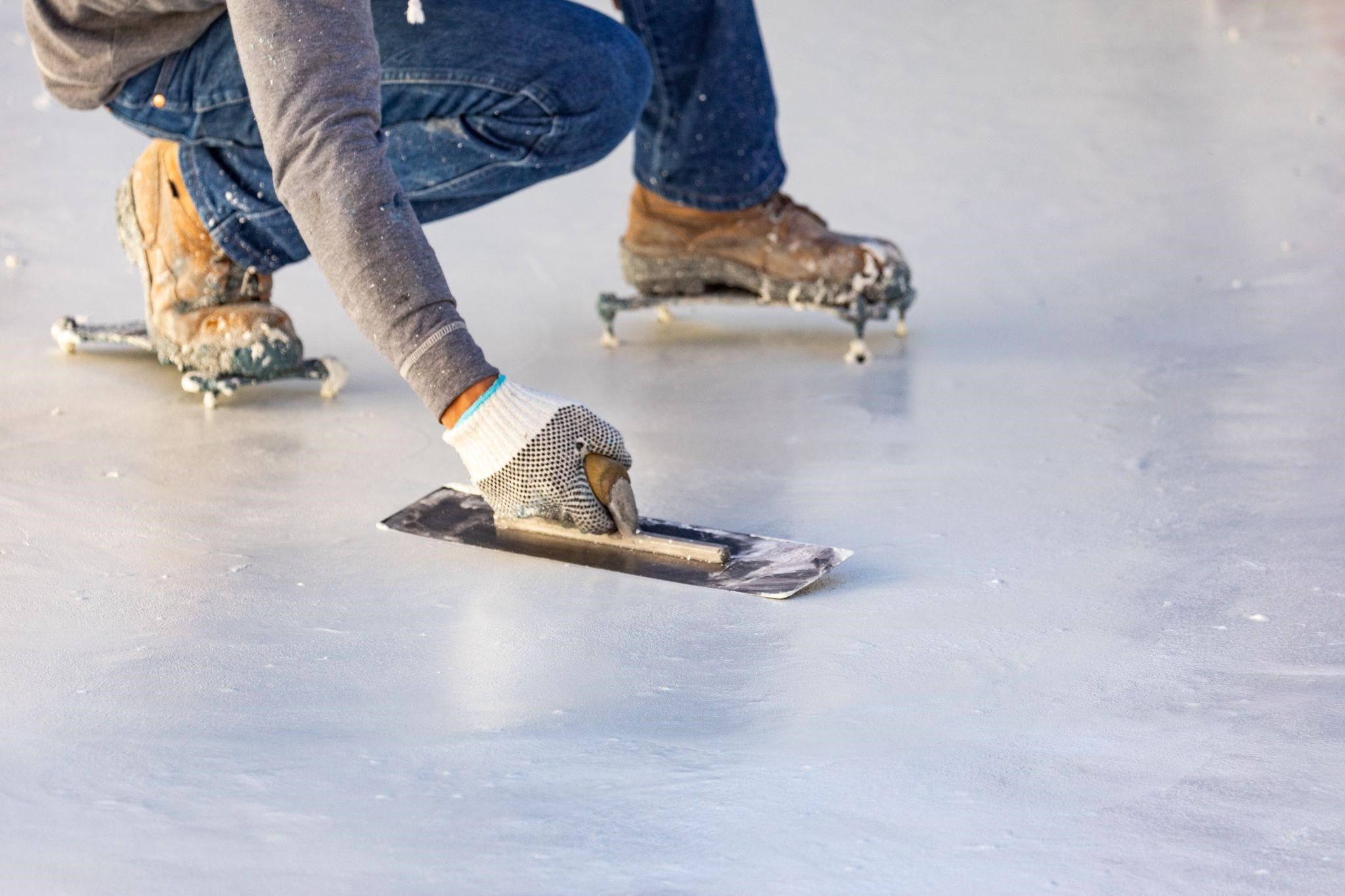 The best pool decks are durable, waterproof, and rugged and have anti-slip properties that allow those walking on them to have traction even when the deck is wet. Over time, this exposure to water will eventually cause wear and tear to a deck's surface, causing it to crack and become unstable. This means it's extremely important both for your deck and for your pool to make sure that your deck is regularly resealed to retain its waterproof qualities.
How often should you reseal your deck? The answer isn't always straightforward, as it depends on a number of different factors. Here are some of those factors and what they mean for resealing your pool deck.
Deck Material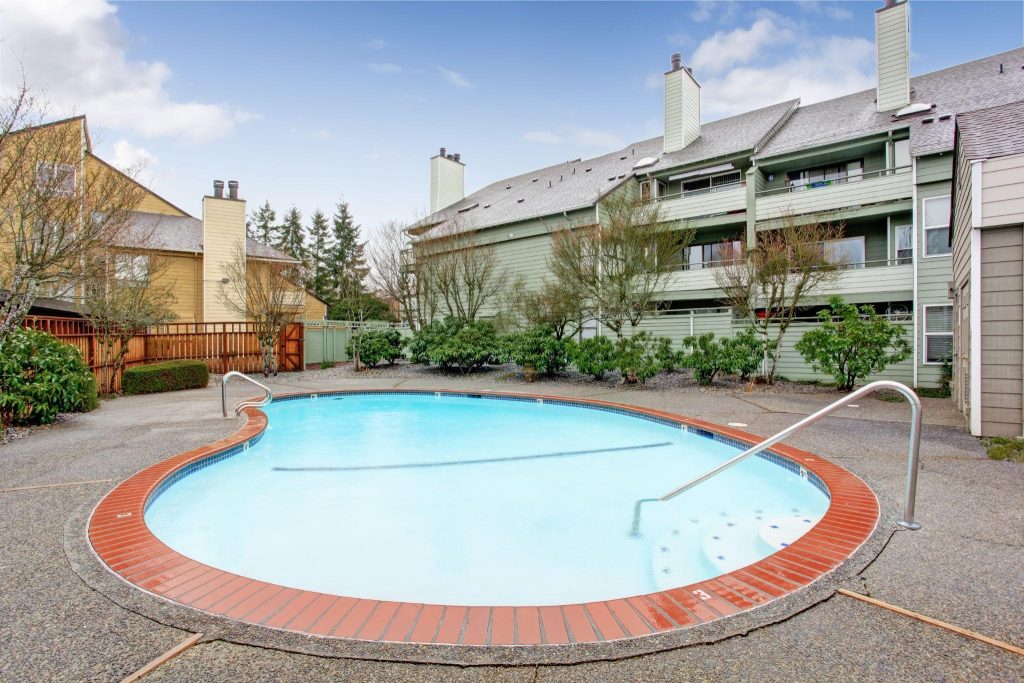 Pool decks are constructed from lots of different materials. While most are a form of textured concrete, some people opt for a more natural look using sandstone slates. Some even use clay tiles or marble as their deck surface.
While a good waterproofing job should last at least a couple of years for each of these materials, concrete and other hard materials tend to have better water resistance than softer materials like sandstone.
How Often Should You Seal Concrete Pool Decks?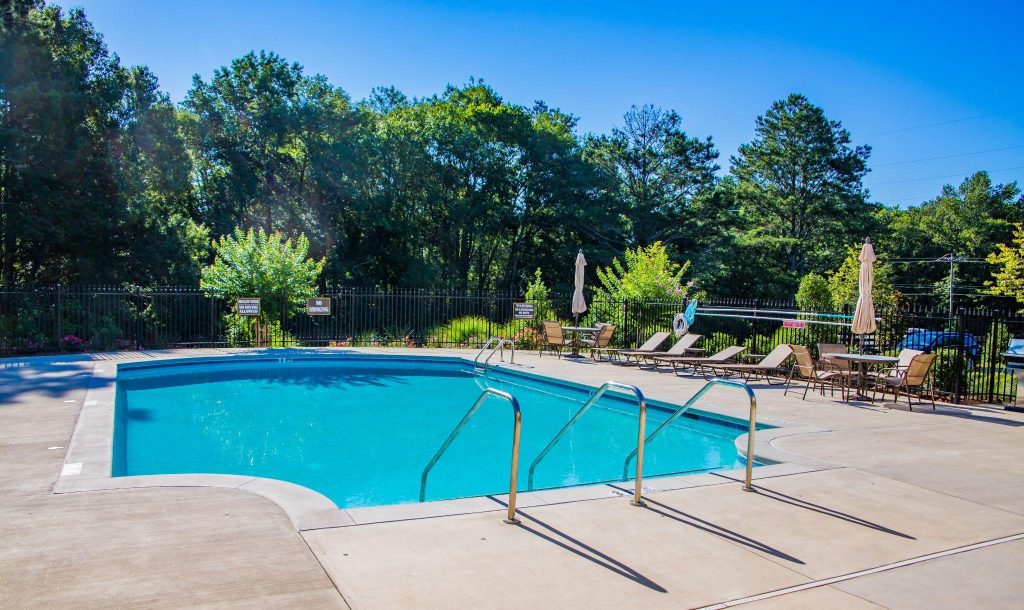 It doesn't matter how you applied the seal for your pool deck. After constant weather exposure and UV rays, you'll need to reseal it. The resealing should be done every two to five years for concrete surfaces.
The best way to determine whether your decorative concrete pool deck needs a new sealing coat is to pay attention to external damage. For instance, you will notice that there are signs of wear and tear on the concrete surface. After a few years, you might also notice that water soaks into the surface instead of beading up.
These are some of the benefits of resealing your concrete pool decks:
Concrete pool deck sealers can enhance the overall look of your deck, turning a rough material into decorative concrete.
Some concrete sealers provide a slip-resistant surface, perfect for preventing accidents. It is an essential feature if you have kids constantly running around the swimming pool.
The right sealer can also tint your concrete deck, enhancing its colors. Colored concrete is becoming more popular for residential and commercial pools.
If you are unsure whether your deck needs sealing, you can contact us. At Capital Deck & Stair, our team is ready to solve any doubts you might have about the pool deck sealing process.
Deck Use Level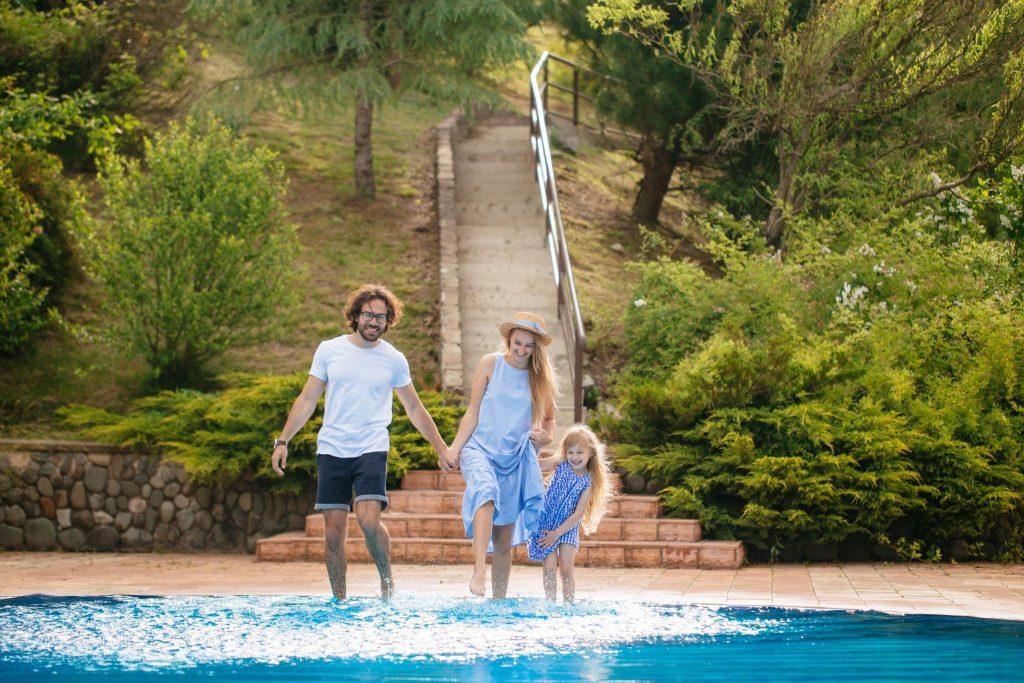 Is your pool a gem of your backyard that only sees use a few times per year? If so, you probably won't need to resurface and reseal it for quite a bit longer than a pool that's used regularly and heavily every day. A public pool at a local park is going to need a lot more care far more often than the same pool deck at a private residence.
Environment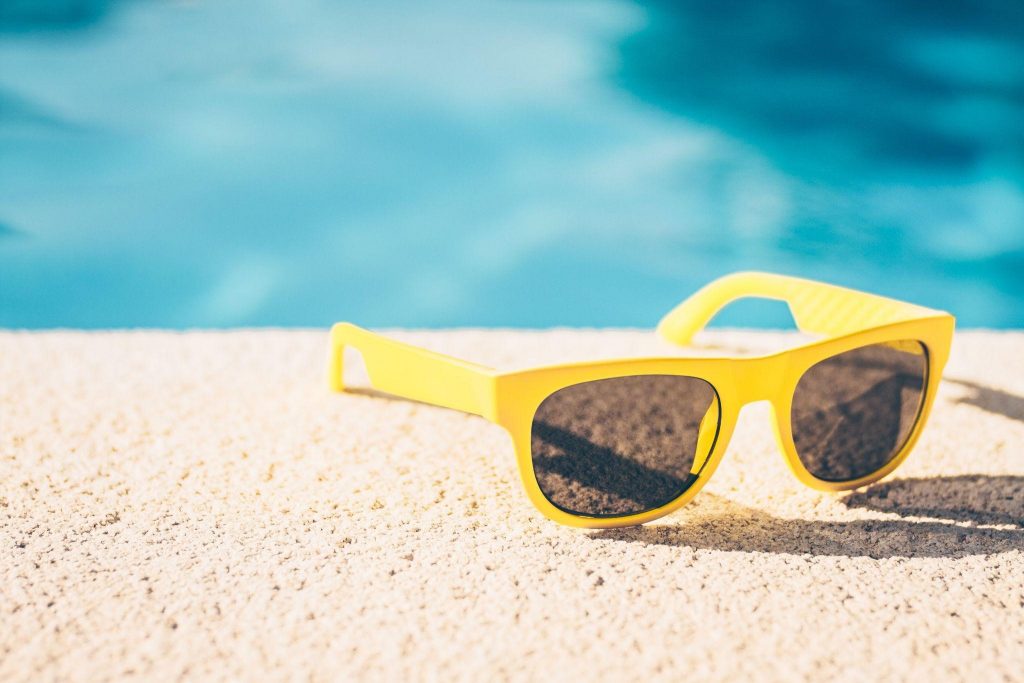 Where your pool deck is and what level of exposure to the elements it receives also influences how long a waterproof seal will last. Ultraviolet exposure and lots of heat will eventually cause a waterproof seal to wear out and become less effective. Therefore, a pool deck that receives long hours of sun exposure every day will need to be sealed far more often than one covered by shade or sits indoors.
Reseal Your Concrete Deck with Capital Deck & Stair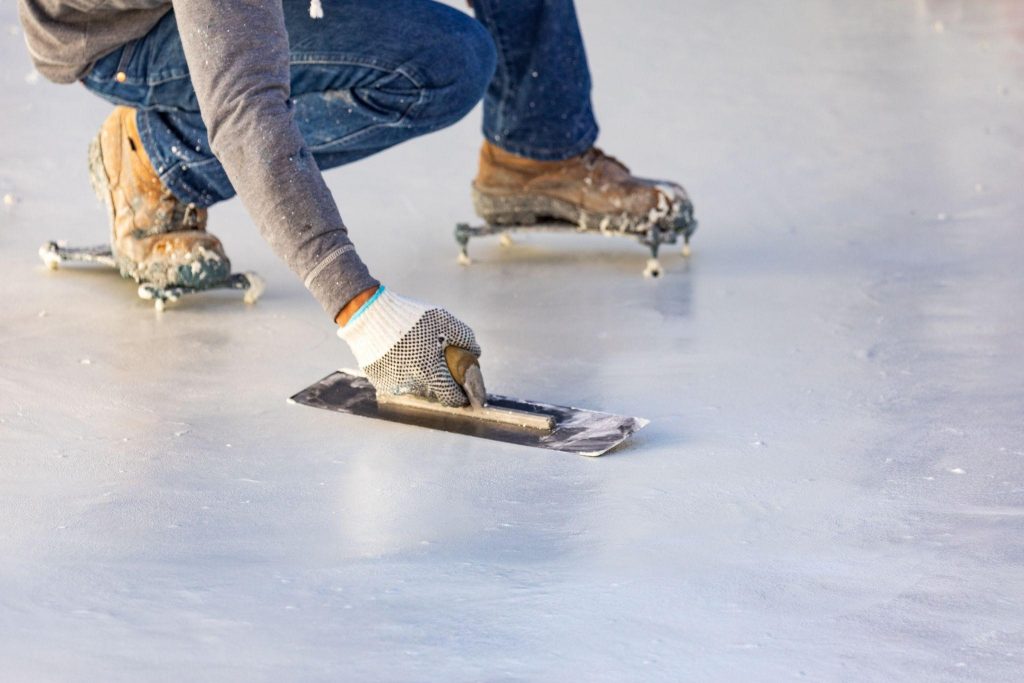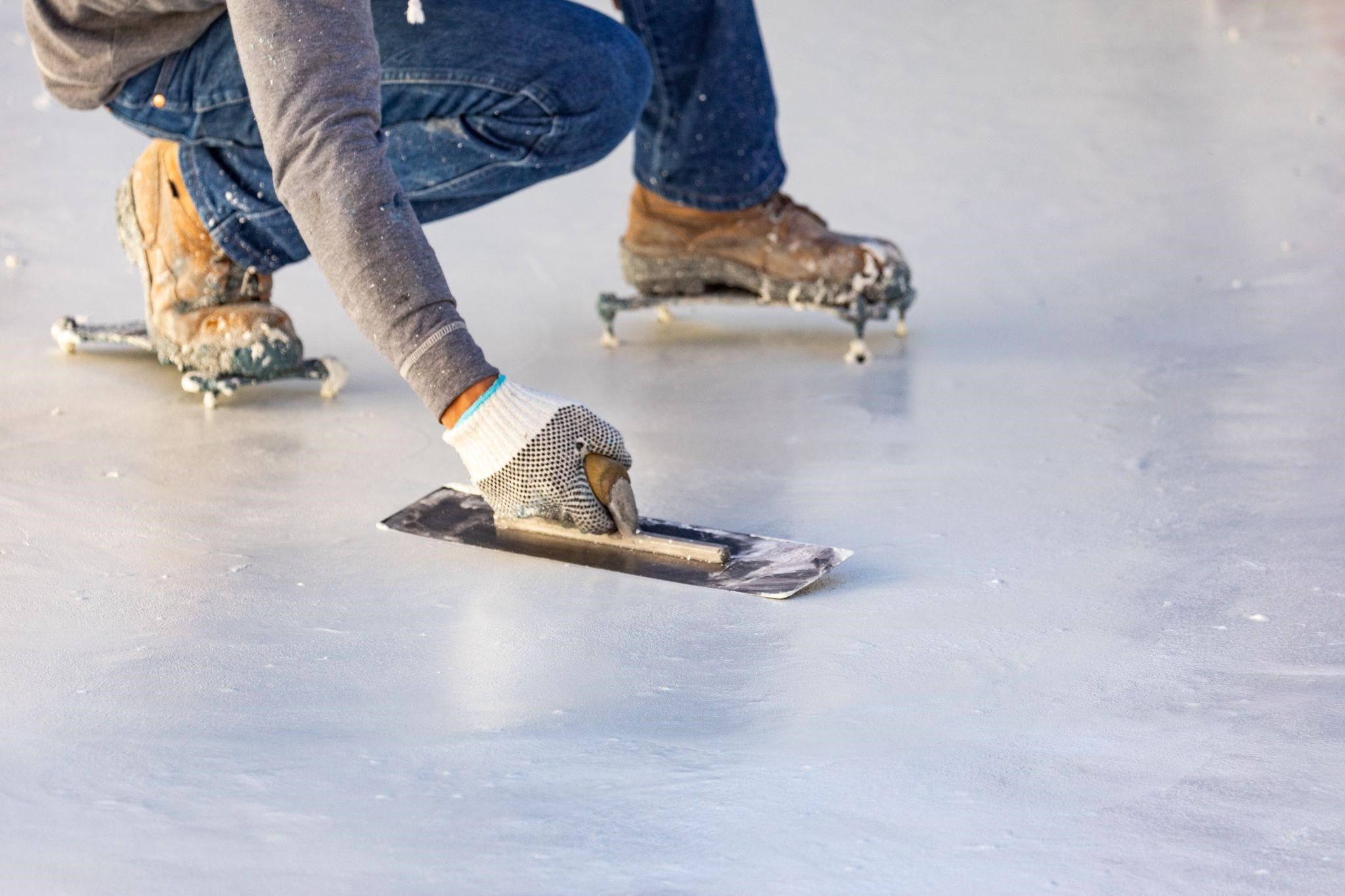 If your deck needs resealing, look no further than the deck waterproofing experts of Los Angeles. At Capital Deck & Stair, we have everything you need to keep your decks protected and looking stylish. Our team can reseal your concrete decks in no time while using only the highest quality of materials.
Call us at (818) 697-6334 to request an estimate or schedule your service. You can also check out our website to learn more about our deck waterproofing and sealing services.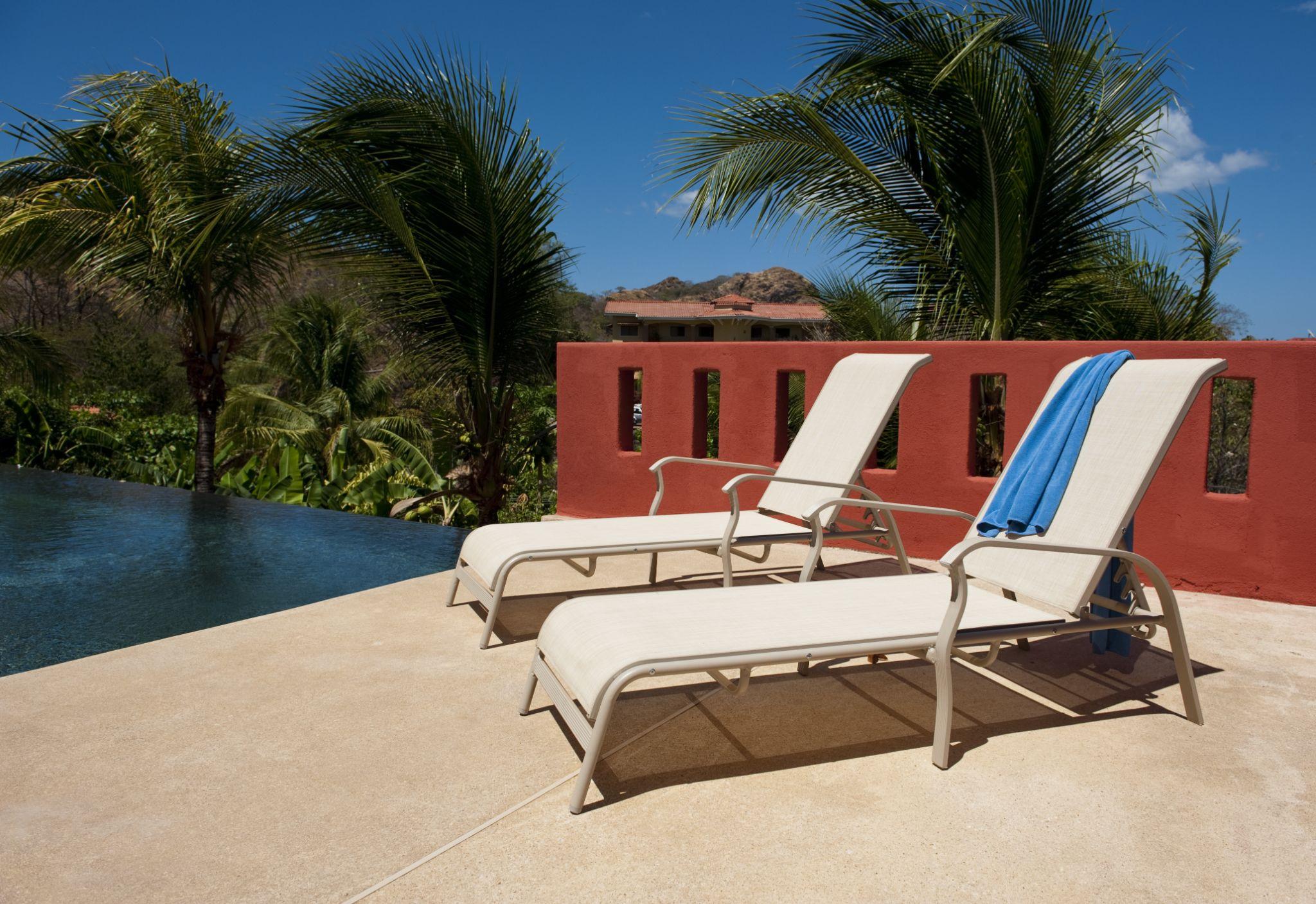 A fresh coat of paint is a great way to breathe new life and color into your concrete pool deck.
Since concrete easily takes to paint, texturing, and various surface finishes, there's plenty of possibilities when it comes to designing the perfect pool deck. With so many colors and designs to choose from, how do you know which options are best for your pool deck?
In this post, we'll run through some of the most popular concrete pool deck paint colors and designs and discuss how each choice can help your pool deck blend into its surroundings. Read on to learn more and discover the right color choice for your pool deck!
Benefits of Concrete Pool Deck Paint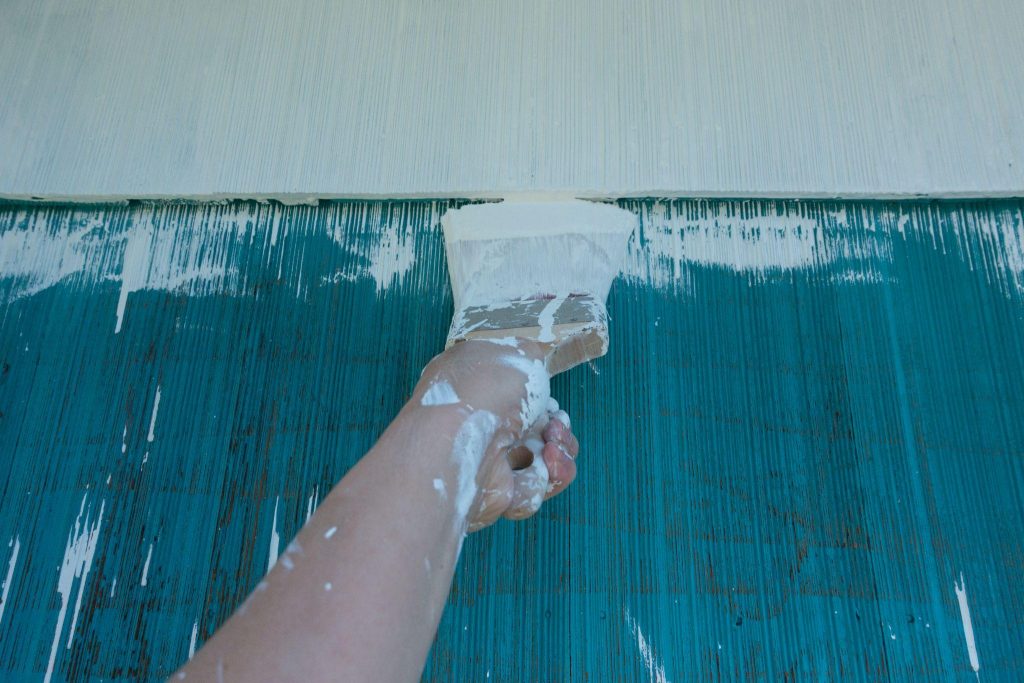 Apart from enhancing the overall beauty of your pool area, many homeowners are surprised to discover some of the time- and cost-saving benefits of concrete deck paint. Here are just a few:
Improves Beauty
Like a blank canvas, unfinished concrete quickly becomes strikingly beautiful with the right coat of paint. The benefit isn't limited to the concrete itself, however. By selecting a color that coordinates with the surrounding area, a painted pool deck can also improve the overall beauty and appearance of your pool area.
Easy to Apply
Concrete is incredibly easy to paint, thanks in part to its porous surface. With the right team and painting equipment, most concrete pool decks can be painted within an afternoon. Combined with a final coat of deck waterproofing, it only takes a day to secure the beauty and strength of your concrete surfaces for years to come.
Inexpensive
While costs vary depending on paint types and deck sizes, one thing is usually true: Concrete pool deck paint is one of the most cost-effective ways to finish your pool deck. This cost-effectiveness becomes especially apparent when comparing other pool deck materials and finishes. Where wood and masonry decks require expensive finishes and time-consuming application, concrete decks are quick, easy, and inexpensive to paint.
Protects Surfaces
Combined with a top coat of waterproof deck coating, a coat of paint can protect concrete from pool water, rain, and other potential vectors for water damage. Paints, waterproof coatings, and other surface finishes are especially important for preserving the strength and beauty of concrete. While concrete's porosity makes it easy to apply paint, it also makes it especially susceptible to water infiltration and damage. As a result, deck paints and waterproof coatings aren't just nice add-ons—they're essential for preserving your deck!
5 Most Popular Colors for Concrete Pool Deck Paint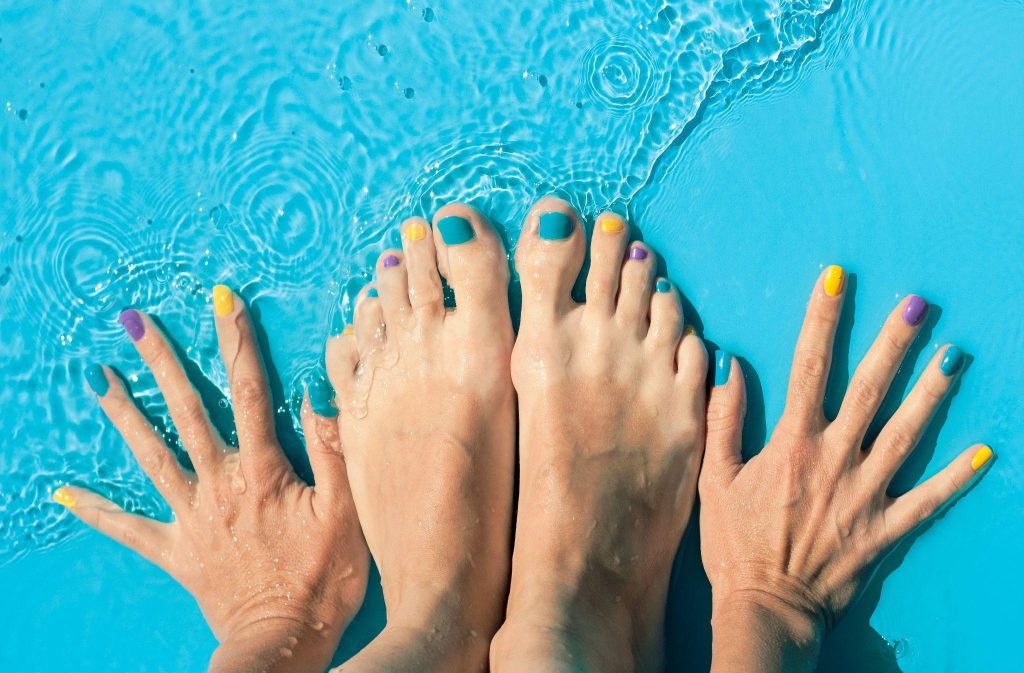 Whether you want your concrete deck to blend into its surroundings or completely pop with color, one of these popular colors can help:
1. Whites and Off-Whites
Perhaps the most classic pool deck colors, whites, off-whites, and beiges evoke images of soft, sandy beaches. Whites and other light colors also naturally reflect the sun, keeping the surface refreshingly cool on hot days. Many people also prefer shades of whites for their neutrality, which is useful for those who don't want the pool deck to draw attention away from surrounding structures.
2. Blues and Grays
As the colors most closely associated with water and the sea, blues and grays are excellent choices for a pool deck color. While unfinished concrete is gray, adding a deeper or lighter gray provides a smoother, cleaner appearance with all the extra benefits of concrete pool deck paint, of course. Blues provide a similar upgrade; however, certain tints may be especially complementary to the brilliant blue of the swimming pool itself.
3. Tans and Browns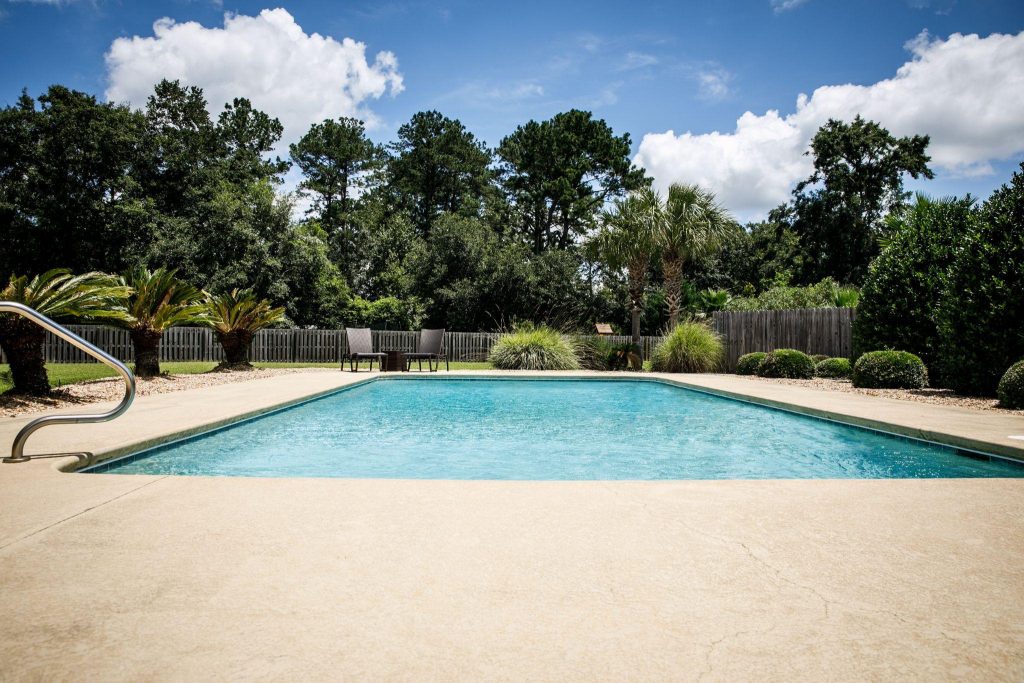 Tans and browns are a great way to replicate traditional masonry and other earthy surroundings.
Where reddish-brown and tans can make a concrete slab look like terracotta masonry, light and dark shades of brown can replicate dirt and earth. If you're looking to make your pool look like a desert oasis or a swimming hole, these are the colors for you.
4. Color Mixtures
Why stick with just one color? With multiple colors, you can create all kinds of pleasing patterns and creative combinations. From free-flowing floral patterns to strong geometric shapes, your concrete pool deck serves as a blank canvas for your ideas. Plus, with an additional layer of deck waterproofing, you can preserve your designs for years to come.
5. Bold Colors
If you really want to make your pool deck "pop," consider using bright and bold colors. Though your pool deck won't blend in as well with the surroundings, that could be a benefit if you have a uniquely shaped pool deck. In some cases, it may also make sense to match the pool deck color to surrounding structures.
Concrete Pool Deck Paint Design Ideas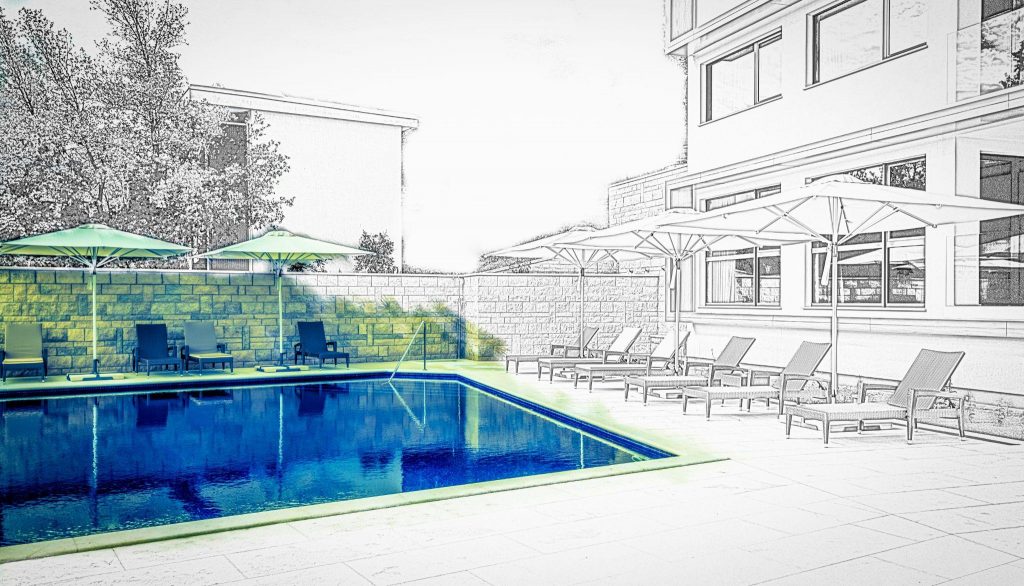 Unlike other pool deck materials, poured concrete offers a solid, flat surface without planks or tiles. As a result, the design and appearance of your concrete pool deck is entirely up to you. Here are just a few popular design ideas to get you started:
Solid Color with Trim
Perhaps the most popular design choice, a solid color with a contrasting trim is timeless, sophisticated, and easy to achieve. While the trim is usually either a lighter or darker shade of the deck color, there's no reason you can't use a completely different color. One popular example is a solid white deck with a bright blue trim—a combination popular in coastal Greece.
Faux Tiles
Why fuss with messy grout and expensive tiles when you can just paint them on? Though this idea might sound a bit tacky, it's surprisingly convincing when using colors that replicate natural stone. By blending and mixing different earthy colors, you can give your solid concrete the look of a hand-laid masonry patio at a fraction of the cost.
Geometric Patterns
While square, tile-like patterns are great choices for pool decks, you can also use paint to create geometric patterns of other shapes. One popular example is a repeating hexagonal pattern, where each hexagon forms an individual tile. Using different shades of paint, you can alternate colors across the deck and even create a color gradient that gradually changes between the edges of your deck. The possibilities are endless!
Floral Patterns
If a repeating geometric pattern seems a little too traditional, a floral pattern is a great alternative. Whether you choose to embellish your concrete deck with an intricate network of budding vines or simply paint a border of flowers, floral patterns are always a dazzling choice. While they may take a bit more work than geometric patterns, they're worth the effort if you have a particularly "flowery" design in mind.
Pattern Combinations
Solid? Geometric? Floral? Why choose one when you can choose them all! There are many ways to combine popular pool deck patterns. For example, a solid grid of square "tiles" is easily improved by adding floral embellishments along its borders. Similarly, a solid color can be accentuated with a border of either repeating shapes or floral patterns or pretty much anything else you might think of.
How to Apply Concrete Pool Deck Paint to an Existing Deck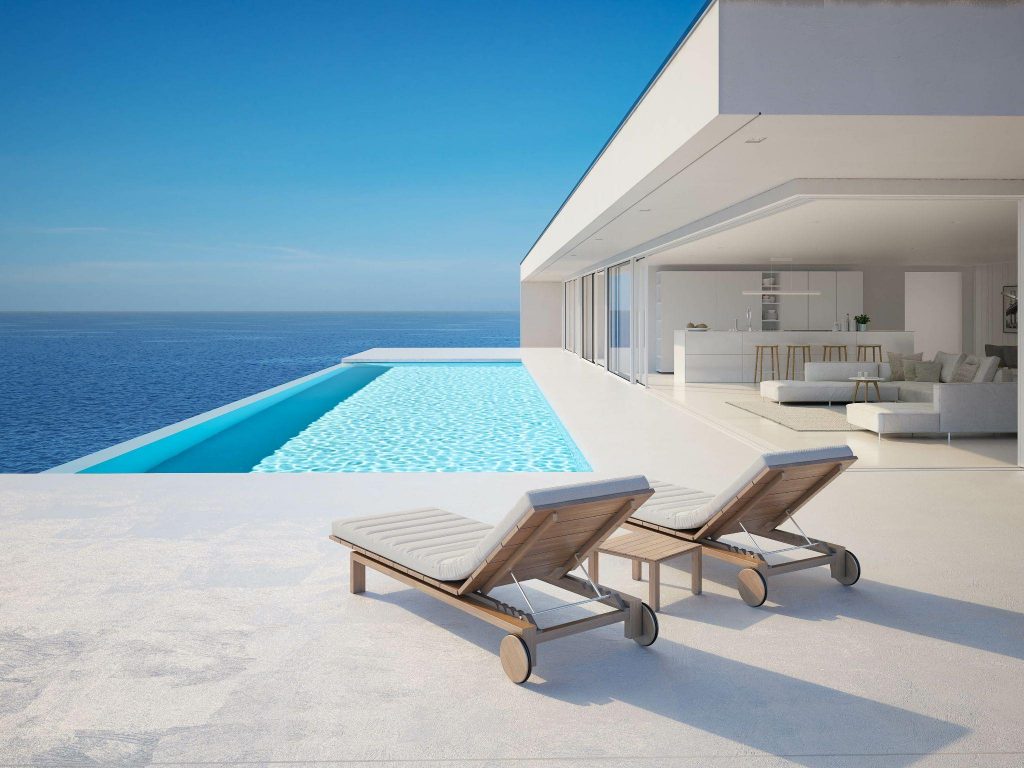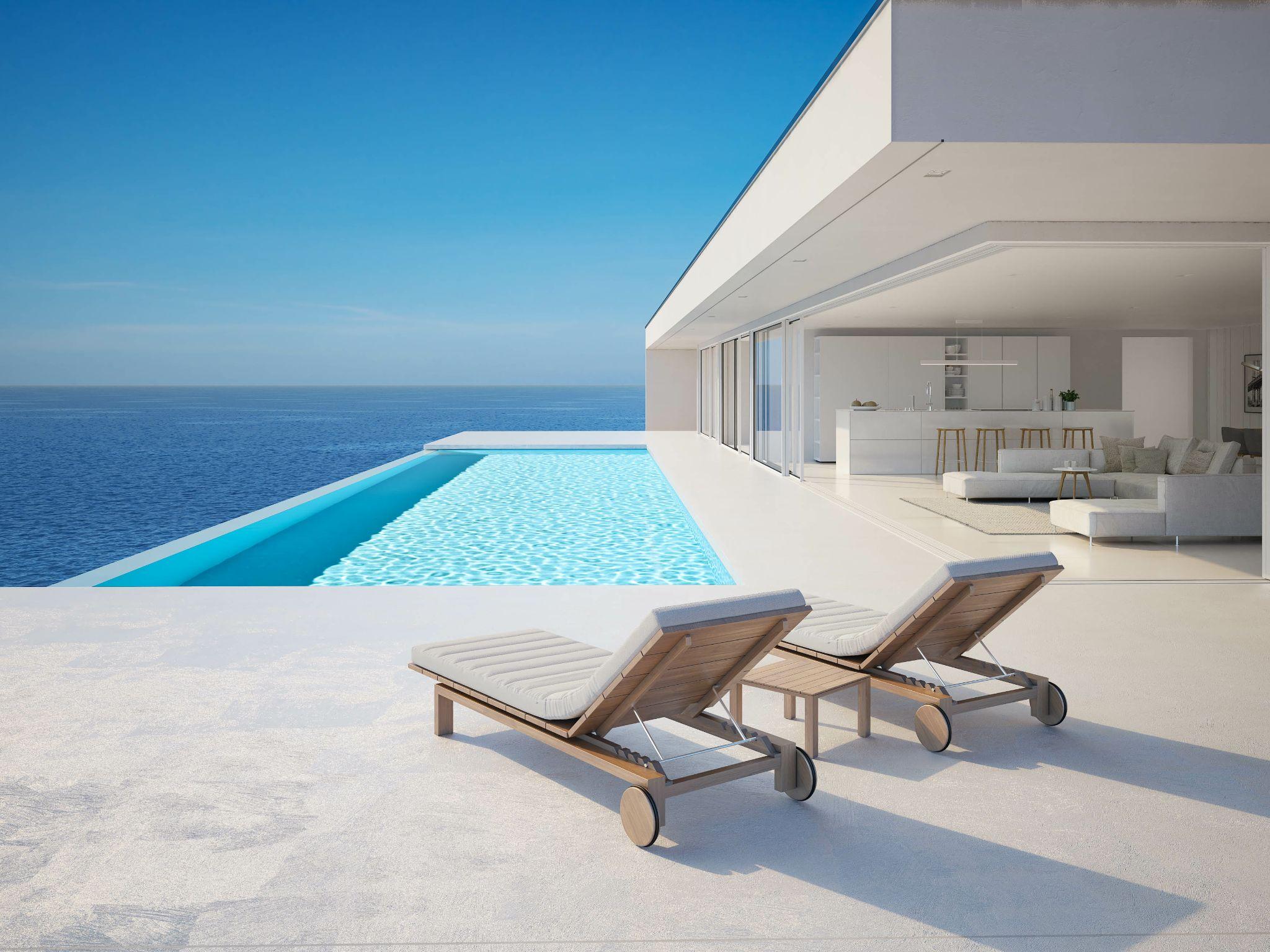 No matter what color or design you choose, the pool deck painting process is usually the same.
Like any  surface finishing job, one of the biggest steps of the painting process is surface preparation. Here, your concrete pool deck must be completely cleaned and even stripped of existing finishes before painting can begin.
Once the surface is ready, painting can begin. While solid colors are easily applied with a spray gun or roller, more intricate patterns, including geometric and floral elements, may require a little more work. Thankfully, it's easy to use a template to quickly apply patterns of the perfect size and shape.
With your concrete pool deck painted to your liking, it's time to protect your investment with a coat of deck waterproofing. Waterproofing not only protects your paint, however: It also prevents water from seeping into the porous concrete underneath.
The right waterproof coating applied the right way can secure the beauty and strength of your concrete pool deck for years to come. Though you'll need to apply a new coat at one point, reapplication is just as effective and easy as the first coat.
Protect Your Paint with Pool Deck Waterproofing from Capital Deck & Stair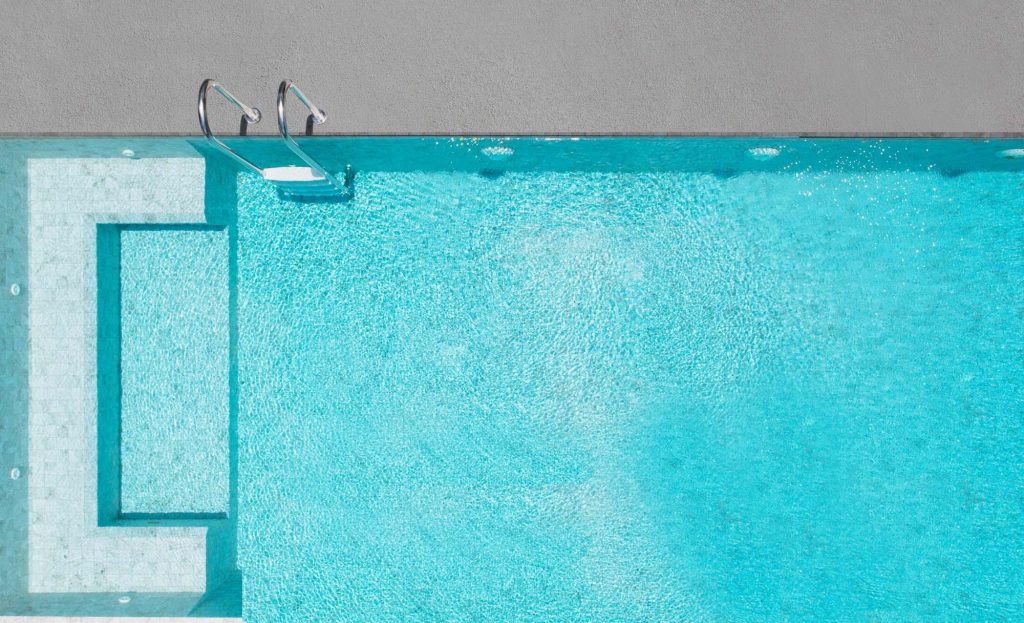 Though it's possible to paint your own deck and even apply your own waterproofing, only an expert team can guarantee great results and an attractive finish. For over 30 years, the Capital Deck & Stair team has provided waterproofing services for homes and businesses throughout Southern California. All of our work is backed by a warranty and the same quick, professional service that our customers have come to rely on.
For more information and to receive a free estimate, call Capital Deck & Stair at (424) 339-0953 or visit our pool deck waterproofing page.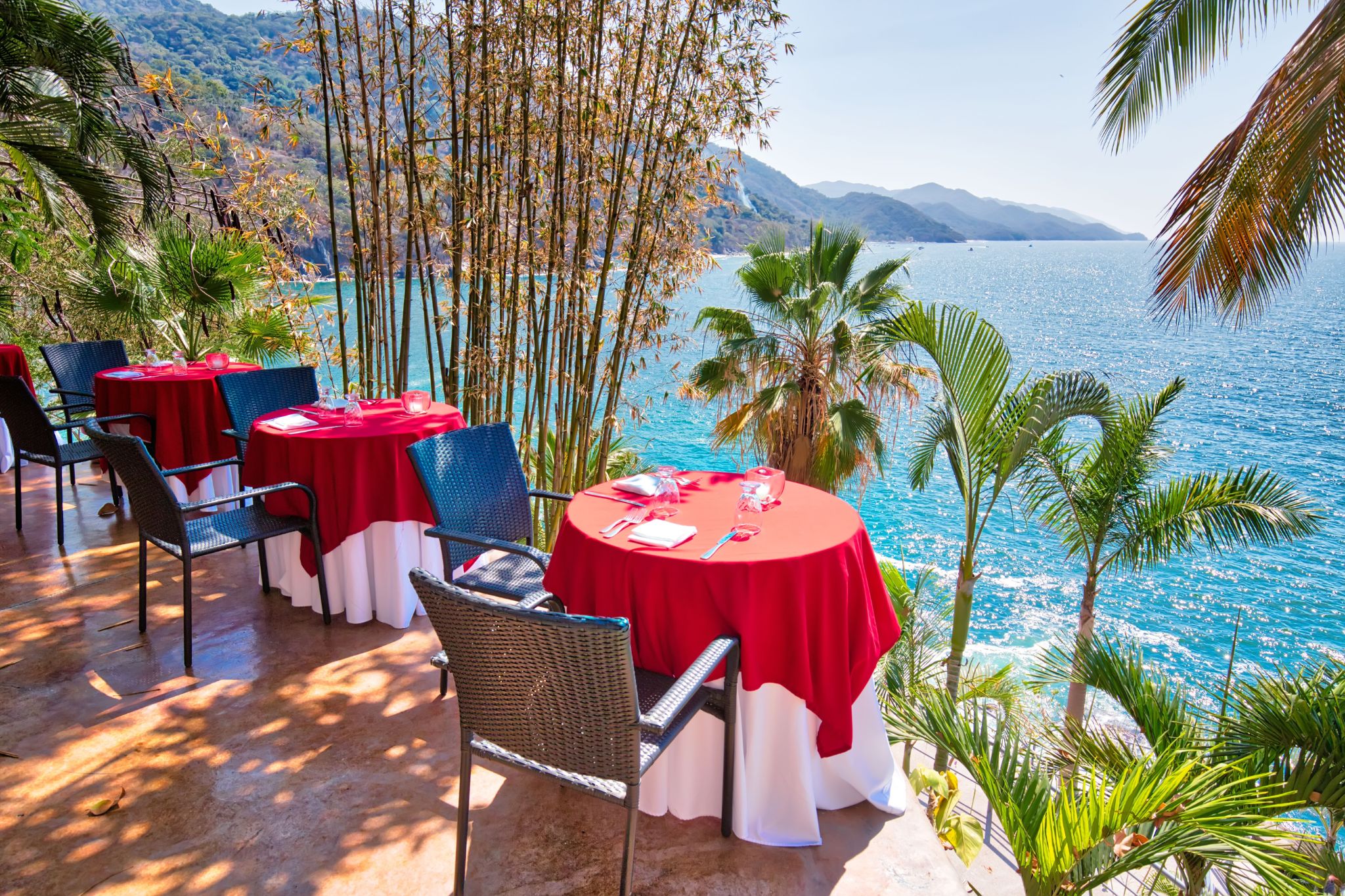 Whether it's an outdoor dining area or a simple entryway, adding a deck to your commercial property is a great way to add value and grow your business.
Unlike residential decks, however, commercial decks are subject to additional building requirements and regulations to help ensure people's safety. As a result, designing and building a commercial deck is somewhat more involved than many might think, given the addition of minimal requirements for construction types, means of egress, and even lighting.
Thankfully, commercial deck requirements are fairly easy to navigate with help from the International Building Code. Read on to learn more about what's involved and how you can build the perfect commercial deck that fulfills both code requirements and customer demands.
Commercial vs. Residential Decks
Though commercial and residential decks often look different, their biggest differences are the codes and regulations that determine their construction. Here, where the International Residential Code (IRC) regulates how residential decks and buildings are built, the International Building Code (IBC) regulates their commercial counterparts.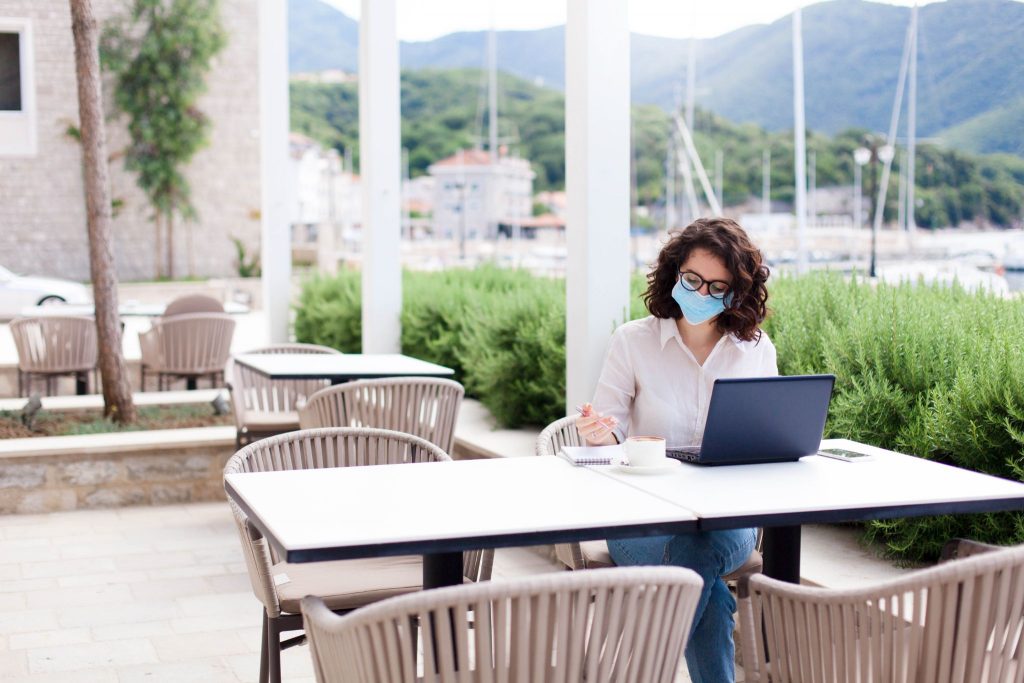 While both the IRC and IBC share similar basic requirements for structural integrity and other engineering factors, the IBC adds additional measures to accommodate the extra capacity and foot traffic expected from commercial decks. Most of these measures are in place to make buildings and decks easier to exit in the event of an emergency.
Beyond the IBC and other baseline regulations, there are several other commercial deck requirements to consider when designing a commercial deck. In addition to layout, size, and aesthetic design, you may also want to consider waterproofing or other surface treatments, depending on your deck's intended purpose. A hotel pool deck, for example, would probably require a waterproof coating for safety and water damage protection.
Commercial Deck Requirements
As mentioned in the previous section, most commercial deck requirements are regulated by the International Building Code (IBC). While the IBC's complete requirements are beyond the scope of this guide, the commercial deck requirements covered here should serve as a solid baseline. Even so, you'll likely want to employ a design professional well-versed in the IBC to help ensure that you meet these requirements.
Type of Construction
According to the IBC, the "type" of construction refers to the materials used to build commercial decks and structures. The IBC breaks down construction materials into five types, depending on their combustibility and the fire resistance of their assemblies:
Type I: Fire Resistive
Type II: Non-Combustible
Type III: Ordinary Construction
Type IV: Heavy Timber
Type V: Wood Frame Construction
Though it's possible to use each type of material for commercial deck construction, the deck's use, capacity, and means of egress (exits) will determine what materials can be used. For example, in Type I and Type II buildings built from fire-resistive and non-combustible materials, decks that don't serve as a required exit can still be built from fire-treated wood with untreated wood hand railings.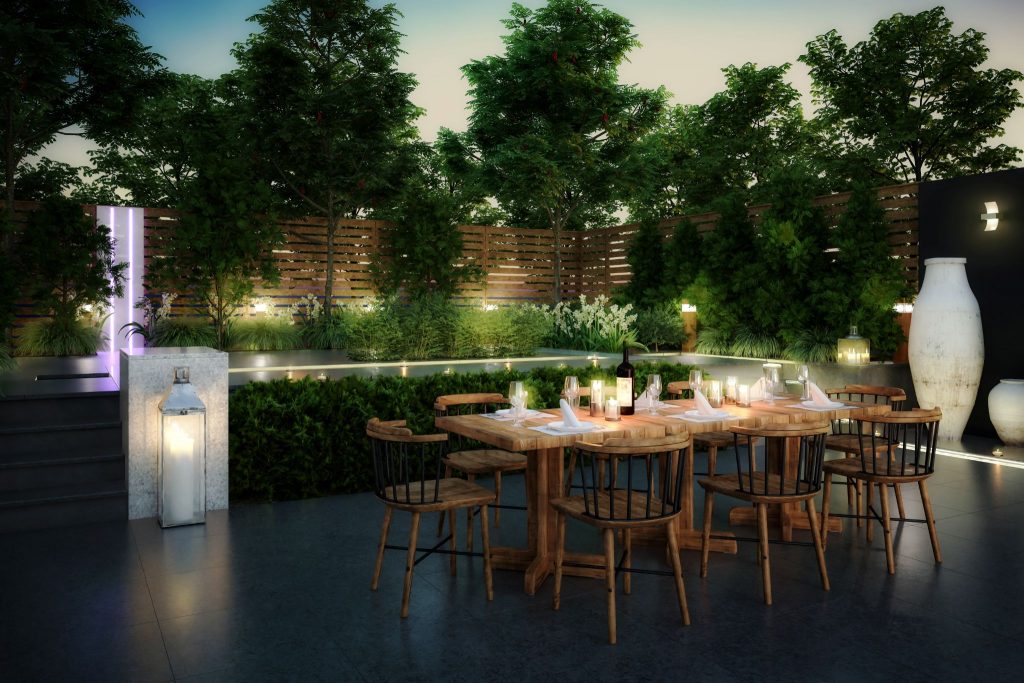 The details don't stop there, however: Even for Type III, Type IV, and Type V decks built from combustible materials such as wood, their final assembly may still need to be fire-resistive in some way. In summary, you can build a commercial deck for nearly any material as long as it satisfies IBC requirements—all the more reason to check with a registered design professional before building.
Occupancy Type and Capacity
The occupancy type and capacity of your deck is another key factor in determining a commercial deck's materials and design. While the IBC defines several occupancy types, those most related to commercial deck requirements include:
Business (B)
Assembly (A)
Mercantile (M)
Residential (R)
Many commercial decks fall under occupancy type A, which includes everything from restaurants to swimming pools and stadiums. Once you know your occupancy type and the intended capacity/load of your space, the IBC will define maximum floor area allowances per person, required strength, and other important design considerations.
Occupancy type and load also determine the number of exits required, where a deck might potentially serve as one. For occupancies over 50, for example, the deck must include exit signs for the deck exit and pathway lighting, among other considerations.
Means of Egress
Your deck's "means of egress" refers to its exit(s), such as attached stairs, ramps, or buildings. How exits are designed is a crucial safety consideration, as an emergency situation may require large amounts of people to safely exit the deck via stairs or a ramp in as little time as possible.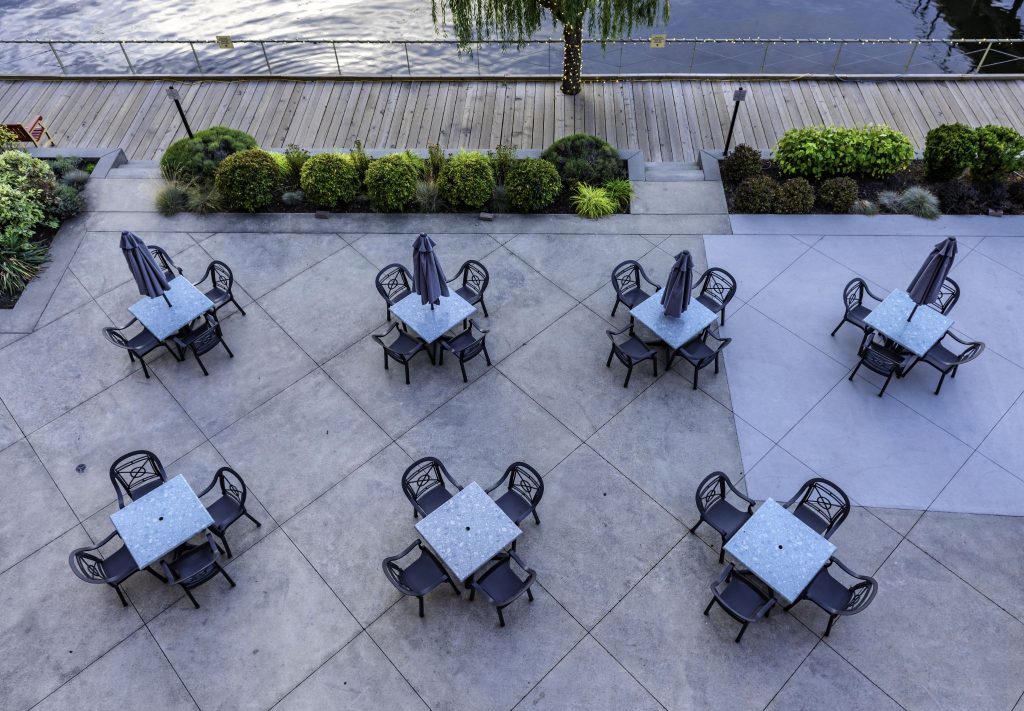 The design and number of exits is ultimately determined by the size and occupancy of your deck; however, all decks must have at least one accessible exit that isn't blocked by fences, gates, and tripping hazards. Exit walkways must also be slip-resistant, making waterproof coatings or non-slip surfaces crucial for deck construction.
Other Requirements and Considerations
The IBC outlines several other commercial deck requirements, including lighting and elevation changes, which both affect the design of your deck's means of egress. For example, a deck with a high elevation may require a multi-part staircase or ramp, and all exits must be illuminated to a certain degree.
Note that the requirements outlined here fall outside the scope of aesthetic preferences, local HOA requirements, and so on. You may encounter additional commercial deck requirements during the design and construction process; however, you'll probably want to consider a few other safety recommendations as well.
Deck Safety Recommendations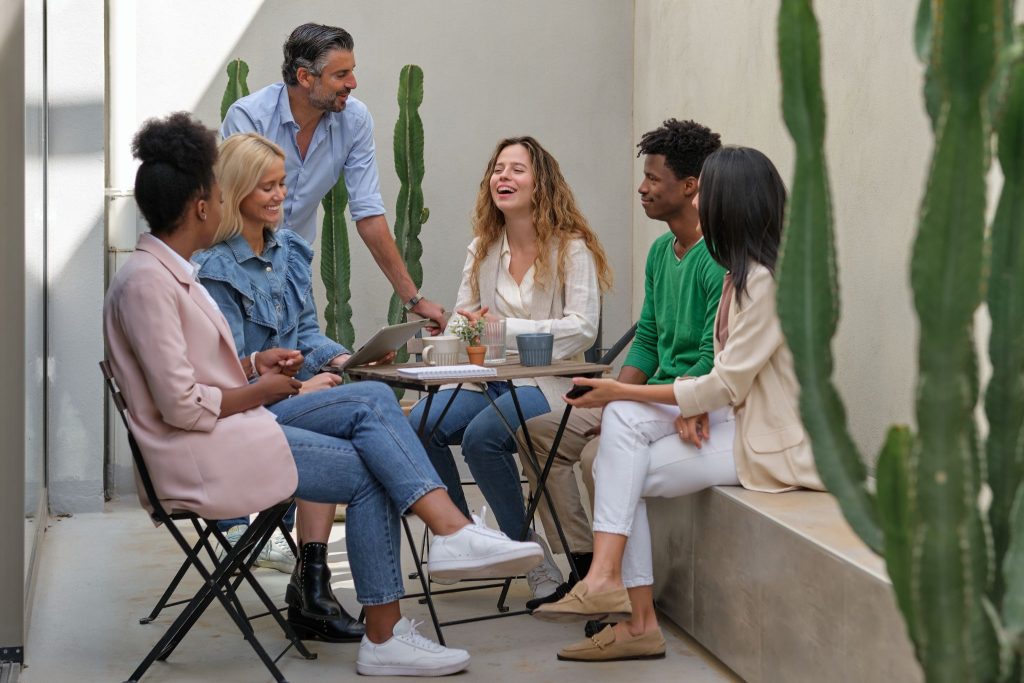 Though the IBC is a great baseline for ensuring safety, there's always more you can do. Safety isn't just important during an emergency; it's also important for ensuring that your customers and employees are able to use the deck on a regular basis without risk of slipping, falling, and so on.
Deck finishing is one important way to guarantee your deck's safety, appearance, and long-term durability. Regardless of the material, water infiltration poses the biggest threat to your deck's safety and structural integrity, making waterproof coatings an essential part of deck construction.
For more information on our waterproof coating services, call the Capital Deck & Stair team at (424) 339-0953.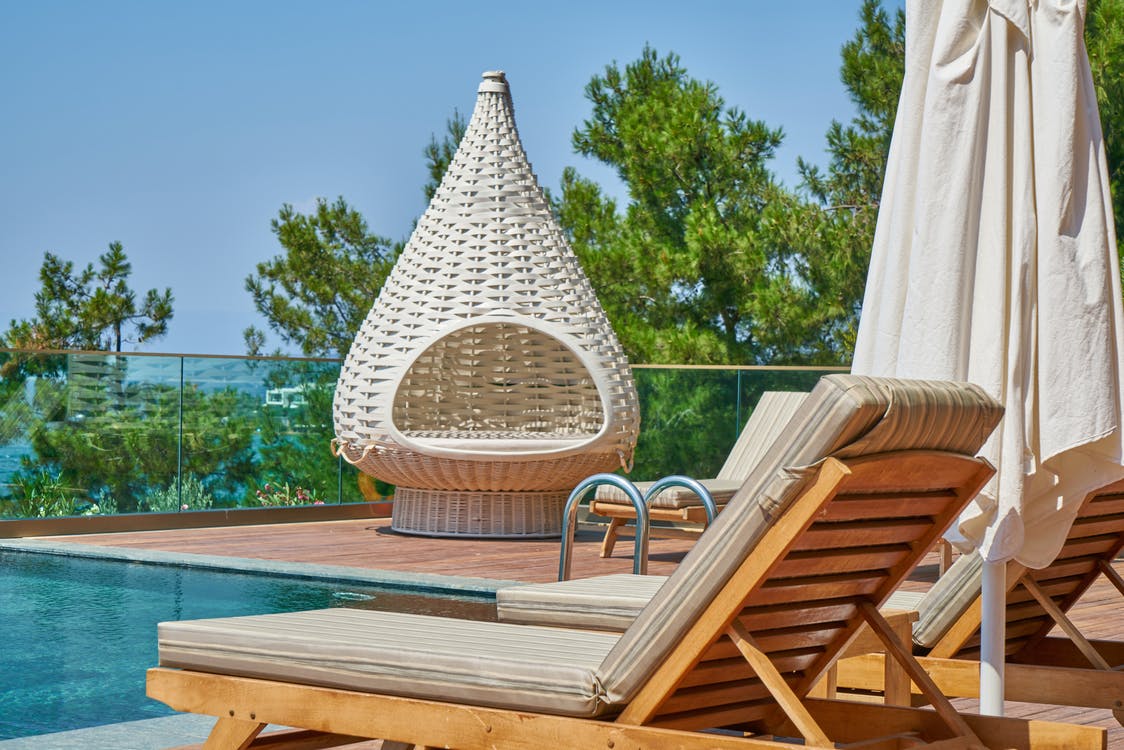 The ideal pool deck should strike a perfect balance between form and function, serving as a visually stunning gathering place while also providing a safe surface for (wet) foot traffic. As a result, there's a lot to consider when designing your pool deck. This short guide will explore a few of the most crucial considerations.
Size
The size of your pool deck is ultimately determined by the size of your pool. There's no exact formula here, however: Just as you probably wouldn't build a foot-wide path around your pool, you probably wouldn't build a deck the size of a parking lot.
Ideally, your pool deck should surround most of the pool while also providing space for additional walkways (such as to and from the house) and any patio/sitting areas you'd like to have. Again, size is determined by both the size of your pool and, perhaps most importantly, how you'll plan to enjoy it.
Appearance and Aesthetics
Just like with size, your pool will help determine the aesthetics of your deck. An above-ground pool, for example, will likely require a raised deck surrounding it, which will probably connect to a new or existing deck extending off your house. By contrast, an in-ground pool often utilizes a patio-like deck surface.
In any case, you have a lot of options when it comes to choosing the appearance of your pool deck. While you should try to match both the house and your landscaping, many pool decks can serve as an aesthetic foundation for your entire property. As a result, you should be careful to consider the appearance of your deck, knowing that it will easily become a focal point!
Materials and Durability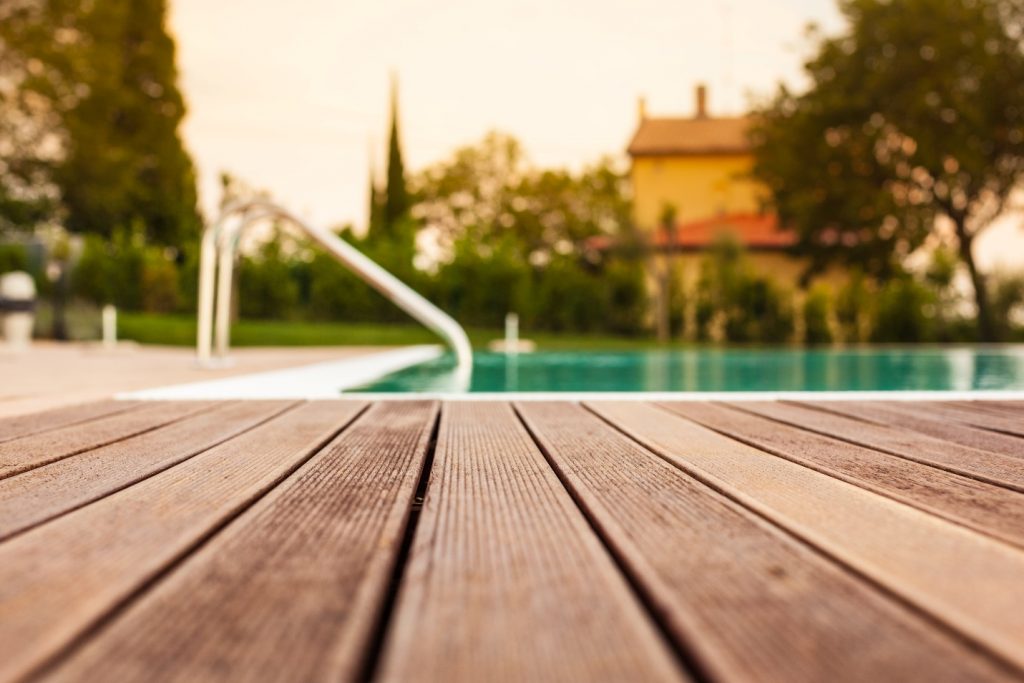 While the materials you use are ultimately determined by the type of deck you'll build, you still have plenty of options with each type. For example, an above-ground pool deck is almost always built from a wood (or synthetic) decking material, but this category ranges from natural wood to waterproof decking material.
By contrast, most patios and low-lying decks are built from stone, bricks, and other masonry materials. However, many homeowners are switching to waterproof decking materials for low decks due to their ease of installation and maintenance.
Weather Considerations
Local weather patterns and seasonal changes are extremely important to consider when designing your deck. While Californians enjoy great weather year-round, those in colder areas should consider cold- and weather-proof decking materials and designs. This consideration often rules out natural wood, which can shift and warp with changes in temperature and humidity.
In any case, however, rain-proofing and waterproof deck coatings are essential for protecting your investment from long-term damage.
Maintenance
Finally, the design of your deck should minimize maintenance over time—something which is mostly dependent on your choice of materials and surface treatments. Regardless of where you live, your pool deck will see a lot of water and moisture, whether it's from the pool water or the weather.
To minimize your deck's maintenance over time, use pool deck coatings and waterproof decking materials.
Using a Professional Service
Whether you're using natural wood or a waterproof deck material, a waterproof deck coating can help improve the longevity and durability of your new pool deck. For more information on our deck coating services, call our team at 424-339-0953.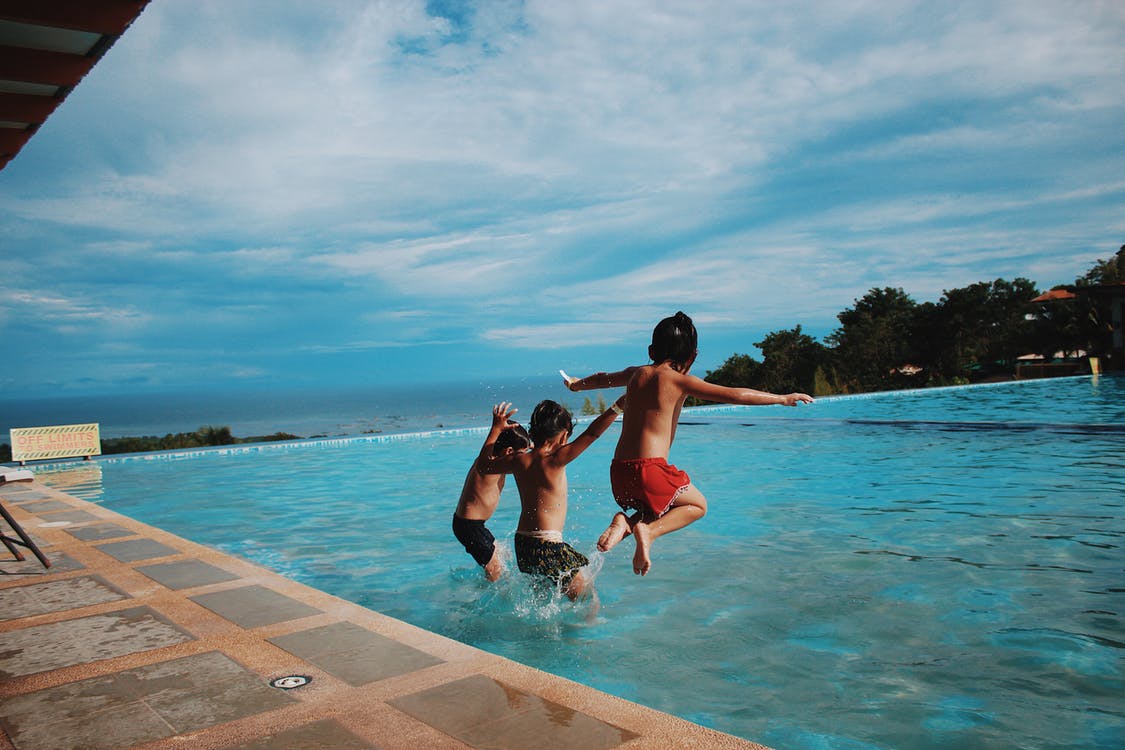 Your swimming pool is a great place to have fun and cool off—at least until someone slips or drowns, that is. According to the Consumer Product Safety Commission, over 300 American children under the age of five drown in swimming pools every year, with most victims usually only having been missing for less than five minutes.
Follow these tips to make sure that your pool remains a fun, safe place for everyone.
Have a pool barrier.
Pool barriers are, perhaps, the best investment for preventing pool-related deaths and injuries. Since most drownings occur when nobody else is around, being able to keep people out of the pool while there isn't supervision can help ensure that nobody (especially children) goes into the pool area without supervision.
Install a pool alarm.
Even with a pool barrier, children and animals can still find a way into the pool area and, potentially, fall in unnoticed. In this case, it's always good to have a backup—and a pool alarm is one great option. Pool alarms go off the moment someone enters the pool or pool area, which can help save precious minutes in the case of drowning.
Use a net or cover to close off your pool.
Nets and covers can also help keep people out of the pool and catch them if they fall in. Some covers can also help keep out animals, debris, and insects from entering the pool, which can help save on maintenance in the long run.
Unlike pool barriers and pool alarms, nets and covers completely prevent water access. This solution is often ideal for homes with pools integrated into landscaping, patios, and backyards.
Securely store pool-cleaning chemicals.
Even though they keep your pool clean, cleaning chemicals pose severe health hazards when they're consumed or come into direct contact with the skin. While most adults know better, children and animals usually don't.
Store and secure cleaning chemicals the same way you would any other toxic substance; keep chemicals in a locked container or room, preferably on a high shelf or surface out of reach from children.
Keep first-aid/rescue equipment nearby.
Unfortunately, pool injuries are bound to happen at some point. Be prepared by keeping a complete first-aid kit in the immediate pool area, which can help save precious time in the event of a major emergency.
For extra safety, consider enrolling in first aid and/or CPR training, and make sure both you and your family know how to properly apply bandages and other forms of first aid. It could save someone's life!
Inspect your pool's drain cover.
Improperly installed or poorly designed drain covers can cause undue suction and, in some cases, trap people underwater. While most modern drain covers are probably safe, make sure that your pool's drain cover is rounded and free of cracks or missing screws.
Maintain your pool deck.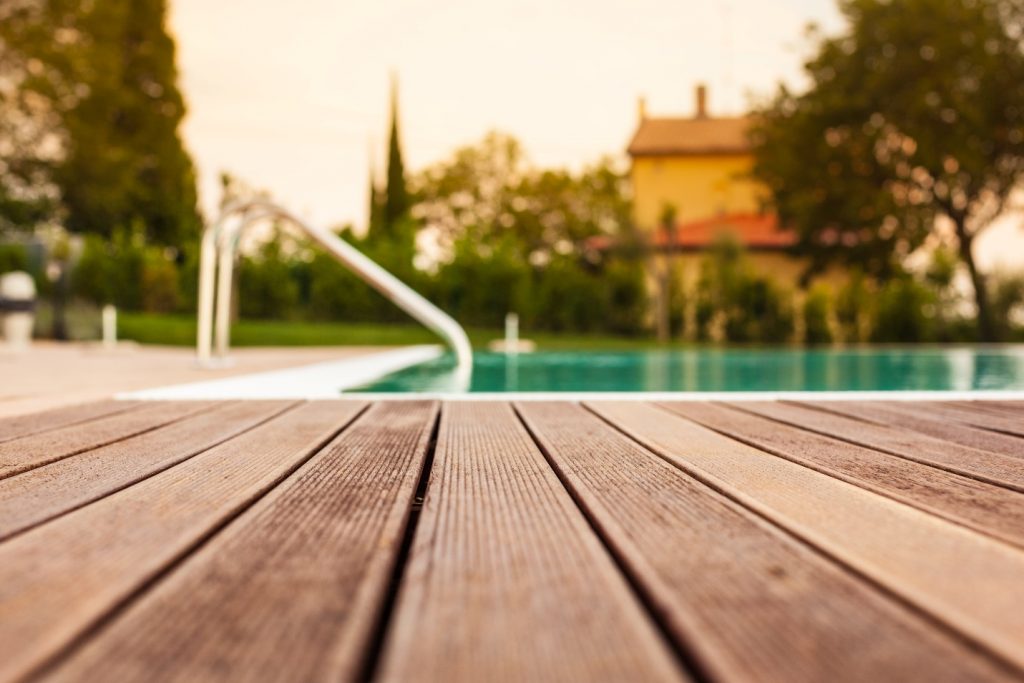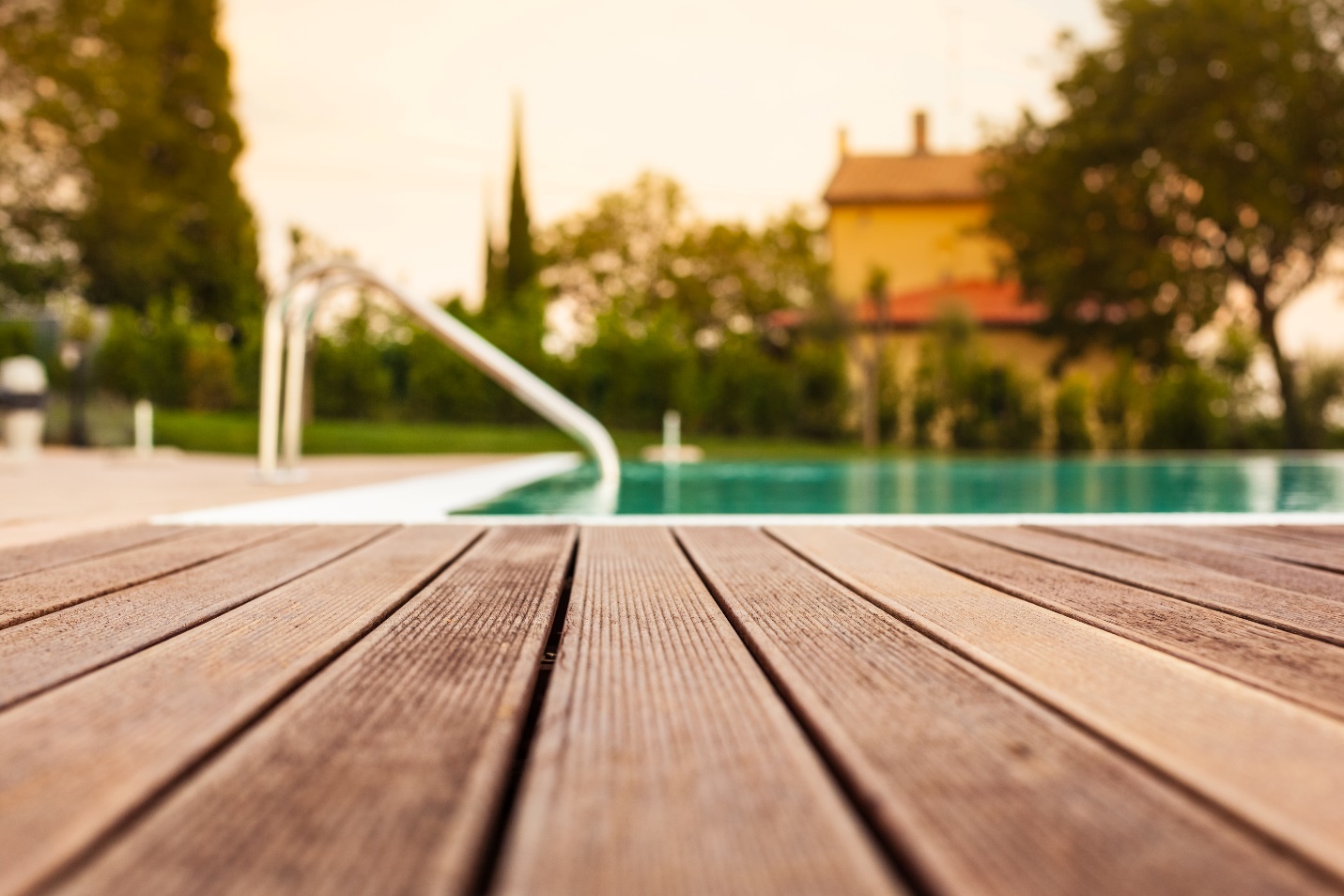 Maintaining your pool deck is essential for avoiding trips and falls. Apart from cleaning and basic maintenance, consider investing in pool deck waterproofing, waterproof deck coatings, and a pool deck drain to help keep walking surfaces dry and slip-proof. If you're installing a new pool deck or replacing an old one, you may also want to consider a durable, waterproof concrete pool deck.
Waterproof Your Deck to Keep It Safe
In all cases, waterproofing is essential for pool deck safety. For more information on our pool deck waterproofing and pool deck resurfacing services, call our Los Angeles team at 424-339-0953.
With people spending more time at home, now is a great time to prepare your pool for the spring and summer. In some places, warmer summer-like weather is already here. Take this opportunity to consider pool deck waterproofing and other maintenance. Getting your pool ready will give you and your kids something to enjoy outdoors from the safety and comfort of your home.
Step 1: Clean the Water
It can be tempting to drain the water and start over, but you don't have to. Draining the water is not only time-consuming but will make a huge impact on your water bill when you refill it later. Instead, get the right chemicals to clean the water to remove algae and other impurities.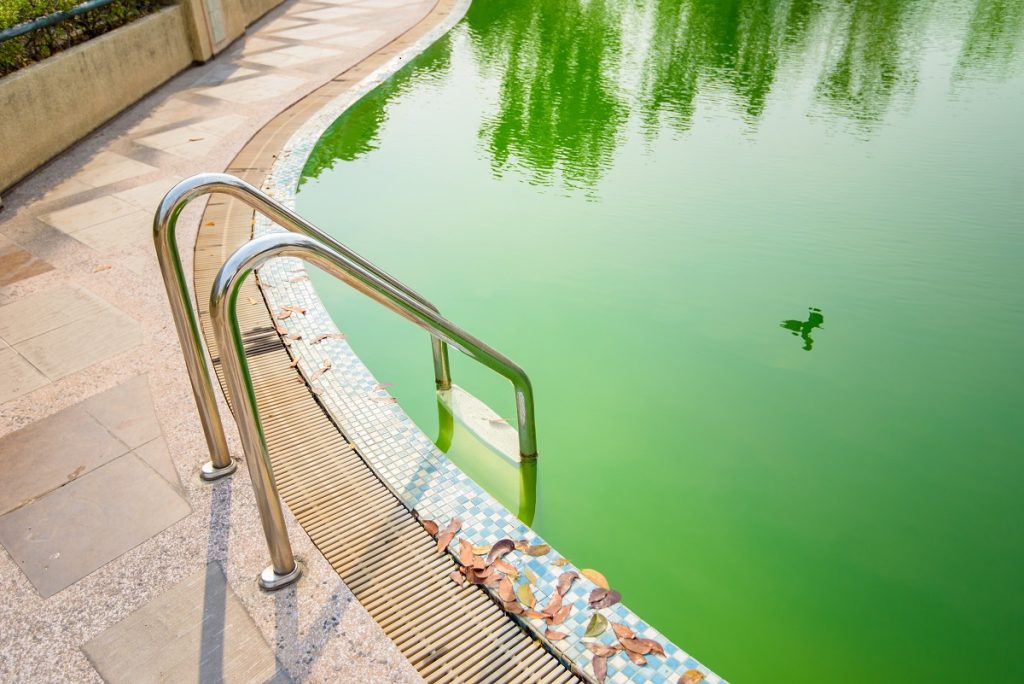 Step 2: Clean the Pool
After the water is clear, you may notice algae and other things stuck to the sides and bottom. Use a scrub brush to remove stuck-on algae and other debris. For leaves and other floating debris, use a pool skimmer net. If you have a pool vacuum, you can also use that to help clean the pool.
Step 3: Change the Filters
If your pool water is dirty, make sure to change the filters several times as the pool cycles. You also want to check the filters and change them after cleaning the pool. Once the water is clear and the pool is clean, install a new set of filters.
Step 4:  Inspect and Clean the Filtration System
Check for water leaks and make sure leaves and other debris are not covering the pool filtration system. Have a pool maintenance professional lubricate the moving parts and components on the pool pump and filtration system.
Step 5: Clean the Pool Deck
You want to make sure your pool deck is clean before using your pool. Otherwise, if there is dirt, debris, or leaves, these things will just get tracked into the pool. Depending on the type of pool deck you have, you may be able to power-wash it down. If not, you can use a garden hose and scrub brush to wash it down.
Step 6: Perform Pool Deck Maintenance
Pool deck maintenance involves checking to ensure there are no cracks, chips, or other potential safety hazards. If the pool deck is looking a little worse for the wear, you can get pool deck waterproofing, which is resurfacing and restoring the appearance of pool deck surfaces.
Step 7: Top Off the Water
If you need to add water to the pool, do so after completing all the other pool preparation steps. Make sure to fill the pool up to the necessary level but don't overfill it.
Step 8: Test and Balance the Chemicals
You need to test the water and check chemical levels to ensure they are correct. If not, add the required amount and retest until the water is balanced. Allow your pool filtration system to run for at least 24 hours after adding chemicals before retesting.
Step 9: Invest in a New Pool Cover
Using a pool cover not only slows the evaporation of water but also helps keep out dirt, dust, leaves, and other debris.
Step 10: Enjoy Your Pool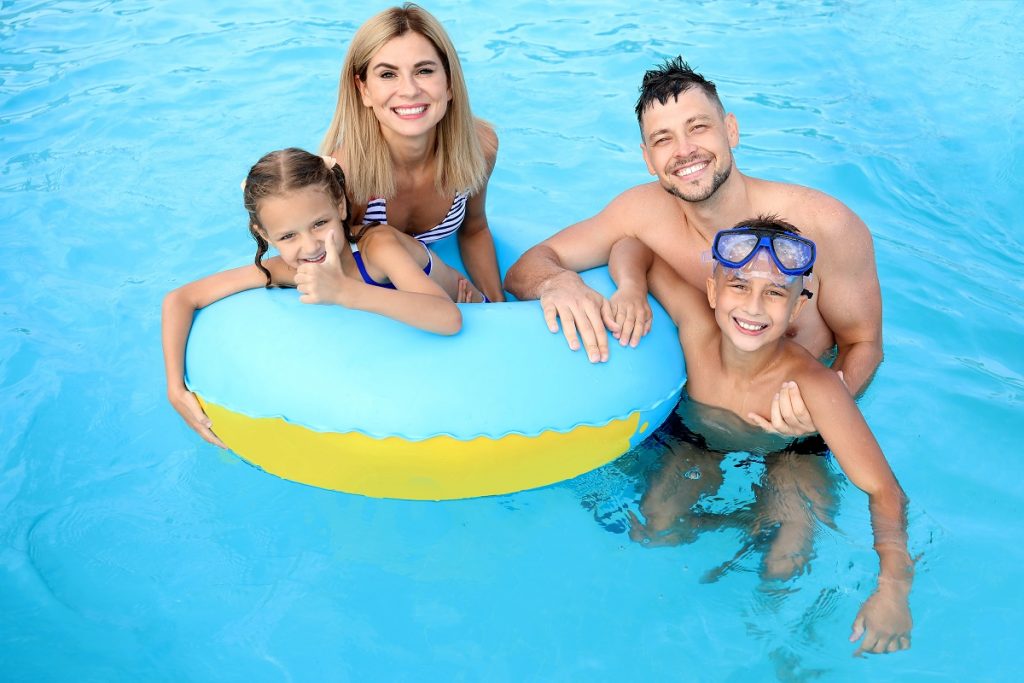 Now that your pool is ready to use, you can start enjoying it for afternoon swims, relaxing on the water while reading your favorite book, and playtime with the kids.
For professional pool deck maintenance, pool deck waterproofing, resurfacing, repairs, and restoration in the Greater Los Angeles Area, please feel free to contact Capital Deck & Stair for waterproofing at (424) 339-0953 today!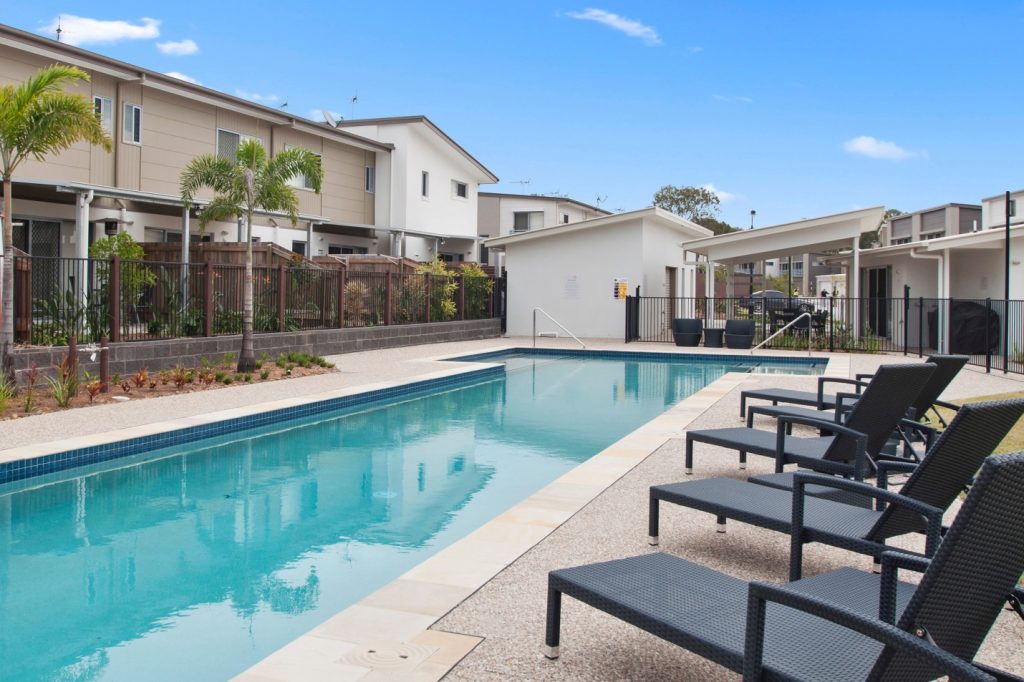 Over time, the deck around your pool really takes a beating. With regular exposure to chlorinated pool water, direct sunlight, and inevitable spills, the surface can become cracked, chipped, stained, and worn in ways that could pose risks of harm. Here are a few red flags that will tell you when you need to have your deck resurfaced and sealed.
Discoloration and Staining
Even though hard surfaces like concrete are easy to clean, they're not impervious to staining and discoloration over time. Concrete is still a porous material, which means that repeated, long-term exposure to food spills, rust, and other pigmented substances can cause lasting stains. Water spots can also create discoloration on your pool deck if there is significant leakage occurring beneath the concrete.
The ease of correcting discoloration depends on the severity but, in most cases, the stains can be easily erased with a professional pool deck resurfacing. Once they're gone, proper sealing can help protect the renewed surface from future stains.
Cracks and Dents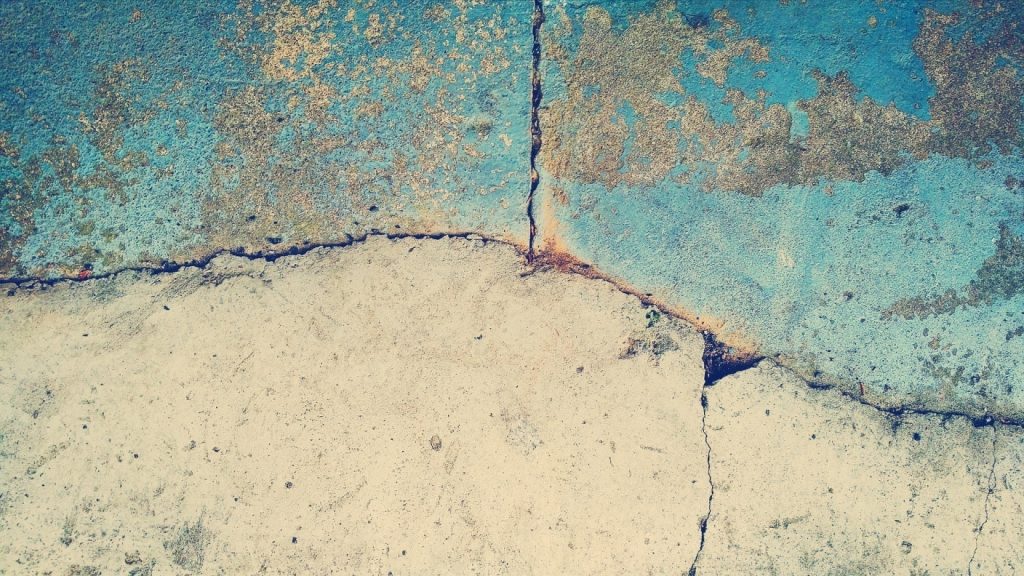 Shifting soil and impacts from heavy objects can cause large cracks and dents in your deck. These not only create tripping and injury hazards, they also serve as weak points from which more damage can spread.
If your pool deck is suffering from surface cracks, resurfacing can restore it by filling the cracks in the top layers of concrete. With any type of cracking, make sure you determine and address the underlying cause of the damage as well. If you don't, you may be facing the same problems sooner than later.
Breakdown of the Deck Surface
Sometimes the damage isn't quite as obvious as major cracks and dents. Seemingly small things like paint chipping and flaking of brittle surface concrete can be telltale signs that your sealing and waterproofing have begun to degrade. Have it resurfaced and re-sealed before it gets worse and becomes deep damage throughout the deck.
Damage to (and Leakage of) the Pool Itself
If your pool's interior is breaking down or has begun to leak and drop in water level, there's a good chance your deck is starting to go as well. In the case of pool leakage, especially, the red flag thrown by the pool is a sign that you need to head off deck damage as soon as possible.
Once you've addressed the underlying problems, have the deck fully resurfaced. Getting both issues taken care of at once is also a great way to make sure your deck and pool are equally well kept.
Get Professional Deck Resurfacing, Waterproofing, and Protective Coating from Capital Deck and Stair
At Capital Deck and Stair, we strive to be one of the best deck waterproofing companies in Los Angeles, CA. If you own a home in Southern California and are in need of pool deck waterproofing, or resurfacing, our experienced contractors and competitive service prices can give you the beautiful deck you want at a price you can afford.
Call us at (424) 339-0953 to learn more about how we can help you restore and protect your concrete pool deck today!