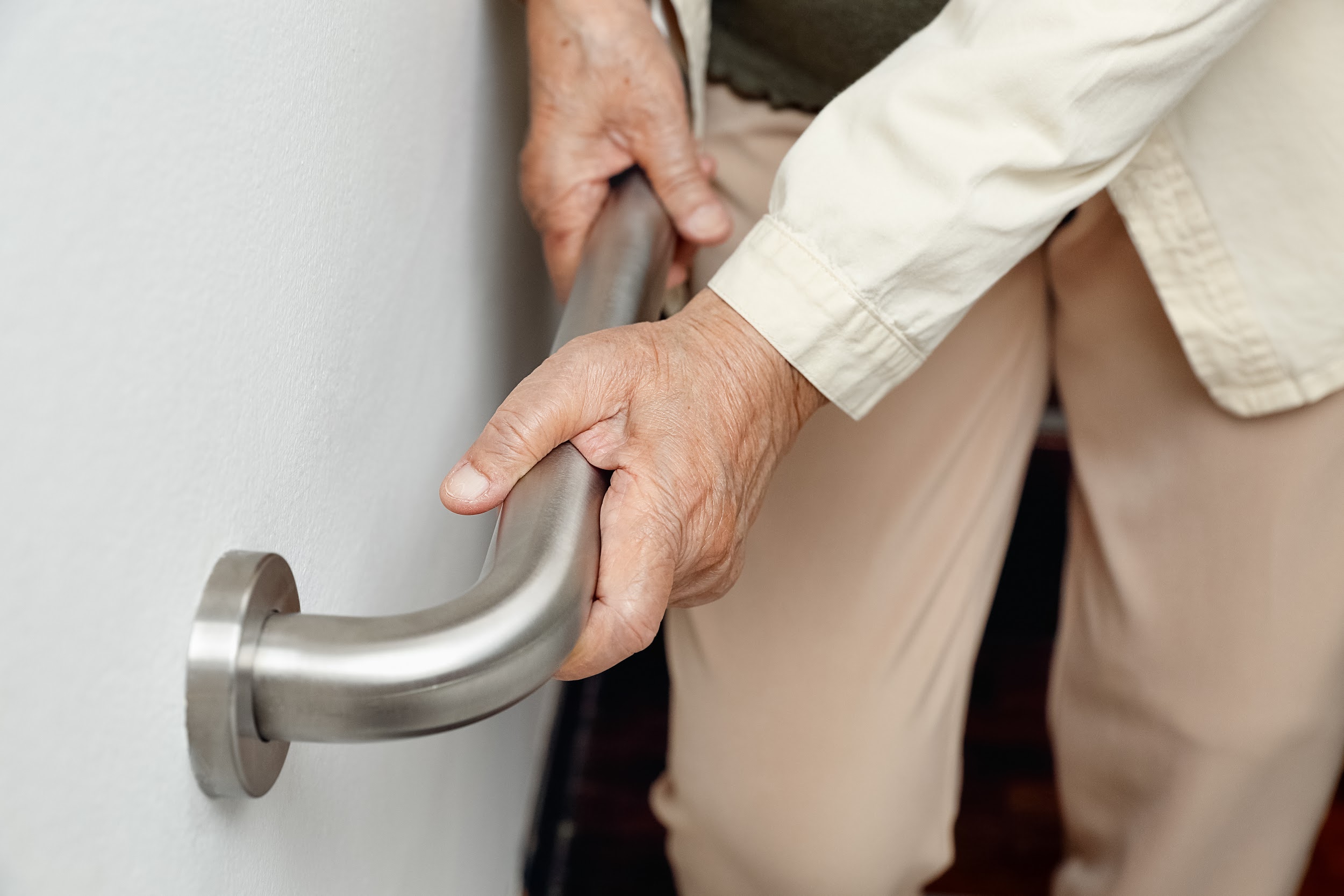 According to the U.S. Centers for Disease Control and Prevention (CDC), one in four adults over 65 fall every year, and three million older individuals are treated in emergency rooms for fall-related injuries.1 Those who fall are at risk of falling again. Yet you can prevent slip and falls at home. One way to do so is tread replacement, which we at Capital Deck & Stair can help with. Here are several other tips for improving senior safety.
Improve Lighting
The better lit your home, the less likely it is someone will fall over an object. Install brighter bulbs in stairways and narrow hallways. A nightlight in the bedroom or bathroom can be beneficial as well. Strong lighting increases the likelihood of a person seeing hazards and avoiding them, rather than dealing with the consequences of a fall. If a senior has fallen at home, assess whether you have adequate lighting installed.
Install Assistive Devices
Safety devices, such as grab bars near bathtubs and toilets and handrails in stairways improve home safety for seniors. There are many types of assistive devices on the market. These include raised toilet seats; some even have armrests for improved support. Plastic seats for showers and tubs allow individuals to clean themselves while sitting down. Other senior safety devices include hand-held shower nozzles to make showering simpler.
Remove Clutter
It can be hard for a senior to navigate around or see items such as newspapers, bags, electrical cords, pet bowls, boxes, and other items near paths of travel or stairways. Magazine racks and coffee tables in high-traffic areas can clutter up a space too. These fall hazards can be cleaned up. If there are loose throw rugs or carpeting, secure or remove them to improve safety for seniors at home.
Non-Slip Mats/Surfaces
Slip-resistant mats should be used on floors in bathrooms, kitchens, and other rooms, as well as on porches. Also consider a non-slip surface or material for showers. If you have bare-wood steps, non-slip treads can be installed to reduce the risk of slip and falls. While making surfaces less slippery helps, also encourage seniors to wear shoes at home, as socks can increase sliding, unless they have non-slip grips on the soles.
Fall Prevention Alarms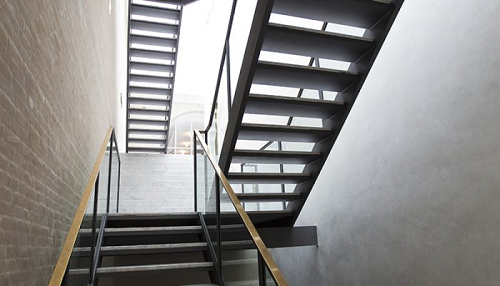 Various alarm systems are designed to prevent falls. They include bed and chair alarms, fall monitors, personal pagers, and others from a number of manufacturers. An alarm may be a worthwhile investment for someone who is at risk of falling.
Call Capital Deck & Stair
Proper care for your deck surfaces and stairs also helps improve safety. Our waterproofing and stair tread replacement services are a perfect example. Capital Deck & Stair helps improve pool decks, patios, balconies, and staircases to make them safe for everyone in your household. We hope our fall safety tips for seniors have provided useful insights. For help improving deck and stair safety for seniors at home or with any other related project, call 424-339-0953.
Source: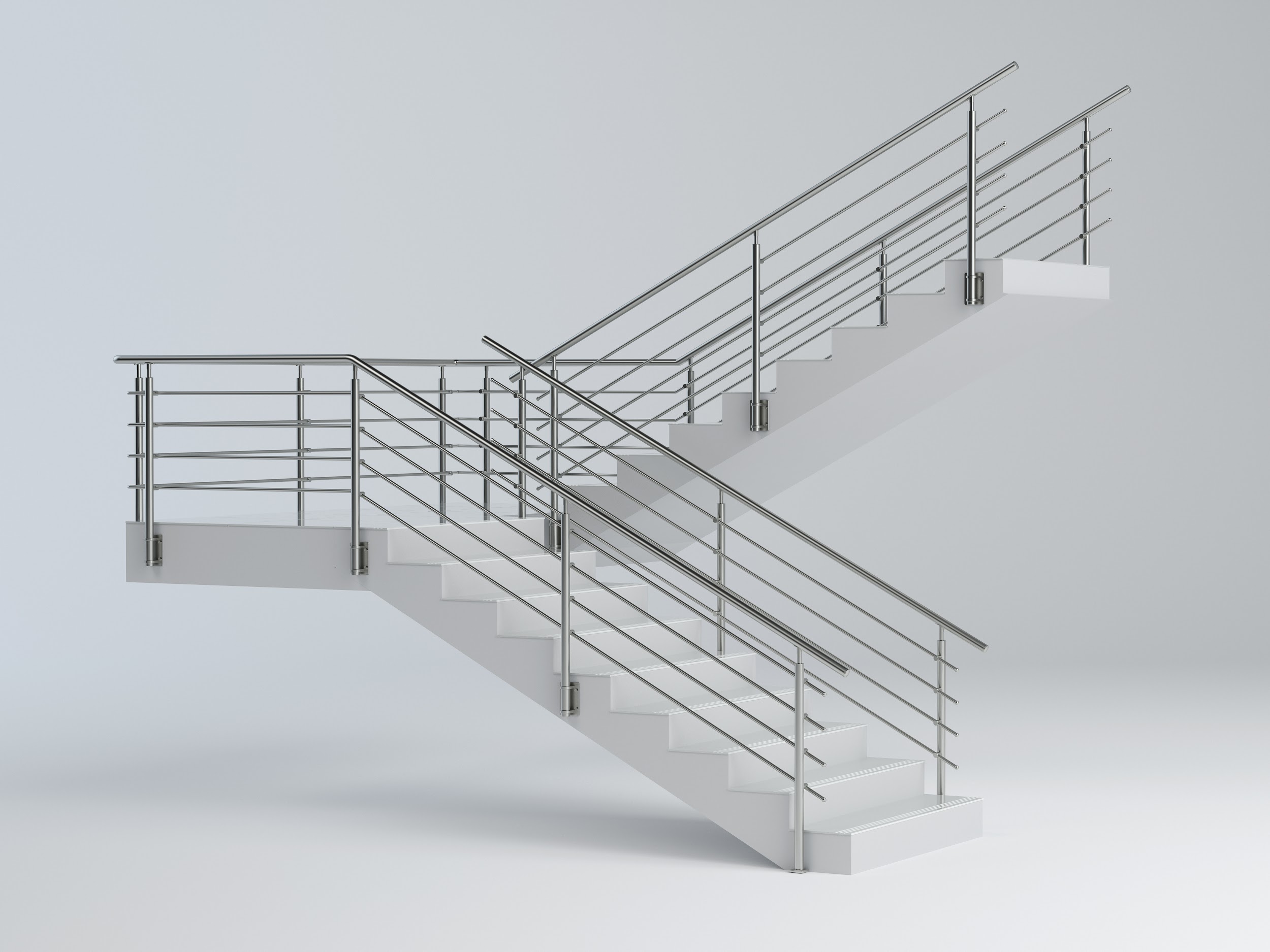 Cement, metal, and wood remain somewhat popular for outdoor stairways, but, with all factors considered, fiberglass is one of the most advantageous materials. Durability is just one reason to consider installing fiberglass stairs. Here is a more comprehensive look at why more and more homeowners are choosing this option.
What Is Fiberglass?
Fiberglass is a plastic material reinforced with glass fiber. The fibers can be arranged in many ways to achieve a desired result, whether randomly arranged, flattened in sheets, or woven to create a fabric; thermoset polymers or thermoplastic polymers may be produced as well. Often called glass-reinforced plastic or glass-fiber reinforced plastic, it is used for many applications, including fiberglass insulation, piping, storage tanks, auto body parts, and building materials, to name a few.
Benefits
The key benefits of fiberglass stairs and ladders include:
● Strength: By weight, it is stronger than many metals, including sheet metal. Being man-made, fiberglass is also stronger than wood. It withstands high tension and compression, as glass fiber is extremely stiff along its axis. Stairs made of the material, therefore, can withstand repeated use over the long term.
● Durability: Fiberglass is waterproof and resistant to rust and corrosion, so it is suited for locations near salt water. It also resists a variety of corrosive chemicals. This allows fiberglass stairs to be used in applications in which other materials could expose homeowners to risks of degradation. It's also resistant to expansion and contraction due to temperature extremes and mechanical stress.
● Non-Conductive: Fiberglass does not conduct electricity. If a stairway is installed near a power source or electrical line, or electrically powered tools or appliances are used nearby, one need not worry about electrical currents transmitting through the material, as is the case with metal.
● Aesthetics: Fiberglass, although typically sporting a clean, classic look, can be molded into any shape. This allows infinite possibilities. Stairways can feature brand-specific elements or complement a home's existing architecture. They can be crafted to suit virtually any design theme.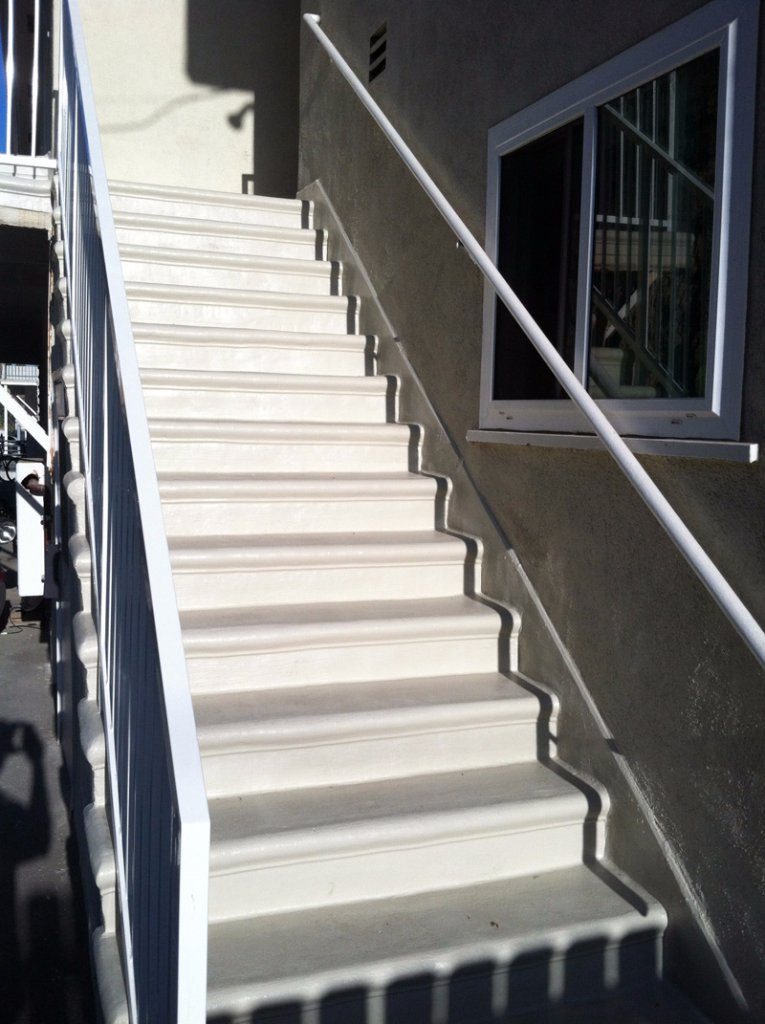 ● Low Cost: Pricing is relatively stable compared to steel, including for production, installation, and maintenance. Since fiberglass is lightweight and strong, it costs less to ship and store.
● Eco-Friendly: Producing fiberglass is less energy-intensive than other materials. Fewer resources are required for maintenance while it's also recyclable. The fibrous materials can be broken down and used for other applications when a product is no longer needed.
Order a Fiberglass Staircase from Capital Deck & Stair
We install long-lasting, waterproof, slip-resistant fiberglass stairs and provide warrantied fiberglass repair. Reach out to us and one of our professionals will explain options, make recommendations based on home design and available space, and give you a free estimate. In addition, we can waterproof your entire deck with the latest state-of-the-art solutions. Pool deck, walking deck, leisure deck, balcony, and garage door resurfacing and coating services are available as well. To ask questions and receive a free estimate, call 424-339-0953.
With the New Year rapidly approaching, you may be busy making your New Year resolutions and preparing to make transformations in your life. While your mind is on renewing old things and bringing them up to date, it's important not to forget your home, and especially your deck.
In sunny California, the warm weather will be here sooner than you think, and it'll be time for summer barbeques, splashing in the swimming pool, and spending long evenings on your deck. Why don't you get a head start and schedule waterproofing services with our Los Angeles deck waterproofing professionals?
Waterproofing can help you refresh the look of a tired and worn out deck. It can also help you preserve your deck for many more years of enjoyment. Our waterproofing solutions are low-maintenance, which means less work and more fun for you. In addition to improving the look and safety of your home, a fresh coat of customized waterproofing can dramatically increase the value of your home or rental property.
We offer warrantied waterproofing service for:
Your home's safety, beauty, and upkeep are important to us. We offer a variety of resurfacing and waterproofing surfaces to help you maintain many surfaces around your property. All our waterproofing projects use superior materials to ensure that your deck is not only waterproof, but fire retardant and flexible to preserve your deck.
We offer custom blended colors at no additional cost, so your new waterproofing coat will blend seamlessly with your existing home and yard décor. We also work around your schedule, and we offer weekend and after-hours services to meet your needs. With multiple crews in the Los Angeles and Orange County areas, we can offer quick, reliable service.
Get the advantage of more than 30 years of deck waterproofing experience for your home. Schedule a free estimate today , and one of our qualified waterproofing professionals will come to your home for an inspection.
Contact our team at Capital Deck & Stair Waterproofing by calling (310) 912-7737 .
Every element of a home or business needs to come together to form a unique, single message or style. Whether you want to convey comfort, professionalism, or a mix of both, the design of your property is the groundwork for conveying these emotions. For properties with multiple stories, one of the key pieces that cannot be overlooked is the staircase. Literally connecting on floor to another, your stairwells and steps require special attention if you want to keep the theming of your property concise.
To get the right set of stairs for your home or business property, you should consider the benefits of two of the most popular types of stairs: precast iron fixtures and magnesite-fiberglass fixtures.
Precast iron staircases : Generally used indoors to replace wooden or stucco fixtures that are prominent in most home, precast iron staircases create a contemporary look in any property. Due to the ease of installation and the standalone design of the steps, precast iron staircase treads are easy to replace, should they ever become damaged. However, with a professional finish applied, accidents and mistakes will have a hard time actually damaging a precast iron staircase.
Magnesite and fiberglass staircases : There are few staircase fixture options more durable and resistant to the ravages of Mother Nature than magnesite and fiberglass staircases. Due to their strength and vintage appearance, these types of stairs are usually used outdoors to connect floors of apartment complexes or business facilities. For people who want a clean look with added slip resistant properties, magnesite or fiberglass should be their first choice. The endurance of these steps also means maintenance is low and necessarily replacement is unlikely.
At Capital Deck & Stair Waterproofing, our Los Angeles stair waterproofing specialists can help you maintain or install both precast iron staircases and magnesite/fiberglass staircases. For more than 30 years, we have been helping individuals and companies find the right staircase solutions for their properties. Let us do the same for you. Just contact us today and request a quote for your job.