Maximizing Property Value With Commercial Waterproofing In Los Angeles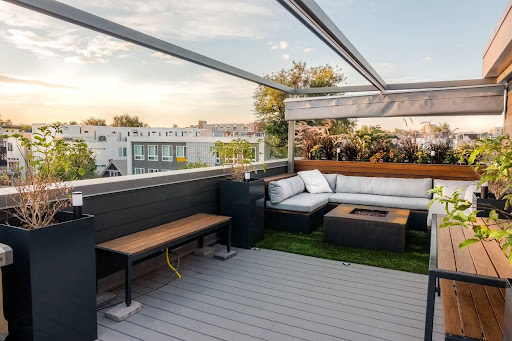 Are you a property owner in Los Angeles looking to maximize the value of your commercial building? If so, commercial waterproofing could be the solution you've been searching for. Waterproofing not only protects your property from potential water damage but also has the added benefit of increasing its overall value. By investing in commercial waterproofing, you can ensure that your building remains structurally sound and attractive to potential buyers or tenants.
Don't miss out on this opportunity to maximize your property's worth. Invest in commercial waterproofing today!
Read More: Enhance Safety and Longevity with Commercial Deck Waterproofing
The Impact of Waterproofing on Commercial Property Value in Los Angeles
Waterproofing's impact on commercial property value in Los Angeles extends far beyond damage prevention. It contributes to the property's longevity and durability, attracting savvy investors and tenants seeking secure, long-term investments. Beyond safeguarding against water-related issues, it enhances market appeal. Waterproofing combats structural problems stemming from moisture intrusion, including mold growth and wood rot. Proactive measures guarantee the building's long-term soundness. This instills confidence in investors and tenants, sparing them from future costly repairs. In the competitive Los Angeles market, where property values are high, prioritizing longevity and durability is key to maximizing your commercial property's value and appeal.
Ways that commercial waterproofing can increase your property value
When it comes to increasing your property value, commercial waterproofing can play a crucial role. Here are some of the ways that commercial waterproofing can increase your property value.
Prevent Structural Damage
To safeguard your property from structural damage, investing in high-quality commercial waterproofing in Los Angeles is crucial. Water infiltration can weaken foundations over time, resulting in costly repairs and reduced property value. Waterproofing solutions like sealants, membranes, and coatings create barriers to prevent water ingress, preserving structural integrity. They also deter mold growth, enhancing
Extended Lifespan
Investing in high-quality waterproofing solutions is an essential step toward extending your building's lifespan. By thwarting water intrusion and moisture-related harm, you sidestep expensive repairs, ensuring your property's structural integrity endures for years. In Los Angeles, where unpredictable weather can lead to leaks, mold, and deterioration, commercial waterproofing becomes a safeguard.
Applying a robust waterproofing system to your exterior walls, roof, and foundation forms an impervious shield against water infiltration. This proactive approach eliminates structural damage risks. Commercial waterproofing solutions are engineered to withstand environmental challenges, like heavy rainfall and extreme temperatures.
Professional waterproofing services secure your property's long-term structural soundness. Don't wait for costly repairs; invest now to extend your building's lifespan and maximize its value.
Lower Maintenance Costs
Lowering maintenance costs and ensuring your building's long-term durability is achievable through commercial waterproofing in Los Angeles. By applying a waterproof coating to your exterior surfaces, you prevent water damage and minimize the need for frequent repairs. This not only saves money but also extends your property's lifespan. Reduced maintenance expenses free up resources for other critical aspects of your business or investment. Fewer repairs mean fewer disruptions, allowing you to focus on enhancing your commercial property's value and potential. Trusting in commercial waterproofing guarantees cost-effective maintenance and lasting building excellence.
Improved Aesthetics
Elevate your building's appearance with commercial waterproofing. Beyond shielding against water damage, it delivers enhanced aesthetics. A waterproof coating on exterior surfaces creates a sleek, inviting look, appealing to potential buyers or tenants. Customizable in color and design, it facilitates the creation of an attractive, standout facade in Los Angeles' competitive real estate market. Moreover, commercial waterproofing prevents unsightly water-induced stains and discolorations, ensuring your building retains a fresh, well-maintained appearance. Invest in improved aesthetics through commercial waterproofing to unlock your property's full value potential.
Energy Efficiency
Commercial waterproofing in Los Angeles not only enhances aesthetics but also significantly boosts energy efficiency. By preventing water intrusion and associated issues like mold and mildew growth, waterproofing preserves your building's insulation. This ensures your HVAC system operates efficiently, reducing energy consumption and utility costs. Additionally, solutions like reflective coatings minimize heat absorption from the sun, reducing the need for excessive air conditioning during hot summers. With improved energy efficiency, commercial waterproofing promises substantial savings, increasing your property's overall value while decreasing operating expenses.
Resale Value
Investing in commercial waterproofing in Los Angeles is a strategic move to increase your building's resale value. Potential buyers are willing to pay a premium for properties that are properly waterproofed, offering them peace of mind against potential water damage. Beyond prevention of costly repairs, waterproofing enhances your building's overall condition and longevity. It safeguards structural integrity and elevates market appeal, attracting more buyers and allowing you to negotiate higher prices during resale transactions. Recognize the potential of commercial waterproofing in enhancing your property's value and securing better returns in the future.
Enhanced Occupant Comfort
Commercial waterproofing in Los Angeles offers more than just property protection; it significantly enhances occupant comfort. When striving to maximize property value, ensuring the well-being of occupants is paramount. Professional waterproofing not only shields your building from potential water-related issues but also creates a more pleasant environment for tenants, employees, and customers. It eliminates worries about leaks, mold growth, and humidity, improving indoor air quality and maintaining a healthy atmosphere. By prioritizing occupant comfort through commercial waterproofing, you proactively enhance property value and ensure long-term satisfaction for all stakeholders involved.
Compliance with Regulations
Compliance with regulations is paramount when waterproofing your property in Los Angeles. Local regulations aim to safeguard structural integrity and prevent water-related damage, averting costly repairs and hazards. Professional waterproofing services ensure the acquisition of essential permits and inspections, ensuring full legal compliance. This not only assures peace of mind for owners and tenants but also underscores your dedication to maintaining a safe and high-quality commercial property. Compliance with regulations in waterproofing is an investment benefiting both property owners and occupants, promoting a secure and trustworthy environment.
Waterproof Your Commercial Property With the Help of Capital Deck & Stair Waterproofing
Ensure the value of your commercial property skyrockets by waterproofing it with the expert assistance of Capital Deck & Stair Waterproofing. With their extensive experience and top-notch services, you can trust them to protect your property from water damage and extend its lifespan. Their team of professionals specializes in commercial waterproofing in Los Angeles, providing customized solutions that meet your specific needs and budget.
By choosing Capital Deck & Stair Waterproofing, you can have peace of mind knowing that they comply with all regulations and standards set for commercial properties. They use high-quality materials and advanced techniques to ensure a durable and long-lasting waterproofing solution. Whether it's a roof deck, balcony, or any other area in need of waterproofing, their team will work closely with you to deliver exceptional results.
Don't wait until water damage becomes an expensive problem. Contact Capital Deck & Stair Waterproofing today and take the necessary steps to protect your valuable investment.
Conclusion
In conclusion, don't miss out on the opportunity to safeguard your investment and extend its lifespan by trusting Capital Deck & Stair Waterproofing for all your commercial waterproofing needs. They have a proven track record in providing top-notch services that can maximize the value of your property in Los Angeles. By utilizing their expertise and high-quality products, you can protect your commercial building from water damage, leaks, and other potential issues that could significantly affect its value. With their help, you can ensure that your property remains structurally sound and aesthetically appealing for years to come. So why take the risk of neglecting proper waterproofing when you have a reliable partner like Capital Deck & Stair Waterproofing? Contact them today and experience the peace of mind that comes with knowing your investment is well-protected.