When To Hire A Professional Deck Repair Contractor: Signs You Shouldn't Ignore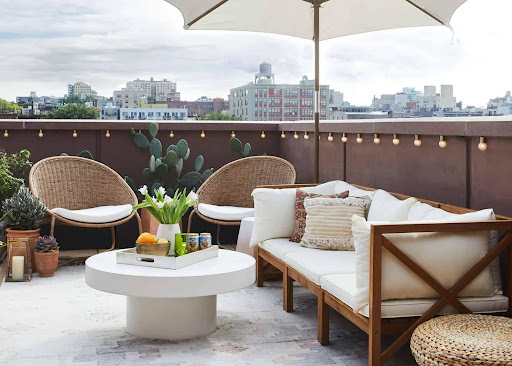 Even the highest-quality decks will eventually require some level of maintenance or repair. Knowing when to call the experts can save you time and money and ensure your safety.
It's essential to understand what signs indicate the need for professional deck repair so that you can address any issues before they become significant problems.
Introduction
A well-maintained deck not only enhances the beauty of your outdoor space but also ensures its safety and longevity.
If you're wondering whether or not it's time to call in a pro for your deck repair needs, there are some signs you need to pay attention to. While you may be tempted to tackle the repairs, sometimes it's best to leave it up to the professionals. After all, they have the experience and knowledge to get the job done right.
One of the first signs that it's time to hire a deck repair contractor is if your deck has become unstable or unsafe. It could mean that your joists rot, your posts are loose, or your railings need to be more secure. If any of these things happen with your deck, it's essential to address them immediately so that no one gets hurt.
Explore the signs that indicate the need for professional assistance and provide insights into deck repairs, fixing, replacement, refinishing, and sealing. Whether you're in Los Angeles or anywhere else, understanding these signs will help you make an informed decision and keep your deck in top shape.
The Importance of Hiring a Deck Repair Contractor
Don't risk your safety and waste time trying to fix your deck yourself – trust an expert who can ensure a sturdy, long-lasting repair. Hiring a professional deck repair contractor is crucial for several reasons. First, these contractors have the necessary skills and experience to detect even the smallest signs of damage that you might miss. They can assess the extent of the damage and determine the most appropriate course of action.
Moreover, deck repair contractors can access top-quality materials unavailable at local hardware stores. These materials are designed for outdoor use and are durable enough to withstand harsh weather conditions. With their expertise and high-quality materials, deck repair contractors can provide sturdy and long-lasting repairs that will save you money in the long run.
If you live in Los Angeles or its environs, hiring a professional deck repair contractor is even more critical because of its unique climate. A reliable pool deck repair Los Angeles contractor will know precisely how to handle issues such as warping, rotting, or cracking decks caused by constant exposure to sunlight and water. Moreover, suppose you need any refinishing services for your pool or patio decks in the Los Angeles area. In that case, hiring any reputable company dealing in Deck Repair Los Angeles with years of experience providing this service is essential.
Signs that Indicate the Need for Professional Deck Repair
Watch out for rotting wood, loose railings, and cracked boards – these are clear signs that your deck needs immediate attention. But those aren't the only indicators. Prolonged water damage can also weaken the structure of your deck, making it unsafe to use. If you notice any of these issues, it's time to call in a professional deck repair contractor.
Deck repair contractors have the knowledge and experience necessary to identify underlying issues that may take time to be evident. They can assess the damage and determine whether repairs or replacement is necessary. In addition to fixing existing problems, they can also offer advice on how to prevent future damage and prolong the life of your deck.
If you're in Los Angeles or surrounding areas, consider reaching out for help with pool deck repair in Los Angeles or even deck sealing in Los Angeles services. A professional contractor will ensure that your deck is safe and looks great. Pay attention to the signs – invest in a reliable contractor today to protect yourself and your loved ones from hazards associated with an unsafe deck.
Understanding Deck Repairs, Fixing, and Replacement
To truly understand the intricacies of deck repairs, fixing, and replacement, you must consider the various factors impacting your decision-making process. When it comes to deck repairs, some issues may be minor and easily fixed by the homeowner themselves. These might include loose boards or railings or small cracks in the wood. However, a professional deck repair contractor should always handle more extensive damage, such as rotting or significant structural issues.
In general, standard deck repair techniques include:
Replacing damaged boards or railings.
Reinforcing weak areas with additional support beams or posts.
Sanding and refinishing the surface to protect against future damage.
While these tasks may seem simple enough on their own, they often require specialized tools and knowledge that only a trained professional can provide. Hiring a deck repair contractor also ensures that any necessary permits are obtained and that all work is up to code.
When deciding whether to fix or replace your deck altogether, several factors must be considered. The age of your current deck is one key consideration; if it's over 20 years old and showing signs of wear and tear beyond simple repairs, then replacement may be necessary. Other factors include the size of your current space (is it too small for your needs?), overall aesthetic appeal (does it look outdated?), and budget constraints (can you afford a complete replacement?). By weighing these variables carefully alongside the advice of a trusted deck repair contractor – like those at Deck Repair Los Angeles -, homeowners can make informed decisions about how best to address their specific needs when repairing or replacing their decks.
Enhancing the Look of Your Deck: Refinishing and Sealing
If you want to give your deck a fresh new look while protecting it from the elements, you'll need to know how to refinish and seal it properly. Refinishing your deck involves:
Sanding off the old finish.
Cleaning the wood surface.
Applying a new stain or paint.
Sealing your deck is essential since it prevents water damage, sun exposure, and insect infestations. Choosing the right products can be overwhelming when refinishing and sealing your deck. Many types of stains and sealants are available on the market, each with its own benefits and drawbacks. Some popular options include oil-based paints, water-based stains, clear sealers, semi-transparent stains, solid-color stains, and polyurethane coatings. A professional deck repair contractor in Los Angeles can help you choose the right product for your specific needs based on weather conditions, foot traffic volume, wood type, and personal preferences.
Hiring a professional deck repair contractor in Los Angeles for your deck refinishing project has several advantages over doing it yourself:
Professionals can access specialized tools and equipment to make the job faster and more efficient.
They have years of experience working with different types of decks and finishes, so they know exactly what works best in each situation.
They can also provide valuable advice on maintaining your newly-refinished deck for years!
Hiring the Right Deck Repair Contractor in Los Angeles
Finding the right deck repair contractor in Los Angeles can be a daunting task, but with thorough research and evaluation of credentials and customer reviews, you can ensure that your project will be handled by experts who will deliver quality results. Choosing someone specializing in deck repair is essential when looking for deck repair contractors. Not all contractors have the same expertise when it comes to fixing decks, so make sure you hire someone with experience working on decks similar to yours.
If you have a pool deck that needs repairs, it's even more essential to find a specialized pool deck repair Los Angeles contractor. Pool decks require specific waterproofing and sealing techniques that not all general contractors may be familiar with. A professional pool deck repair contractor will know how to properly treat your deck to withstand exposure to water and chemicals.
It's also crucial to check customer reviews and testimonials for deck repair contractors. It will give you an idea of their work quality and professionalism from past clients' experiences. Feel free to ask for references or examples of previous projects they've worked on. By doing your due diligence, you'll increase your chances of hiring the right deck repair Los Angeles contractor who will provide excellent service and deliver high-quality results for your project.
Conclusion
Taking care of your deck is crucial for its longevity and safety. By understanding the signs that indicate the need for professional assistance and knowing when to hire a deck repair contractor, you can ensure your deck remains in top condition. Whether it's deck repairs, fixing, replacement, refinishing, or sealing, consulting with experts will help you maintain a beautiful and functional deck. If you're in Los Angeles, make sure to choose a reliable and experienced deck repair contractor to address your specific needs.
By recognizing these signs and calling in an experienced deck repair contractor in Los Angeles when needed, you can ensure that your outdoor space remains safe and enjoyable for years. Remember, a well-maintained deck enhances the value of your property and provides a welcoming outdoor space for you and your loved ones to enjoy. Don't ignore the signs – take action and hire a professional deck repair contractor today!