How to Design the Perfect Pool Deck Lounge for Summer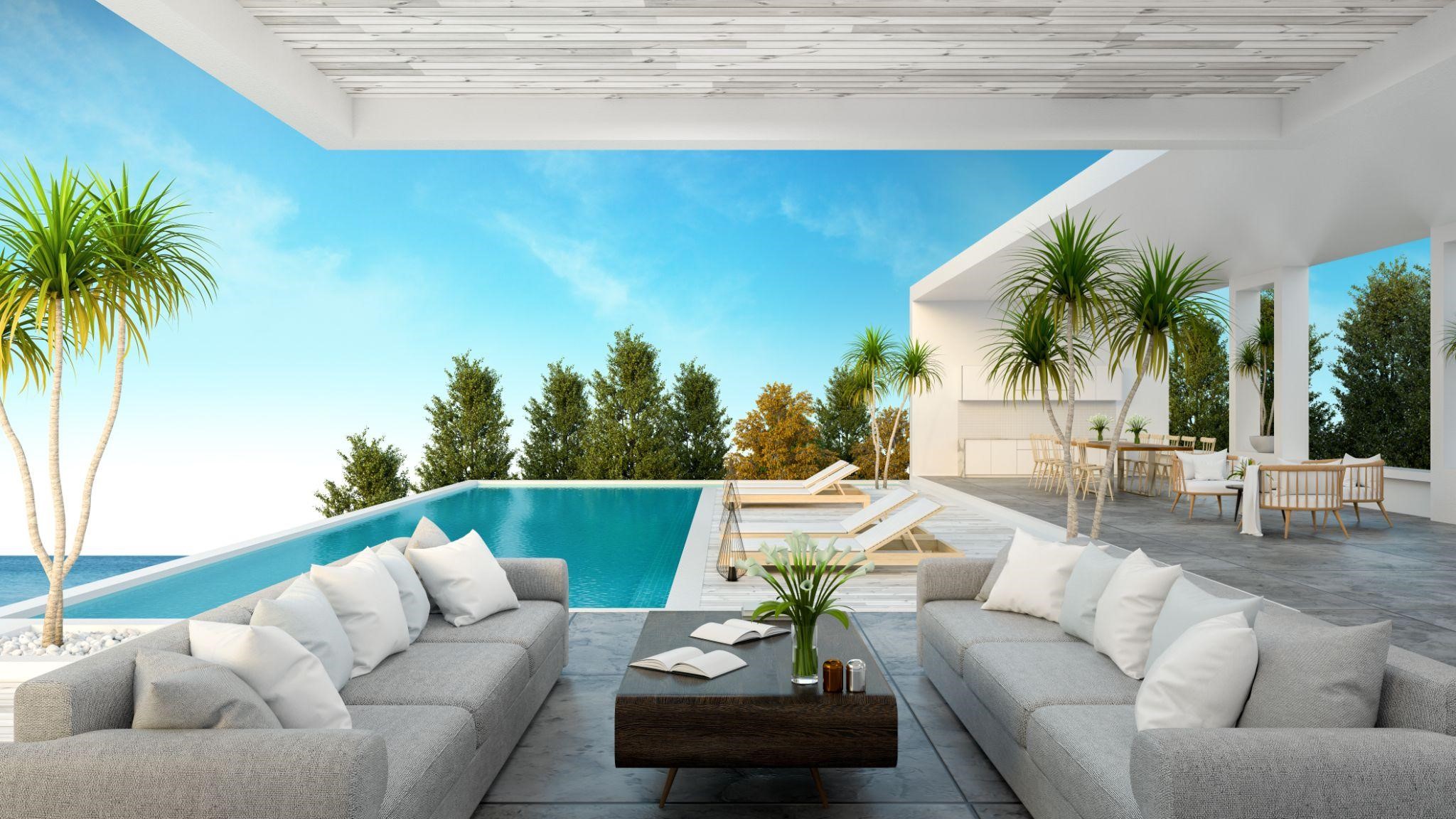 A pool deck lounge is a great amenity to have, but it's not a passive feature; there are many ways to improve the look and function of your pool deck while increasing the value of your property. Here are some effective pool deck design ideas that can turn your lounge area into an oasis.
Special Features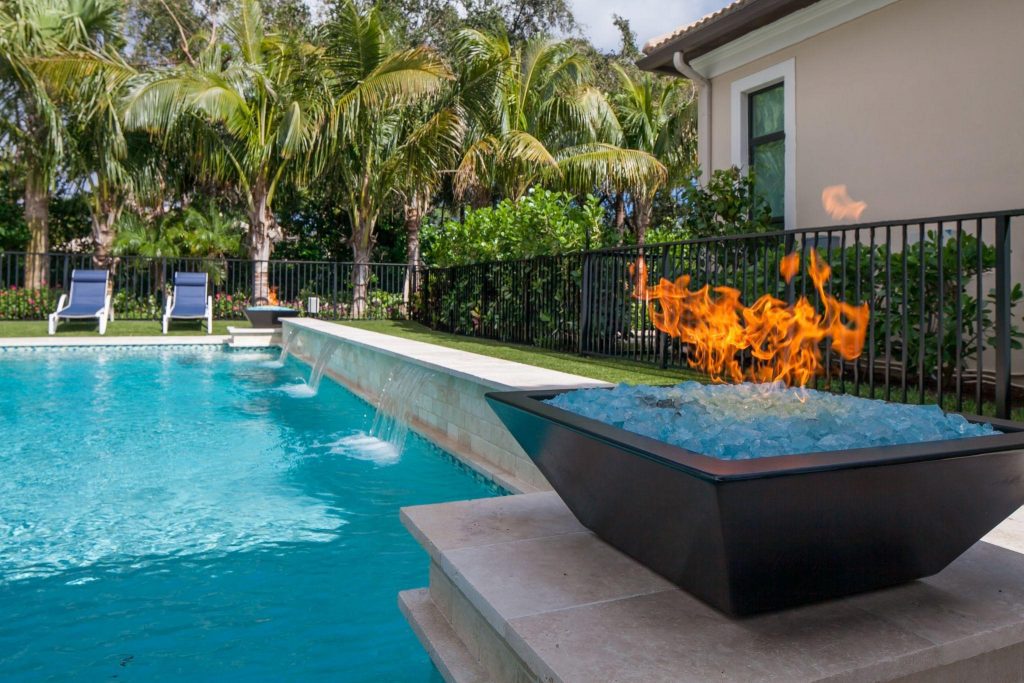 Whether you have a circular pool or a ground pool, you can turn it into something unique with these pool deck design ideas:
Water Fountain: Even a simple fountain, waterfall, sconce, jet, or another water feature can breathe life into your lounge area. Visually, it creates a focal point. The sound of streaming water is peaceful and relaxing, while you can create a serene landscape with rocks, plants, sculptures, and other design elements.
Lighting: Underwater pool lights are an easy addition and can create the desired ambiance, whether your goal is to make the area bright and cheerful, romantic, or soothing. Light creates great effects when it reflects off water. Adding lights to pathways, stairs, water features, and seating areas improves safety.
Sound System: In addition to the sound of water, you can enjoy a surround sound system that lets you play relaxing music or liven up your entertainment areas. Use speakers that blend in with your landscaping. Play the sounds of nature if you want; there are endless possibilities when it comes to creating mood with sound.
Fireplace/Fire Pit: An outdoor fireplace adds ambiance and provides heat during crisp Installing a fire pit gives you a versatile space to use for everything from roasting marshmallows to making a full barbecue, to setting up seating.
Stone wall: Adding natural stones to the sides of the pool can give it a natural yet modern appearance.
Living Space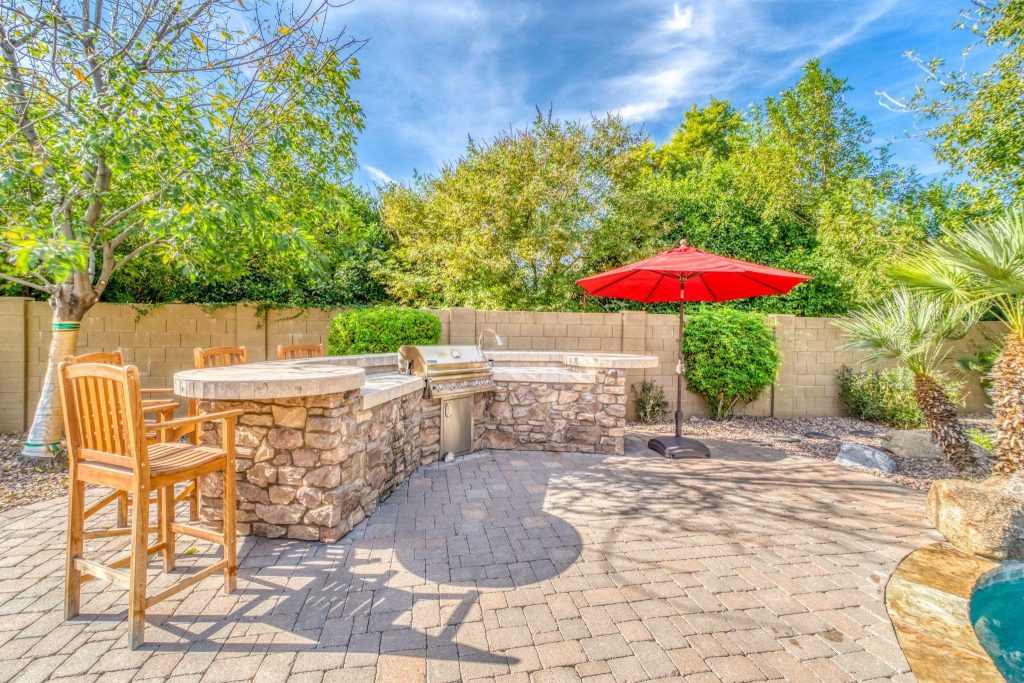 Your pool house deck can be much more than a place to swim and catch some rays. You can make it a complete outdoor living space with:
Gazebos: A gazebo, pergola, or covered patio provides shade and protects you from the sun or a rain shower. Yet, open sides allow a fresh breeze to pass through and offer an open view of your beautiful backyard. You can also add mosquito netting or PVC enclosures to keep the bugs out.
Grilling Areas: Grilling features allow you to have a summer barbecue on any day, whether just for the family or for guests. A small barbecue area or standalone grill can suffice if your pool deck design covers a limited amount of space.
Furniture: Lounge chairs are essential features for any pool deck. Umbrellas are useful for shade and comfort, while other ideas include built-in benches, tables, and seating with cozy cushions and covers. Outdoor sofas are great if you have the space.
Bar/Kitchen Area: A swim-up bar helps when you're hosting a pool party or hanging out with friends, or you can enjoy a cold drink solo on a hot afternoon. If you have enough space, you can even set up a full outdoor kitchen. Your swim-up bar can be attached to the kitchen area for even greater versatility.
Hot tubs: Adding a hot tub to your pool deck can make all the difference on those cold winter days.
Landscaping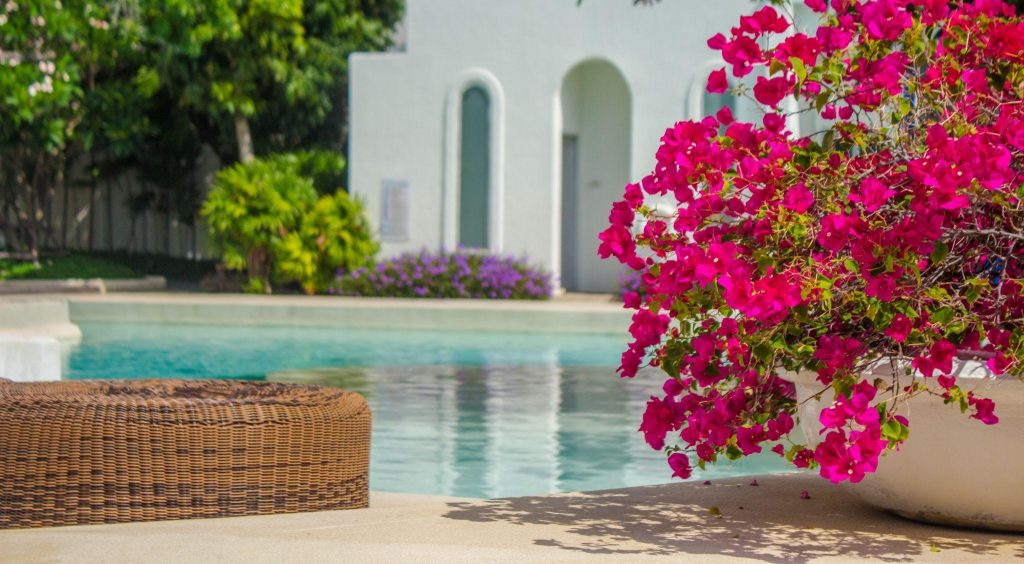 Landscaping adds character, can create zones within your lounge area, and connects your outdoor space with nature when you use:
Flower Beds: These are perfect for creating colorful borders or adding potted plants around your deck or pool. Raised beds, planter boxes, and pots can be easy to install while choosing native plants makes it easier for your vegetation to grow and thrive.
Trees: Trees and shrubs can be used on the perimeter to add privacy or you can build your lounge area around them. Large trees are also great for creating shade. Palm trees and other exotic plants can make your deck feel like a vacation spot.
Safety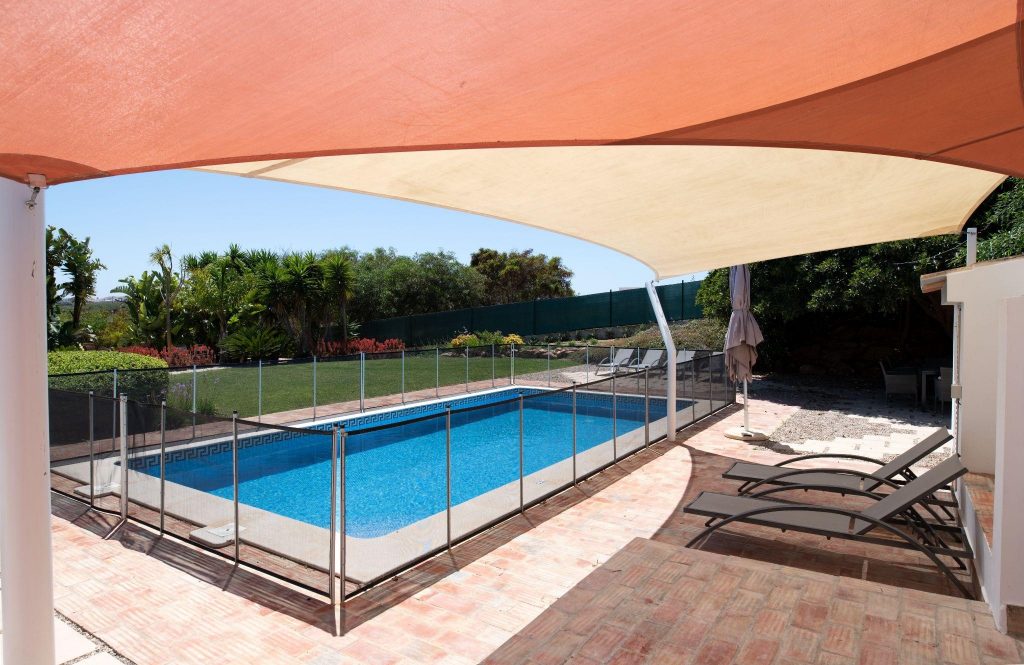 Ensuring people and property are protected is critical. You can improve the safety of your pool design with:
Shaded Areas to Avoid Heat: Canopies, trees, wall-mounted gazebos, covered patios, and other elements that provide shade can help keep you cool and prevent sunburn. Shading also reduces the risk of dehydration. It lets you enjoy the outdoors no matter how sunny and hot it is.
Pool Cover: A cover makes your swimming pool more energy-efficient by limiting evaporation and managing water temperature. It also reduces the need for chemicals and cleaning out dirt and debris. Plus, it prevents anyone from falling in accidentally, especially if children wander onto the deck unattended.
Waterproofing: A sealant prevents water from getting into cracks in concrete and further damaging pool surrounding surfaces. It can prevent chemicals from building up as well. Waterproofing your pool deck is thus essential for protecting your property and improving safety.
These are just some pool deck ideas that can give your backyard a makeover, modernize it, improve safety, and provide your family with a fully functional outdoor living space.
Create the Perfect Pool Area with Capital Deck & Stair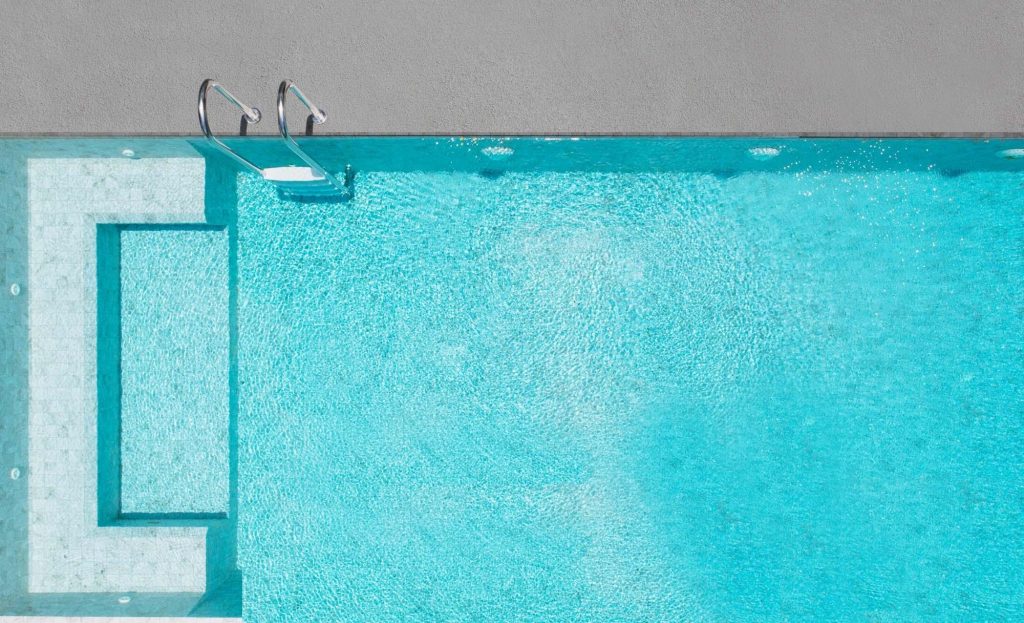 Our waterproofing and coating specialists can install protective, slip-resistant solutions for any pool lounge design. Available whether you're constructing a pool or resurfacing the lounge area, we are always committed to high-quality results. Call (818) 697-6334 for a free estimate or on-site evaluation.