Planter Design Ideas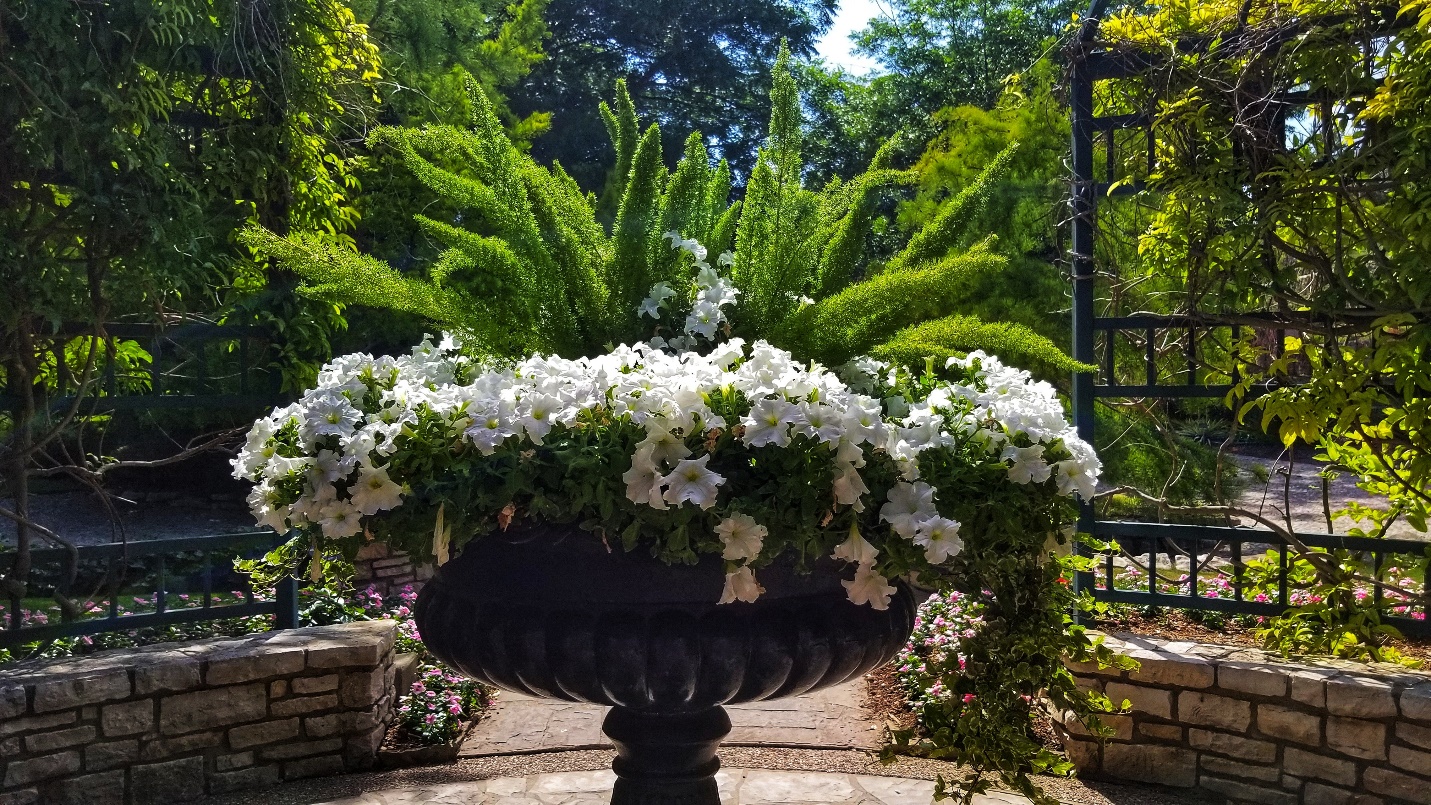 If you've been wanting to bring some greenery and flowers to your outdoor space, you'll be happy to know that it's easy to integrate planters into your home decor—and it's possible to do so without sacrificing space or straining your budget. Simply keep reading to learn about some inspiring planter box ideas, plus expert tips to keep your plants healthy and your boxes looking like new.
CREATING THE PERFECT PLANTER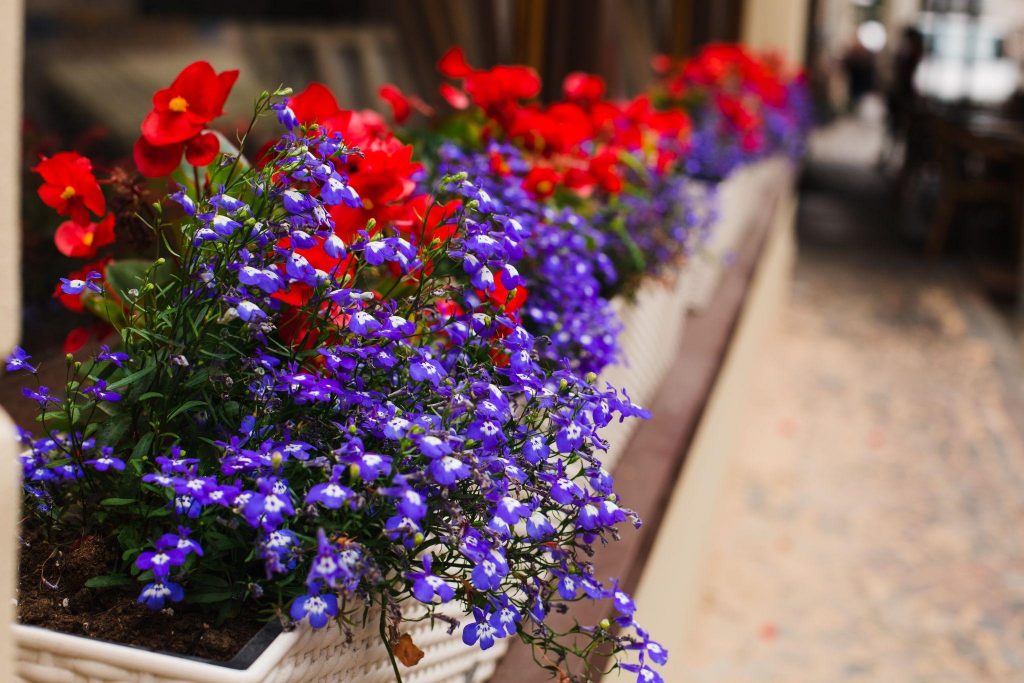 What can you put a plant into? The possibilities are practically infinite. Numerous household items will do, including plastic milk containers, aluminum cans, and plastic soda pop bottles.
Even bottled water containers can serve as planters, or you can use empty potting soil bags. You can also stack nursery pots to create a makeshift planter box—at least to get started.
Next, you will need to consider what you'll use for weight. Materials such as gravel, rocks, and broken bricks work well as rubble to weigh down a tall planter box. You can even use broken-up concrete or ceramic pots if you can get your hands on them.
A mixture of materials creates diversity and can provide just the weight you need. A lightweight filler can include foam blocks or even bags of foam peanuts.
OUTDOOR DECK PLANTER IDEAS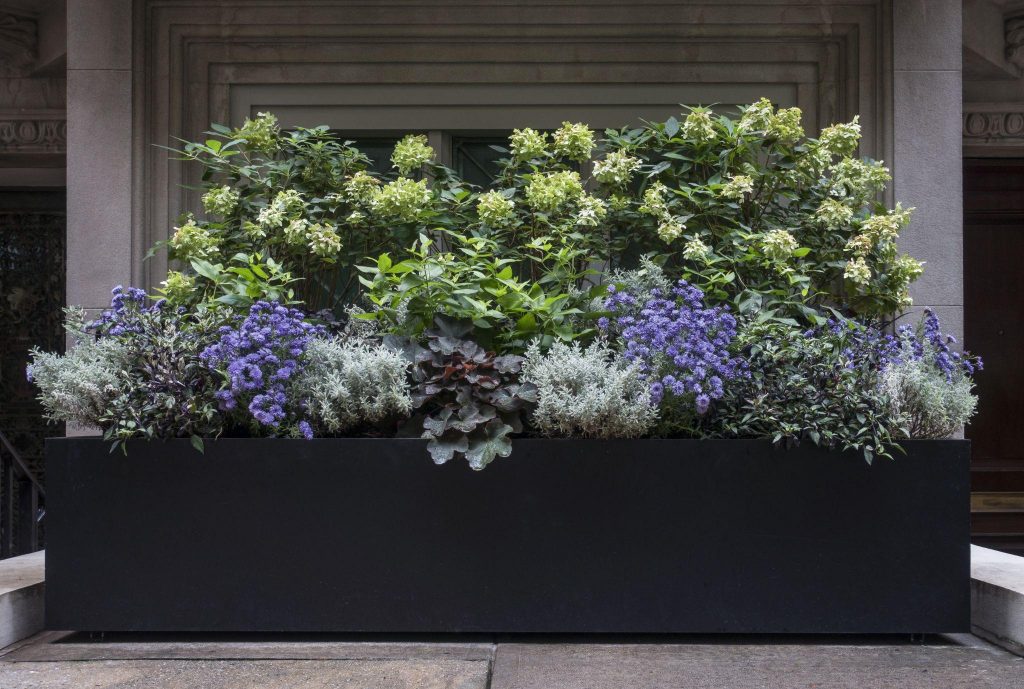 Like a  DIY garden planter, the design of your patio or deck planter should accommodate what you're planting. Upright, broad, and trailing plants have different requirements, which you will need to consider when choosing a single type or planting them in combinations.
You can select plants based on complementary colors or contrasting textures, but if you're still stumbling on specific planter ideas, you can consider adding the following to your outdoor decor:
● Flowerpots: An urn type container is great for trailing plants, while natural-looking garden pots are good for edible plants mixed with ornamentals. Flowerpots come in many different shapes, sizes, and colors. You can aim to match one with the color of a purple petunia or contrast a white hydrangea bush with a pale blue pot. Barrel planters are fine for leafy vegetables. Small planters can take the form of everything from wicker baskets to bowls, to fountain-like works of art.
● Built-In Planters: Planter box design ideas include a planter bench that incorporates the planter into the ends of a deck bench, a raised concrete platform, stacked stone structures, railings planters incorporated into deck railing, raised beds, and so much more. Tall, narrow wooden box planters can add privacy. If you're building a DIY wood bench, why not incorporate a planter? Other ideas include building planters out of recycled steel and plant beds out of stacked stone or incorporating long planters of different shapes and designs into an outdoor fence or wall.
● Planters for Small Spaces: Don't think you have room for a planter? Just look at your fence, entrance gate, or in corners, and you'll see plenty of vertical space for planting. If you'd rather not build on to an existing structure, you can still have planters; simply choose hanging baskets and place them on a notched piece of cedar with a sturdy hook at its top for instant beauty that can be relocated anywhere and at any time you wish.
● Planters with More than One Purpose: Even the smallest spaces can accommodate planters when they do double duty; a cleverly designed planter can display lush foliage as it hides unsightly areas like garbage can storage behind it. You can also grow food as you repel pests by planting certain herbs like lemongrass, basil, and rosemary.
● Sunken Planters: This is an ideal way to incorporate greenery into any deck design for a truly unique effect. Simply cut your decking and dig beneath to make room for sunken planters with succulents or other floor-level plants.
Planters can line the walking path of your deck. You can also try tiered wooden crates or stone elements (tiered planters come in many forms) or incorporate water features into a larger planter.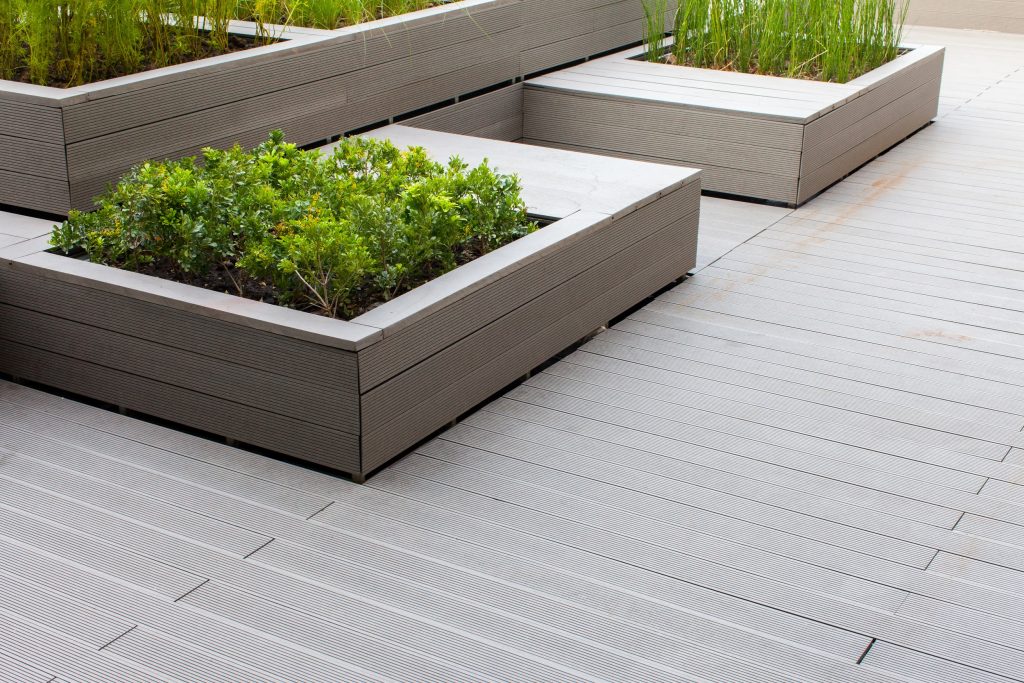 Your planter design can be the centerpiece of your outdoor space or be more subtle like a metal tub or modified flowerpot. However, before creating and installing one or more planters in your space, you'll want to keep the following pro tips in mind:
● Incorporate Planter Plans Before Building a Deck: You can save yourself a lot of time and effort by considering where concrete, metal, or wooden planters will fit into your deck before you build.
● Don't Overplant: You may want to jam in as many pretty plants as possible, but doing this will only cause crowding and stress that can kill plants fast. Consult the guide that comes with your plants to ensure you provide the sufficient spacing that will help plants to thrive.
● Protect Your Planters: Sunshine, rain, and fluctuating temperatures can all wreak havoc on planters of every kind. If you're building wood planters, ensure that all areas have been properly sealed to prevent the formation of mold. Metal planters can benefit from a coat of rust-proofing paint, and plastic containers can be painted to prevent fading.
● Don't Hesitate to Call a Professional: It's great to have a lot of planter and deck ideas but, if you're an amateur, your project can quickly become overwhelming. If things are getting out of hand, a professional can help you get things done in smaller and more manageable pieces, not to mention put their experience to work for you.
DISCOVER THE BENEFITS OF INCORPORATING WATERPROOF PLANTER BOXES INTO YOUR PLANTER DESIGN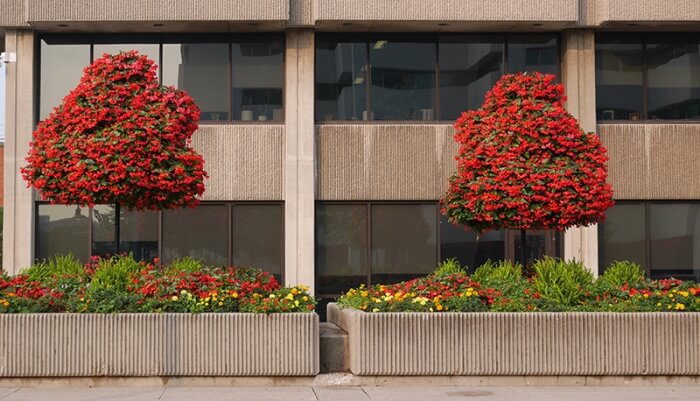 Planters can add lots of character and personality to any outdoor living space. Capital Deck & Stair is not only trusted for professional treatment of walking decks, pool decks, balconies, stairways, and garage floors in Los Angeles, but we also offer professional installation of waterproof planter boxes.
Our home waterproofing contractors work with you to design boxes that are completely customized for your space and which will withstand harsh outdoor elements. We treat each box so that all of the flowers, plants, and shrubberies on your property retain the aesthetic value you admire.
Discover why we are the choice for a growing number of residential and commercial planter installation and waterproofing clients in Los Angeles and Orange County. Give us a call today at 424-339-0953 or request a free quote online at our website.