Things to Consider When Building & Designing your Rooftop Deck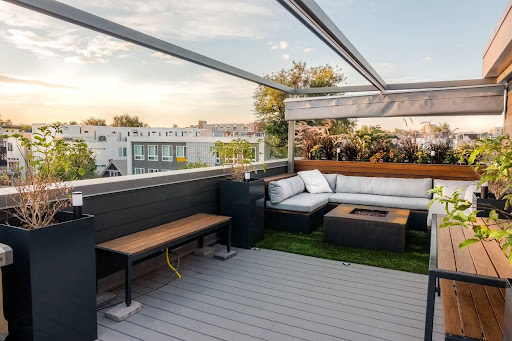 If you're planning a home improvement project, the rooftop deck might be just what your home has been missing. They are highly sought after by homeowners with short yard space but plenty of flat or partially flat roofs. Roof decks make a perfect place for holding dinners, parties, and get-togethers. These decks also offer privacy, solitude, and seclusion to unwind and retreat from the hustle and bustle of the city.
Building a rooftop deck comes with many complications, so getting it done by professionals would be the best investment to ensure safety and compliance with the city's HOA bylaws. Before you go ahead with your plan, make sure that you consider these few elements of roof-deck construction, material, and design.
Check with the building laws and HOA restrictions
Roof decks are much popular in cities due to their unrivaled views of the surrounding area and limited ground deck space. However, the first and foremost thing to consider before planning a rooftop deck is the construction law for your local area.
Do you have homeowner association restrictions in your area? Check with your local building department to get the necessary information before starting your roof deck project.
Ensure adequate construction space
Normally roof decks need more working space than a ground-level deck. There must be stairs or outdoor scaffolding to help your construction crew reach the rooftop with the materials. You might also need a crane to access the rooftop and enough space to move around trees, neighboring houses, buildings, powerlines, etc.
If you don't have enough space for a crane, then cutting a few trees might help you make that space for the crew to work. Know your options before signing a contract with the deck constructors and take action accordingly.
Consider landscaping
It would help if you considered the landscaping around your home and rooftop deck. Do you have trees that add ambiance and greenery to your deck or hinder the construction process?
Also, ask your contractor to leave some space for foliage on the deck by adding built-in planters on the perimeter of your deck. A plant boundary around the roof deck will help you maintain a homey ambiance, privacy, and shade.
Choose the right decking material to avoid overloading the roof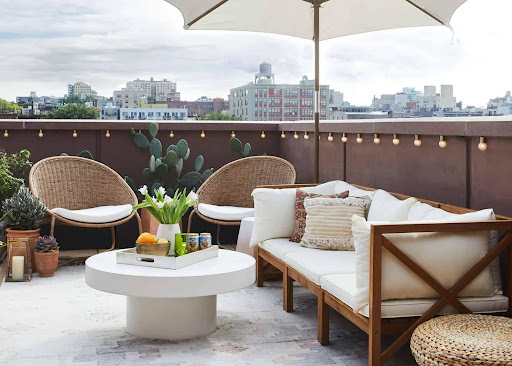 While building your roof deck, one of the main challenges you will face Is keeping your roof weight in check. Roof joists tend to get overloaded with decking material, planters, furniture, and other appliances. Most people choose hardwood or pressure-treated decking materials to limit the weight.
The downside of using pressure-treated wood is that it requires frequent maintenance measures to look pristine due to weather exposure. Per board foot of a hardwood weighs around 4 pounds, thus limiting your roof's ability to withstand heavy furniture, etc.
Appliances and furniture like:
Bbq grills
Patio seating
Heaters
Shade structures
And Planters can be the reason your roof might collapse due to overload. The harsh weather can also take a toll on all your appliances, furniture, and roof deck, even with proper maintenance. So, choose your decking material wisely to keep the roof weight optimal.
What decking materials should not be used?
PVC, Vinyl, and composite decking will not be able to tolerate the changing harsh weather and are likely to become too hot and uncomfortable in summers. Hardwood decking can cost too much and isn't an eco-friendly option for families. Modified deck wood can be the perfect candidate for rook decking.
Why should you choose modified deck wood?
Modified wood is best used for rooftop decks due to its superior impact, weather and fading resistance, and little maintenance requirements. This wood is also not prone to splintering and ages to a stunning silver patina. Using bamboo-reinforced foam cores can further minimize the strain on roof joists.
Modified woods have lighter weight and density yet is sturdy and durable for years. They can be used to make flooring, sidings, stairs, fence, benches, and even pergolas. By easing the decking weight on your roof, you can add more features and make it as cozy as indoors.
Avoid PVC materials for rooftop deck
Due to intense weather conditions, PVC decking brands don't do well for rooftop structures. The extreme heat and exposure can lead to softening of the PVC and create structural problems down the line.
Many professionals recommend using more durable products like tiles that are less susceptible to structural changes even when exposed to intense heat and cold.
Check with your contractor before choosing decking material that won't shrink, expand or warp after prolonged weather exposure.
Waterproof your roof deck
Whether your ground deck is waterproofed or not, make sure your rooftop deck is. It goes without saying that waterproofing will go a long way in helping your deck's durability and outlook. Since your roof deck will be exposed to much rain, waterproofing will protect it from fungal rot and water damage.
You can also waterproof your railings, outdoor staircase, and planters to prolong their life and make them look pristine.
Connect your roof deck to your ground deck
If you already have a ground-level deck, it is best to join in with the rooftop for a more seamless experience. A two-story deck design instantly adds more value to your property, not to mention your house's outlook. You can also maintain the privacy of your home by allowing outdoor access to the roof deck.
Add a pergola to your rooftop deck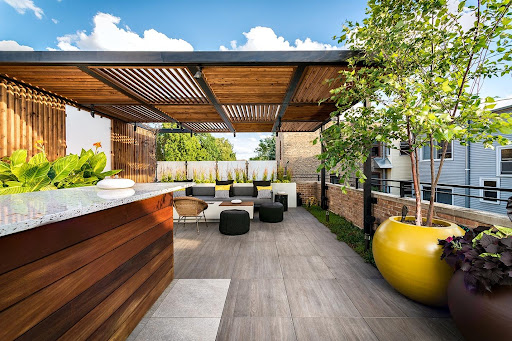 Making your rooftop comfortable is also the biggest challenge for homeowners. A roof deck shelter can be functional and aesthetically pleasing with the addition of a pergola while giving you the best of both worlds.
Pergolas are long-lasting and need little maintenance but offer infinite customization options. You use curtains or composite deck boards to create a privacy or shade wall without stopping the cool breeze from rolling in.
A pergola will add a contemporary aesthetic to your boring rooftop space and allow you to soak into the mesmerizing view of the city.
Design your rooftop with safety railings
While you build and design your dream roof deck, make sure that you keep safety a priority. Choose lightweight and corrosion-resistant aluminum railings to keep your family safe in your oasis. You can also customize your railings to match your rooftop deck aesthetics to make it more appealing.
Consider roof and substrate access
Eventually, you will have to replace your roof deck after twenty years, so make sure that you have access to your roof and decking substrate. If you choose a permanent decking structure, redoing the roof will also entail tearing off the deck, remodeling the roof, and putting down a brand-new deck. The process will be very expensive and time taking.
Therefore, you should choose a semipermanent decking solution. For instance, a tile deck using a pedestal system, wherein each tile is screwed to an individual pedestal and locked into a place with a fastening technique, would be a better option. With this option, you can pull the tile apart to redo your roof and put them back after the construction.
Take away
Rooftop decks are becoming increasingly popular among families residing in the cities with little to no yard space for a ground-level deck. These decks need a different set of considerations as compared to ground decks due to constant weather exposure.
Keep the pointers mentioned above in mind while planning your roof deck. Do not hesitate to consult with professionals to get advice on the structure and material that best suits your personal aesthetic, budget, and lifestyle.
Contact us at Capital Deck and Stair Waterproofing to get your rooftop deck & stairs waterproofed.