How to Clean a Painted Concrete Pool Deck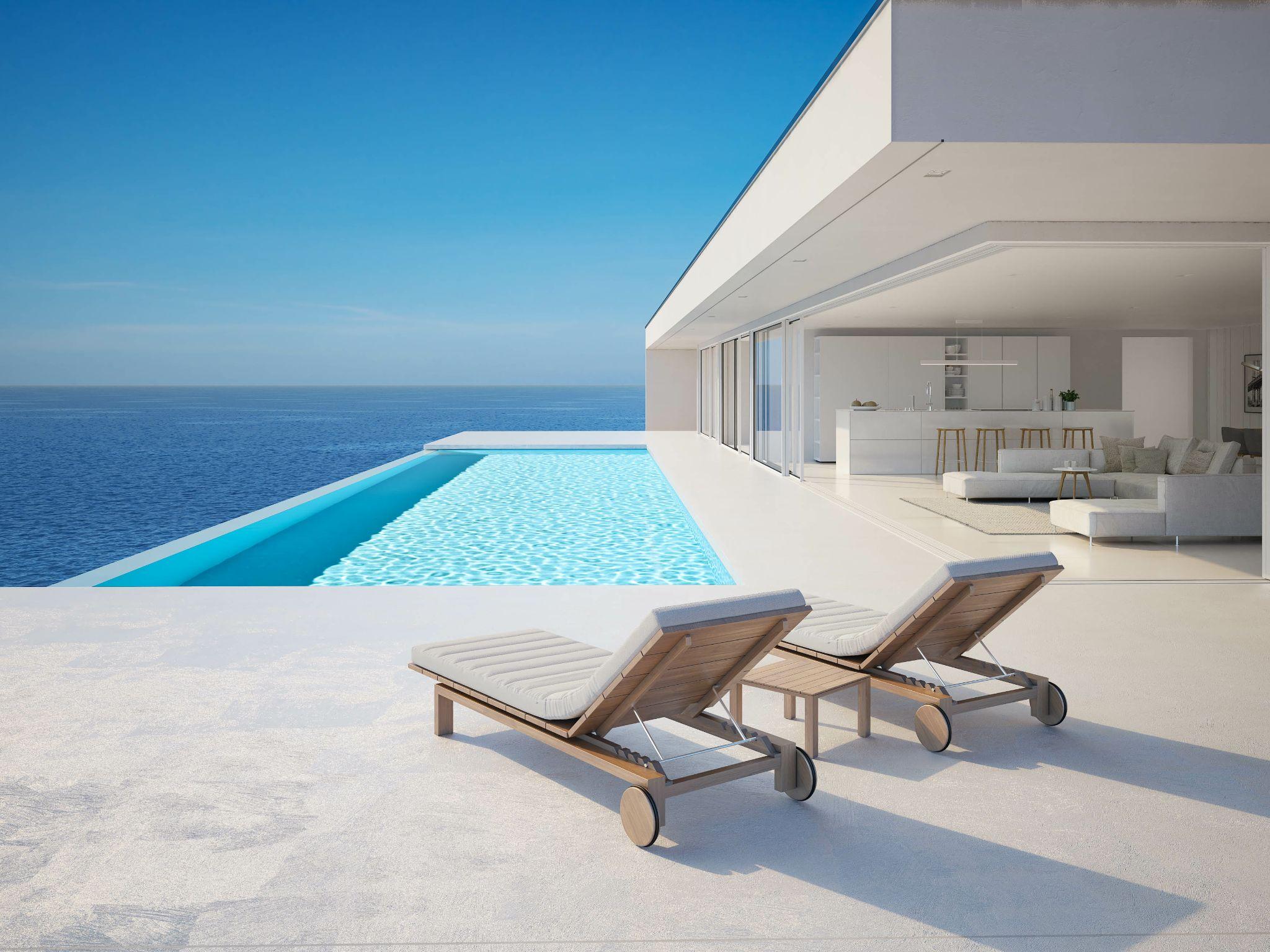 Don't touch that paint job! At least not yet, that is. While all pool decks (especially concrete pool decks) need occasional scrubbing, being too aggressive or using the wrong products can cause permanent damage to your paint and waterproof coatings.
Read on to learn how to clean a painted concrete pool deck without washing away your investment in the process.
1. Sweep and Rinse the Pool Deck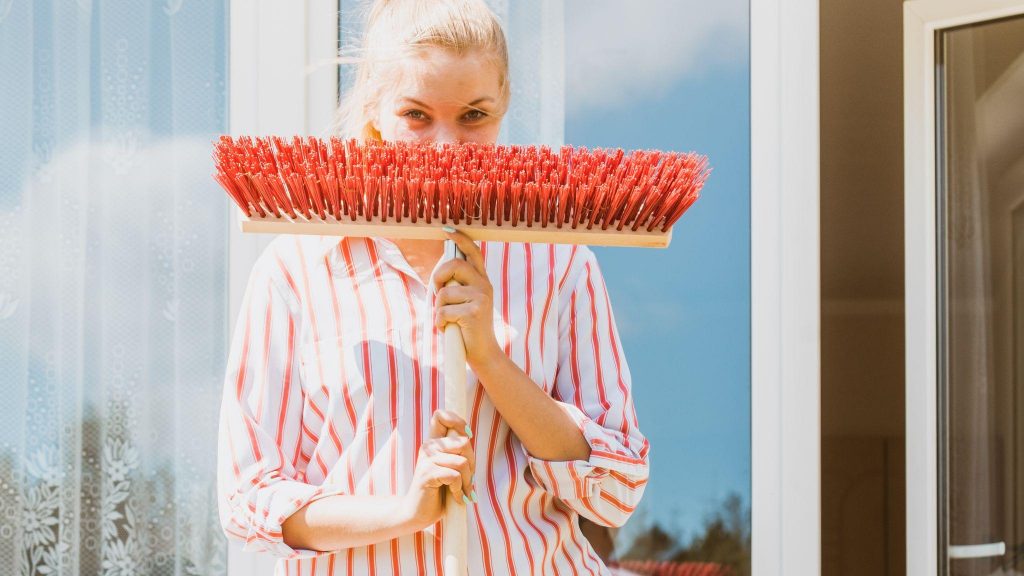 It may seem counterintuitive, but it's important to clean before you clean! Start by giving your deck a thorough sweep with a stiff-bristled broom or brush, followed by a rinse. In addition to removing larger pieces of debris such as fallen leaves and twigs, this step also removes hard-to-notice layers of dust and dirt. Without removing these layers first, deep cleaning won't be as effective.
Sweeping and surface prep is also a great time to check the condition of your pool deck. While you should save the touch-ups for after deep cleaning, now's the time to take note of potential problem areas.
2. Prepare a Cleaning Solution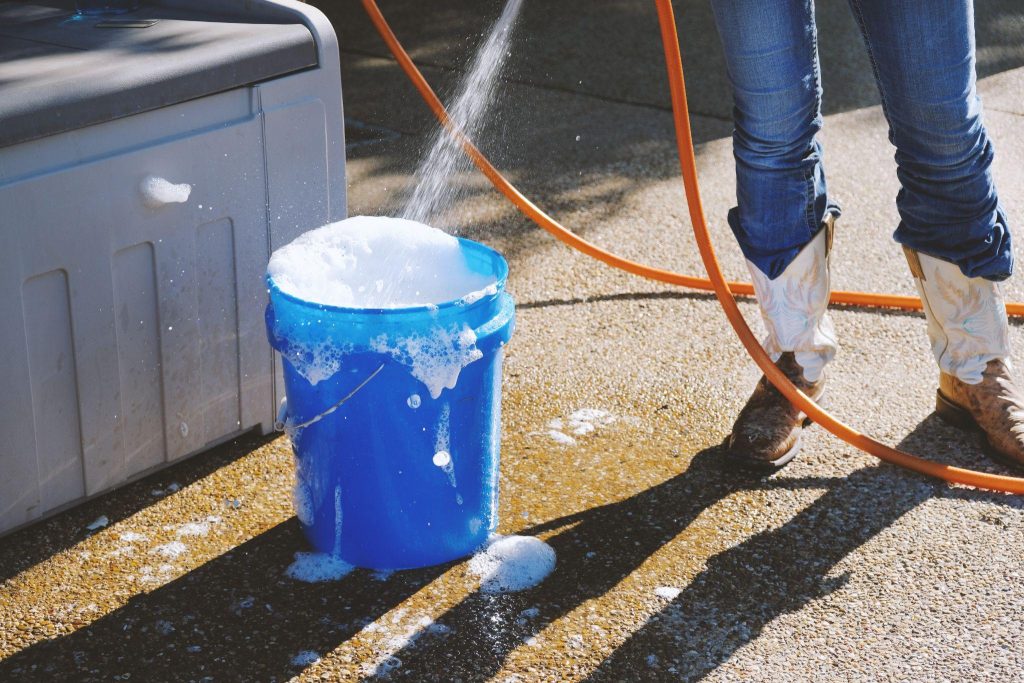 With your deck cleared and ready for cleaning, it's time to prepare a cleaning solution. Choosing the right ingredients is key to cleaning your deck without damaging the paint or the concrete. Where wood decks often require vinegar to fight mold and mildew, concrete decks require oxygenated bleach. Note that you want to use oxygenated bleach, not chlorinated or chlorine bleach.
Mix in one cup of oxygenated bleach for every gallon of warm water. You can adjust this ratio depending on the condition of your deck; however, it's recommended not to go overboard. If you think your deck will need an especially thorough cleaning, mix a squirt of regular dish soap into the solution instead of adding more bleach.
3. Spot Treat Tough Stains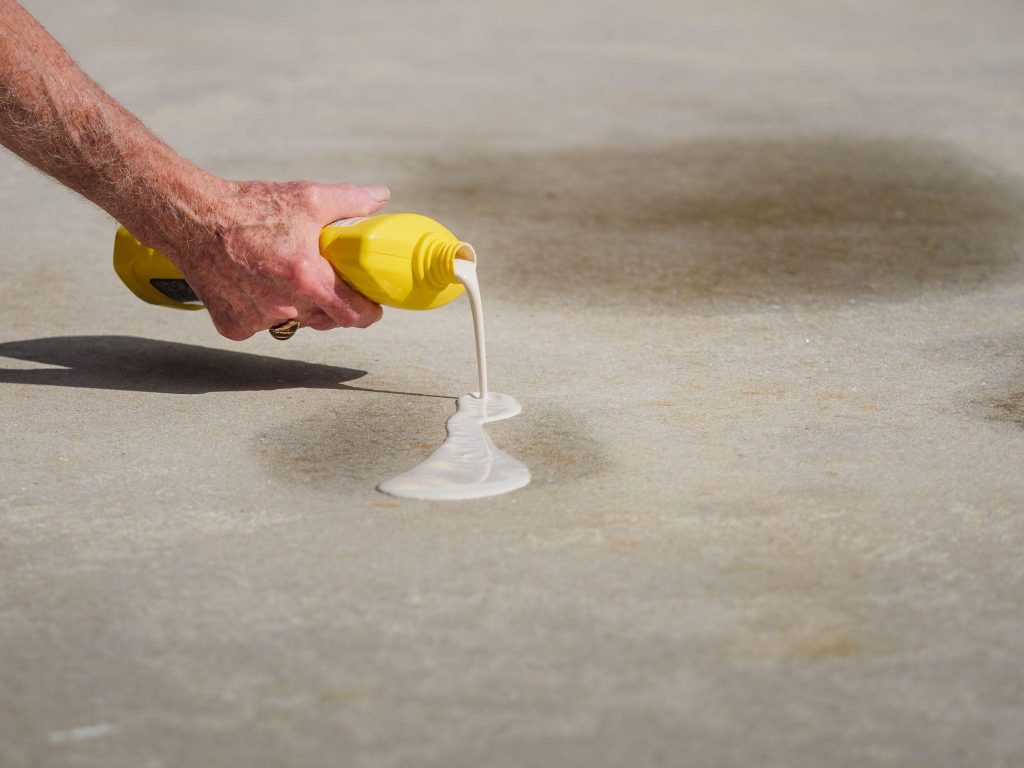 Stains and other problem areas will likely need more cleaning than the rest of the deck. Start by pouring some of your cleaning solution onto the stains and scrubbing with a stiff-bristled brush. For especially tough stains, apply TSP (a degreaser) and wait for about 10-15 minutes before scrubbing again. Don't worry if you can't get it out entirely; you'll have another chance when you clean the whole deck.
4. Scrub the Pool Deck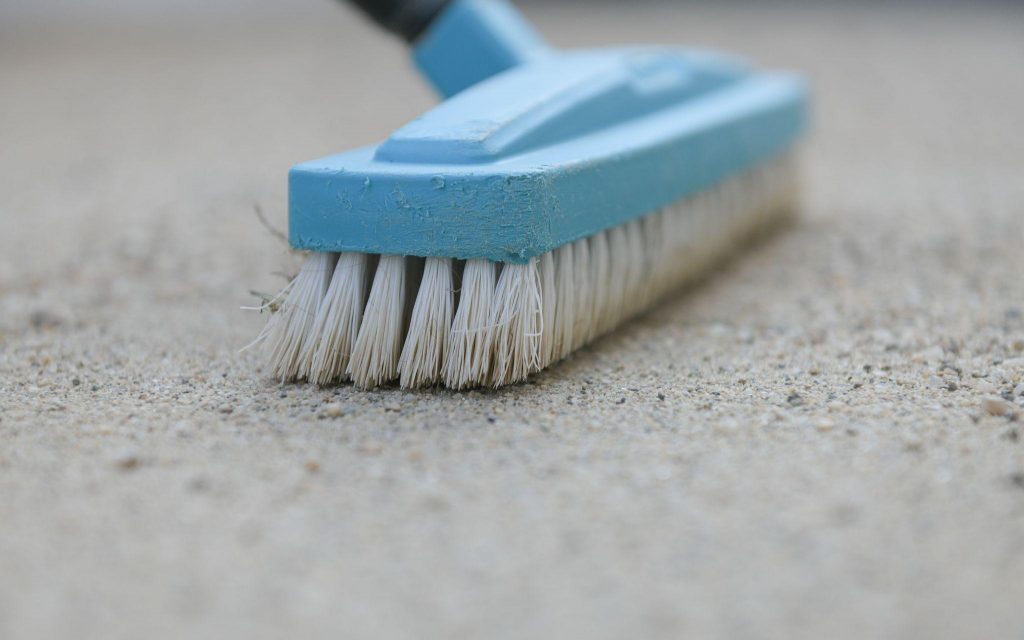 With the tough spots (hopefully) handled, it's finally time to clean the rest of the pool deck. Give your solution a final mix and spread it evenly across the deck surface. Allow it to sit for a few minutes so it can seep into the concrete's pores and dissolve hard-to-reach mud and dirt. After it's thoroughly soaked, scrub the entire pool deck using a stiff-bristled scrub brush.
Be careful not to use too much elbow grease, especially if your deck paint is already in delicate condition. Too much scrubbing can strip and fade paint, so scrub just hard enough to clean off the dirt and grime.
5. Rinse Completely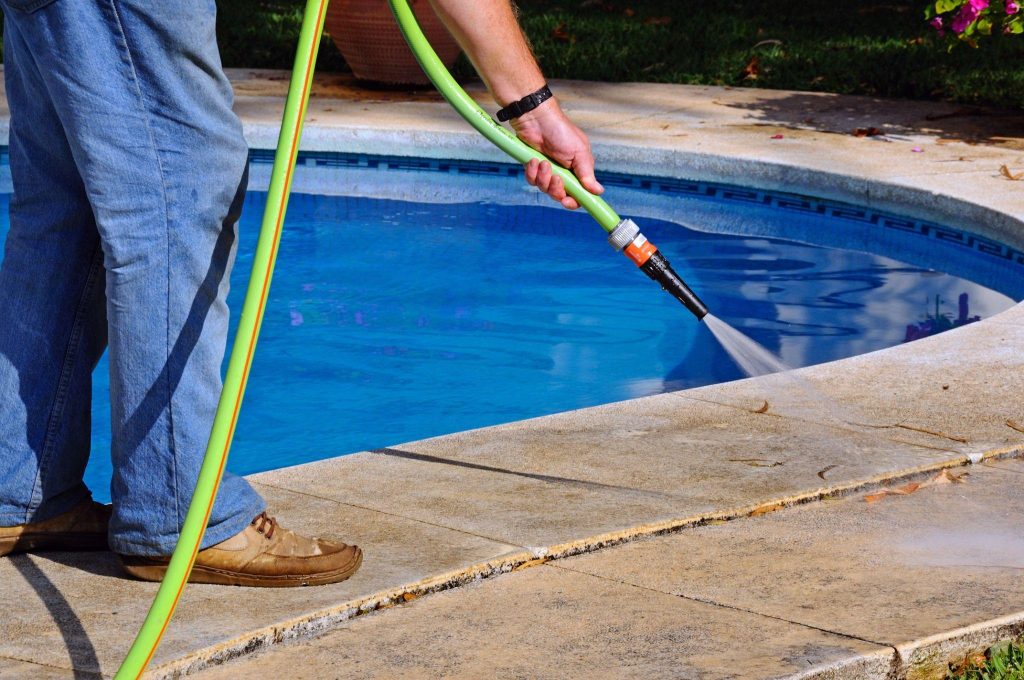 Use a garden hose (or many, many buckets) to rinse away the cleaning solution from your pool deck. Be careful to direct the flow toward your driveway or some other drainage point, as bleach solutions can discolor and kill your lawn.
6. Power Wash (Carefully)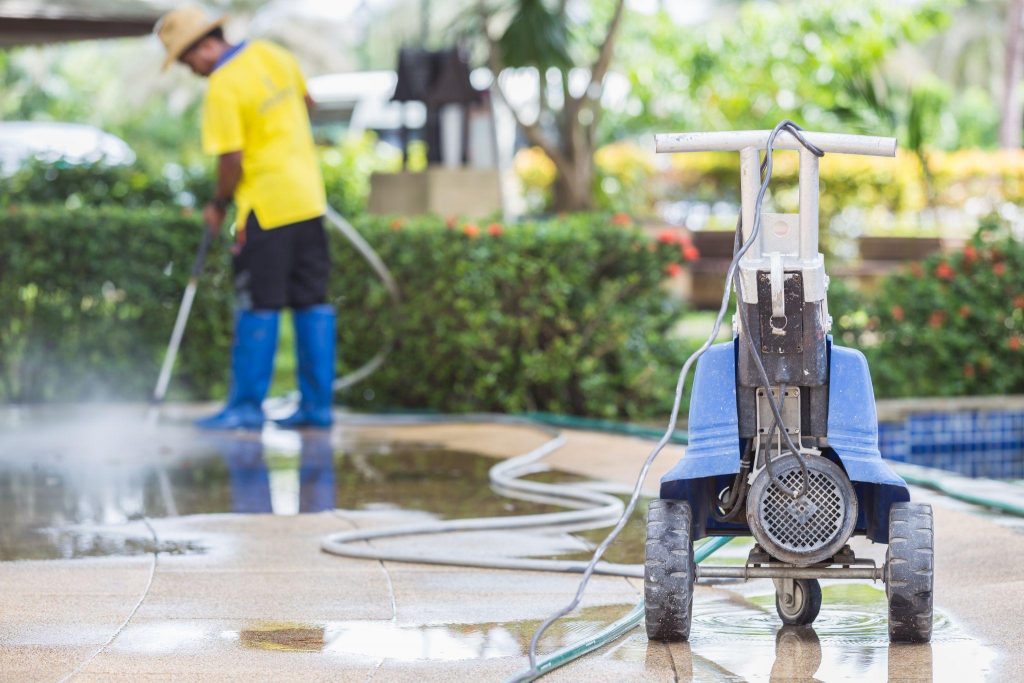 Sometimes a scrub isn't quite enough to completely clean a concrete deck, especially if it's been years since the last cleaning. As a last resort, you may want to consider power washing to completely restore the surface to its original appearance.
Note, however, that power washing may also strip paint. As a result, don't be too quick to power wash if you want to preserve paint. Instead, try one of the options in the next section to dissolve tough stains without dissolving your paint job.
7. Touch Up Problem Areas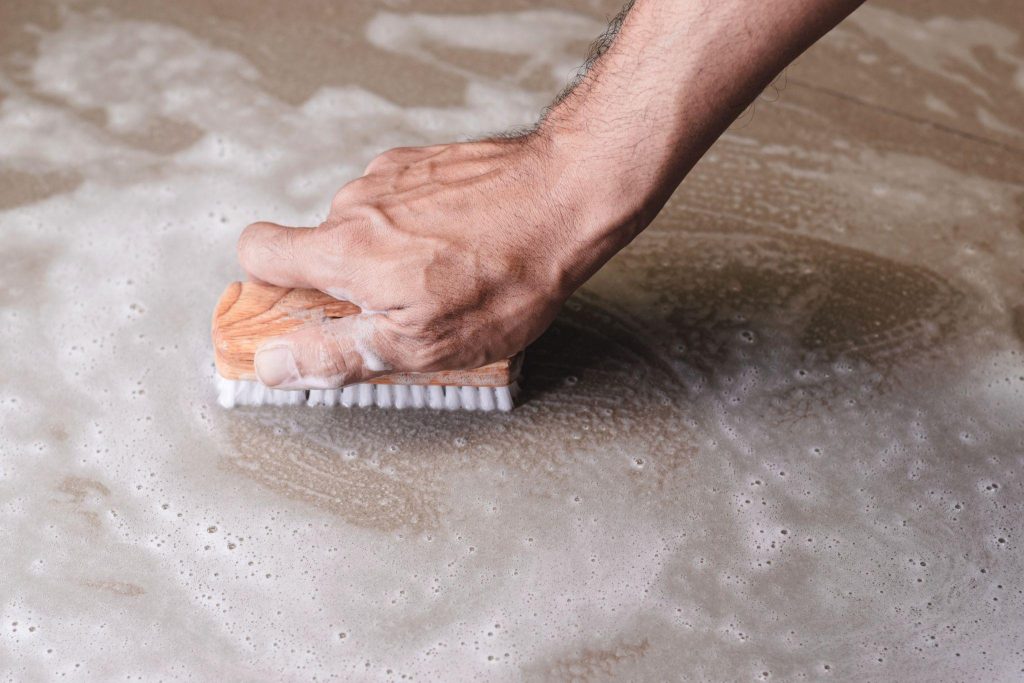 Rust, oil, and other substances can make stains exceptionally difficult to clean. If you find yourself facing one of these tough problem areas, try one of these solutions:
Remove rust stains with muriatic acid, which is available at most home improvement stores. It's nasty stuff, however, so be sure to wear rubber gloves, a mask, and protective eyewear. Of course, be sure to follow all instructions and safety precautions on the label.
Remove oil and grease stains with a degreaser such as TSP. You may need to dilute the degreaser depending on its strength. Be careful not to go too strong, as degreasers can sometimes strip paint.
8. Apply a Waterproof Coating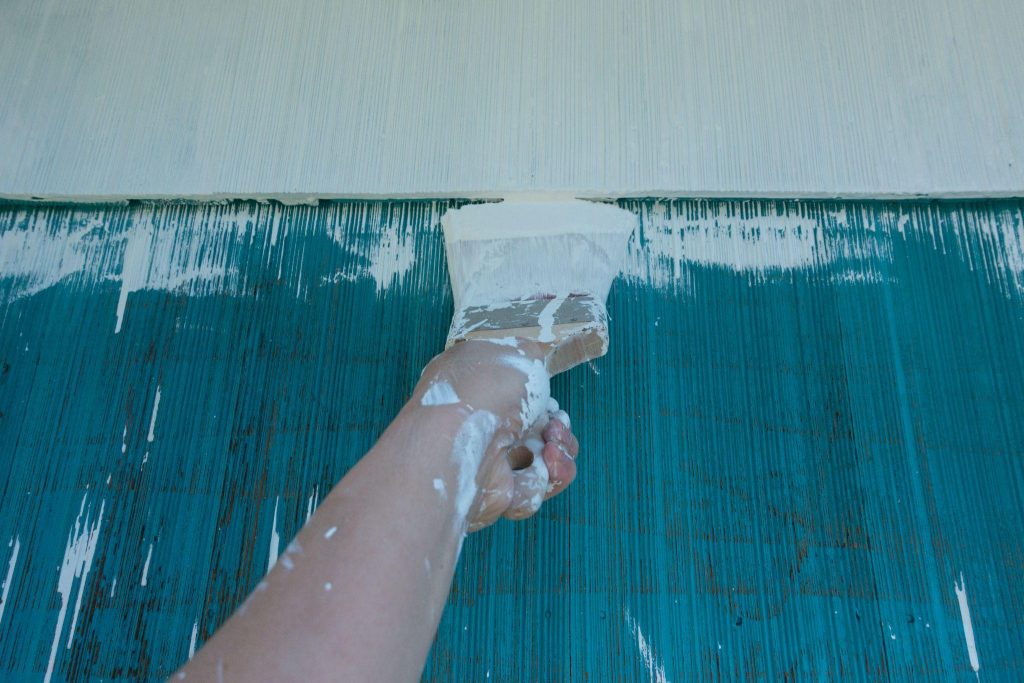 With your deck completely clean and free of major stains and discoloration, now's the perfect time to seal your investment with a waterproof coating.
Waterproof coatings don't just protect your deck from expensive water damage and unsightly stains; they also make it much easier to clean and maintain. In doing so, waterproof coatings also prolong the overall life of your concrete deck, all the while minimizing the need to do all the tedious deep cleaning we've discussed here.
It's also a good idea to apply a waterproof coating immediately after painting your deck. In addition to all the other benefits, it'll also help preserve your paint's color and design.
Tips for Regular Cleaning and Maintenance
While you don't have to break out the bleach every time you go to clean, you should at least sweep and scrub your pool deck regularly throughout the season. By cleaning regularly, you'll help prevent unsightly stains, smelly chlorine buildup, and other potential finish damage while keeping your pool area tidy.
One of the best ways to keep your deck clean is to invest in a waterproof coating. While you may still have to sweep and scrub every so often, you won't have to do it nearly as much— especially considering that deck waterproofing can keep your surfaces pristine for years.
Make Cleaning Easier with Pool Deck Waterproofing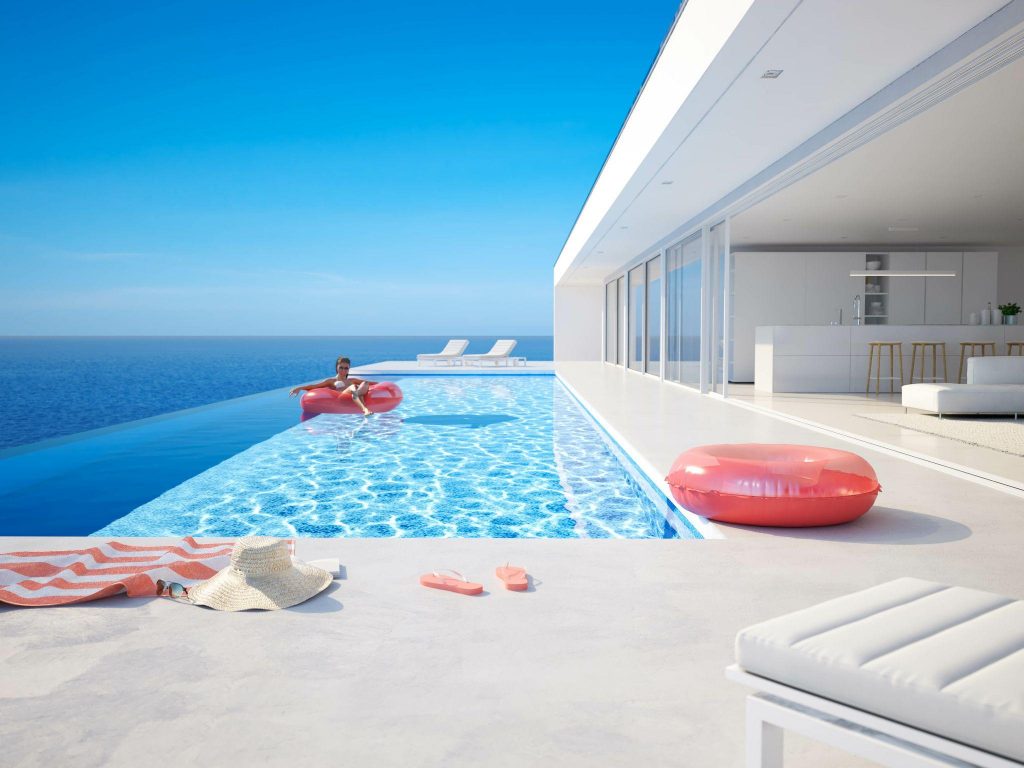 Whether it's painted concrete, wood, or any other material, waterproofing is one of the best investments you can make for your pool deck. From preventing water damage to minimizing cleaning and prolonging the life of your deck, waterproofing is an investment that pays for itself.
For more information on waterproof deck coatings and to schedule a free estimate, call the Capital Deck & Stair team at (818) 697-6334.