Smart Solutions to Prevent Staircase Slip and Falls
Smart Solutions to Prevent Staircase Slip and Falls
Anyone who has ever lived or worked in a building without an elevator knows the pitfalls of a staircase. Besides providing extra and sometimes unwanted exercise, staircases can be a falling hazard.
Fortunately, for property owners who regularly maintain their stairs, little can be done if someone, through their own misstep, falls down the stairs. Climbing stairs, after all, does require some amount of care. If a handrail is provided and the stairs are well-maintained, the owner or manager shouldn't be held liable.
For the record, since we are waterproofing contractors and installers of fiberglass and iron staircases and not lawyers, we advise you to check with your insurance company, just in case.
It's Just Good Common Sense to Keep Your Staircase Well-Maintained
The exception to the above is if your stairs are not well-maintained or are slippery—that's where you can run into legal problems. Stairs, after all, require a stair safety protocol. If you let a known problem persist on your staircase without addressing it, you run the risk of being held liable for significant damages due to your neglect. This is a legal concept known as "premises liability."
Practice Stair Safety and Don't Let Your Staircase Become a Falling Hazard
Items left on stairs—like balls, children's toys, and food—are all easy to slip on. These stair hazards are a reality for anyone with a staircase, no matter how well it has been maintained. Ensuring your staircases are free of hazardous objects is something that anyone can do.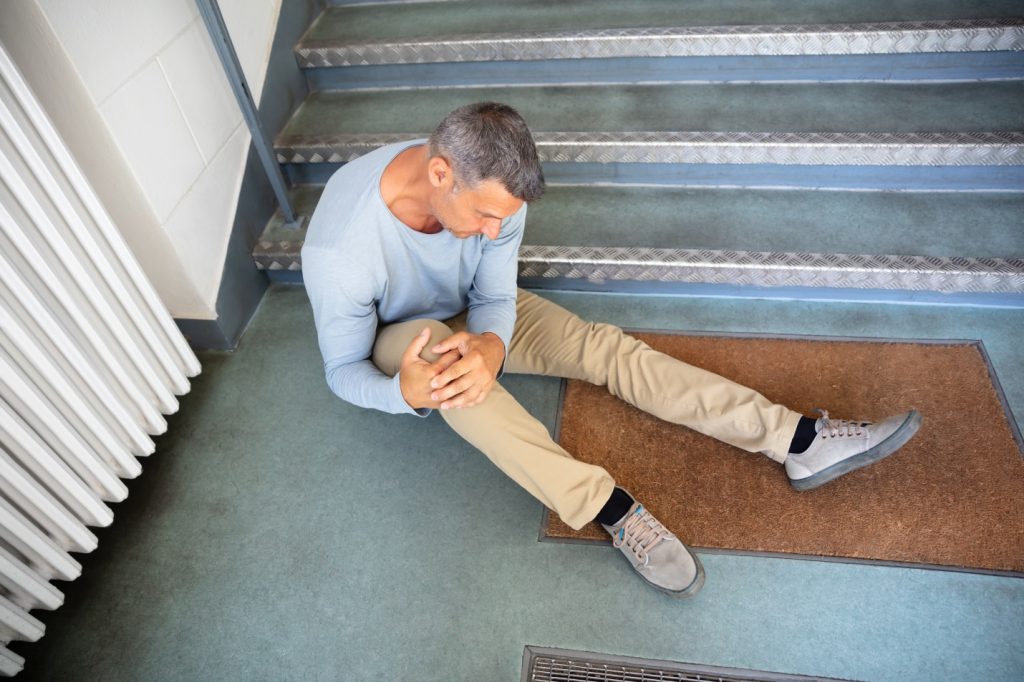 Other stair hazards, however, will require professional help. These include fixing broken or chipped stairs, loose stair treads, and stairs that are slippery.
Should I Replace or Repair a Damaged Fiberglass Staircase?
Whether you will need a brand-new staircase or just a repair will depend on several factors. You will definitely need to have each of your fiberglass steps inspected by an expert before an estimate can be given and the appropriate choices made. If you are upgrading your property, you might decide to update the look with a brand-new staircase, instead of repairing the old.
Maintain Your Stairs so You Don't Have to Replace Them
For more than 30 years, our experts at Capital Deck & Stair have been waterproofing staircases to help prevent them from becoming a slip and fall hazard. Our waterproofing specialists can advise you on whether your stairs need waterproofing, general maintenance, or replacement.
If You Are in Need of a New Staircase, Then You Have Several Options
Magnesite and fiberglass staircases provide exceptional performance and durability, as well as aesthetics. The advantage of these types of stairs is that they are impact-resistant and durable and strong, and they provide a clean and classic look.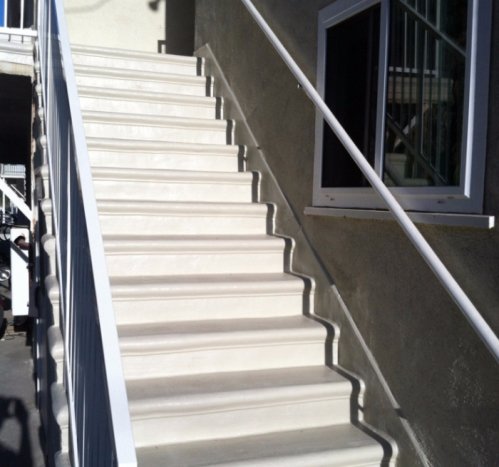 Precast and iron-based staircases are sturdy, durable, low-maintenance, long-lasting, and aesthetically pleasing. The stair treads are also easily replaceable if one of them gets damaged.
Taking the First Step to Fix Your Outdoor Stairs
If you are in need of a staircase repair or a brand new staircase, our experts will walk you through each step of the process to determine your staircase needs.
We can also send out one of our staircase specialists to evaluate your existing structure to determine whether it's suitable for a precast and iron staircase or a brand new set of fiberglass stairs.
If you're in Los Angeles or Orange County, give us a call at 424-339-0953 and we'll give you a free estimate.